In the context of the coronavirus, email has become one of the most important channels for business to interact with current and potential customers.
During the lockdown period, many companies saw an increase in the open rate of emails, the overall efficiency of direct communications, and even after the lifting of the quarantine restrictions, there was no noticeable decrease in indicators.
Statistics compiled by OptinMonster show that the overall engagement rate on Facebook, Twitter and Instagram is 0.58%, while the average email open rate across all industries is 22.86% and the average click through rate (CTR) is 3.71%.
How do you get such high engagement? And what is the secret to successful mailing in 2021? Let's take a look at the secrets of successful mailing lists.
1 Building trust
The first secret is building trust with transparency. Users are tired of the endless flow of cliched ads that create information noise. People want to talk to people, receive letters written in human language on interesting topics, so email newsletters are becoming more trustworthy. Companies strive to show the other side of the business / production process, introducing readers to their team.
For example, sneaker company AFEW STORE demonstrates the process of creating a mockup of a new model.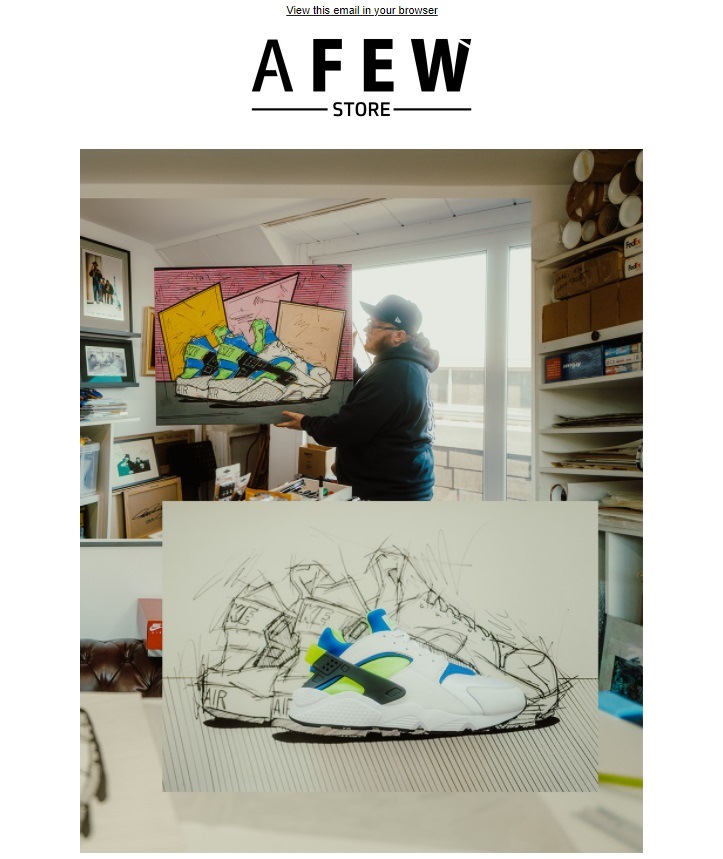 Many marketers have seen that attempts to address the human side of communication have begun to pay off. People want to communicate not just with brands: they care about human communication. Focus on the problems and needs of the buyer, and not just on the commercial offer.
2 Following the agenda
The second secret of the mailing success is the demonstration of involvement in events happening in the world. The agenda defines the subject and content of emails and helps the businesses show their audience that they are on the same page. What is on the agenda in the media today? One of many examples: the murder of George Floyd, a black American resident, caused not only a wave of protests in the streets, but a series of thematic publications in the media. Many global brands have responded in support of the black community. This is how the Blackout Tuesday movement (black square posts on Instagram), invented by Live Nation, was organized. It was joined by a huge number of companies and 28 million social media users.
Content supporting the Black Lives Matter movement has increasingly appeared in the mailing lists of global brands. A striking example are letters by Nina Ricci brand.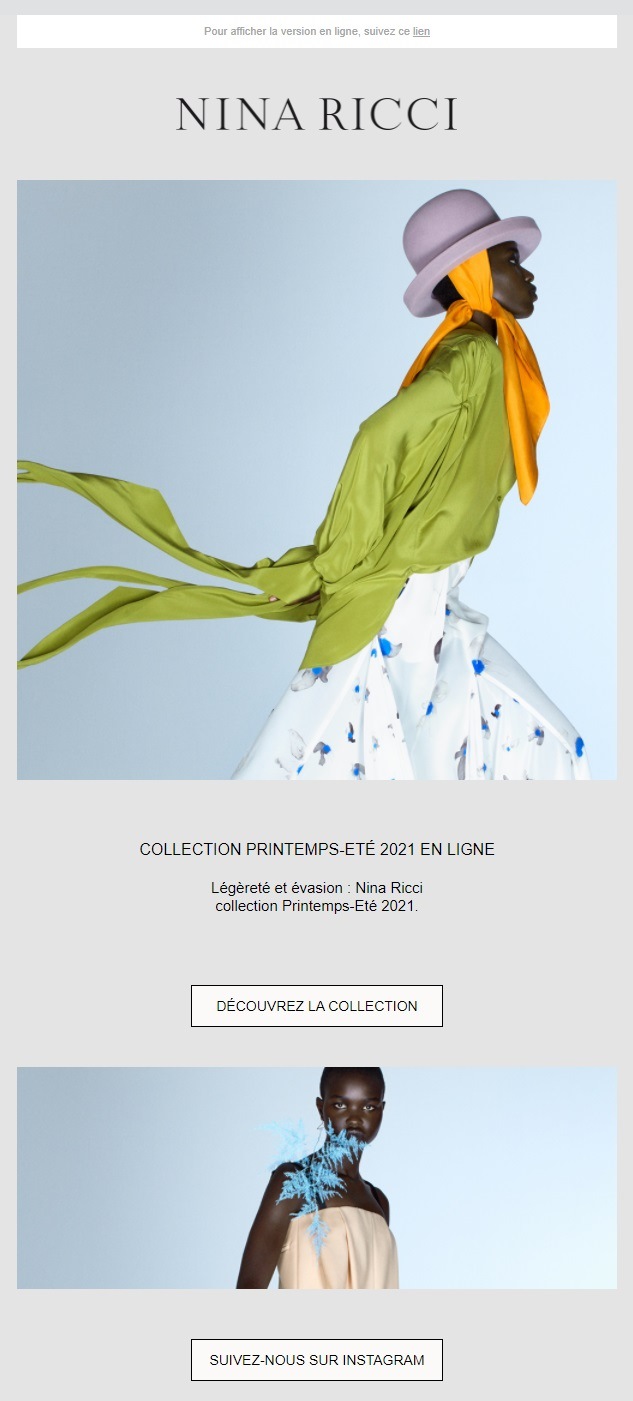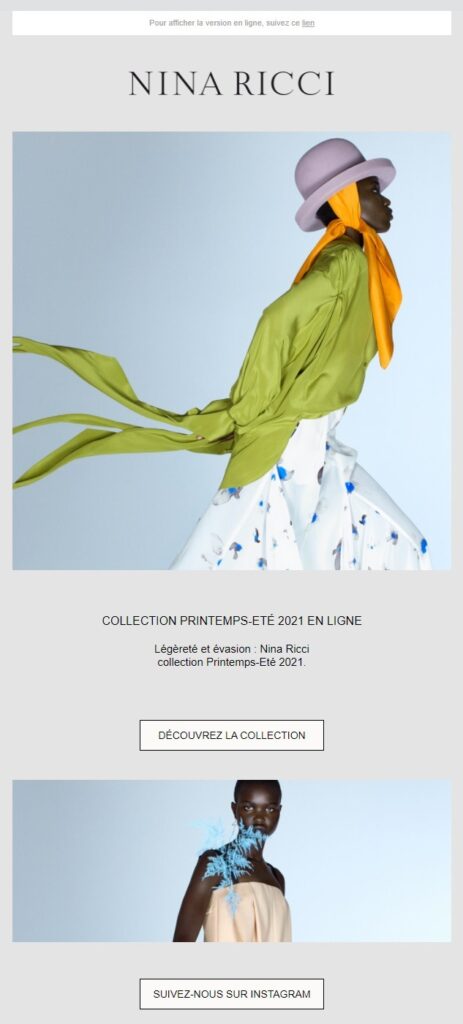 Unfortunately, the topic of coronavirus also remains relevant in 2021. Restrictions are in effect in most countries, so businesses are looking for ways and means to reach their customers, announcing new terms of delivery, ordering, service and special collections.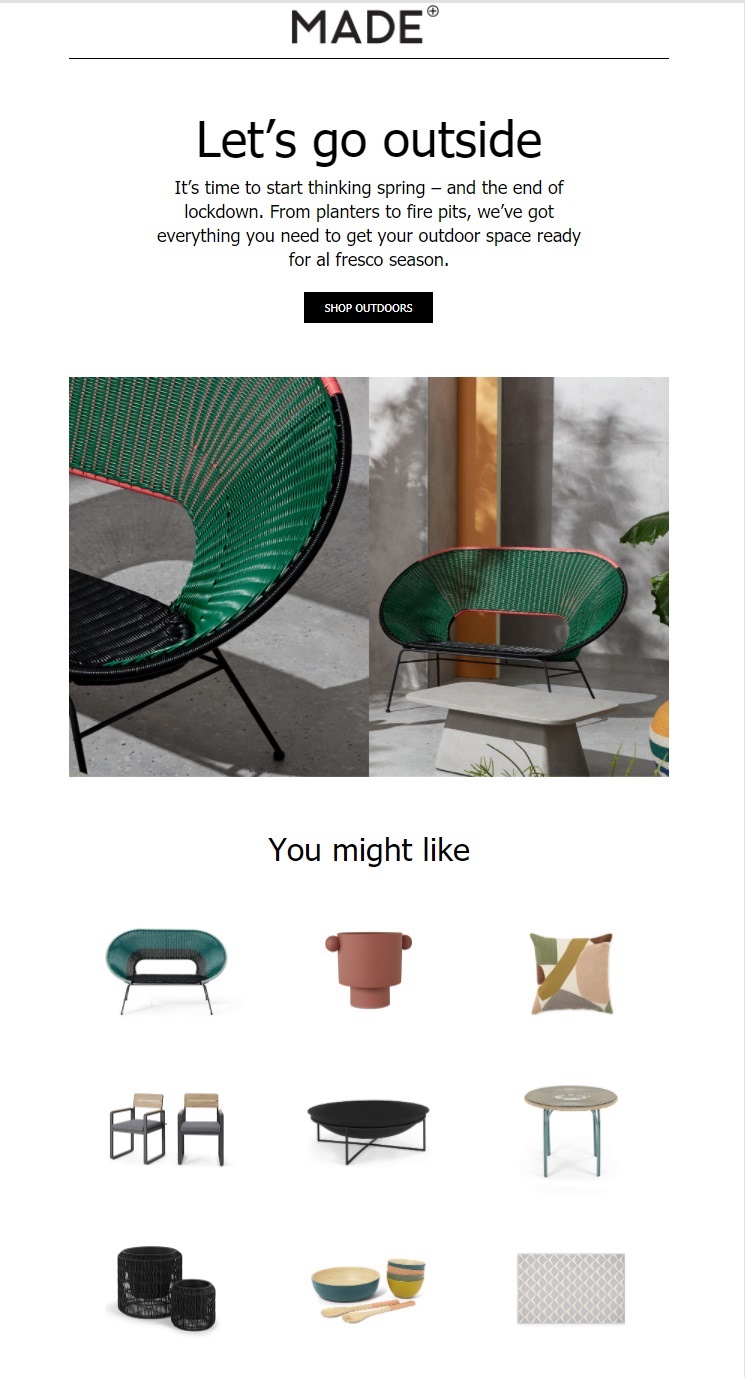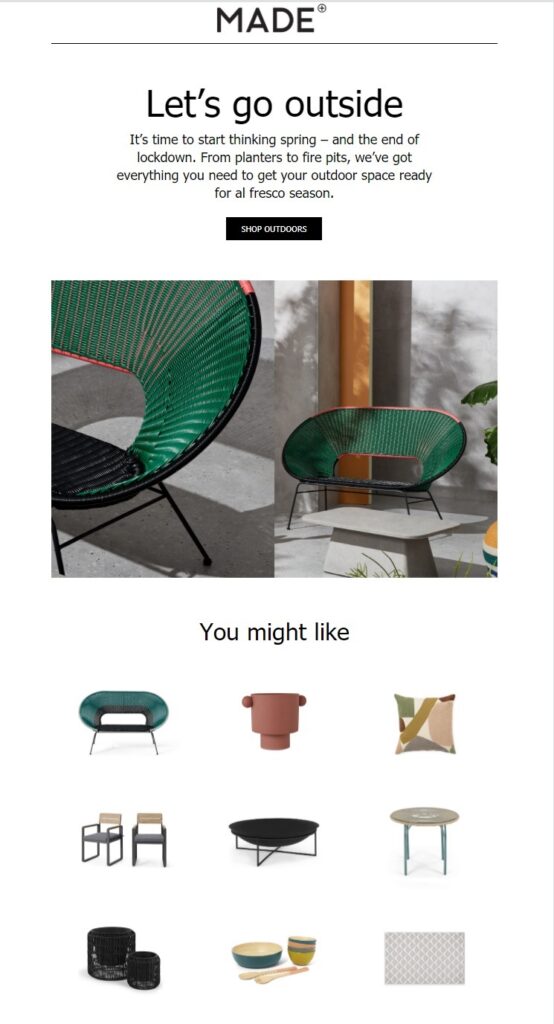 On March 16, the online furniture store made.com offered its subscribers a selection of goods for a picnic and out-of-town recreation, using as an informational occasion the proximity of the end of the lockdown
3 Deeper social media integration and use of UGC
Email is not some isolated area of digital marketing, but always part of a comprehensive brand content strategy, which is implemented through various communication channels. This is why digital trends from social media and other sources are infiltrating email marketing.
Social networks have long become an additional reality, so their integration with email is necessary: ​​it's easier to manage the audience and "invite" it to other sites.
To do this, you can include a snippet of the Instagram feed and buttons for social interactions in the email template. In what other cases is it possible to insert messages from social networks into a mailing list? To announce a competition / draw, inform about an important event and publish reviews.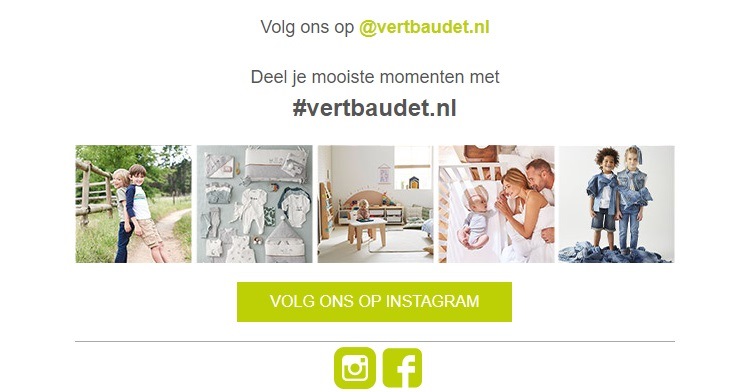 The children's goods store Vertbaudet.nl shows the most popular posts from its Instagram at the end of the newsletter and invites you to subscribe to their account.
4 Emailing not only on weekdays
Statistics from leading marketing agencies indicate that emails are sent on weekends 3-4 times less than on weekdays. But at the same time, the number of opened letters is only 2 times less than on weekdays. On weekends, your letter is twice as likely to be read. Those who know this feature do not take a weekend break from communicating with clients.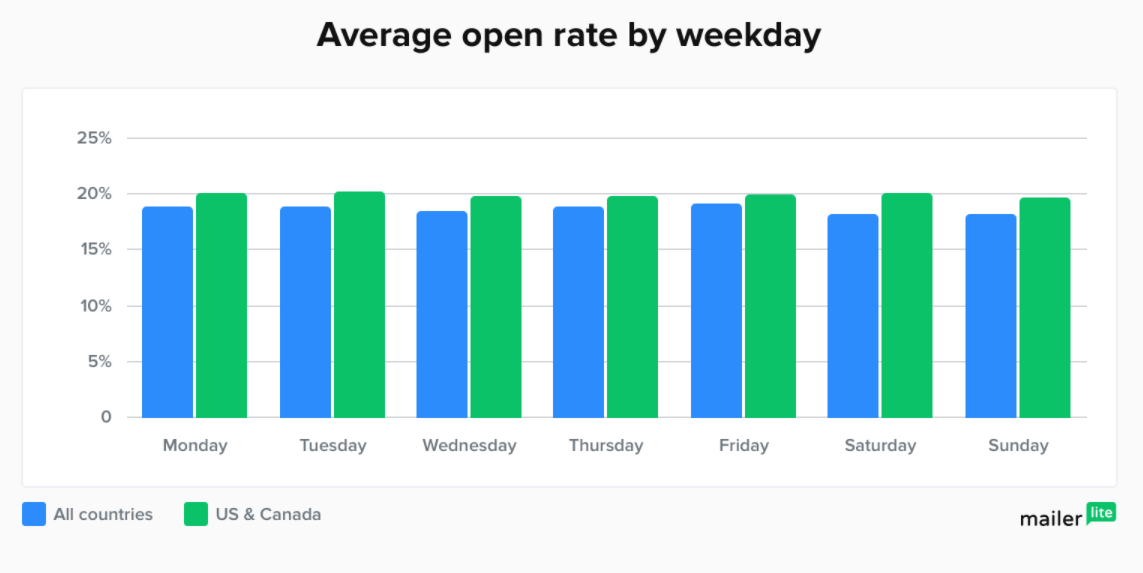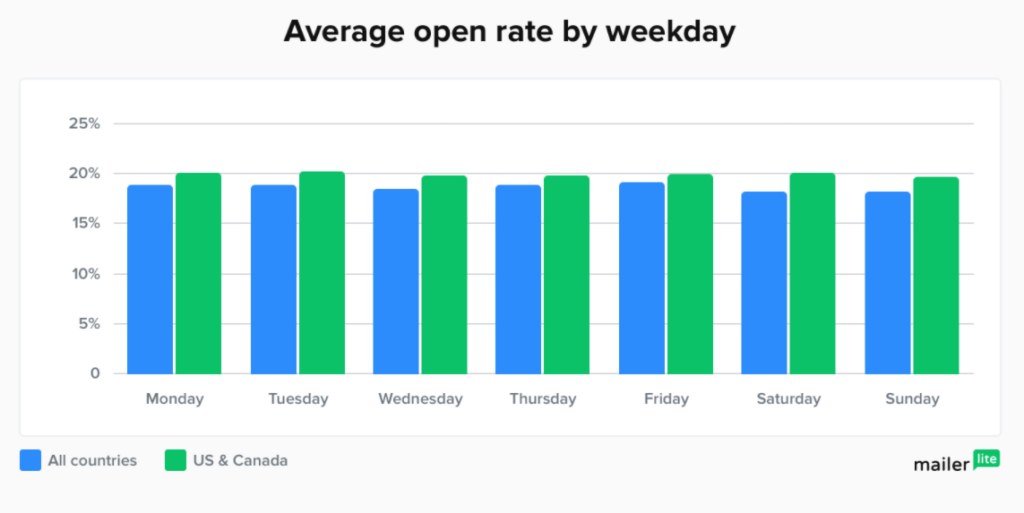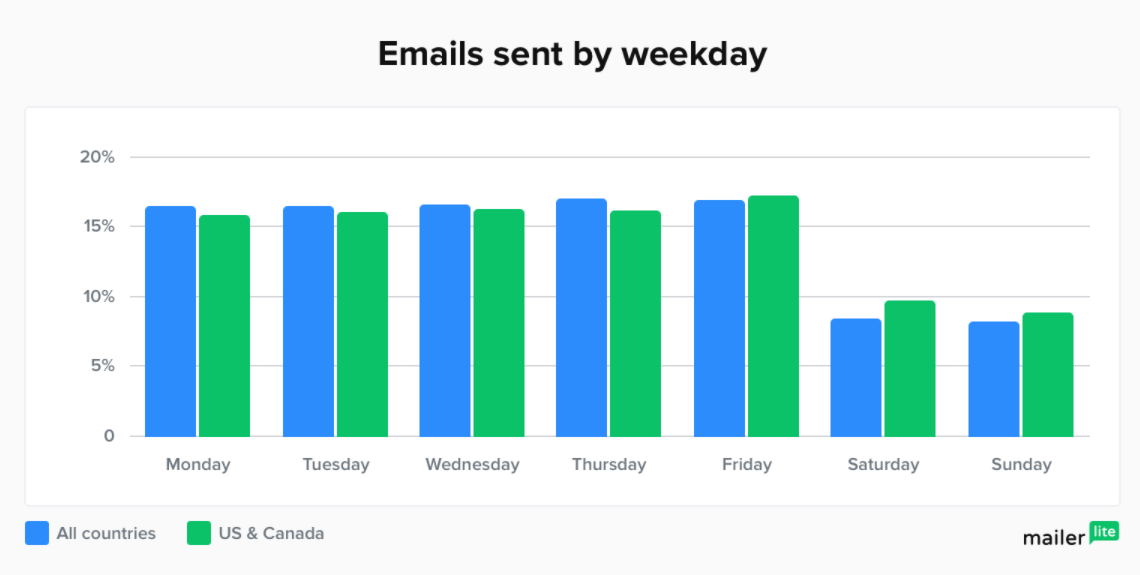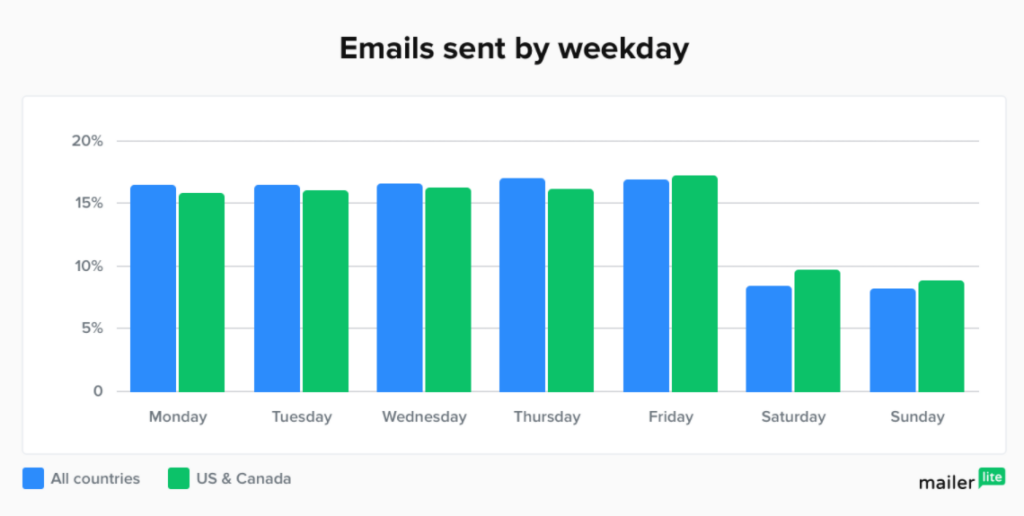 5 Personalization
Personalization also remains in trend. According to SmarterHQ research, 72% of shoppers will only interact with emails if they are personalized. In this case, we are talking not only about the name of the recipient in the email subject line and body, but about creating a letter for the needs of a specific person, taking into account behavioral factors on the site, and optimizing the frequency and time of sending (depending on when the previous letter was opened and how engaged the user was).
6 More thank you letters
According to Experian, birthday emails can generate about 342% more revenue than regular promotional emails.
From a marketing perspective, this letter is part of the customer retention lifecycle and is critical. How else can you show attention and respect to the buyer, as well as increase the effectiveness of direct marketing? Send an email with an exclusive offer, thank your customer for the purchase, inform about the service access prolongation, ask for an opinion on the product, etc.
7 Natural and Sustainable Trend
Just as natural colors and natural light are a favorite on social networks, the trend for simplicity, naturalness and connection with nature is gaining momentum in newsletters, which is especially noticeable in letters from clothing and footwear stores.


8 Dark mode for mobile
Dark mode for mobile devices became popular 2 years ago. It allows you to comfortably use your smartphone in low light conditions and at night, saves your eyesight and saves energy.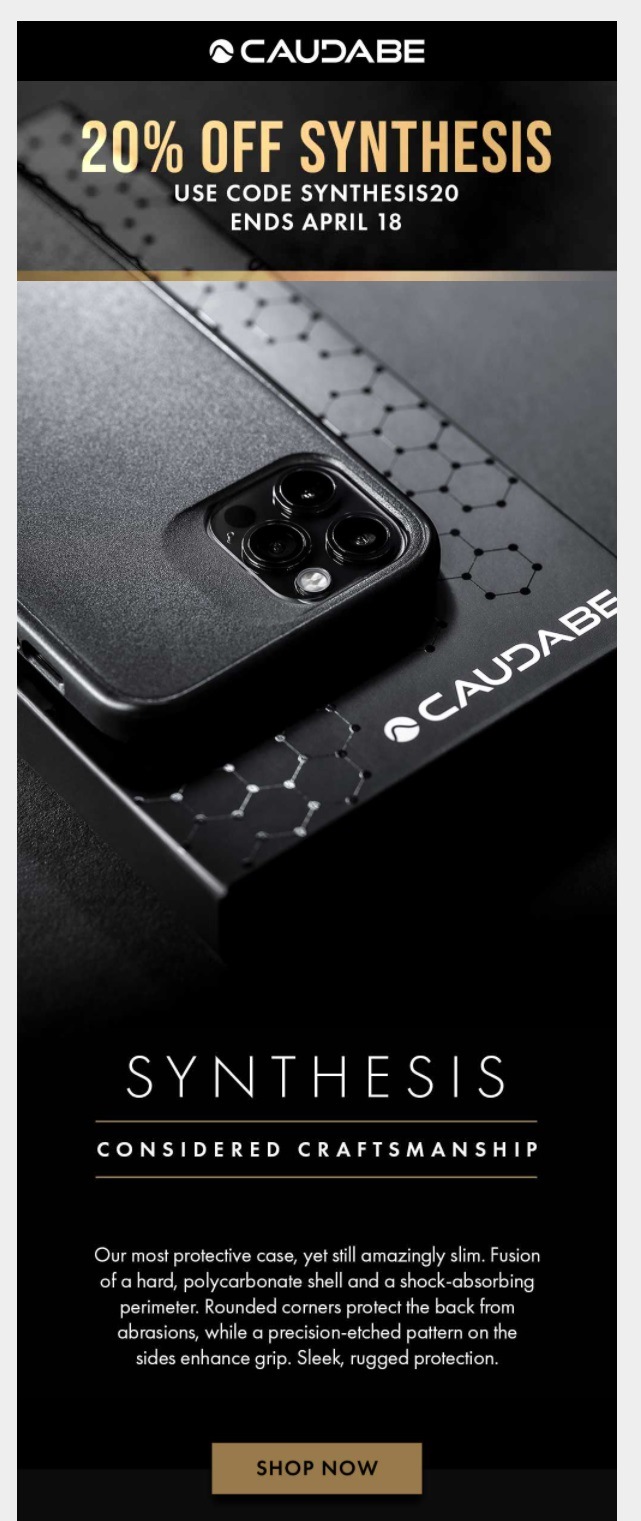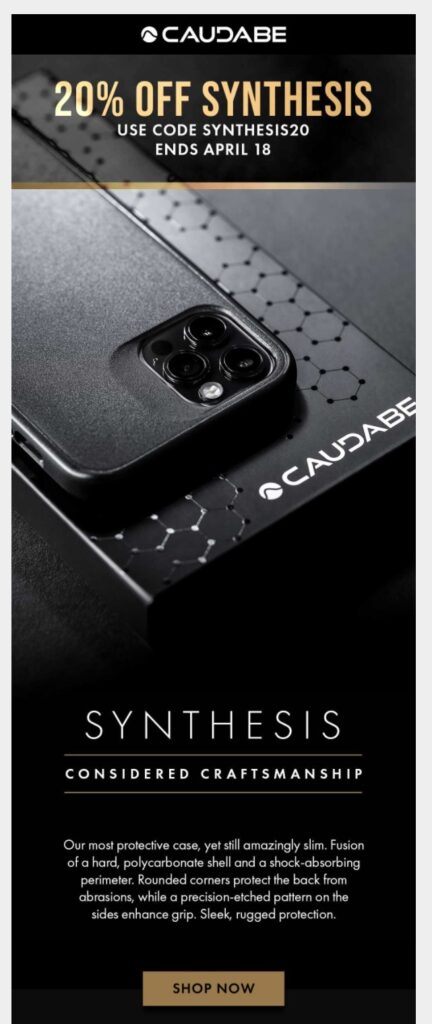 9 Motion and animation
Epsilon research has shown that email open rates can increase by 73% when interactive content is used in email newsletters. This concept includes everything that prompts subscribers to take an action.
It can be animated gifs and other dynamic effects (motion design), gamification elements, a menu that opens when you hover over it. These techniques will help turn subscribers from passive readers into active participants.
The trend has also come to email marketing from social networks, where static content (especially in business accounts) is gradually being replaced by simple and complex motion, the demand for which is constantly growing. Animation is great at grabbing attention and holding it for longer.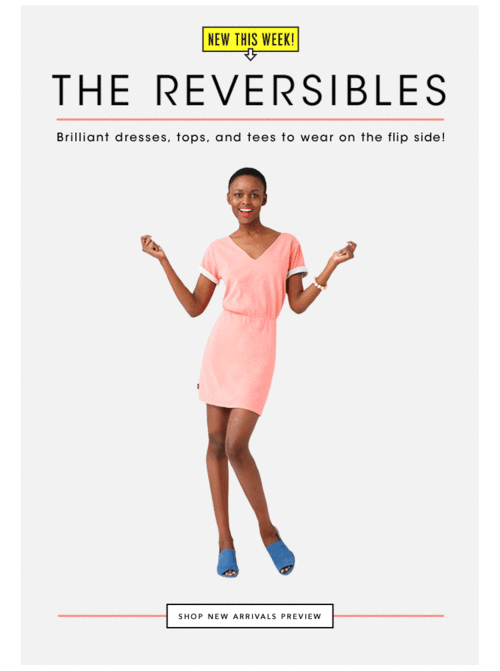 Conclusion
In 2021, email marketing will gain momentum and develop in response to consumer demands for interactivity, usefulness, and authenticity of content. In order not to lose in the competitive information struggle, it is important to be simpler and closer to the reader, to talk about "pains", building friendly relations in mailing lists, to use omnichannel to the maximum, by looping emails with social networks and instant messengers, as well as to apply all new technical tools, not afraid to experiment and deviate from stereotyped ideas. Email marketing is as important as your website is. Don't forget that the final destination of your email is your site. The more it is finetuned and ready for shoppers, the better the results are. We customize CS-Cart and Multi-Vendor stores with dedication. You can trust our experience.
---
Read more about Email Marketing