Hello! You're with the Add-Ons Development Department. Look what awesome updates and useful improvements in CS-Cart and Multi-Vendor extensions we've got for you here for the first part of September 2021!
Updated to Comply
We fixed the conflict between the standard SEO add-on and the "Set customer's language" setting. Previously, if you enable the "Set customer's language" setting and the "Show additional language in the URL" setting of the standard SEO add-on, you were not able to switch to the default language for the store. Now, you can successfully switch to the default language for a storefront, if the location was automatically defined.
Before, when entering two emails using ";" in the User Department email address field and clicking on the 'Create store in Mailchimp' button, the store did not connect to MailChimp. In the new version, if you enter more than one email, the store successfully connects to MailChimp.
We tested the add-ons and found some misbehaviour in the add-on work: some elements doubled depending on the number of languages installed, some statuses of the session tags didn't change in the Ignored session tab.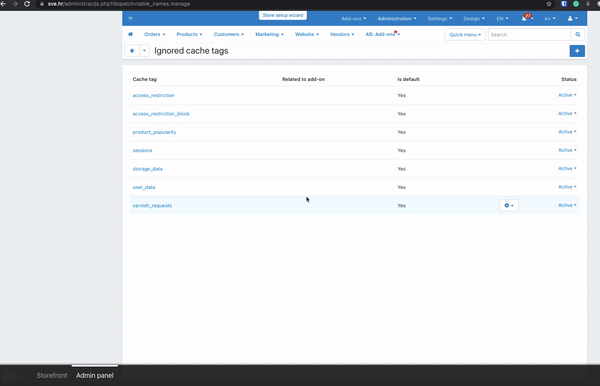 Now, settings can be changed and saved in the following tabs:
General > Session keys
General > Ignored cache tags
General > No-cache dispatches
In the No-cache dispatches tab, one element is created without duplicates, regardless of the number of installed languages.
Previously, when adding a bundle and changing its quantity with the Direct Customer-to-Vendor Payments add-on enabled, the quantity and total price didn't change.
The new version of the Product Bundles is adapted to the Direct Customer-to-Vendor add-on. Now, the quantity and the price changes accordingly.
In the new version of the add-on, we introduced the ability not to summarize discounts for products in Product Bundles and a promotion for the same products.
We optimized the code to remove the irrelevant check of the checkout core setting value. We also improved the work of the "Open in a new window" option.
We added compatibility with the Ultimate Edition. Also, the new version of the add-on has the ability to add the Real-Time Messenger to the regular CS-Cart version to implement communication between administrator and users.
We relocated the add-on migration files to another directory to better comply with the CS-Cart coding standards.
Improved logic
We improved the generation of SEO data for pages. Now, pages can be subdivided by vendors.
We studied the add-on to remove the outdated code. Now, the add-on is optimized and works smoothly.
UNFOLD TO SEE MORE CHANGES…
If you want to see what has been added or fixed in add-ons, you can follow the links below and have a look at the changelog section.
v.4.10.23
[fixed] Migration transfer to the standards-compliant directory
v.4.10.22
[fixed] Metadata generates correctly for pages with particular vendor selection
[removed] Ability to select vendor for category metadata generation is removed
v.4.10.13
[removed] Outdated code is removed
v.4.9.15
[fixed] Unsuccessful default language switching in case the storefront has been automatically translated to the add-on defined country language is fixed
[fixed] The init_language_post hook registration is fixed
v.4.9.10
[fixed] The Store connection to MailChimp error, occurred when several emails are mentioned in 'e-mail address' is fixed
v.4.9.4
[fixed] Unsuccessful saving of the add-on settings is fixed
[fixed] The settings duplication error depending on the configured languages quantity in No-cache dispatches is fixed
v.4.10.13
[added] The compatibility with the Direct Customer-to-Vendor add-on is added
[added] The "Sum discounts of the bundle and the product included in it" setting that allows the disabling summation of the bundle and its product discounts is added
v.4.12.5
[removed] The irrelevant setting of the core value check is removed
[removed] The irrelevant check of the checkout core setting value is removed
[fixed] The "Open in a new window" option is fixed
v.4.9.4
[added] The compatibility with the Ultimate Edition is added