Software development… One day, you realize that your website's outgrown the existing functionality and now is ready for changes. Your next thought might be about why not to outsource customization? Outsourcing is cheaper and brings a greater return on investment than an in-house team. That is a tribute to modern on-the-go lifestyle.

But what to choose, a one-time performer or a dedicated developer? The choice might seem trite, however, each option is worth considering. Ordering customization for a specific one-time task might be less expensive. However, you pay each time to a different developer whose knowledge of your project is mere and surface. Hiring a dedicated developer or a team of developers, you would pay more for the exclusive treatment of only your project.

When do you need to go 'dedicated'?
Your project is the long-run and you understand how big is the scope of work for your staff. You need an expert with deep insights of your business processes
You're not ready to work on technical assignments as you still haven't defined what should be the outcome. You expect changes on the project coming on your mind all the time that customization goes on.
You've got a solid operating flow of tasks and need a reliable partner to assign development issues.

Why Dedicated Developer Service or DDS is your choice?
You personally monitor the work that is being done for you and its progress -> Process Owner
You can interpose in the task any time to influence the result -> Influencer
You get technical expertise of the developers for free together with the service -> Learner
Dedicated Developer Service implies hiring an expert for consulting, code modification and customizations. Expert can be a Middle/Senior Front-/Back-end Developer, Tech Lead or an Account Manager assigned to your task on a scheduled basis. This means the Expert will be available on Skype or Slack to render help in the agreed time. The scope of service does not touch any issues pertaining to design, analytics or technical support on default functionality.
Dedicated Developer vs Technical Support vs Custom Development:
DDS:
You experience an individual approach to your project
You directly communicate with all stakeholders
You personally assign tasks and monitor their fulfillment
TS:
You get consulted on standard functionality
You pay less but the price comprises of only minor tweaks (like button color change, for example)
Custom Dev:
One-time customization
Work as per the Technical Specification
Example: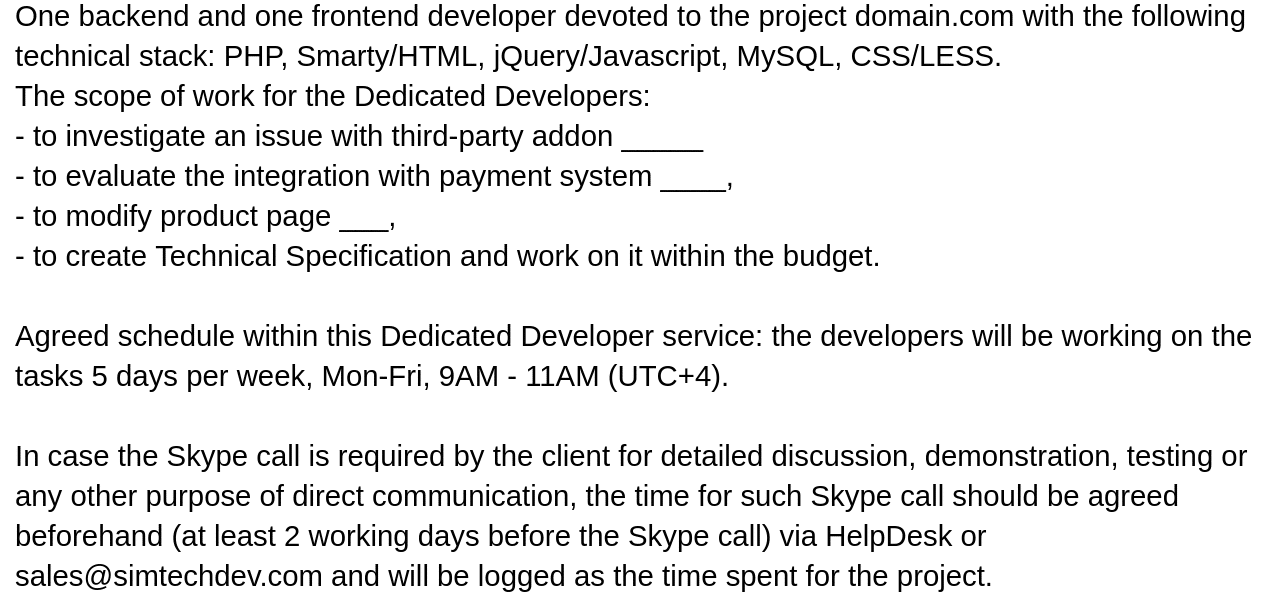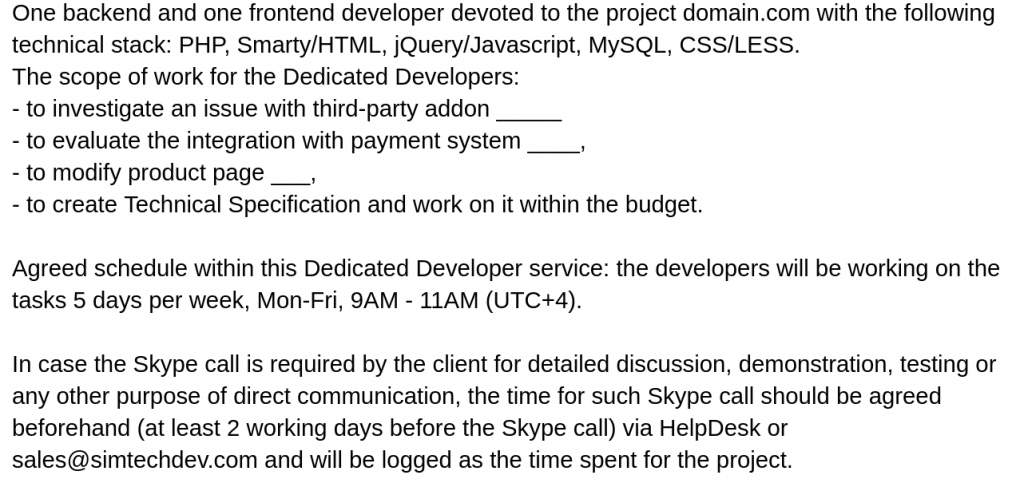 Ordering the service from Simtech Development, you get:
Direct access to worklog, a report on the tasks completed by the developer for you
Direct access to Jira, a task management system used internally by managers and developers to control the progress of work
Direct means of communication: Slack or Skype to chat with actual task performers within the agreed time slots
Direct instructions on how to use all required tools: how to integrate Slack with Jira and get powers of both. You get to know about your task status change in real-time, time when it actually changes.
Why Jira+Slack/Skype?
All three are available in the desktop and mobile versions – Post and react on the go!
Why Jira?
You get a Scrum dashboard with intuitive user interface: simply pull, drag and drop a task widget, you see the full picture and the actual state on one screen.


Why Skype?
Combine chatting and tasking: it is fast, mobile, and easy!
All messaging is fixed, you've got a written testimonial of the made agreements.
Why Slack?
Same as Skype plus Jira integration option: you've got an automatic message notifying about the task status change.
! Don't worry about the technical part: we'll give you all the instructions on how to create a Slack workspace and integrate it with Jira.

What you will need to prepare in advance?
List of issues to the developer/manager. This way, we could pick up the best performer for this task from our team
An approximate number of hours for work to be done, project schedule or go-live date. This way, we could schedule the workload
Your convenient time slots for Skype/Slack discussions with respect to our working hours (Mon-Fri, 9:00 – 18:00 UTC+4). This way, we could guarantee our full-time availability for you
Skype, Slack accounts. We'll provide Jira accounts for the project over 50 hours
Provide data with access to the website administration panel (provided in your Help Desk account through a dedicated secure page)
! Any issues till this point? – Ask and we'll help!
Pricing:
100 % prepayment;
Minimal package starts from acquiring 10 hours;
You pay only for the actual hours as fixed in the worklog after the developer has completed the task and logged the time in Jira;
In case you didn't spend all hours within a task, this time would remain for a certain period depending on the package.