We have completed hundreds of awesome eCommerce projects of all shapes and sizes, and we are very glad to know that those businesses are prosperous and successful. One such project is Pixel Takeaway – English marketplace for artists. Our challenge was to create an online store to make artists work more conveniently with customers. The result is: each vendor has his/her own personal account, automated calculations with all participants, a pre-order system, and the ability to discuss projects. Through the personal cabinet menu, the seller manages the goods and orders, communicates with customers, and receives notifications. We also made placing the order as convenient for the client as possible.
Today we speak to co-founder and creative director Sergei Golubev, who will tell us his success story.
Sergei, tell us please about yourself. What is your job? What position do you hold at Pixel Takeaway?
I have been working as a software designer for more than 10 years. I have experience with cooperating with different clients, from Microsoft to startups and creating websites and apps. Now I run my own projects, like Pixel Takeaway.
How did you get the idea of starting such an amazing business?
The idea was born from personal need. I wanted to order a picture to hang in my house, and I had surfed lots of London galleries. Unfortunately, I didn't find service with an affordable price and information about the artist. So I decided to create a special marketplace where talented artists create for an affordable price in no time.
Where do you find artists? Is there a personnel selection process?
We have a pool of talented professional and aspiring artists, graphic designers, and illustrators. Here in London, there are a lot of art conferences, exhibitions, and other events for talented people. We look at their portfolios and ask about their working conditions. Then, if everything is OK, we invite artists to join our team. The artist should accept that the Pixel Takeaway pricing policy is "cheaper than you think" (from 25 to 500 pounds). It means that the artist should be ready to draw good-quality pictures for a reasonable price.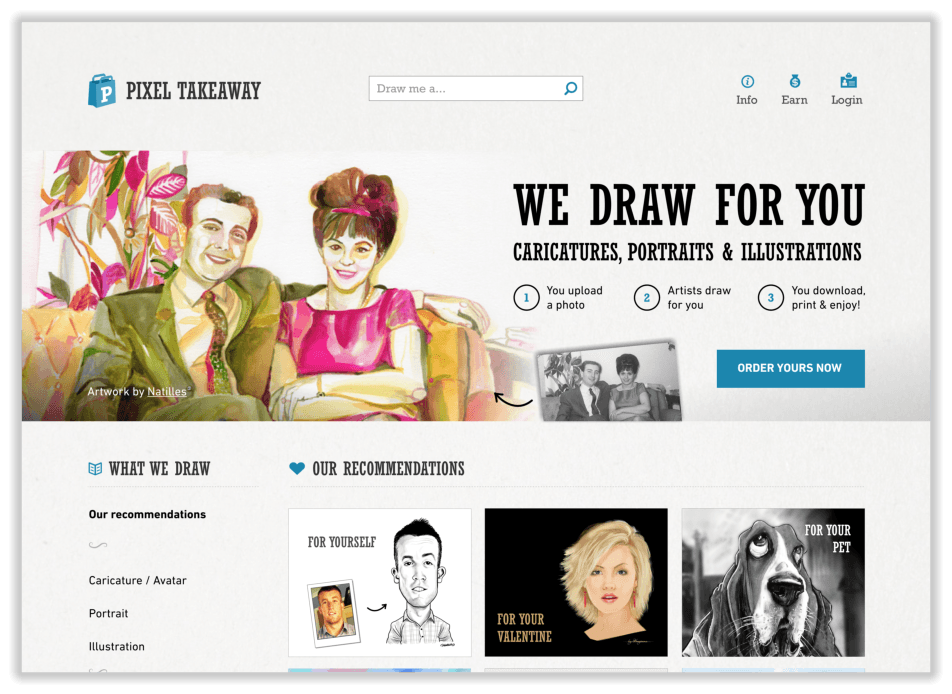 What kinds of works are popular among your clients? Which channels are now generating the most traffic and sales for you?
Our clients especially like portraits and caricatures made by the artists. Our advertising campaigns include London art events, Facebook, and Twitter.
What are your recommendations for new store owners?
I advise everyone not to put off the decision of starting a business. Do not waste your time on testing lots of software, releasing it online, and developing it.
Any closing remarks?
We will continue bringing affordable custom art to the masses. Now we are looking for new clients, and we have started a new service – a sister of Pixel Takeaway, "Drawsy."
To get more information about the implementation of this project read Case study Pixel Takeaway