MailChimp is the world leader in email marketing. With the Mailchimp Advanced add-on you can create unique mailing lists for any page of your store. For example:
– for the visitors who open the homepage,
– for the readers of your blog,
– for the buyers who complete the checkout.
Later, you can open your MailChimp account and divide each list into segments for more precise targeting.

To see more advantages, let's compare it with the the default CS-Cart E-mail marketing add-on.

Key differences


1. The default E-mail marketing add-on allows you to create only one subscription list for all your subscribers.
The MailChimp Advanced add-on supports unlimited number of subscription lists. You can create unique forms for the homepage, checkout, blog, etc. The subscribers will be assigned to the subscription lists accordingly and you will be able to address them differently.

2. The default E-mail marketing add-on creates only a newsletters check-box at the checkout to let customers subscribe.
The MailChimp Advanced add-on allows you to create customizable subscription forms and pop-ups. You can adjust appearance, content, pages, and position of the subscription form/block and place them on the pages you want.

A quick tour around both add-ons
Storefront
The default E-mail marketing add-on places a newsletter check-box at the checkout. The check-box appears when the customer completes the order.




The MailChimp Advanced add-on allows you to make a customizable sign-up form or pop-up.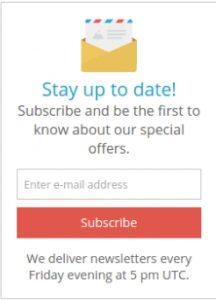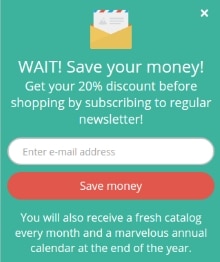 Admin panel
The MailChimp Advanced block can be created and configured in the Admin Panel – > Design -> Layouts.
For example, the General settings allow you to adjust the appearance of the subscription block:
Show it as a pop-up or block

Define its position on the page

Show on mobile devices or not.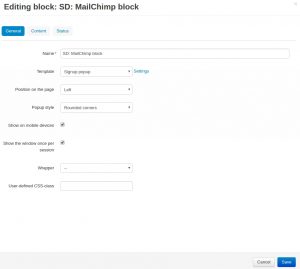 The Content setting allows you to write text for sign-up forms.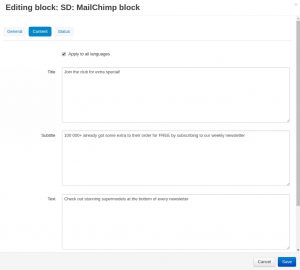 You can also choose where you would like to show the subscription form.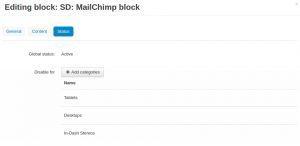 None of those is available in the default E-mail marketing add-on. The default one simply synchronizes your mailing list with the MailChimp account.

Managing mailing lists
A mailing list of the default E-mail marketing add-on contains only the name of the list and the number of subscribers.




MailChimp Advanced adds a new menu item—Advanced mailing lists. It contains the names of the mailing lists in the CS-Cart store and their equivalents in your MailChimp account.





This ability to create lists is crucial because the success of email campaigns highly depends on the right targeting. With MailChimp Advanced, you can put the right subscribers on the right lists.

You can set your preferences for each mailing list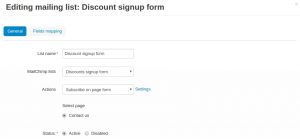 The fields mapping is also available:




This being said, MailChimp Advanced is a flexible tool designed to solve two important problems:
Creation of well-targeted email recipients lists.

Catching customers' attention and stimulation to subscribe.
Get it now and take your mailing campaigns to a new level!