Now, as a business owner, you might have been obsessively following the Coronavirus pandemic. In fact, business continuity through the outbreak is likely on every business owner's mind.
It has become imperative for many companies to embrace the rapidly changing market conditions due to COVID-19 and look for creative, cost-efficient, and sensitive ways to communicate the value of their product during this difficult time.
But as with any crisis, many business owners are too quick to take the first step to overcome it, rushing in with the question, "How can we improve our product and maintain sales figures?". However, the right tactics should actually be going back to the core question of your business proposal, "How unique is our unique selling proposal, and what true value do we offer to our customers?" and start changing from that.
This week, we reached out to brands that successfully demonstrated this approach. They shared with us their experience on how they adjusted their unique selling proposals (USP) according to the new pandemic conditions and saw positive results.
Stay with us, read. It is going to be very exciting!
We start our list with Sleekform Furniture.
Sleekform.com – Create the office of your dreams!
Sleekform Furniture is a direct-to-consumer line of ergonomic furniture that specializes in clever alternative office chairs that are space-saving and a lot healthier for our bodies and help relieve back and neck tension caused by regular office chairs.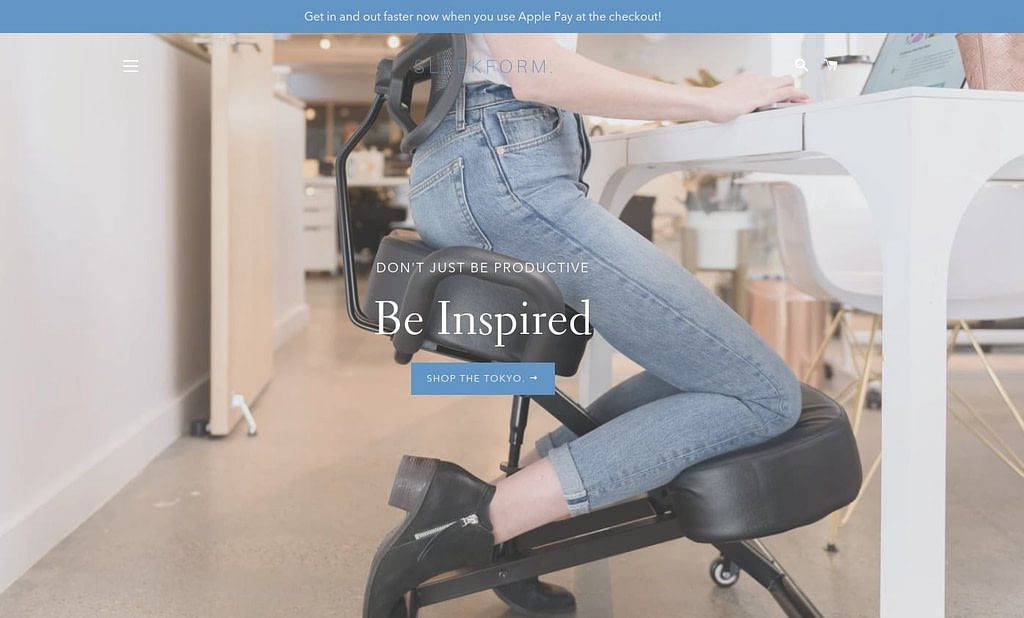 We had a short conversation with the Founder and CEO of Sleekform Furniture, Liz Mercer, about how her business is doing during the pandemic.
Liz, has your business been affected by the coronavirus pandemic?
"Yes, we are what you can call a "new-essential" due to people being asked to work from home and now needing a good home office setup that is not their kitchen counter. In addition to ergonomic space-saving chairs we now sell beautiful folding tables perfect for adding something to your new home office setup. "
Have you had to adjust your unique selling proposition according to the conditions of the pandemic?
"Absolutely, everything has changed and our business is no exception. We're a resource for remote work tips, ergonomic office setup tips, and overall finding great solutions for working at home. We are trying to help in all ways we can. These are uncharted territories for us all, and we always want to be a partner and help wherever we can. "
This is not the first time Sleekform deserved our attention. Last year we published an interview with Liz, which immediately became one of the top popular articles among our readers. If you are interested to learn how the founder of Sleekform stumbled upon a unique product and created her original unique selling proposal, click here.
Copperh2o.com – Stay hydrated the ayurvedic way
Copperh2o.com is the market leader in unique water bottles made of copper.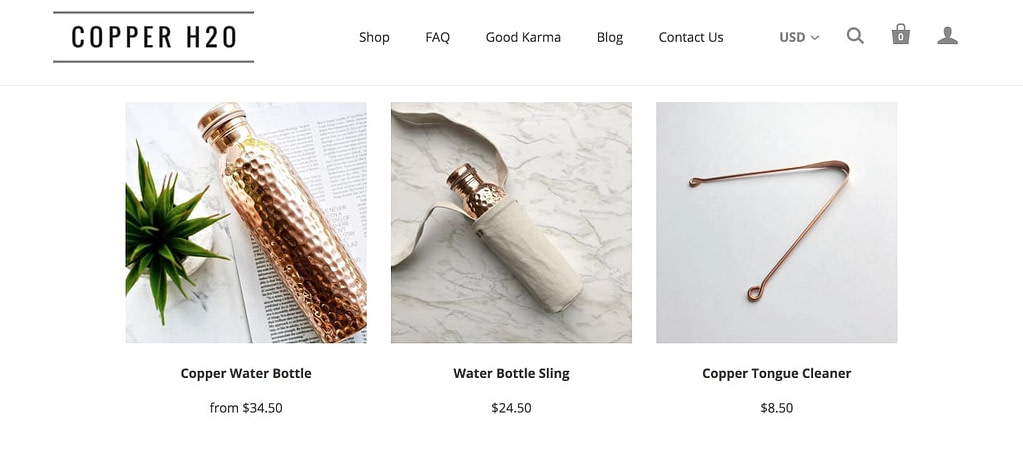 We spoke to Jessica Rose, the CEO of CopperH20 about how the company adjusted its USP,
"In previous years, most of our customers were interested in our bottle due to its unique aesthetic qualities, which was our USP. However, since the onset of COVID-19, there has been increased focus by the scientific community on the anti-bacterial and anti-viral properties of copper. As a result, we found ourselves in a position to modify our USP to go beyond aesthetics. In particular, in a world with increased concerns regarding the transmission of bacteria and viruses, a water bottle made with anti-bacterial and anti-viral metal can provide a tangible benefit. This adjustment to our USP has resulted in an increase in traffic and interest from customers. We also have a "good karma" program whereby we donate 15% of our profits to coronavirus relief efforts during the duration of the pandemic, which has added to our USP and has been greatly appreciated by our customers."
CopperH2O also makes an effort to back up their USP with a comprehensive summary of the recent scientific studies on copper as an anti-viral and anti-bacterial in their latest blog posts.
Illuminatelabs.io – We make supplements you can trust
Illuminatelabs.io is a supplement manufacturer that tests every batch of our supplements at a third-party lab against European Union limits.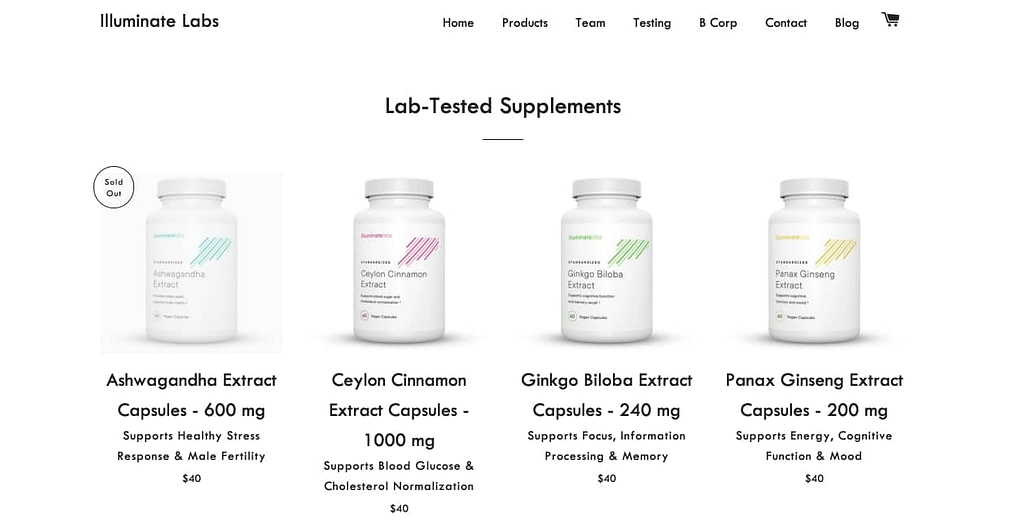 Calloway Cook, he founder and President of Illuminate Labs, started this company as a frustrated consumer of dietary supplements. He was concerned with the purity of the products he was consuming daily. After hearing many people online and in-person voicing the same concerns, he decided to launch Illuminate Labs as the solution to the transparency and safety issues in the dietary supplements industry.
Calloway responded to our question about their USP,
"We've seen a slight increase in sales due to consumers focusing more on their health and ordering more products online. Our original USP hasn't changed and actually has helped us sell more products during this pandemic. Consumers are increasingly concerned about the quality of products they're consuming during this period, and since we're one of the only U.S. supplement companies publishing all of our test results right on each product page, we're a good solution for health-conscious supplement consumers."
So, we now have a super comfortable home office and drink plenty of water full of all sorts of healthy things. But somehow it feels just not enough. Right, even in the toughest times and being locked in their homes women still want to look pretty!
So let's look at what is happening in the beauty industry. As we know, all the beauty saloons had to close their doors due to the pandemic. But how is it possible for them to make money? It turns out, if you add to the equation some creativity and the willingness to work hard, it is very much possible!
PressQueenCollection.com – You can tell a lot about a woman by her hands.
The creator of Press Queen Collection, Nikki Robinson, shares her experience with us,
"When I started my business, the original USP was "luxury custom-made press on nails." I know how much women love their acrylic nails, so I created a USP equating my custom made press on nails to the acrylic nails offered at a nail salon. Due to shelter-in-place mandates, nail salons had to close their doors to the public. I noticed sales of my press on nails starting to increase soon after the closings. But it was when I changed my USP to "instant at-home acrylic nails" from my original USP that sales really picked up.
I came up with the idea by engaging with nail techs and nail enthusiasts in Facebook Groups, where the discussions were mostly about how the coronavirus pandemic was affecting local nail salons all over the country. Adjusting my USP according to conditions of the pandemic helped position my product as an essential to nail lovers. It appeals more to my audience than "luxury custom made press on nails," which kind of still gives the sugar coated connotation of flimsy press ons from back in the day. My updated USP specifically addresses a need during this pandemic. That's helping my business see more profit than ever before.
I create my product at home and ship to five countries. As long as postal and parcel services are running, I'm still selling!"
Coming up with ideas to keep your business going and managing your remote staff during the pandemic is all very important. But at the end of the day, what really matters is to get some peace ad quiet and have a great night's sleep so that you are functional for all the demands the next day.
SleepPhones.com – Sound sleep and healthy lifestyles in ways you've never heard!
SleepPhones are the world's most comfortable headphones for sleeping, founded by Dr. Wei-Shin Lai.
In 2007, Dr. Wei-Shin Lai was a family doctor, she needed a way to get back to sleep after taking patient calls in the middle of the night.
Her husband suggested listening to soothing music to fall back asleep, but headphones were bulky and earbuds were extremely uncomfortable. So she would take some fleece and some speakers and put it all together. It felt so comfortable. It was then when she decided she stumbled upon a great product – sleepphones.
Sleepphones have ultra-thin removable speakers enclosed in a soft light-weight fabric band. The unique form-fitting shape is perfect for blocking out unwanted noises.
Doug Blair, Marketer at SleepPhones, reached out to us with his response,
"We have not really changed our strategy too much. We believe our products are perfect for a number of uses so we are trying to highlight those that are the most impactful for the current situation. For example, not many people are traveling now, however, many are going to sleep with a lot of anxiety and stress on their mind. As many people are now working from home, our products are a nice way to find some distraction from noisy neighbors or children. "
Staying committed to helping people get the best rest of their lives, SleepPhones recently decided to take their unique proposal one step further and launched the AcousticSheep Harmony Project™.
The AcousticSheep Harmony Project™ is a revolutionary sleep induction app that uses artificial intelligence to generate, recommend, and deliver the most effective deep sleep-inducing music, rhythms, and sound patterns.
SleepPhones invites people across the globe to participate in the project. All that is required from participants is listen to the tracks specifically designed to help lull them into a deep state of slumber and as they wake up, simply rate how well that specific track helped (or didn't help) you fall asleep. By doing this, the participants will help AI system to continually produce more effective sleep induction sounds and therefore help SleepPhones to create new generations of tracks for their customers.
This is an exciting advancement and an effective way to engage customers!
Well, apparently, using sleep phones is a way to put yourself to sleep but that was definitely not the intention of our article. So, we saved the most intriguing part to complete today's list of companies with Sequencing.com, the world's largest software eCommerce marketplace for DNA analysis apps and reports.
SEQUENCING.COM – Get DNA analysis for life that's backed by science.
Sequencing offers a wide-range of software applications that analyze DNA data from any test, such as from 23andMe and AncestryDNA and provide clear solutions for better health. Based on the DNA test data, they give valuable recommendations on nutrition optimization, weight loss, fitness, avoiding harmful medications and much more.
We spoke to the Founder and CEO of Sequencing.com, Dr.Brandon Colby, about their new strategy during the coronavirus pandemic,
"For the past two months, we've shifted the focus of Sequencing.com so that our expertise at genetic analysis are used to help with the COVID-19 pandemic. An example is the Coronavirus DNA Health Assessment that we recently launched, which is free software that analyzes a person's genetic and non-genetic risk of COVID-19 turning into a more severe, life-threatening illness. The assessment also provides straightforward, personalized insights for optimizing a person's personal defenses against coronavirus."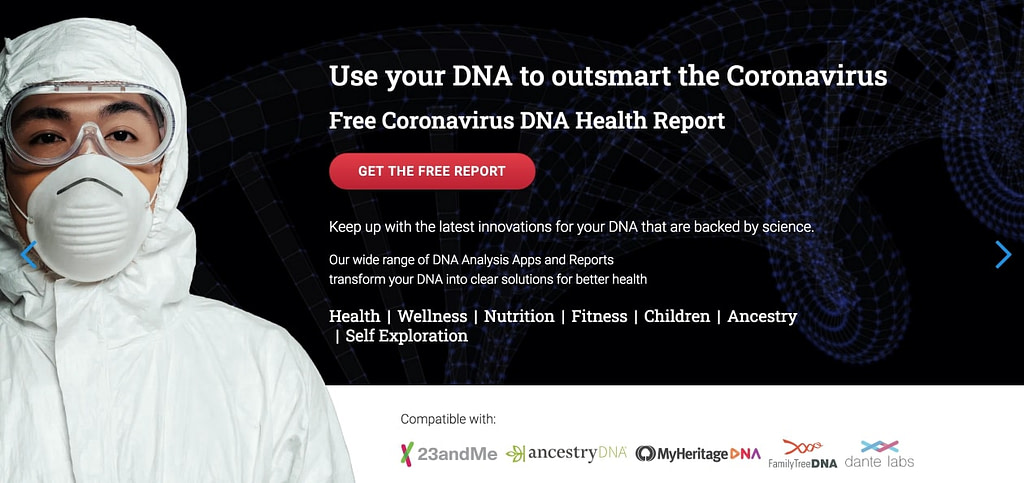 In his recent blog post, Dr.Colby wrote about the work his company has focused on to help combat COVID-19.
We hope the companies featured in this article will not only inspire you with their products but also the services they provide, will themselves add value to your quality of life during the pandemic. After all, we all need a more organized workplace at home and a good night's sleep.
And if you have a unique business proposal and ready to build a business around it using your bare hands (wash them first!), then contact our eCommerce experts and our skilled team will help you implement your ideas.
Simtech Development is the only authorized CS-Cart development company on the market. Our experts will help you choose between the range of CS-Cart platform editions and customize your online store according to your specific business needs.
We have helped thousands of businesses to turn their ideas into reality!