We know how important it is to drive traffic to your eCommerce site and increase your brand awareness, trust, and conversions. But what should you do when you've just launched your business online and are striving to be referred by other recognized sources to get links back to your site? Link Building is a perfect SEO strategy here as it allows you to be cited on other respectful sites with no or minimal budget. You can share expert recommendations, tell a story about your start, give industry insights, or disclose your own research on a matter where you are a pro. Expert quotes and testimonials have the potential to earn credibility for your business and direct people from other destinations to your platform. Exchanging your expertise to traffic can be done in many ways. You can send thousands of emails and wait months for an answer, or use specialized resources to publish your writing or interview somebody on a topic you suggest.
HARO as a traffic booster
Here we will talk about HARO or Help A Reporter Out website where you can either request a pitch or publish your own insights. It is a source connecting journalists and business insiders where the reward of the submitted pitch is the link to your website. 
Now, HARO gathers +50,000 journalists and +800,000 users on the platform. The main idea behind the platform is serving as a medium to exchange industry specifics and best examples from the real world. That's why HARO suits not only journalists, but digital entrepreneurs also. It is a huge base where you have lots of opportunities to share your content. The more valuable is your insight, the more chances are to get organic traffic and conversions. You don't have to pay anything to be published on a media outlet.

Why does your eCommerce site need HARO?
Pitching for free on other platforms to drive traffic back to your site
Getting free content on a topic your audience is interested in from experts
Sharing links of the published content in social media to spread your insights wider
Citing of your source increases the website authority and search engines perceive you as a reliable source – a perfect SEO strategy
Networking with people who can provide more value for your business in future 
How does it work
The platform allows you to create two accounts. You may choose either to be a journalist or a source. Journalists are those who seek for content creators. Sources are the content creators themselves.
I'm a journalist
In this case, you ask for an interview and publish it on your site if you think the pitch is relevant. It helps when you need to populate your blog with expert opinions or valuable content, but don't have much time to write or enough information on the topic.
Your request should include:
Title
Query: a brief summary of what your interviewees need to cover to meet the requirements
Requirements: may touch the length of a pitch, some guidelines on banned topics (like no advertising alcohol beverages or gambling)
Deadline: respect the time of writers, don't squeeze the time to get only valuable content.
Any qualifications required from the source
You will get the answers in your mail three times a day. The platform allows you to accept, deny, and rate pitches.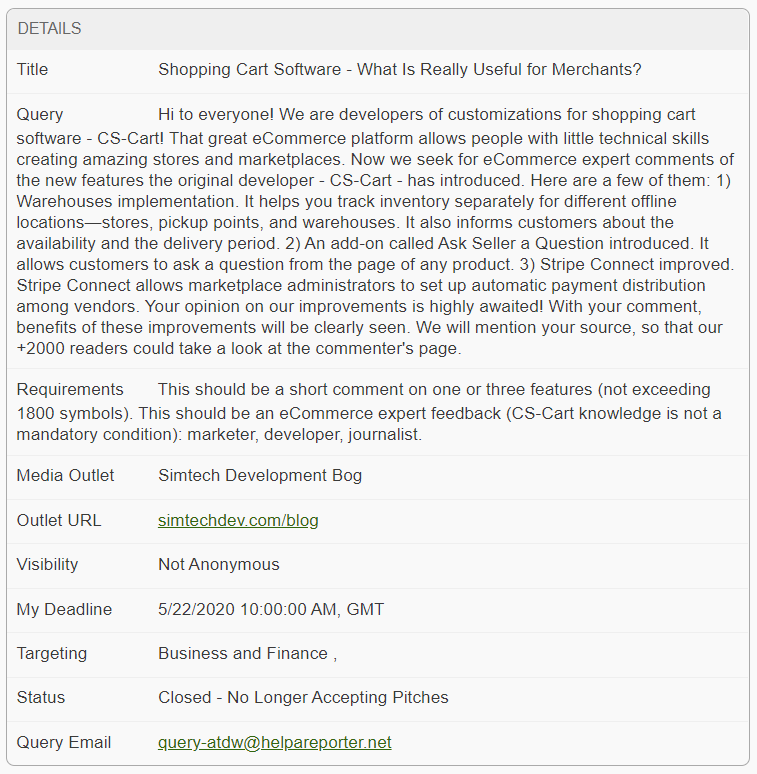 If you opt for I'm a journalist, you won't spread links back to your site, but rather get something on your eCommerce site. But, still you can ask the interviewees to share your article based on their answers in their social accounts to increase visibility and authority of your platform. The more you're cited, the more Google likes you and rank higher in the search.
I'm a source
Being an expert in your business area, you can participate in writing industry- or niche- specific articles. You can offer your thoughts on one of the topics, selecting a category:
High Tech
Biotech and Healthcare
Energy and Green Tech
Lifestyle and Fitness
Sports
Entertainment and Media
Public Policy and Government
Education
General
Gift Bag
Travel
UK
or invite your experts to write on one of the topics where they can provide value.
If your pitch is chosen and included in the article, then a link to your company and/or the blog will be indicated in that publication. This will provide additional awareness and traffic. Imagine, your pitch is chosen by a reputable journal like The New Your Times. It's worth pitching when the citing outlet subscriber base is 5.09 million people. 5 million leads who read you and want to know more about the author and the background!
Your answers should be sent in a form absolutely ready for publication, so that the publisher does not need to edit anything. At the beginning of the answer, introduce yourselves, then give an answer to the question, your bio image and the links that you want to publish (LinkedIn, Facebook, Twitter, website).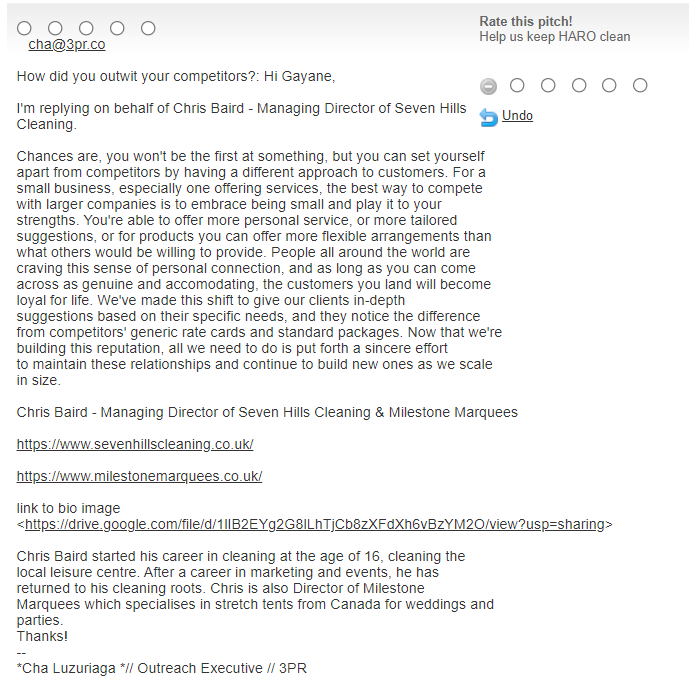 How to get the most:
Always provide value with your content
Provide relevant information answering specifically the questions asked by journalists
Do not rush into self-promotion
Prepare credentials in advance and attach them at the end of your letter. There, you indicate why you are experts, or why the answer of your expert of your company can be trusted (MBA degree or long-standing experience, etc).
A headshot is welcome as it helps to personalise your pitch, create a sense of talking with a real person and bring attention to your writing.
Once the pitch is released, keep in touch with the publisher. This can be the beginning of your further cooperation and mutual assistance.
Ask the writers to share your article in their accounts to increase visibility of your brand.
Closing
Building links to your source or sharing insights for other outlets, give only relevant information and valuable insights. This is the only way to drive interested visitors to your platform, increase authority (as other sites cite your pitch), and create trust with your audience. Always work on how you're perceived with your audience. It is more than just selling online, but rather building connections with the audience who will convert better once you gain their trust. And when thinking of getting traffic, don't forget about customizing your platform to meet preferences of your audience. As technological partner with +15 years experience in custom development, we can help you to make it with high quality and extra efficiency for your business.