Being eCommerce-wise when you're an entrepreneur or selfpreneur selling products online is mandatory! James Altucher in his 'The Ultimate Cheat Sheet For Reinventing Yourself' says that in order to succeed in any area, you need to read about 500 books annually. And if you want to be among leaders, you'll find the time to read.
So, how to enter the top 10, 100, 200 or 500 of businessmen? – Right, invest your time in reading! To be the top, read the top!
In this context, let me introduce the top of books selected based on 11 independent sources and ranked depending on their average weight.
Sources
Our team knows a lot of places (websites or platforms) where to find tutorials and sources for creative ideas. You can sip knowledge at QuickSprout, explore Google Academy and Analytics resources, study HubSpot articles daily. It is very useful to spare fifteen minutes or even an hour to hit the high points, but they will never replace a good book.
We've scouted 11 expert opinions and reputable websites to find out the best eCommerce literature. Here is the list that served as the base for our data mining:
Aaron Orendorff, the founder of iconiContent, Ex-Editor in Chief of Shopify Plus
Google users reviews
Goodreads
LiveLib
eBay
Barnes&Noble
Reading Desk
Get Abstract
Finally, our selection base included 100+ books reviews made by independent authors and 7 book estimation platforms.
Statistically Proven Choice
After estimating all the sources, we've chosen the following books on eCommerce:
The Best Service is No Service: How to Liberate Your Customers from Customers Service, Keep Them Happy & Control Costs, a Book by Bill Price and David Jaffe
Launch: An Internet Millionaire's Secret Formula To Sell Almost Anything Online, Build A Business You Love, And Live The Life Of Your Dreams, a Book by Jeff Walker
Crushing It!: How Great Entrepreneurs Build Their Business and Influence – And How You Can, Too, a Book by Gary Vaynerchuk
Digital Business and eCommerce Management Book by Dave Chaffey
The Startup Owner's Manual: The Step-by-Step Guide for Building a Great Company Book by Bob Dorf and Steve Blank
Building a StoryBrand: Clarify Your Message So Customers Will Listen Book by Donald Miller
SEO 2018: Learn Search Engine Optimization With Smart Internet Marketing Strategy Book by Adam Clarke
Get Rich Click!: The Ultimate Guide to Making Money on the Internet by Marc Ostrofsky
The Subtle Art of Not Giving a F*ck: A Counterintuitive Approach to Living a Good Life by Mark Manson.
One Click: Jeff Bezos and the Rise of Amazon.com by Richard L. Brandt.
We ranked this list depending on estimates given by different influencers and got this chart: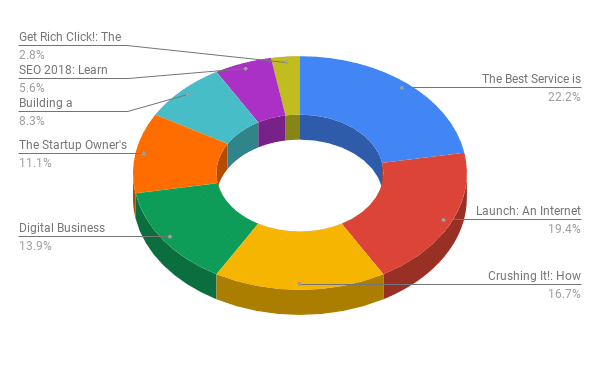 Closing
'The Best Service is No Service', 'An Internet Millionaire's Secret Formula' and 'Crushing It' are the absolute leaders. Now, you know what is worth the time, for sure!
We won't spoil your reading experience by describing the plot. One thing to note is that this literature suits any skills: whether you're a start-up or a business guru. New ideas come up everywhere.
And if the burden of deals is too heavy, please, account for the Simtech Development team! Our pros can give you a piece of advice on almost any eCommerce-related subject: digital marketing, SEO, design, brand management, website, and server security and so on. Don't hesitate to ask for help, we will readily assist you!