Have you ever thought about enabling an affiliate program in your online store?
The online retail has been using affiliate networks quite for a long time so far to get the benefits of the incoming traffic to their platforms. It is truly a win-win solution for e-tailers, affiliate marketers, and online shoppers. Moreover, statistics say that the upward rise tendency is going to grow. Statista reports that it would get even more popularity until 2022 and increase by 33%.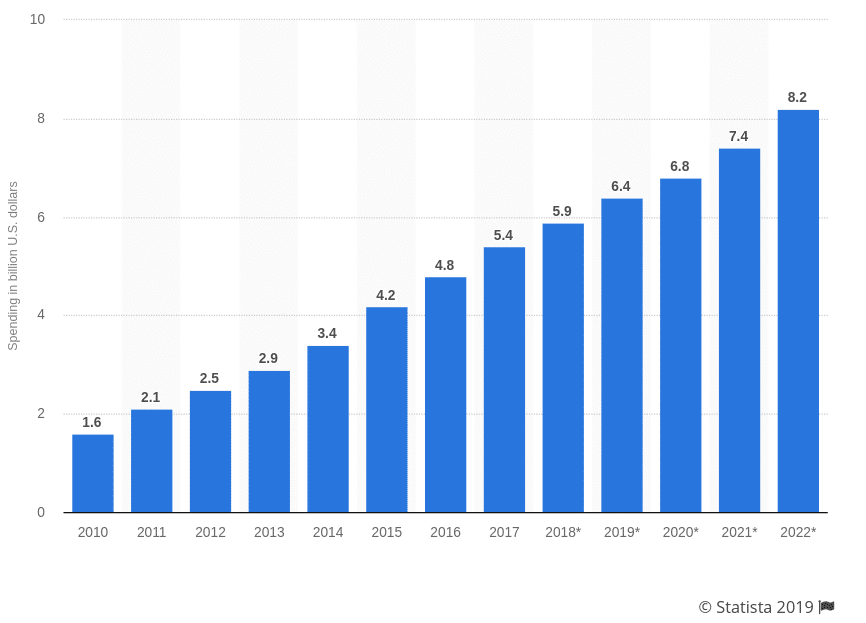 Why Affiliate?
Take an example of Japan market who is always at the forefront of the world economy. Over the past three years, Japanese firms have heavily invested in affiliate marketing which resulted in the domestic market growth by 15 % per year. One of the reasons for the affiliate program's successful conversion there was providing consumers with easy access to affiliate links using smartphones and tablets.
Another reason for affiliate programs' rise is credibility. When buying a new product or service, whose opinion would you trust – a stranger or an expert? An affiliate marketer has its stake in promoting only the best products: it is all about his or her reputation.
Joining a reliable affiliate network, customers are released from the pain of searching for the most reliable offers on the web.
The recent research performed jointly by Forrester and Rakuten Marketing claims that 83% of companies would prefer to hire affiliates to promote their products using affiliate networks.
What does Affiliate mean?
An affiliate network is a platform. It connects the product owners and affiliate marketers. Business owners get their products promoted and affiliate marketers' profit is the commission paid for the promotion.
The affiliate network is a handy solution: it helps in managing payouts to influencers (advertisers who promote your product or offer). It gives you a tool to carry out customer support and represents a perfect hub to gather information about your inventory.
Advertisers benefit from affiliate networks as they get a reliable and user-friendly platform to handle all the payment issues.
Our solution
Affiliate and Referral addon designed specifically for the CS⁠-⁠Cart based online stores has got all the necessary options inside to get the affiliate network work in your favour.
The plugin implies three levels of affiliation.
Level 1: Affiliate Lite
Your customer shares a link to your store with their friends, family, co-workers, etc. When someone follows that link, the Affiliates get reward points which they can spend in your store.
Level 2: Affiliate Pro
Customers may want to have more than bonuses. Why not let them make real money? The idea is the same — the affiliate shares a link or places a banner that leads to your store and gets a commission. You can create various affiliate plans with rewards for showing a banner, customer clicks, sales, etc. All the commissions will be available in the Admin Panel of your CS⁠-⁠Cart store.
Level 3: Multi-tier Affiliate
Your affiliates may bring you more and more new affiliates. For example, your first affiliate can bring you five more. Each new affiliate will invite more affiliates. Thus, your affiliation pyramid will get more participants interested in the promotion of your inventory. This procedure is absolutely safe: you can always confirm or decline an affiliate. All the affiliate tiers are shown on the Affiliate tiers tree page where you can always see how many affiliates bring your partners.
How does it work?
The Affiliate add-on helps CS⁠-⁠Cart owners manage work with their affiliates. You create advertising banners for affiliate websites. Your affiliates place these banners on their resources, which helps attract new visitors to your store. The add-on tracks and keeps a full count of events, such as banner views, click-throughs, and registration of new users who come from affiliate websites. A monetary value can be set for each event. The store administrator has a powerful tool for tracking events involving affiliates and calculating accurate payouts to them. Anyway affiliates can also view their event statistics in the customer area of your store. They will know their income from the affiliate program. Such transparency in the business relationships will facilitate effective work and create profit for both parties.
Closing
The affiliate network program is trendy and handy. It is beneficial for product owners, influencers and end-users. The Simtech Development solution perfectly fits the CS⁠-⁠Cart based stores as it was specifically designed for this. So, if you want to attract more customers to your CS⁠-⁠Cart, this plugin is the must-have to spread the word of mouth about your product, drive new customers to your place and, as a result, boost sales in your online shop. You can always customize the add-on to fit your marketing needs. We can assist you well in this process providing our 14-years development expertise.