New Chrome 68 is rolling out on 24th of July and it will create a hard pressure on the HTTP websites warning their visitors that these sites are "Not secure".
Later in February 2018, Google warned unencrypted websites that all HTTP connection-based webpages will be marked by new Chrome 68 even if they are static and don't have forms and checkouts. Apparently, this time has come.




Source: Google Security Blog. That's how the browser will display the warning
Encryption keeps you safe
HTTPS web connections protect against eavesdroppers, man-in-the-middle attacks, and hijackers who attempt to spoof a trusted website. In other words, encryption thwarts interception of your information and ensures the integrity of information that you send and receive. Because older hardware and software often don't support modern encryption technologies, users of these devices may be more vulnerable to security threats.

The world said "Yes" to HTTPS
64 percent of Chrome traffic on Android is now protected, up from 42 percent a year ago.
Over 75 percent of Chrome traffic on both ChromeOS and Mac is now protected, up from 60 percent on Mac and 67 percent on Chrome OS a year ago
71 of the top 100 sites on the web use HTTPS by default, up from 37 a year ago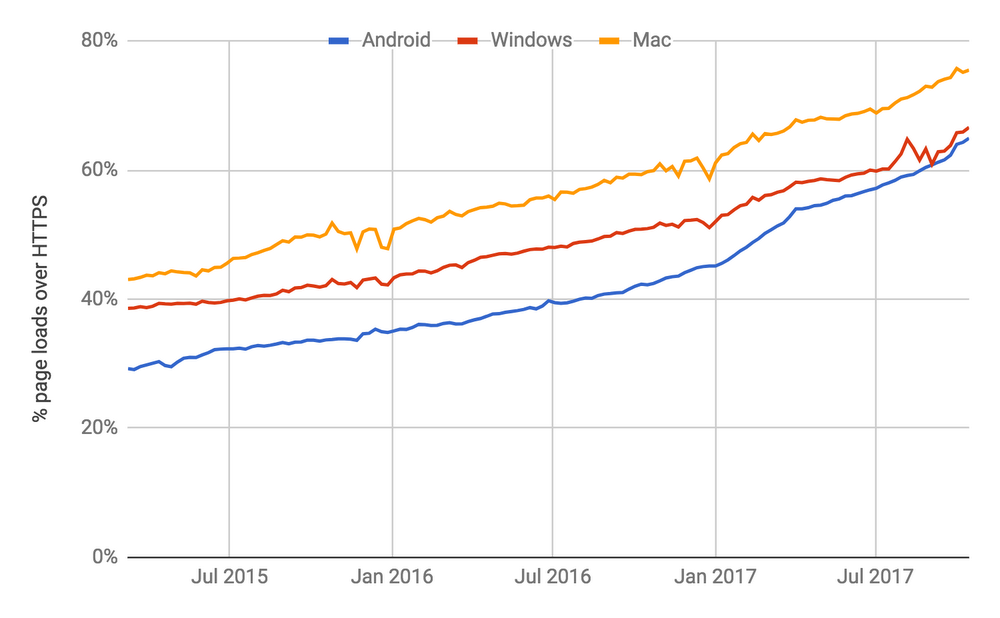 Source: Google Security Blog.
How to migrate to HTTPS fast
In most cases migrating to HTTPS is not hard and will cost nothing. Check out how you can do it by reading "HTTP-to-HTTPS Migration Guide".
If you don't want to mess up with SSL settings and take on risk, you can contact us via email or HelpDesk and we will move you to HTTPS painlessly and quickly.
---
Our Amazon Cloud Hosting clients can sit back and relax as they have SSL included and configured on all plans.