Recently, we've got a letter from a reputable research company – GoodFirms – to inform us about entering the list of top web development companies according to their ranking platform. We are very proud to be among the best developers! So, we decided to share their study of what our Company does with our dear readers!
Here's what we've got.
About Simtech Development
Situated in Russia with an office in the United States, Simtech Development has been working since 2005 in the discipline of eCommerce, CS⁠-⁠Cart, and web development, as well as cloud hosting, that can give clients business a profitable turn. The experienced team offers exceptional services covering all the digital touchpoints. Either retailer, B2B company, or even a retail chain, their expertise fulfills different IT needs.
The collegiate team serves clients across the world like – United States, Australia, Switzerland, Russia, Germany, and more. The company hosts professional meet-ups and corporate parties to go beyond limits in delivering quick services.

GoodFirms Research Process
GoodFirms is a B2B research and review platform where numerous companies get registered to get accreditation. This evaluation is done on three crucial parameters- Quality, Reliability, and Ability. These factors play an essential role in aiding seekers to find the most reliable company with and hiring them. In contrast, these evaluation criteria include other aspects such as the acquired skills, firm's achievement, customer feedback, and experience in the domain.

GoodFirms similarly evaluated Simtech Development and inferred the firm is doing a commendable job and has asserted its name as the top eCommerce development company at GoodFirms website.

Review of eCommerce Services Rendered by Simtech Development
Every scale of business from a startup to a multinational enterprise can be benefited from eCommerce integration. Today, with convenience focused society, no consumer wants to venture around the streets; instead, they are interested in shopping online. Following a similar trend, Simtech Development has a team of experts that works dedicatedly to build a flexible eCommerce solution for both businesses and buyers. Their group of professionals is pioneered in delivering flawless eCommerce with the utmost accountability. They treat their clients as a priority and harness their ability in their arena.

Yavar Mirzayev, a satisfied customer, gave a 5-star rating to Simtech Development applauding their efforts and work.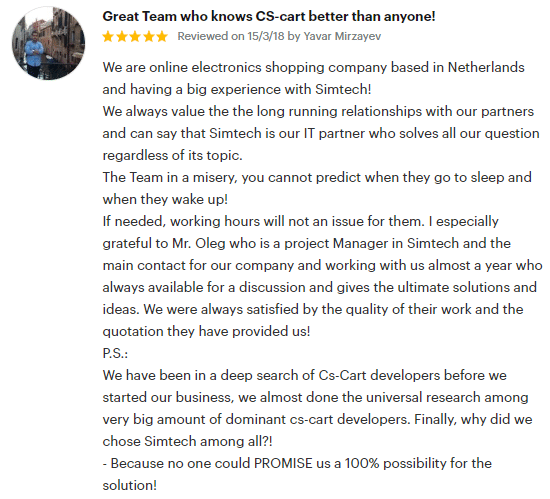 Their professional team of experts facilitates the creation of enhanced eCommerce by cutting through the noise and driving towards the engaging audience with their outstanding work. The company is identified as one of the top eCommerce development companies in Russia at GoodFirms owing to their keen comprehension of eCommerce development and the matchless efforts to fulfill clients' needs.

CS⁠-⁠Cart Services by Simtech Development

CS-Сart serves a fully-featured eCommerce website along with its development and customized solutions. It consists of everything a business owner could dream of having in their online store. Therefore, Simtech Development offers CS⁠-⁠Cart services with the help of their professional team. The firm consists of a bunch of professionals who provide 1000+ customized solutions based on CS⁠-⁠Cart, and they always do their best to comply with the development standards.

They blend peerless performance with professionalism to deliver solutions and provide services developed using Scrum practices. The company is proud of its ability to offer the most elegant solutions to their clients. Their team works comprehensively to examine all the requirements and clarify before putting a final thought. The company is soon expected to rank even higher at GoodFirms due to its smooth transformation and the urge to succeed.

QA Testing Services by Simtech Development
The QA specialists of the firm are accountable for each project and ensure that the final product is delivered to clients. Simtech Development is the first company to launch a code review of 100% projects. Treating their clients' success as their own, the team has always strived to help them in the best possible ways by their cutting-edge solution. Their process involves developing a baseline level of testing before release to the clients. The functional and user testing team pays attention to test the compliance of the developed product, along with testing it on mobile and desktop.

Additional QA testing offered by the company is Automatic testing, Regressive testing, and Load testing done for further improvement or modification in the deliverables. Acting as a technical partner, the team takes its overall work as the utmost responsibility that can turn up their clients' dreams into reality. Simtech can soon succeed to scale as the best software testing company in San Francisco at GoodFirms.
Closing
eCommerce has paved an easy way for a consumer to shop for products by sitting at one place. The growth of eCommerce has taken over the brick and mortar stores by rapidly increasing their reach to a broader audience. Simtech Development has made a reputable place in the market as a successful eCommerce development company.
---
About the Author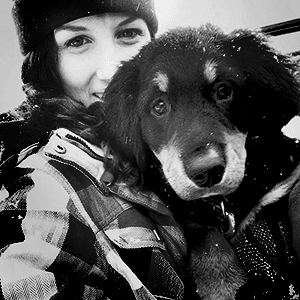 Anna Stark is presently working as a Content Writer with GoodFirms – Washington D.C. based B2B Research Company, which bridges the gap between service seekers and service providers. Anna's current role lingers to shape every company's performance and key attributes into words. She firmly believes in the magic of words and equips new strategies that work, always in with ideas, something new to carve, and something original to decorate the firm's identity. Washington, D.C. based GoodFirms is a maverick B2B Research and Reviews Company that helps in finding eCommerce, CS⁠-⁠Cart Services, and QA Testing firms rendering the best services to its customers. GoodFirms' extensive research process ranks the companies, boosts their online reputation and helps service seekers pick the right technology partner that meets their business needs.