Webinar is a powerful tool for marketing any business that aspires to promote itself online. For eCommerce sites, it's pretty the same. With webinars you can expand your customer base, enhance relationships with your audience, bring more leads to your business, and grow sales.
How can eCommerce sites benefit from holding a webinar?
Webinars can serve as an intermediate layer between your online store/marketplace and your audience. When you build your site and sell online a product and/or service, you become a little bit detached from your customers. Webinars can fill this gap and establish closer relationships with your audience as they can see you. At the same time, you're still online, so it keeps on being an online activity that doesn't require much investment. An online event brings you closer to your customer, engages your clientele, and increases their loyalty. We can highlight the following benefits for an online business that holds a webinar:
Brand awareness, authority and credibility
Better SEO
More leads
Promotion for your product
Training in new products and/or services
Showing off your expertise in some issue
Establishing loyalty
Formation of need in your product
Attracting your target audience
Let's consider each point.
Brand awareness, authority and credibility
How can you build your brand awareness, if not by showcasing your product directly. People would buy a product from a trusted company they know, and webinars have the potential of building that trust. People see you, ask questions, and hear how you explain some information about your products. This is how you enhance the authority and credibility of your brand. This benefit also has some 'side effects'. While conducting a webinar, you have a chance to voice your unique selling proposition and stand out from competitors.
Better SEO and more leads
Webinars are not just an online meeting. While preparing your audience to meet you at an online event, you certainly make a landing page, place a registration form, announce it on your blog and social media. These activities naturally increase traffic to your site and encourage visiting other pages of your eCommerce site. After the webinar is over, you can create some more value for your customers by packing the meeting into a presentation and offering it for downloading. You can also cut it into small pieces of video and place it partially on your YouTube channel. No matter what strategy you'll choose, it will definitely bring more visitors to your site. More traffic is, the better SEO you have, the higher search rankings are.
Promotion and training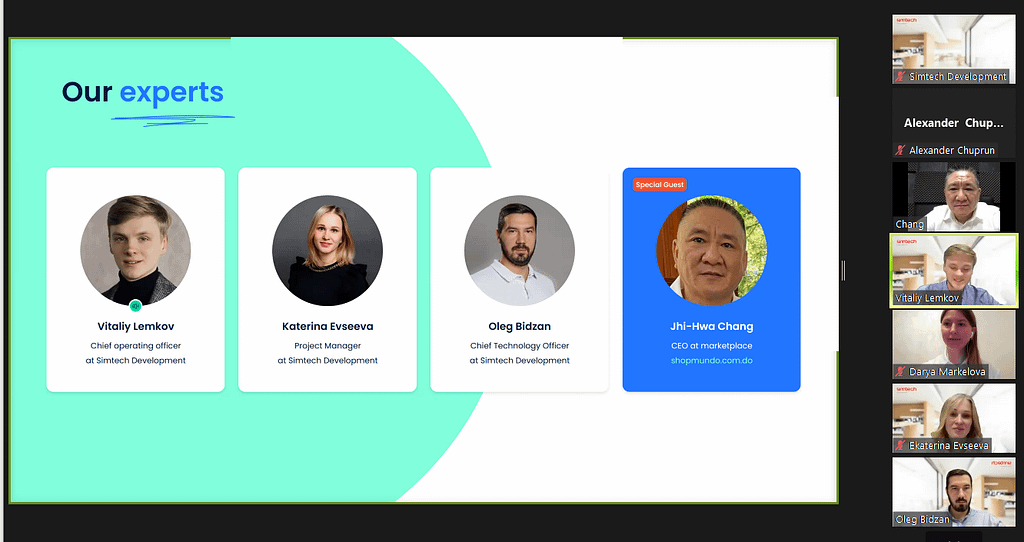 Sometimes potential customers don't know how to use your product and this can put them off buying. This situation is especially common in the field of various software solutions and services with a complex interface. Hold a practical webinar and demonstrate how easy and convenient it is to work with your product.
Training in your product use is mutually beneficial both for you and to your audience: you attract new buyers, and they learn something new about the product of their interest. In addition to the useful content, you can add even more value to your customers by offering an exclusive discount to the attendants or a free tutorial after conducting the webinar.
Showing off your expertise in some issue
By holding a webinar, you secure the status of an expert in your field. You can answer the frequently asked questions of your clients, or give your recommendations for solving various problems in your field.
If your business is connected with providing consultancy or you just have some expertise in an issue, don't hesitate to share it with people. People buy from experts as they trust in their professionalism. If you're an expert, show it off, and you'll see the webinar guests rushing to buy your products and services.
Establishing loyalty
eCommerce sales of today are targeted at establishing long lasting relationships with the audience. Repetitive purchases bring more sales than one-time impulsive buying. You can sell, cross sell, and upsell more products to the loyal customer. With webinars, you earn that loyalty as you offer some valuable content for free. People learn to trust you as they see how you aspire to be useful for them.
Formation of need
Often, potential customers may not even realize that they need your knowledge, services, or product. Invite them to a free webinar and show them all the benefits of your product. It can be one webinar or a series of master classes that complement each other. The main thing is to clearly show what value your offer can bring to customers.
Attracting the target audience
Conducting webinars allows you to collect an impressive list of emails of registered people who are interested in your activities. Even if the webinar did not bring you sales, you can continue to interact with the audience using email newsletters.
Best webinar platforms
We researched the web to compile a list of the most popular webinars you can use in your business. Here is a list of top 11 platforms:
Demio
Livestorm
EverWebinar
WebinarJam
WebinarNinja
WebEx
GetResponse
ClickMeeting
Livestream
Webinars OnAir
Zoom
Each of them has its pros and cons. You can find more in this article.
Conclusion
Webinars help eCommerce sites to increase their brand awareness, build trust and loyalty, provide expertise, promote new products and educate in using them. Uncovering your business kitchen, you nail the eyes of your audience to your site and form long lasting habits in buyers. No matter what need stands before your business, holding webinars can easily close it. Of course, there are many other methods to promote your eCommerce site. Consider webinars as an additional tool to gain a solid background in your niche as a market leader. And we'll stand by your side as a technology expert able to customize your eCommerce platform to meet the other needs of your audience.