From our previous post you are already familiar that localization is not just about translating, not even about a grammatically perfect text covering all the writing conventions and dialects. Knowledge of the language is the key, but not the only thing you should be aware of before walking into a terra incognita. Culture and social life, legal norms, and financial issues – these are the fundamental stones to build a strong business in a specific locality.
What you not to miss out and what to focus on primarily? Let's study the case of Russia.
Factors to consider before localizing
Target locale specifics
Russian consumers are very price-conscious. When making a choice between a Europenean brand and a Russian one, they will opt for the last one as it would be conceived as the cheaper analog. However, standing your product apart, having a detailed description explaining the values for the customer, can anyway persuade the conspicuous Russian audience to buy. Happily, figures say cross-border purchases are developing now in Russia. Revenue is expected to show an annual growth rate (CAGR 2019-2023) of 7.5%, resulting in a market volume of US$24,865m by 2023.
Purchasing a 'made in Russia' item is treated as a patriotic gesture. Besides, the Russian brands are considered to be healthier as they are locally produced. Western items are considered as a sign of status. So, if you are targeting Russia, build your campaign around status-oriented wealthier customers or offer a cheaper price.
The most popular trend in eCommerce retail is the fashion area. The Globalization Partners Int. claim that the market volume here amounts to US$5,865m as of 2019.
Other popular directions as seen from the popular brands mentioned in Digital Commerce review are:
Clothing, footwear and accessories: Wildberries.ru with a $1774 sales revenue, Lamoda.ru ($463);
Electronic goods and appliances: Citilink.ru having $1168 of income, Mvideo.ru ($842), Dns-shop.ru ($619), Eldorado.ru ($391), Svyaznoy.ru ($315), Technopoint.ru ($304);
All-in-one marketplace: Ozon.ru with a profit of $666;
DIY items: Petrovich.ru earning $287.
According to Global Digital Yearbook the internet usage in Russia is rather high. The penetration rate is estimated as 76% with 109.6 million internet Russian users as of 2019. 68% prefer using desktops or laptops than smartphones (61%) to access the Internet. Mobile internet is used by 64% of Russians.
Website Look and Feel
While localizing your website to fit the Russian web requirements, pay attention to Cyrilic letters' length: Russian words are usually 'longer' than in any language in the Latin script.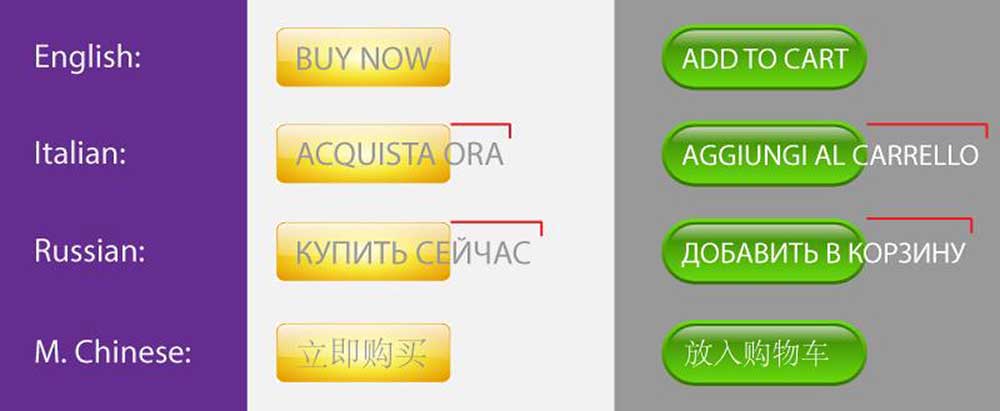 Speaking about the color meaning, the following are the color associations coming to the minds of the Russian buyers:
Red is associated with Bolsheviks and communism;
Orange is a symbol of creativity;
Yellow – hope and hazard;
Blue – depression or sadness.
So, be aware of those color signs to be perceived in the right way with the Russian audience.
Russia was always looking at Europe to borrow in designing the websites. Thus, all the European trends will work for the 'Russian' web design. To get the general idea of a typical theme reflecting the Europe style you can take a look at our Airy Mobile Theme.
Social Life
The Digital eCommerce stands that Russians mostly visit the Russian-owned websites:
Yandex.ru
Vk.com
Youtube.com
Mail.ru
Google.ru
Google.com
Ok.ru
Newsyandex.ru
Avito.ru
Wikipedia.org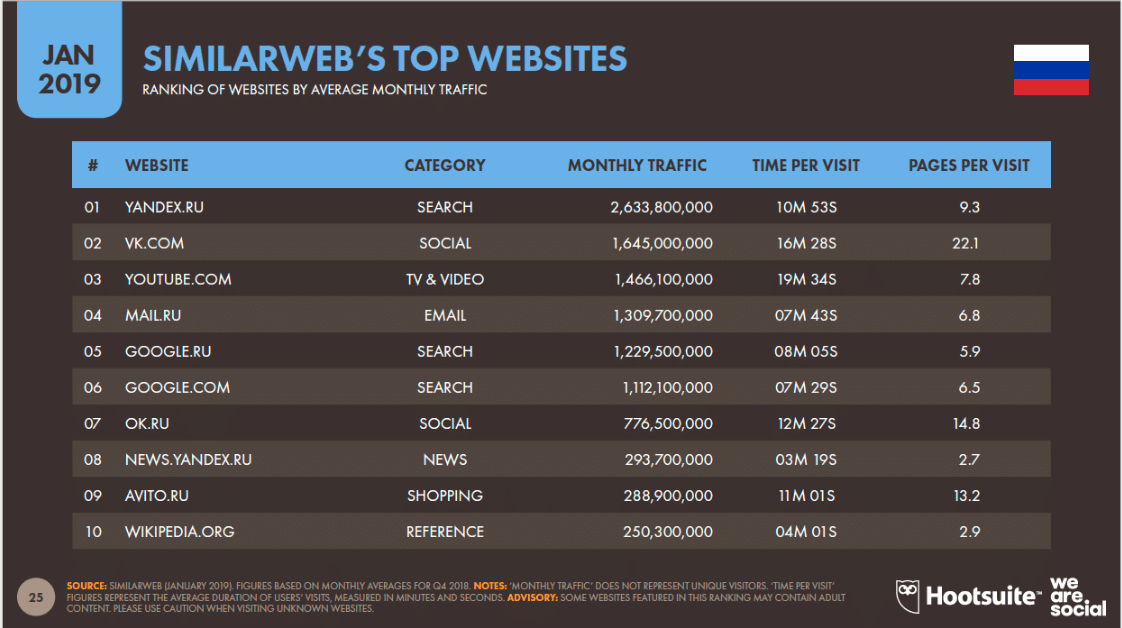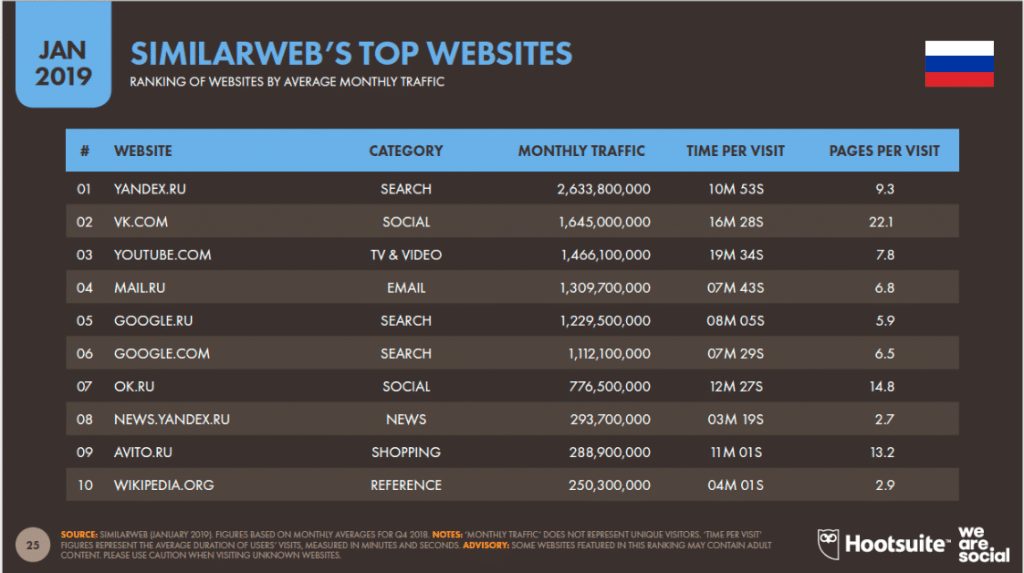 The key to promoting your website in Russia is to localize the content with respect to the Russian keywords. A good SEO practice is to register in the local Russian domain to promote through Yandex.

The top level domain in Russia is .ru. Other domains include .com, .org, .net, .info and .biz Cyrillic domain names are also allowed.

Currency and payment
Currency
The Russian currency is the Russian Ruble.

Payment and Delivery
According to Bertelsmann SE & Co, Cash on delivery remains the most popular method of payment in Russia, and amounted to 60%. The most payments are made through Visa. Besides, speaking about delivering a parcel internationally, Russians would prefer the Russian Post as a cheaper analog of delivery method. However, multiple methods would be great to increase the user experience on your website.
Business Environment
Legal Norms
The eCommerce in Russia is governed by several institutions with its own specific field of responsibility:
Below are the essential Russian norms and regulations in eCommerce sphere:
Civil Code of the Russian Federation (the Civil Code);
Federal Law No. 149-FZ 'On Information, Information Technologies and Information Protection' dated 27 July 2006 (the Information Law);
Law of the Russian Federation No. 2300-1 'On Protection of Consumers' Rights' dated 07 February 1992 (the Consumer Protection Law);
Federal Law No. 126-FZ 'On Communications' dated 7 July 2003 (the Communications Law);
Federal Law No. 152-FZ 'On Personal Data' dated 27 July 2006 (the Personal Data Law);
Federal Law No. 38-FZ 'On Advertising' dated 13 March 2006 (the Advertising Law); and
Federal Law No. 63-FZ 'On Electronic Signatures' dated 6 April 2011 (the e-Signature Law).
Key players on the market
According to Internet Retailers, the top online sellers in 2019 in Russia are headed by Wildberries, the Russia-based company.
Other companies with the traffic highest rate include:

Yandex. Market. Ad Google, Yandex started as a search engine but then expanded its activity. The company owned by Sberbank launched Beru marketplace and Bringly an eCommerce platform. Yandex.Market currently shows over 160 million products from over 21,000 websites. Lately, it has joined its powers with the Chinese online retailer JD.com by concluding an agreement. Since June 2019, the two giants are offering their goods in Russia through the Yandex.Market eCommerce platform.
The Beru marketplace provides all-type products from kitchenware to electronics and is oriented at the Russian audience. Meanwhile, Bringly is an eCommerce platform dedicated to enhancing cross-border shopping for Russians.

Closing
The Russian eCommerce field is rapidly developing. Not all the niches are occupied with the residents and international eCommerce marketplaces still have a chance to take its stake of a pie. While expanding to the Russian market, it would be natural to hire a Russia-based shopping cart developer. Think about Multi-Vendor Plus platform developed by the CS-Cart Company and the customization part of your eCommerce website is better to entrust to one of its certified partners. The Simtech Development Company stands No.1 among them.