'Global marketplaces to own 39% of online retail market in 2020'
No need to compete. Join and be among the first.
Multi-Vendor is standalone eCommerce software to create your online marketplace, where products and services are provided by multiple third parties – vendors. Vendors sell their products in your store while you get profit as a store keeper.
This model can be implemented to any business. Legal, rental or freelance services, medical care, e-learning and of course consumer products. The number of such virtual marketplaces and their share in online sales is growing bigger and bigger. The following figures are the evident proof.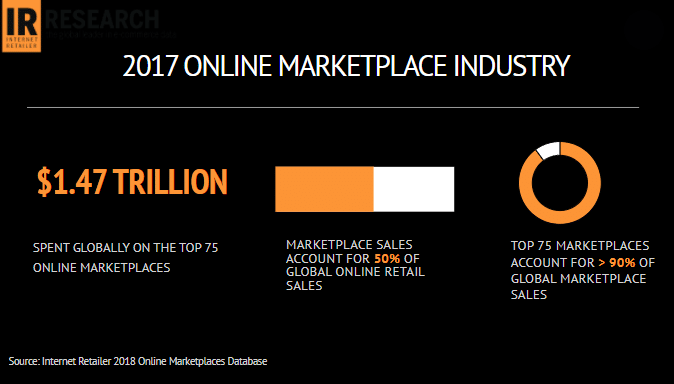 Multi-Vendor comes with the 100% open source code and based on cutting-edge technologies such as PHP programming code, CSS layouts, MySQL databases, Smarty template engine, and AJAX. Furthermore, we are continuously upgrading the marketplace website software and release new versions to provide the ultimate eCommerce platform performance. Here at CS-Cart, we keep an eye on the latest field advancements to ensure we stay ahead of the curve.
Having been on the market for 12 years, CS-Cart is powering 35,000 online stores and 1,300 marketplaces in 172 countries. Let's see how lucrative your web marketplace business can be if you join the club. Check out the success stories of our customers.
When you are starting out, you study the marketplace platforms available on the market, compare the features and finally make the choice depending on your specific needs. The reason so many customers choose Multi-Vendor shopping cart software is the combination of 4 "ity" – simplicity, reliability, scalability, and functionality. Let's dive into each one.
Simplicity
There is no need to be a technical geek to understand how Multi-Vendor is set up and managed. All the settings are logically structured and one glance will be enough to get an idea of what each section is for.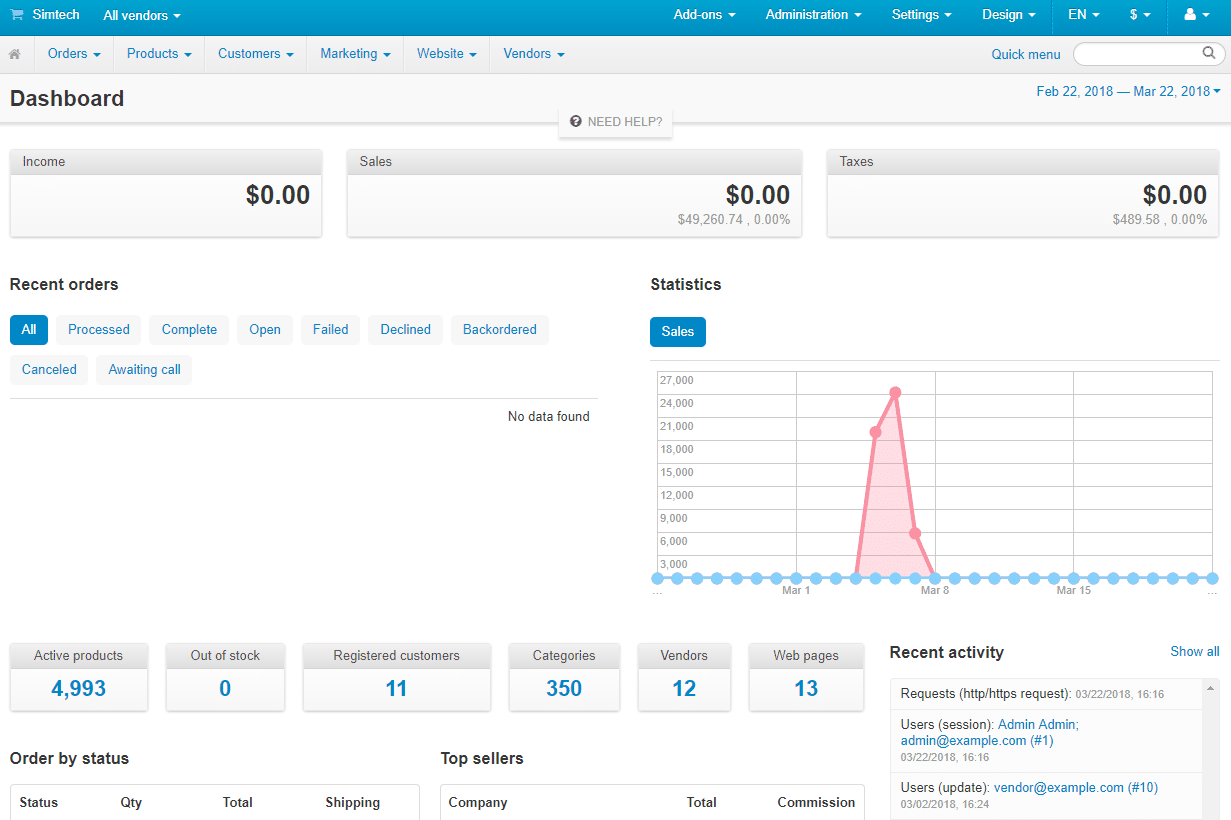 Even if you are new to eCommerce, you will have no difficulty to understand the functionality thanks to its intuitive interface and rich documentation covering every single setting. Besides, our video tutorials can help you get familiar with the marketplace platform software even faster.
To get the marketplace script installed, just select a hosting and request the installation. Our specialist will install the multi vendor shopping cart software for you. If you wish, you can do it yourself following the step-by-step installation instructions.
For your convenience we provide a long list of certified compatible hosting providers trusted by lots of users. Depending on your budget and project size, it can be a shared hosting, VPS, cloud hosting or a dedicated one, hosting with or without CPanel.
Reliability
As stated in a dictionary, reliability is the quality of being trustworthy or of performing consistently well. Then what can be trustworthy in regard to an eCommerce platform? The answers is – successful live stores based on the marketplace website software and community around it.
Why is it so? Because all this does not appear in a blink and doesn't vanish all of a sudden. This is the result of 12-year hard work and cooperation of thousand people. This is what give you confidence in the product and its reliability.
You have already seen some of the success stories, but there are much more to see. Besides, we will be glad to provide you with a personal list of successful online shopping malls for your type of business. Watch out the competitors to borrow the good from them and make it even better.
Also there is a growing community of Multi-Vendor followers, users, developers, and partners. CS-Cart forum – a discussion forum where you can leave your feedback, ask a question, or discuss an idea. Most of CS-Cart forum users were in your shoes. Some day they were choosing the open source marketplace platform to start their business or go online. So they will be willing to help.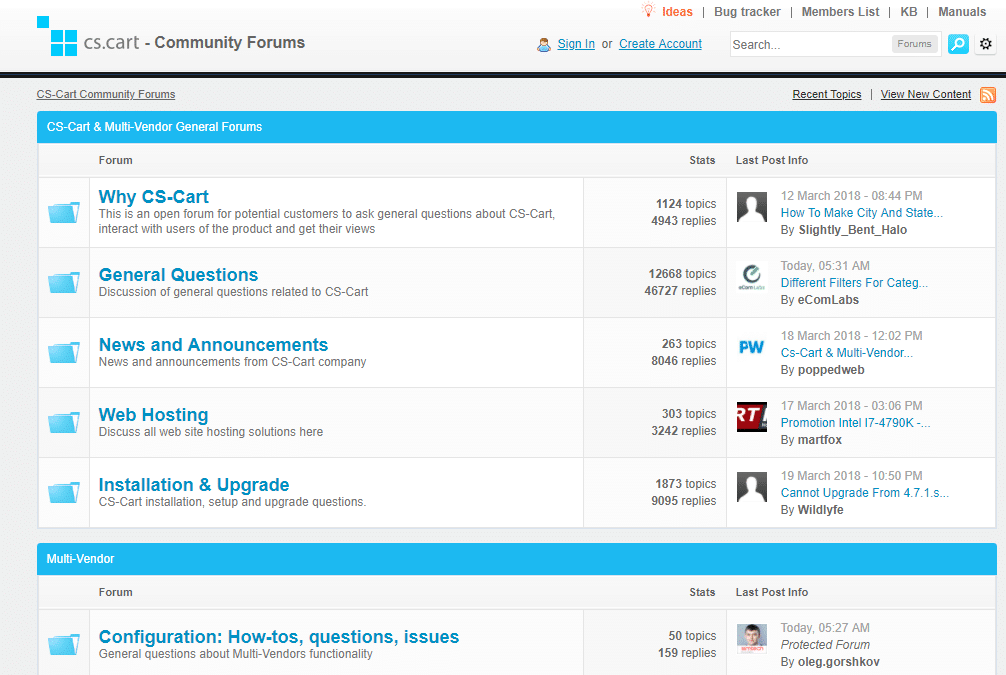 The list of authorized resellers sorted by country in alphabetical order will be of help in case you'd like to work with partners within your country.
There are about 370 companies from all over the world willing to offer you their add-ons and services for our multi vendor shopping cart software. Find them all on CS-Cart Marketplace.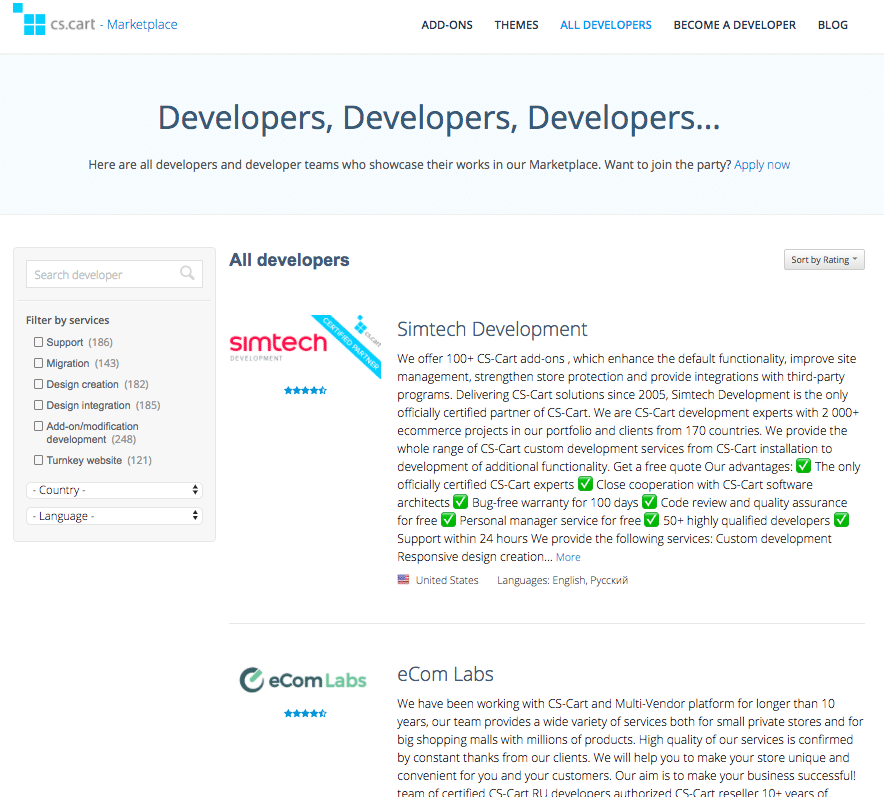 The number of add-ons offered at the moment for Multi-Vendor is 1020. The number of themes is 156. And these figures are growing gradually day by day. If you require some extra feature or integration specific to your business, most probably we will find it among the offered add-ons.
Scalability
A question about scalability arises not very often as it should be. However, it's a very important thing to think of ahead to avoid technical and business difficulties in the future. What does scalability mean? The ability of the marketplace script to expand to meet your evolving business needs. Then how does Multi-Vendor give you freedom to grow?
It is integrated with many 3rd-party services out-of-the-box – more than 70 real-time payment systems, 8 shipping carriers, Mad Mimi and MailChimp marketing services. In case Multi-Vendor advanced features are not enough for you, you can always integrate some other software, which is more suitable for your accounting, fulfillment or marketing.

Multi-Vendor is highly customizable marketplace platform software and any modifications are done without affecting the source code.

International sales is not a problem thanks to Amazon CloudFront CDN support. It allows delivering your content to any corner of the world.

The program allows you to expand your business to millions Amazon, eBay, Google Shopping, and Facebook's users simply by exporting your products to these worldwide known online marketplaces.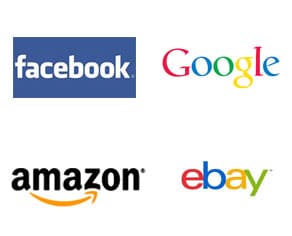 Multi-Vendor is multi-lingual and multi-currency software. This will help you a lot if you expand internationally.

You will have translations to 27 languages and will be able to complete them or add new languages if necessary.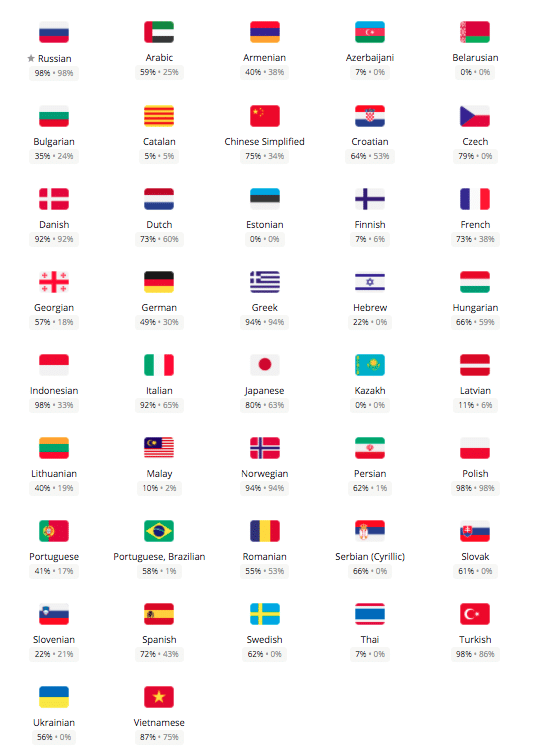 And of course, scalability means the unlimited number of customers, vendors, and products. When we say that you can build your own Amazon with the Multi-Vendor marketplace script, we mean it. Take a look at

www.shopclues.com

, 53 million of products…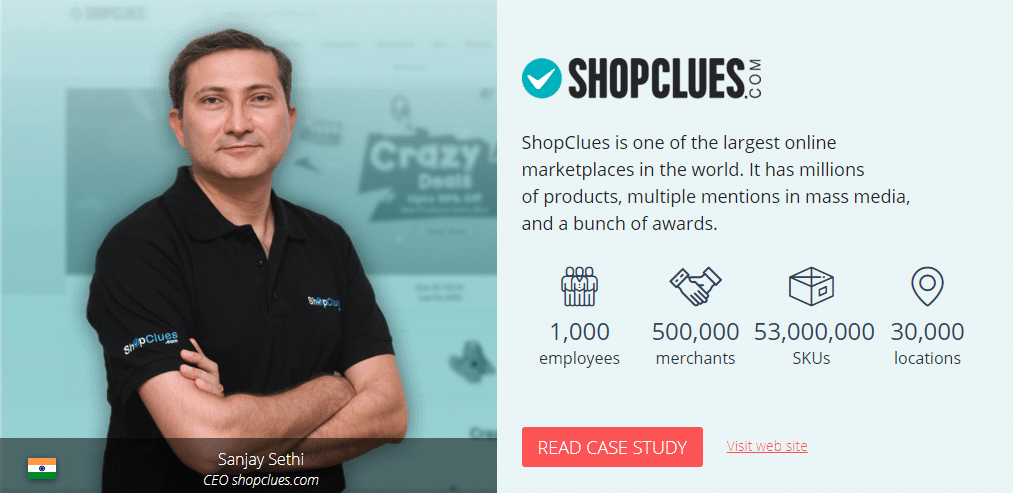 Functionality
The last but never ever the least characteristic we review is the functionality. Multi-Vendor is a super feature-packed eCommerce platform. It incorporates more than 500 features right out-of-the-box. To get a better understanding of Multi-Vendor shopping cart software itself, I suggest dividing the features into 3 clear groups and point out the most important ones in each group.
The features for the administrator

The features for the vendor

Other online store features
Let's roll up our sleeves and get started.
Key features for the administrator
Configurable vendor plans
Depending on your business model you can choose the way to get profit. It can be fixed commissions from vendor sales or a monthly fee for selling in your web marketplace. Just create subscription plans with different conditions and a new online vendor just picks the most suitable option.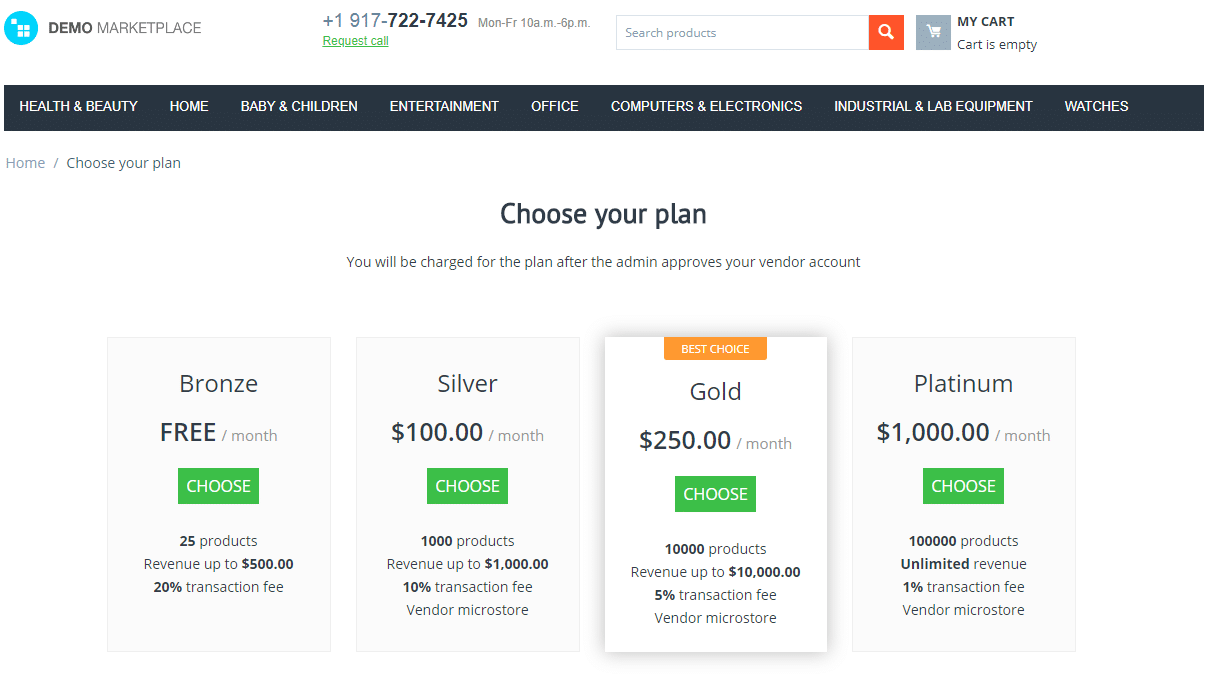 Multiple levels of administrative access
Free yourself of some duties by delegating them to your staff members. However, to be on the safe side, provide your employees with different levels of access to your Internet store. Your web designer can work on the look-and-feel of the virtual marketplace, for example, while managers add products and process orders.
Flexible product approval system
Make product management simple and efficient. In Multi-Vendor marketplace platform software, product approval is flexible and handy at the same time. You will have 3 options:
Let your vendors showcase products without moderation.

Check every product added by vendors.

Allow certain vendors to add products without moderation.
Advanced order management system
Products from different online vendors can be bought within one order. Customers place just one order and make a single payment. While the number of orders in the admin panel depends on the number of vendors involved. Moreover, each vendor can see an order with their own products only. No confusion, only smart workflow for all participants.
Advanced vendor payout system
Payment management is the most significant part of every online marketplace. Automate payouts to vendors to save 90% of your time and ensure accuracy.
Automatic payouts are carried out via a built-in "PayPal Adaptive payments" functionality. PayPal Adaptive distributes the payment between vendors and sends commissions to your account. You don't have to worry about how to divide the money between vendors. Multi-Vendor online marketplace software and PayPal Adaptive Payments will do it for you.
Detailed statistics and reports
Absolute must-have for a successful web marketplace is constant analysis based on statistics and reports. What does Multi-Vendor offer you in terms of statistics? The Multi-Vendor open source marketplace platform is integrated with Google Analytics, the most powerful web analytics service nowadays. And it's absolutely free! This service generates detailed statistics about your website visitors, gives you rich insights into your website traffic and marketing effectiveness.
Another built-in analysis tool is called "Sales reports". It gives you detailed statistics on the sales in your marketplace, which can be represented in a form of graphical or tabular charts.
Key features for the vendor
Separate vendor panel
Each vendor has a separate admin panel to manage their own settings and products. Vendor panels include the exact entities the vendors are allowed to modify in your virtual marketplace. Vendors do not interfere with each other. In Multi-Vendor your merchants can:
Manage their orders, products, filters, options, and features

Add vendor administrators with different access levels to the vendor panel

Add different informational pages, polls, forms, and links

View vendor account balance

Set shipping methods and taxes

Choose currency and language

Import or export products and orders
Separate mini store for every vendor
Let vendors promote your online mall. In Multi-Vendor eCommerce software, sellers can have a micro store right inside your marketplace. The micro store URL contains the vendor company name. Micro stores contain:
vendor company description

logo

products

product filter for vendor items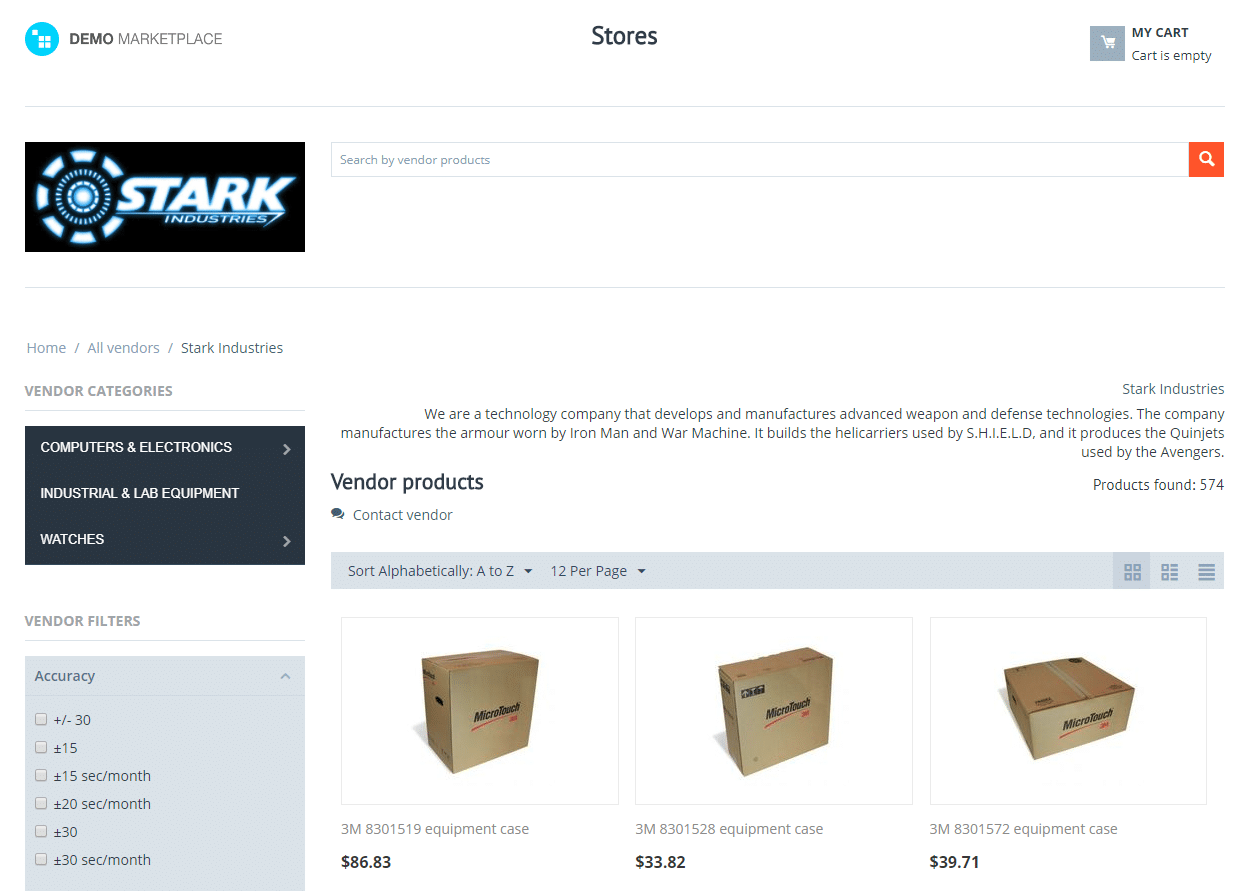 Real-time and manual shipping calculations
Make the life of your vendors easier with 8 world-famous shipping methods for real-time shipping calculations. Apart from real-time shipping calculations, vendors can set their own manual shipping methods. Shipping charges can depend on customer's location, total order cost, weight, and even the number of items in the order.
Comments and reviews
Multi-Vendor marketplace website software offers the feedback and review system with an interactive star rating. Customers can comment and rate vendors, products, categories, and orders.
Paid-for positive reviews are useless as customers want to see honest opinions about sellers and their products. With this in mind, we made it so that comments and reviews in Multi-Vendor are moderated by the store administrator, not vendors.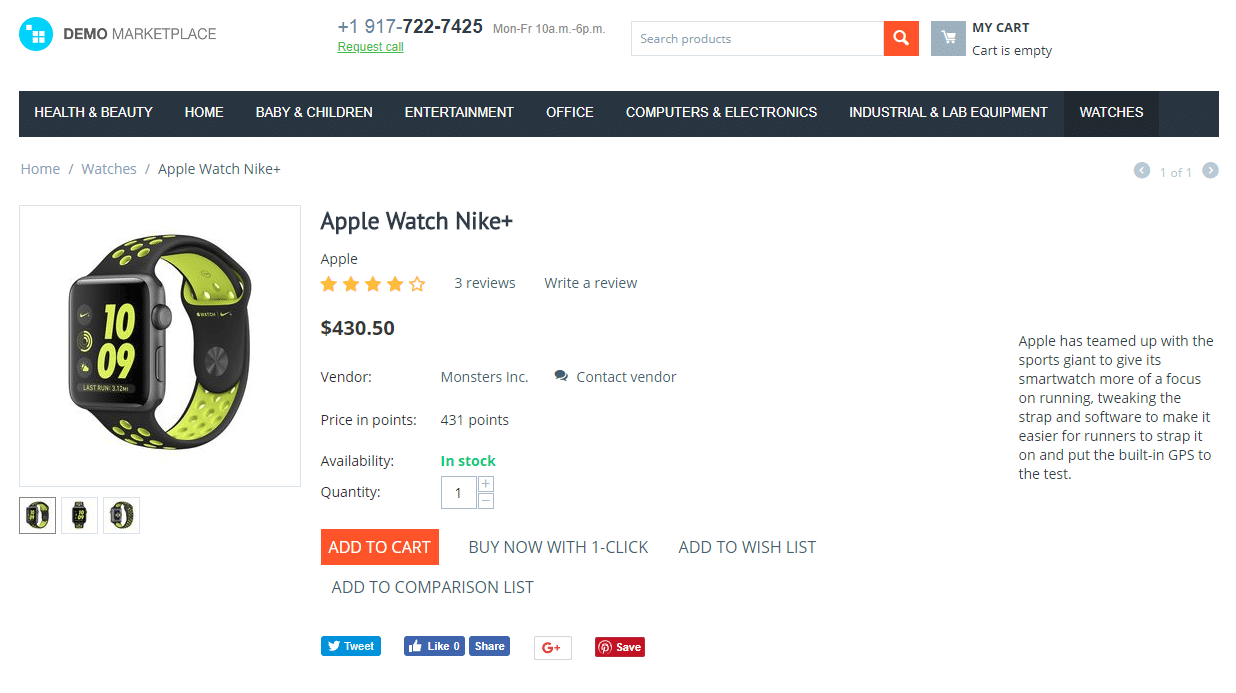 Vendor account balance, sales reports & statistics
Give your vendors an advanced analytics tool. With Multi-Vendor shopping cart software, your sellers can view detailed statistics on their sales in your online marketplace. Like the store administrator, sellers can view graphical or tabular charts.
Besides, vendors can view their account balance to track all payouts and commissions taken by the store administrator. Sellers can also review the income and expenditure statistics: total and per period.
Other online store features
Feature-rich with plenty of tools, the Multi-Vendor marketplace script allows you to create, manage and promote your store. Even if you are not going to use every single feature from the very start, you can turn to them anytime you want. That's why it is so important to have a comprehensive set of tools included. Let's check some that lead traffic, increase conversion, and perform the effective store management.
SEO optimization
Edit page meta information and set up SEO-friendly URLs to reach the potential users via search engines. Powered by a built-in sitemap generation tool, your web store will take top ranks in online search results! Google rich snippets and 301 redirects will also be effective in getting high ranking.
Blog
Create a fully-featured blog inside your store to generate more SEO-friendly content and attract more customers.
Mobile friendliness
Multi-Vendor has both responsive design themes for customer area to make your virtual store look cool on any device, and also a responsive administration panel.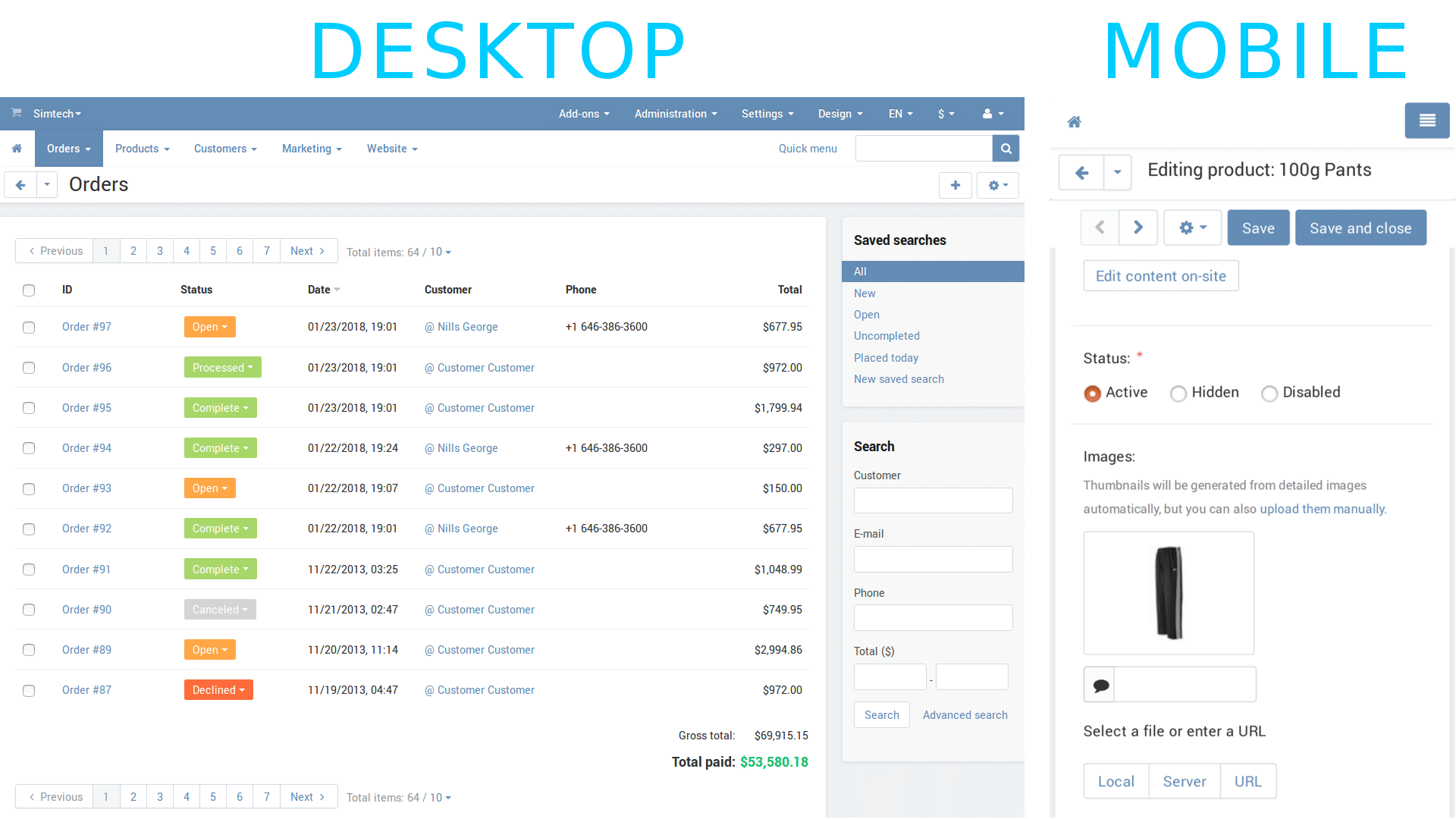 Mobile app
Mobile application for Multi-Vendor shopping cart software is coming soon. Watch out the CS-Cart blog to be updated.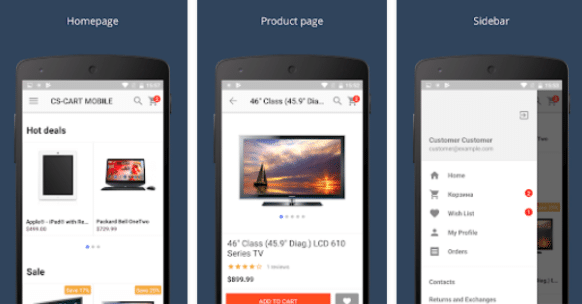 Using the Multi-Vendor app customers will:
register, sign-in, and manage their accounts. The account data is synced between the marketplace and the app;

browse categories and add the desired products to cart or wishlist. The contents of the cart and wishlist are synced with the store as well;

rate vendors and review products;
The official price has not been set yet, but we expect it to be around $400 – $600. The price includes the configuration of the mobile app and making it live on the Android Play Store and Apple App Store.
Editable layout
The built-in layout editor makes it easy for you to create different layouts for different pages. Also, it allows arranging data blocks in your storefront by simple drag & drop.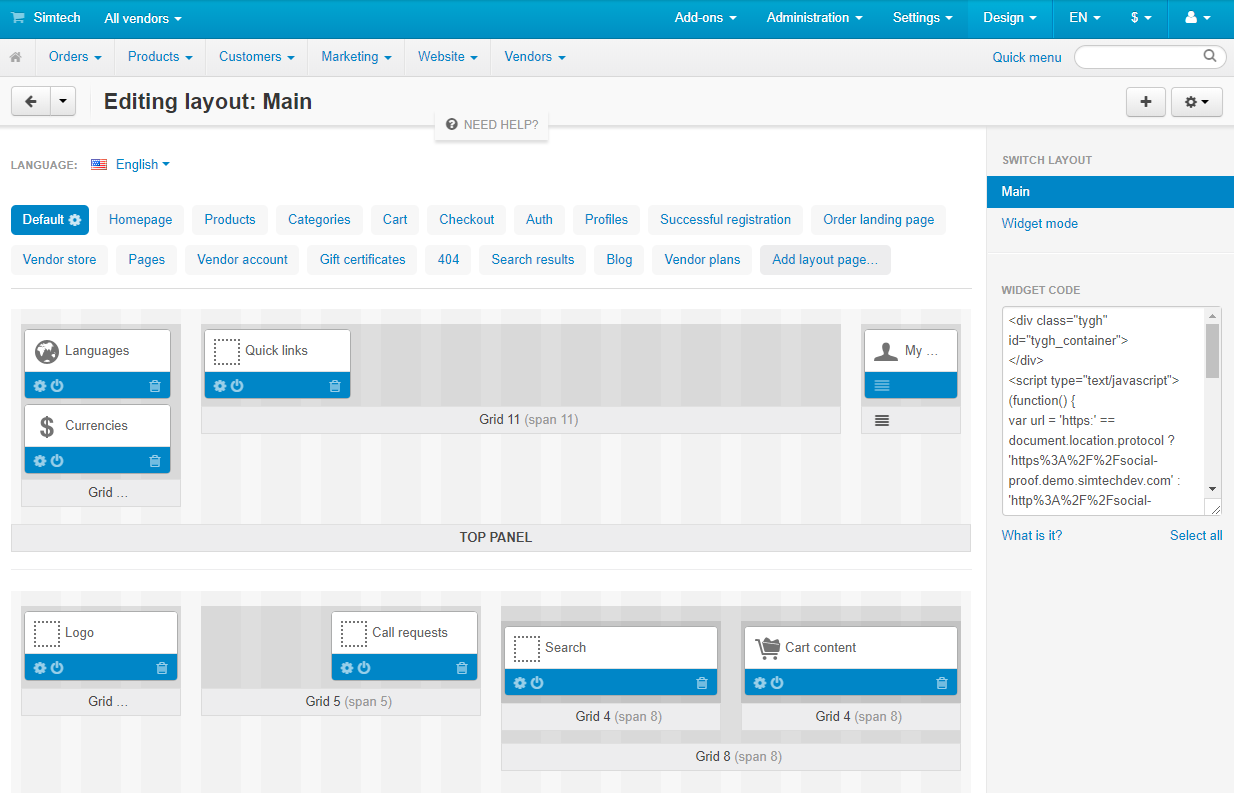 Promotions & discount
When it comes to promotions, Multi-Vendor allows you to set up an option to attract and hold the customers. Promotions can be a catalog or a cart-based, discounted flat or percent, and more.
Using cross & up-selling tools you can show bestsellers, on-sale, similar and newest products. Offer more products and worthy deals to increase the order value.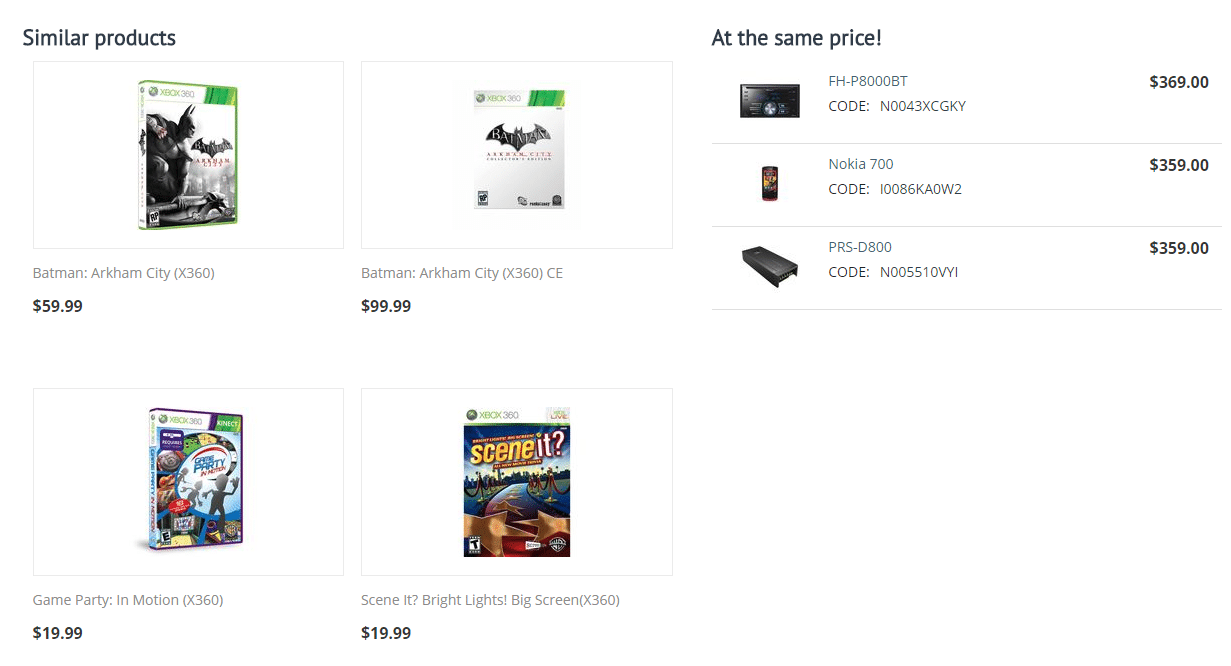 Price
One-time fee for the lifetime Multi-Vendor license is USD 1250. At this price, you become the owner of a comprehensive eCommerce platform and get a fully functional, user-friendly store. Once the software is installed and set up, you are ready to go online and start selling.
The license comes with 1-year access to new Multi-Vendor releases and upgrades packages. After the access to upgrades is over, you can renew it for USD 350/year. However, if you are not going to upgrade, you can leave it up.
The hosting you need and its price will depend on the number of products you have and the applications you are going to use. The price range starts from 3.95 euros/month for shared hosting to USD 449/month for Enterprise Cloud Hosting. You are free to choose among the compatible hosting providers or find another company that suits your needs.
Conclusion
We have reviewed many but not all features of the Multi-Vendor marketplace script. There is a lot more to learn on the official website or ask at sales@simtechdev.com . However, based on the provided data, we can conclude that Multi-Vendor is a smart online platform to turn your business idea into reality. And if you are looking for a robust and flexible eCommerce solution you can grow with, Multi-Vendor is the 1st candidate to consider.