Here is one more story a brand owner from Vietnam shares with us! This sincere and honest report of what is happening in the online environment cannot leave anybody who experienced launching an eCommerce business indifferent! The storyteller describes his own path in creating an e-store from scratch and shares his thoughts about how a well-designed website should be built.
Support Derek, the founder of bseveryday.vn! Like and share if this post was useful!
Interview with the Founder of bseveryday.vn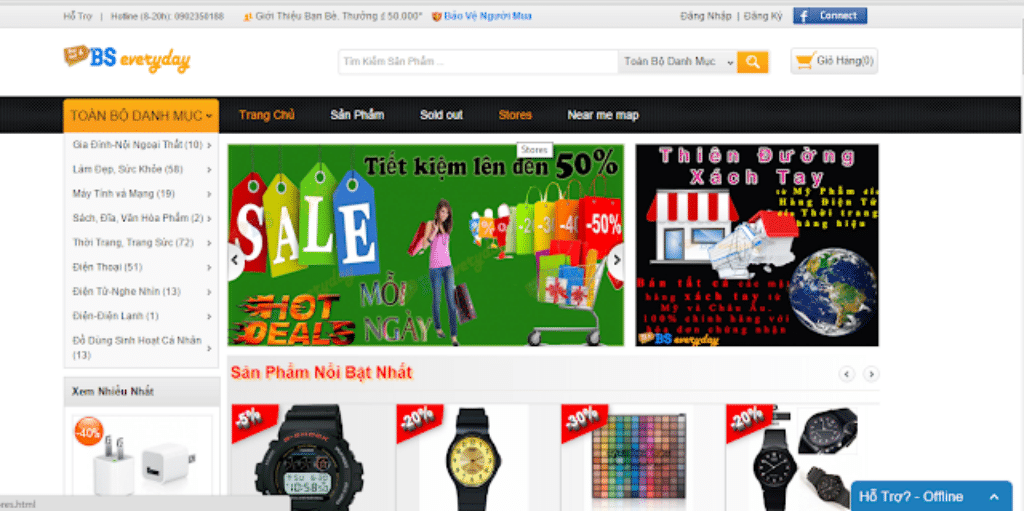 Give us an idea of what your business is, what products you are selling, and the services you are offering?
My business is running marketplace eCommerce that allows sellers to sell physical products at the beginning, then later we will allow sellers to sell digital products as well.
What are the greatest challenges you've faced so far and how did you overcome them?
The greatest challenges that we have faced so far:
Setting up a legal business and the requirements through the government for running marketplace eCommerce.
Integrating our ideas into marketplace eCommerce by customizing and creating add-ons to fit our ideas and business workflow is difficult because this is costly and time-consuming.
Business ideas and the eCommerce system workflow must be good for both sellers and buyers including rules and policies are another hard part.
Marketing for marketplace eCommerce is super expensive.
We did overcome some but not all. If we have a lot of money or investments from the beginning it would solve 99% of the above, but we don't have it. So what we do is taking slow and step by step to set up our marketplace. Our business is taking longer to start but it would help lower investment and marketing costs. We have to find some products that we need to sell to experience the marketplace system while we could bring some sellers to our marketplace on the way. We can also create a better business workflow and add more rules and policies to help buyers and sellers as the business is running. For customizing and creating add-ons to fit our business ideas and workflow, we will start implementing it when our business grows.
What are some unexpected benefits of owning an eCommerce business?
We know the future is all about the eCommerce business, but as COVID-19 started, I realize how important and beneficial it is to get an eCommerce business running. eCommerce businesses will have fewer risks compared to physical stores. If whatever reasons happen to any business, eCommerce will get the least damaged.
When it comes to developing new functionality for your online business, you choose Simtech Development. What are the reasons for that?
We have experienced and worked with many developers for many PHP frameworks (most of the developers that showing up on the forum of CS-Сart and including many Indian developers like Webkul, NDOT, etc..), none of them can compare to Simtech Development with the reason below:
SimtechDev understands what customers are hoping for.
SimtechDev is a good listener that often listens to customers' feedbacks.
Always have good customer service before and after sales (most of the others only have good customer service before).
The quality of coding/ add-ons provide.
The support is awesome (when customers report bugs or errors because of the add-ons, most other companies will say not their add-ons bugs without looking into the product to try to get more money from customers even though the add-ons are still in support periods). Simtechdev always looks into the bugs and is willing to fix it and make it better.
We decided to stay with Simtechdev because I trust SimtechDev can develop any things with quality coding. Even though the cost of customization is now low, I could understand the quality that SimtechDev provides.
How are things going at the moment with your store? Share the current situation around your business. Share the latest success case.
Our eCommerce store is doing well, but it is running with default CS-Сart marketplace features with some add-ons that we bought. We have not integrated our ideas by asking for customization to the CS-Сart marketplace yet because our ideas are super expensive to customize. We also have some troubles with the legal requirements of the local government, but we can handle them easily. Also, our product inventory keeps getting delayed because of COVID-19, so we have to put our store in the maintenance mode. Our successful things are having few loyal sellers and customers.
What inspires and motivates you to do this business? Is there any advice you'd suggest to other business owners based on your personal experience regarding e-store development?
I love doing business, and I want to become a successful entrepreneur, not because of making money but because of the achievement. Doing what I love to do is exciting.
I don't have much advice for others, but what I can say is anyone who wants to run an e-store, they must plan well before starting, looking for a niche product because there are many competitors that have more money and they are willing to destroy new eCommerce startups. I believe we all must do a lot of research about the competitors and learn from them, so we can plan well.
Closing
Thank you, Derek, for your rewarding insights! This valuable information is what other merchants need for a better setup of their businesses online. Hopefully, you resolve all the government issues, as you already have strong support and a secure foothold with Simtech!