This time we took an interview with the CEO of Faly Music, a marketplace from Mexico selling branded music instruments. The story is rich in practical experience and is the must-read for those who are facing a start-up dilemma. You will learn about some strategies to market your business and how to sell more with fewer efforts to increase conversions by 150%!
Don't forget to reward the storyteller. Like and share the post in order more people could benefit from this useful content!
Interview with CEO of Faly Music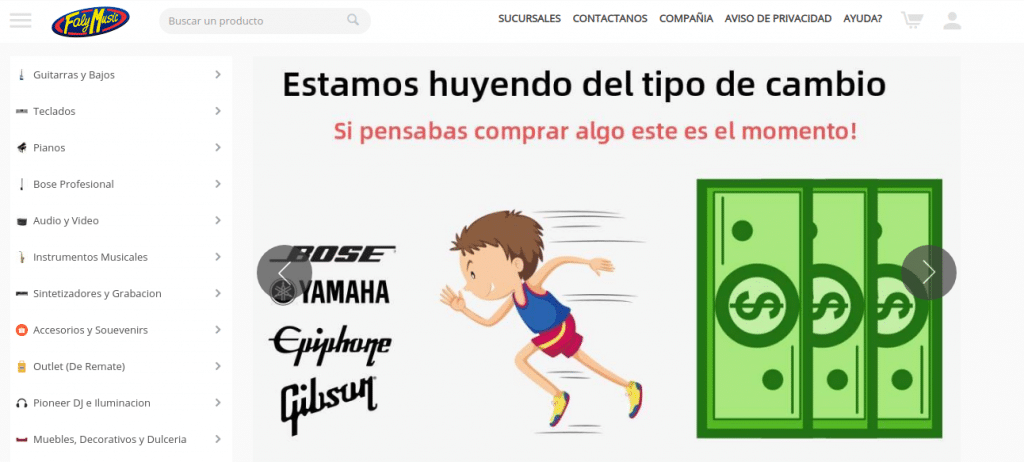 Give us an idea of what your business is, what products you are selling, and the services you are offering?

Faly Music is a specialized company, which sells musical instruments and professional audio. We offer the most extensive price range of musical instruments in Mexico, guitars from $30.00 USD to $11,000USD, pianos from $200.00 USD to $150,000.00 USD). We offer 4,000 products ready to ship and in our main catalog 8,000 products, we are the musical instrument website which has the biggest catalog in Mexico.
What are the greatest challenges you've faced so far and how did you overcome them?
We started the eCommerce project in 2010. The first big problem that we faced was increasing the customer confidence to buy big tickets on our webpage.
We solved the problem with 3 strategic actions:
offered the delivery by our own logistic department.
established the rule in the customer service department to send more information than the customer expectations and we always have a call with the customer (our competitors only served customers by email).
had daily meetings with our 2 principal suppliers to know when the most exclusive models would arrive in the country, so the customers felt confident when our sales team knew more information than any other store in the country.
After these actions, three things happened:
The customer pays faster than we expected;
Many times they buy a more expensive product;
They preferred to wait for weeks or months until they receive the new desirable product.
The biggest challenge in all our years was to find a good and secure payment processor with enough knowledge to avoid fraudulent transactions. It had to be very friendly to the customer.
After years of searching, we selected 2 payment processors.

We started the project with 2 payment processors at the same time, we requested the integration to 2 different companies, one with the Simtech team and the other with a company in Mexico.
After 2 months both integrations were ready to use. The only integration that 100% works and reached our expectations of security was Simtech Development's one. This development was one of the best decisions that we made, the sales increased by 150% in one month alone! In the next 3 months, we sold almost 80% of what we sold for the last year!

What are some unexpected benefits of owning an eCommerce business?
We learned that:
You can do more with fewer physical stores, in other words, you can get more profits with less effort.
Productivity is easier measurable in a focused team.
When it comes to developing new functionality for your online business, you choose Simtech Development. What excited you most and why you decided to stay with us for several projects?

The first project was the last year in 2019. I chose Simtech because its add-ons had been working perfectly, the support had been very helpful and quick, so the main reason was that the Simtech team showed a very deep knowledge in CS-CART. When requested for the first projects, one of the most helpful features was that we knew the name of the leadership team, he or she always replied in the times that they mentioned, and always showed interest to solve in the least time possible. After the first projects successfully finished, we took the decision to move our web hosting to Simtech Cloud service, and it was much better than we expected, the speed is really great and it helped a lot our search positioning (SEO) in Mexico, the cloud customer service is very fast.

How are things going at the moment with your store? Share the current situation around your business. Share the latest success case.

We expect to grow 130-150% this year comparing the last year 2019. In the last 3 years, we have been growing 50-70%. They were the best years.

We have made 1-2 projects at the same time! We believe that we can introduce more big new features in our store. Altogether, they will help us to add more value to our customers.

What inspires and motivates you to do this business?

Our inspiration comes from how we perceive all our efforts worthwhile to the customers.
Is there any advice you'd suggest to other business owners based on your personal experience regarding e-store development? What is the portrait of a successful business owner to your mind?
The biggest website business owners:
Know perfectly their local market (country),
Have a lot of valuable knowledge,
If they have an idea and they think it is good, it is almost 99% a great idea! They should put that idea on their websites immediately!
I always believed "It is bad not to have ideas, but it is worse when you have one and don't put it on the market!
If they have CS⁠-⁠Cart, I strongly recommend the Simtech Team to be their business partner developing their ideas.

Closing
We are grateful to Yamir, the CEO of Faly Music, for his high estimate of our work. This inspirational example of running an eCommerce store will definitely ignite other merchants and help them to start thinking towards a better setup of their businesses online. We wish Yamir a prosperous business, and if you want to have a similar web development experience, you know who to trust!