This article is a collection of tips for improving the conversion to sales in online stores and marketplaces. We asked our digital marketer to give us some tips on how conversions can be improved on a site. But before we begin with actionable expert recommendations, let's start with the basics.
Increasing online store conversion rates
Conversion is a basic concept in digital marketing helping evaluate the effectiveness of your site. For example, how good your advertisement or user behavior is on the site, and any other actions that you expect to receive from your target audience. Conversion happens when a visitor to your website completes a desired action, such as filling out a form or making a purchase.
It is a very flexible concept. With its help, you can calculate not only the percentage of registrations and sales, but also use it in a narrower sense. For example, to measure how many visitors to a particular page clicked on a button in relation to the total number of visitors to that page.
The conversion is calculated according to a simple formula:
The conversion is calculated for a specific period and is also compared, as a rule, by periods (for example, what was the conversion rate for a sale this month compared to the previous one).
Conversion of a visitor to a customer is possible when a purchase takes place. Sales increases from establishing an online store. Let's see how to boost eCommerce sales.
Boosting eCommerce sales
In the 3rd quarter 2020, the average global conversion rate across eCommerce sites was about 2.25%. ranking and could reach 3.5 % of conversion rate, on average.
Arts and crafts: 25.63 %
Sports and recreation: 24.16 %
Health and wellbeing: 13.44 %
Home accessories and giftware: 13.38 %
Food and drink: 8.52 %
Statista states that conversion is higher for the food and beverage sector. It was at 5.5 % in 2021. Beauty products are second in the conversions.
You can use benchmarks to evaluate your performance and then take corrective actions.
How to improve conversion rate of your online store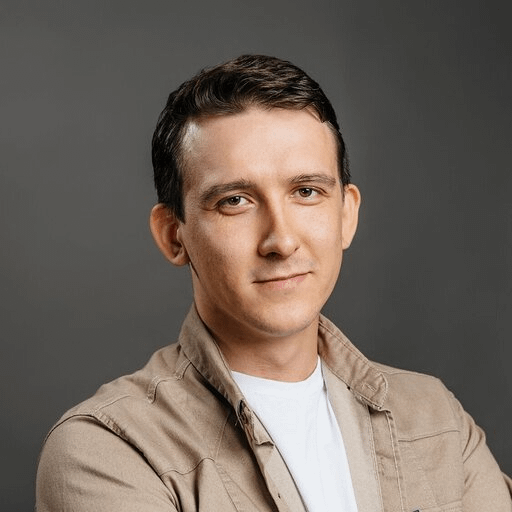 Igor Kuznetsov, Digital Marketer at Simtech Development
In this section, our lead digital marketer will share some proven methods to increase conversion on a store. If you're not satisfied with how your site converts, try these simple methods.
Tip 1 – Work with the current customer base
Mailings or instant messengers. Whatever you choose. You can use both channels at once. The conversion of such customers into a purchase is likely to be higher, because they are more loyal, as it is not their first purchase. Make special promotions for regular customers.
Tip 2 – Introduce a bonus system
This way you will regularly replenish the base of loyal customers and increase the overall traffic conversion
If your product is not so simple, try making a quiz. Create a small survey that will help both the client and you to state their product needs at the same time. At the end of the survey, offer the client a small discount or bonuses in exchange for his contacts.
Tip 3 – Use an online consultant
Most often, the client needs a little consultation before buying – the terms of delivery or payment may not be clear, or incomplete information about the product is posted on the site. An online consultant will be able to answer these questions and help close the deal / sale. The main thing is to respond promptly, preferably within 15 seconds, the client will not wait long.
Tip 4 – Check the convenience of checkout
Most often, clients fall off here. Even if you like the product, the checkout process can be too inconvenient and the customer will go to a competitor. For each field that needs to be filled in, you can set a Google Analytics event (or other solutions), build a funnel of such events and understand where the purchase process is most often interrupted.
After making a purchase or before leaving the site, invite customers to answer the question of whether they found your site convenient. Often, clients can point to completely non-obvious problems.
Tip 5 – Don't forget about social proof
Negative reviews can kill conversions on even the best site. Reviews on the site itself are rarely trusted, so evaluate the environment – your own social networks and specialized review sites. Just type "reviews company_name" into the search line and see the top 10 results. Do the same with your closest competitors, collect a list of sites and post reviews on them
Closing
These tips are easy to implement and don't require much time to complete. However, they prove to be very effective according to our customers' requests. If you don't find a ready-made solution, we can always develop a convenient tool integration to help you convert more visitors into buyers on your site.