VSEO or Video Search Engine Optimization has become the eCommerce driver recently, and it's not by surprise. The race to the top of the search engine results page (SERP) has become more cutthroat than ever before. It can be explained through sufficiently available data on user behavior when they are using search engines. The majority of users choose from the first organic results on the SERP. It is a testament to the reduced patience and attention span of people.
Therefore, it has become imperative for marketers to design content that is appealing enough to capture user attention. Data shows that with the advancement of technology and expansion of social media platforms, our general attention span has decreased. Consequently, marketers are left with less than 10 seconds to captivate the audience. Visual mediums are a great way of capturing user attention. Human beings have been wired to like stories, and videos are a very effective mode of storytelling. The success of platforms such as YouTube prompted all major social media platforms to make video a vital part of their services, and the marketers – to focus their efforts on VSEO.
What is Video SEO
VSEO stands for Video Search Engine Optimization. It is the process of optimizing video content to rank higher in search engine results pages (SERPs). This includes optimizing the video content to make it easier for search engines to understand what your video is about and rank it for relevant keywords. For an ecommerce site, this means optimizing video through various techniques such as using relevant keywords in video titles, descriptions, and tags, creating a video sitemap, and embedding videos on relevant product pages.
Why video?
Unsurprisingly, video has become a crucial element of SEO as well a separate branch of SEO called VSEO has gained prominence over the past few years. VSEO, or Video Search Engine Optimization, is all the rage today and occupies an integral role amidst other optimization techniques.
If you are wondering why SEO for video content has become such a core part of SEO, you have come to the right place. In this article, we will outline the major reasons why video SEO is gaining prominence and how video marketing can benefit a business in its overall marketing strategies. We will also briefly take a look at some tips for creating VSEO ready video content for YouTube and Google search. Let's begin.
Google's focus on User Experience and Role of Videos in UX Enhancement
User experience has been an area of special focus for Google and its algorithms over the last few years. The increased spotlight on enhancing the user experience for page rankings on SERPs is indicative of the user-centric approach adopted by Google, just look at the introduction of metrics like Core Web Vitals. Video can be a great tool for making the user experience better.
Internet users have shown a tendency to prefer video content over other forms of content such as blogs and text in general. The ability of videos to cover more ground interactively with a storytelling approach has increased the reliance of Internet users on video content.
Users have begun expecting videos as a solution to many of their search queries, given the explanatory nature of the format. Be it product videos, educational videos, testimonial videos, introduction videos, or promotional ads, users expect to stumble upon any one of them for most of their needs.
Videos differ from other forms of content, written or visual because they possess the ability to connect to the user within seconds, which adds to user engagement and overall experience.
Video Content is a Google Favorite
Experts are in favor of video content when it comes to boosting user engagement. This has become all the more crucial for SEO because Google prioritizes marketing strategies that seek to improve it.
Google still depends considerably on keywords while deciding the ranking of web pages on the SERP. Google matches the relevance and theme of a video to a search query with the help of the transcript fed as metadata while uploading that video.
After Google, YouTube has become the second most popular search engine, especially when it comes to videos. Although no one can say for sure whether Google favors YouTube content, it's clear that videos performing well on YouTube in terms of shares, likes, views, and comments reach the SERP concerning user queries. You can learn how to rank youtube videos using Rankwatch.
Videos Increase Long Clicks and Stickiness Factor
The stickiness factor of a web page is nothing but the measure of time spent by users on a website while watching a video. It is a deciding factor in determining the quality of a webpage based on the EAT principle (expertise, authoritativeness, and trustworthiness).
In general, Google loves long clicks — when users click on a search result and stay on that page for prolonged periods. Long clicks are indicative of the fact that users have found the desired result in their search query. Videos are no doubt one of the best ways to hook people on a web page for a longer time, given the engaging nature of video content over text and images.
For the reasons mentioned above, statistically, videos are known to increase the dwell time of users on a website by as much as six times. The recollection value of videos swings the attention of users in their favor, which in turn equips websites to hold their attention and increase the stickiness factor.
Click Through Rate Sees an Upward Trajectory With Video Content
The digital world is overflowing with information in innumerable posts on social media feeds, hundreds of new blog posts every minute, and more. Internet users often find it difficult to settle on the best possible answer to their search queries. To solve this problem, video content can be a great alternative.
Videos are known to provide valuable information engagingly and concisely. They can pack more content in shorter time frames, with an added advantage of great recollection value and better click-through rate (CTR).
Increased click-through rate is directly proportional to conversions when users land on the related web pages.
Video Content helps generate Natural Backlinks
It's no secret that quality backlinks on a web page are a Google favorite for SERP rankings. Web pages that are ripe with high-quality inbound links are seen as authority pages by the search bots. They are known to drive more traffic than your run-of-the-mill pages. Moreover, web pages with videos get exponentially high inbound links.
Speaking about eCommerce, apart from an advanced eCommerce platform, high-quality content is one of the ways for success on online marketplaces. In particular, video content capitalizes when it comes to generating backlinks.
Therefore, publishing video content provides a great opportunity to not only earn quality backlinks but increase quality traffic as well. The combined effect of these two helps in improving the page authority and eventually the page ranking.
How to Rank Videos on YouTube
Assume, you've already created your channel on YouTube, probably, allowed for fetching your videos to represent them on your eCommerce site (that would be great, as both channels will work for you in an accumulative manner). Now, you want to know how to get even greater traffic to your channel and site. Let's examine some possible activities to take.
VSEO YouTube Tips
Below are VSEO YouTube tips that will help you to rank higher and increase your traffic:
Optimize your video title, description, and tags with relevant keywords.
Encourage engagement by asking viewers to like, comment, and share your video.
Create high-quality video that is valuable and engaging for your target audience.
Use annotations and promo blocks to promote your other videos and channels.
Share your video on social media platforms and embed it on your website or blog.
Use YouTube's built-in analytics to track your video's performance and make adjustments accordingly.
Collaborate with other YouTubers and cross-promote each other's content.
Use paid advertising options to promote your video to a wider audience.
Note that ranking on YouTube is not just about optimizing your video, but also about building a loyal audience and creating content that resonates with them. It takes time and effort, but with consistency and dedication, you can improve your video's visibility and reach on the platform.
Tools for YouTube SEO Marketing
You don't need to invent a bicycle while following our VSEO YouTube tips, as there are lots of tools to make this task easier.
Keyword research tools: Use tools like Google Keyword Planner, Ubersuggest, and Ahrefs to find the most relevant and high-volume keywords for your YouTube videos.
Tools of video optimization for SEO: Tools like TubeBuddy and VidIQ help optimize your video titles, tags, descriptions, and thumbnails for better visibility and engagement.
Analytics tools: YouTube Analytics and Google Analytics help you track your video performance, audience demographics, and engagement metrics.
Social media management tools: Use tools like Hootsuite and Buffer to schedule and share your YouTube videos across multiple social media platforms.
Influencer marketing tools: Platforms like FameBit and Grapevine connect you with popular YouTube influencers to promote your videos and increase your reach.
Captioning and transcription tools: Use tools like Rev and Happy Scribe to add captions and transcripts to your videos, making them more accessible and SEO-friendly.
Backlink analysis tools: Use tools like Ahrefs and Majestic to analyze your backlink profile and identify opportunities for link building and outreach.
Best Video SEO Strategies from VSEO Experts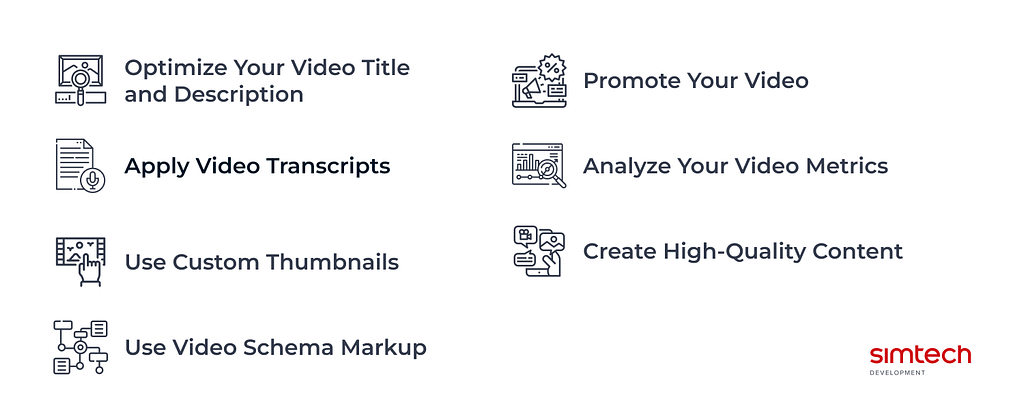 We shortlisted some best video SEO strategies from VSEO experts:
Optimize Your Video Title and Description: Use relevant keywords in the title and description of your video to make it easier for search engines to understand what your video is about.
Apply Video Transcripts: Adding transcripts to your videos can help search engines understand the content of your video, making it more likely to rank higher in search results.
Use Custom Thumbnails: Custom thumbnails can help your video stand out in search results and attract more clicks.
Use Video Schema Markup: Adding schema markup to your video can help search engines understand the content of your video and improve its visibility in search results.
Promote Your Video: Promote your video on social media, your website, and other relevant platforms to increase its visibility and attract more views.
Analyze Your Video Metrics: Analyze your video metrics to understand how your video is performing and make adjustments to improve its visibility and engagement.
Create High-Quality Content: Creating high-quality, engaging content is essential for improving your video's visibility and attracting more views and engagement.
Conclusion
We have gathered sufficient information about why video content has gained prominence for SEO strategies. The importance placed by Google's algorithm in rewarding improved user experience has highlighted the ability of video content to give value to users.
To sum up, video content is only going to become more decisive going forward. SEO is a fickle industry because of the quantum of regular changes in algorithms, but the video is one of the elements that are primed to remain constant.
Simtech Development can help in customizing your online store or marketplace on CS-Cart. We develop modifications, offer add-ons, provide hosting, and design eCommerce projects. Our experts can help in building your eCommerce website VSEO strategy and tailoring it for the requirements of search engines. You can be sure we use best practices while developing our custom solutions.
---
---
About the Co-Author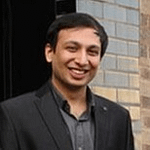 Vaibhav Kakkar is the Founder and CEO of Digital Web Solutions, a globally trusted agency with a full suite of digital marketing services and development solutions. Vaibhav believes in building systems over services, and has helped scale up agencies from scratch to niche-leaders with million dollar turnovers.
---
FAQ about VSEO