Axie Infinity has recently exploded the world with its simple and amazing NFT game. Users across the globe play and earn Ethereums in the native marketplace. Digital entrepreneurs envisage it as a top marketplace they should look up to. Here, we'll tell you about the most significant features of Axie Infinity and how you can build your business with a similar marketplace.
What Is The Axie Infinity?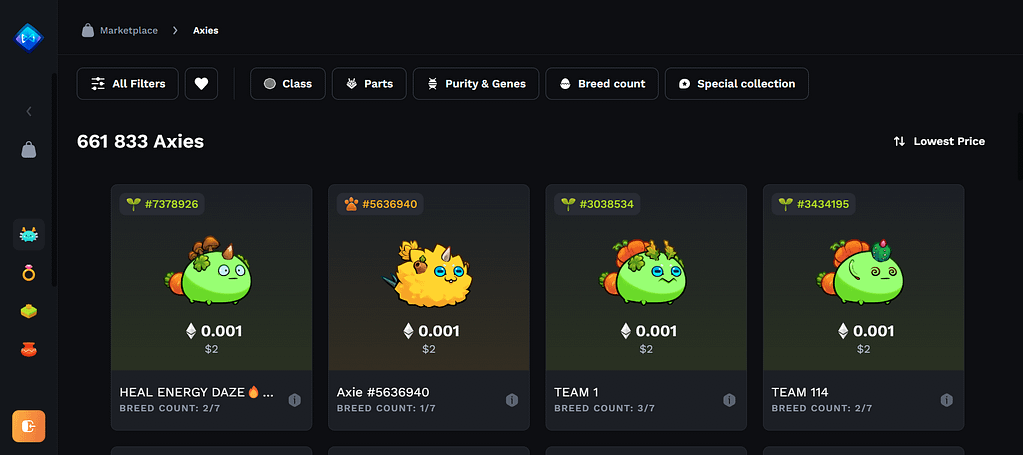 Axie Infinity is the top computer game with fantasy creatures. It represents a digital universe where you can breed virtual pets on the acquired piece of land. The platform uses two ERC-20 tokens: Smooth Love Potion (SLP) and Axie Infinity Shards (AXS). SLP tokens are bought, or earned by going into Adventure or Arena mode. The AXS are governance tokens primarily applied to breed new Axies. Axie breeding is paid, for each session you need to pay 0.005 ETH (plus 'gas', the marketplace internal fee). Moreover, you need to have at least three aphrodisiacs to succeed. All Axie virtual territories and objects exist outside the game space and represent NFTs based on Ronin (a sidechain of Ethereum). They are traded on the Axie Infinity Marketplace. A cross-chain bridge is used to move assets between Ronin and Ethereum.
Why Users Like Axie
The Axie Infinity platform has already gained popularity. This is a peculiar example of blockchain technology use. One can mine cryptocurrency by playing a game. People like it for several reasons:
Players make money on the Axie marketplace and in esports tournaments
It has a large and active user community
Partnership with worldwide known brands Samsung and HTC, and collaboration with Ubisoft ensure strong position of the game on the market
Experienced and qualified development team release proactively new features making the playing process engaging for users
Space for Improvement
However, the project is still at an early stage and several things could be improved:
Decentralized platform management which makes it difficult to coordinate changes
Minimal profit if the rate of the SLP token falls
High entrance barrier due to high Axie and Ethereum gas prices
Axie Business Model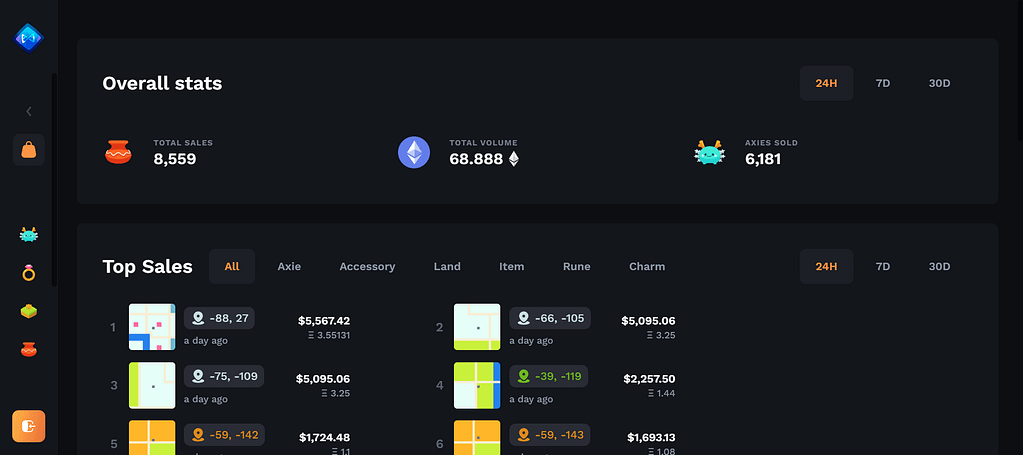 Axie Infinite is considered  the most successful Web3 compliant project. Web3 is the third "generation" of the Internet and is defined by Blockchain technology. Axie is an NFT marketplace where players can buy and sell in-game items. The marketplace effect enhances the interaction effects of the game. Participants breed more Axies, making the inventory more diverse and the game – more valuable and engaging.
How to Buy Axie in the Marketplace?
Axie are NFTs that can be sold or bought on any NFT exchange. But the best place for players to buy and sell their assets and make progress in the game is Axie Infinity marketplace. Before making any action, you need to have two wallets in place: Ronin and an ETH wallet like MetaMask. The MetaMask wallet is used to store tokens, while the Ronin wallet is required to store all of your activities like transactions. Once both wallets are installed and the account created, you can proceed with the signup procedure on the Axie marketplace. To start buying, you need an order. To make an order, transfer money from your ETH wallet to Ronin or acquire ETHs right on Ronin using the Ramp Network (can be restricted for use and unavailable for some regions).
How to Sell Axie in the Marketplace?
There are two ways you can sell Axie in the Marketplace:
Fixed price
Auction.
The first option is clear enough. You specify the price of your Axie, and post it immediately for selling. The second option is more tricky and needs to be explained in more detail. Axie Infinity is the marketplace with the Clock auction. It means that before launching a sale, you should define the starting price, the end price, and the duration of the auction.
Axie Infinity Marketplace Fees
Fees or gas are charged from buyers. It is equal to 5.25%. If a transaction involves a creator code, the marketplace receives 4.25%, and the Axie creator – 1% of that sum. If not, the full amount will go to the game community.
The marketplace also imposes 0.5 AXS fee for breeding in case a new Axie is created by players.
How Players Earn Money on Axie Infinity
Here are some ways to earn money:
Cultivate and sale of pets
Put together a perfect team to win the battles
Bet on other teams
Lease land plots for rent
Make settlements within the platform in SLP tokens, which can then be sold
Other Marketplaces Like Axie infinity
The gaming finance (GamiFi) is the realm of games with an economy. Such games allow you to earn money by playing games. The idea to monetize the gaming experience appeared a long time ago, but it has become especially popular in recent years. Every day there are more and more GameFi projects that provide an opportunity to earn.
Play to Earn is a concept that allows you to earn money by playing computer or mobile games. In crypto games, this is most often the native cryptocurrency and game items. Cryptocurrency can be exchanged on a crypto exchange (for example, Binance), and game items can be sold on special marketplaces
Pay to Win is another concept. It means that in the game there is an opportunity to donate and get advantages over other players. For example, buy cool equipment, weapons, or local currency
Many crypto games work by combining both of these concepts. This means that you need to invest money before you can play and earn.
Let's see what are some other examples of similar projects with the ability to monetize.
Alien Worlds
Trillium or TLM is the essential currency here. To progress, you need to use the earned TLMs for self-upgrade: for instance, you can purchase gear to speed up mining. At present, the game is more similar to a clicker: pressing the 'Dig' button is the only action. The key advantage is that the game doesn't require large investment to earn. You should have 10 WAXP (about $3) at the start. You get TLMs after every journey to a mine. The earned money can be withdrawn at any time. Alternatively, you can invest it in cards and sell it in the future. The TLM exchange is done at AtomicHub.
Gods Unchained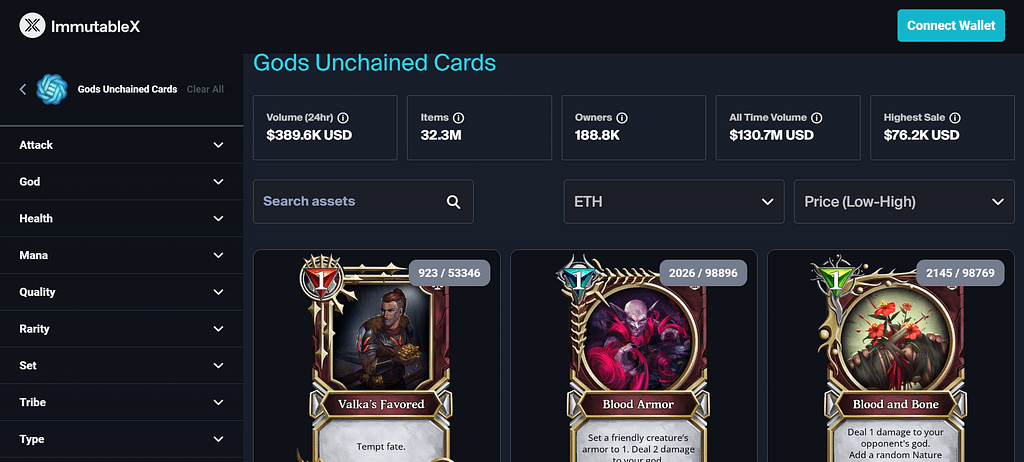 It is a card game. Here, having your own deck, you need to outplay your opponent. NFTs are cards that have certain characteristics. Thanks to the blockchain, you are sure that your cards will always belong to you. The NFT concept protects your deck from stat changes. This solves the problem faced by players in classic games, where the developer can "nerf" your game property – tanks, weapons, characters, etc.
The project has been running since 2018 and operates on the ETH blockchain. You can purchase an in-game GODS token. The game economy is built around this cryptocurrency – it is used to make payments, exchanges and pay commissions.
Newcomers have access to 140 cards. This allows them to start playing without investing. You can get both a strong and a weak deck.
Players earn by trading their cards, participating in tournaments, and playing with other players.
The Sandbox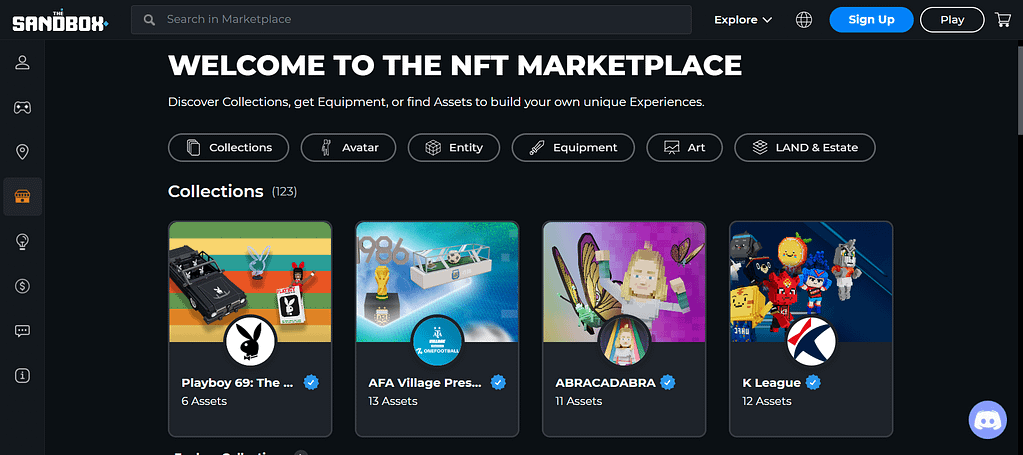 This game in many ways resembles Minecraft, but works on the Blockchain. It combines the concepts of the metaverse, NFT and GameFi. At SAND, you have the opportunity to build your own universe and then sell your creations on the marketplace. However, it should be noted that SAND is already a successful and popular project, and therefore land is expensive here, just like in Decentraland.
The economy is built around the SAND cryptocurrency. This is an ERC-20 token. It allows you to buy objects, land, assets and jewelry.
The possibility of earning is not implemented directly by the developers, but you can upload your creations to an NFT marketplace and sell them by setting a price. This principle is closer to NFT art than to Play to Earn.
How to make an NFT marketplace like Axie
To create a clone for Axie Infinity or a unique NFT marketplace, hire a team with wide experience in front- and back-end development, and blockchain technologies. They will develop dashboards for NFT creators, customers, sellers, and the admin.
A significant amount of investment would be required to develop, deploy an app and host it on a server. It is a tough process requiring extensive preparatory work including collection of business and functional requirements, design of the future marketplace architecture, iterative development, and testing before release. Each stage can double many times before you proceed to the next stage. The time and cost of NFT marketplace development depends on the experience of both developers' and customer's team, and their mutual understanding. Get more development process details from our recent article.
Must Have Features
You will have to consider several important features such as SSO (Single Sign-On), managing inventory and users, settling transactions, converting currency, connecting to an e-wallet, introducing SEO and marketing tools, and auction process features.
Nice to Have Features
The NFT marketplace concept has been already implemented by many blockchain developers. The developed framework should allow its customization to enable the marketplace team to introduce the required changes. The UI/UX design should be cohesive and seamless to make any further modernization quick and easy.
Best Practices
Let's take a deeper dive into best practices and features of some famous NFT marketplaces. Below we discuss some of them.
SSO, a centralized user and device authentication service that improves user experience. The user's credentials like email, username and password serve as a direct gateway to all applications that have been granted the appropriate authorization, so users don't need to enter their credentials multiple times in different apps. It is important to notify users about the necessity to connect their cryptocurrency wallets once they register on your website.
Wallet connection. Users should be able to connect their wallets to your marketplace. Wallets should be compatible with the blockchain and NFT. At Axie, you should purchase at least 3 Axies to connect to the game. This can be done using the MetaMask wallet, a reliable application that deals with the Ethereum blockchain. At OpenSea you have a choice of:

MetaMask
Coinbase Wallet
WalletConnect
Ledger
Phantom
SOLANA
BitKeep
BNB CHAIN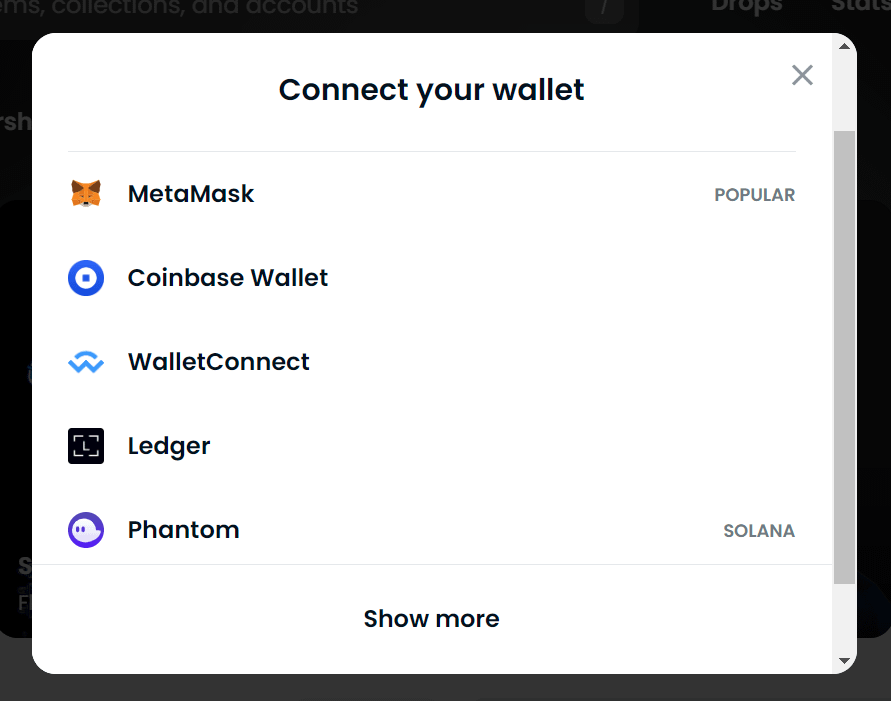 Choose a wallet to connect depending on currencies you want to offer on your marketplace.
Storefront. Visitors should be able to see all data about the lot: name, price, description, preview, owner (vendor), purchase method, rating, etc.
Navigation. Users should be able to search for an item they need without surfing the whole site. Search bar is essential. If you don't have what they need, at least, you need to provide them with something similar. If you take a ready-made eCommerce platform, such navigation tools as search, filters, category pages are available by default.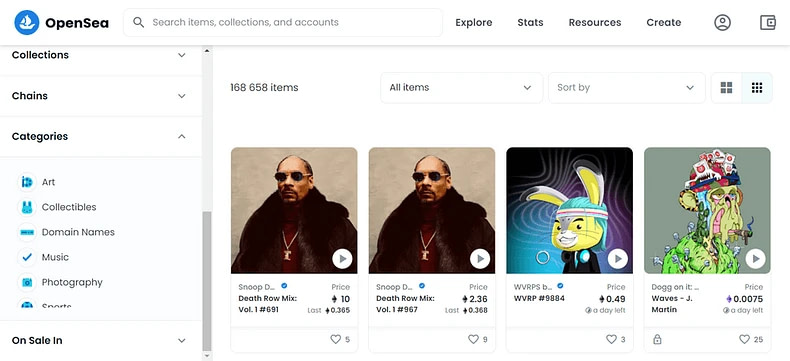 Listing. At OpenSea vendors can use the collection manager to upload their NFT art. The tool assists in importing the product feed with their features.
Auction. Usually, items are bought at an auction: users place a bid, and the purchase is made once the highest bid was offered.
RFQ or Request for Free Quote. The functionality allows users to offer their prices.

Purchase history. At Rarible, the history includes the event data, product name, bid, buyer, seller, and date.
Tech Stack
To create an NFT marketplace, consider the following options:
Develop from scratch. It is a more complex way to build an NFT marketplace. You'll have to invest much initially, at the very first stage. But, your gain would be greater flexibility to change the marketplace over time. You can read more about this option in our case study.
Develop based on a ready-made solution like Multi-Vendor. Buy the software license, host your site on a server, integrate it with a cryptocurrency wallet, enhance the backend with the Blockchain functionality and add the auction feature. This option is great for quick start and requires less budget, but is heavier to scale such an app over time due to platform limitations.
Conclusion
Regardless of your choice of technology stack, we at Simtech Development are experienced in analyzing business requirements, matching them with the appropriate technology stack, be it CS-Cart's software or Laravel framework or any other technology of your choice, and provide you with an elegant solution that will save your efforts and money. You can entrust your NFT marketplace development to our devs.