Search drives modern eCommerce. It is not your marketing campaign, social channel or any other means you use to drive potential buyers to your web page but the good old search bar which is the primary tool of any user to find something relevant. So, while thinking about increasing sales in your online store with the paid ads or connecting shoppable links to your website's official Instagram channel, consider attracting visitors through a more natural way – organic search.

In this article, we will share some clues on how to rank higher by a search engine without spending money on advertising or financing into some expensive third-party service integration.

How to drive visitors to your eCommerce website?

Whether you are a start-up hesitating on what niche to choose or a reputable eCommerce website with a stable inventory, don't underestimate the power of words. It is the way of how your shop information is delivered and let people know about your existence. Of course, for physical stores, it is worth starting going online with a shopping cart software, but what if you're already online? How to get buyers in a natural way?

SEO is the right answer.

Search Engine Optimization begins with researching the keywords that you could place on your website to be more visible for potential buyers. These are the words that users put on a search bar while seeking for a product or a service.

Where to find keywords? Keyword research ideas

If you are a local business, start with inserting your location description into your website content. Try to use different forms, synonyms, trendy words, long-tail questions. Today's trend is the voice search. The more natural your language is, the closer your website contents are to the people's talking, the more voice-search-driven leads you to get.

Imagine, you are an online food marketplace. What can your visitors search for?

Ramen near me?
What is the best soba resto in L.A.?
Fastest pho delivery in the U.S.?
Think about multiple variations the same expression can be used or expand the words. Thesaurus, Synonym.com, Google Answers, and your brain can help you there. For example:

Ramen near me? Ramen nearby? Chinese food in my location? Chinese cuisine next to me? Closest ramen house?
What is the best soba resto in LA? Premium soba restaurant in Los-Angeles? Top soba noodles in southern California?
Fastest pho delivery in the U.S.? Order pho soup to go in the United States?
Try as many variants as possible.

Alternatives to Google search
Use various search engines to find out the popular expressions with your customers: Facebook, Amazon, YouTube, etc. All of them have different search algorithms and deliver specific results depending on their audience.

Take an Amazon example for soba:


Visitors search for: buckwheat soba, dried noodles, noodle soup and so on.

At the same time, YouTubers formulate their questions differently. So, you can get even more keywords out of YouTube: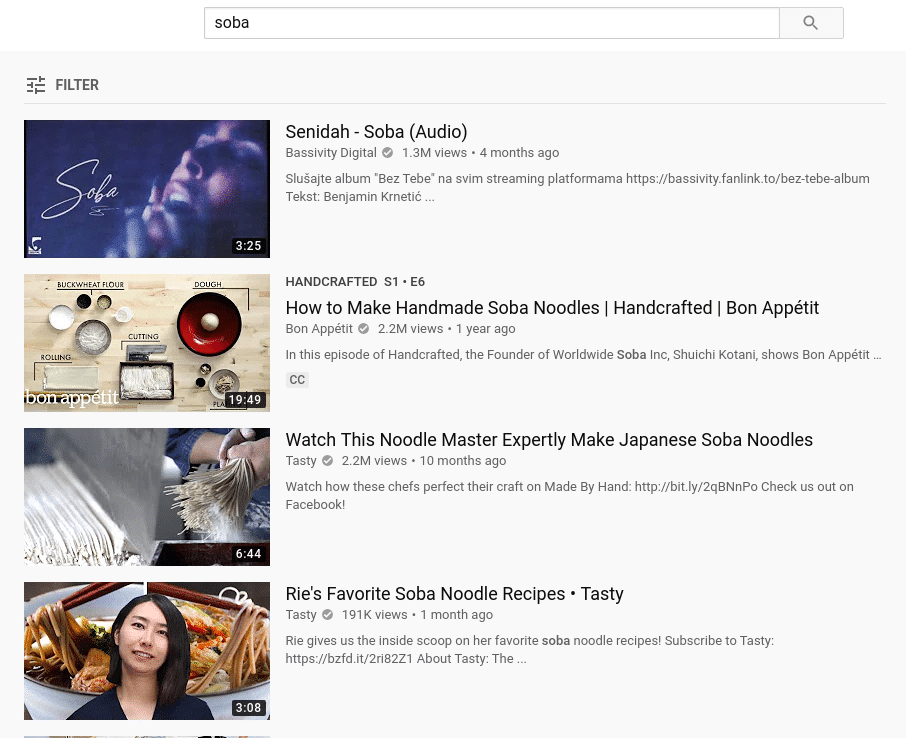 Handmade soba, handcrafted noodles, noodle master, a scoop of favorite soba noodles, tasty soba noodle recipe, etc. Ideas are numerous!

Your competitors are the keyword generators, too! Inspect the code of your homologs by right-clicking on a page and study expressions in meta descriptions. This gives you a glimpse of how to outreach your target audience better than competitors.

Keyword placing
Place your keywords properly on the website. It is not only your product pages that should contain the right descriptions with the precisely selected words but all of your eCommerce website pages should be keyword-oriented. Think about incorporating a ramen recipe blog, keeping FAQ pages for Chinese food lovers. Those channels will help you to get feedback from your target audience. And… once again, be attentive: keep an eye on how your online shoppers express their opinions and try to use the same wording to be on the same page.

Closing
Of course, trying to speak the same language as your buyers can be a tough task. However, your reward will be a skyrocket boost of traffic without heavy investment.
If you are on the CS-Cart platform, your advantage will be the SEO pack. The plugin simplifies dealing with all the toil connected to SEO. It will give recommendations on better placing the keywords, help you to avoid some common mistakes, visualize keyword placing on your website. Don't forget that it is you where ideas come from. But, having a proper tool for SEO strategy is a good practice that will spot you ten points to outstrip the opponents. For more SEO solutions, drop up a line to a Simtech Development eCommerce expert.