G-shopping.ru is a Russian marketplace that sells a wide variety of consumer goods: home decor, garden supplies, health and beauty products, products for children. G-shopping.ru operates as both: retailer and wholesaler. Becoming a hybrid of a retailing and wholesaling business continued to represent a challenge from the preliminary phase throughout the entire project and the works.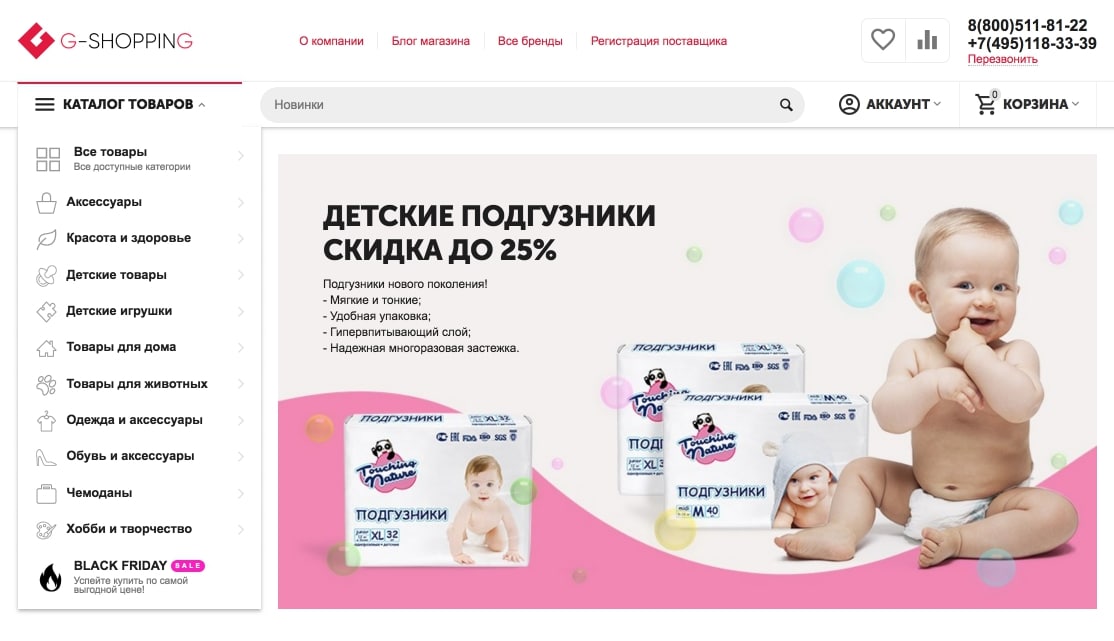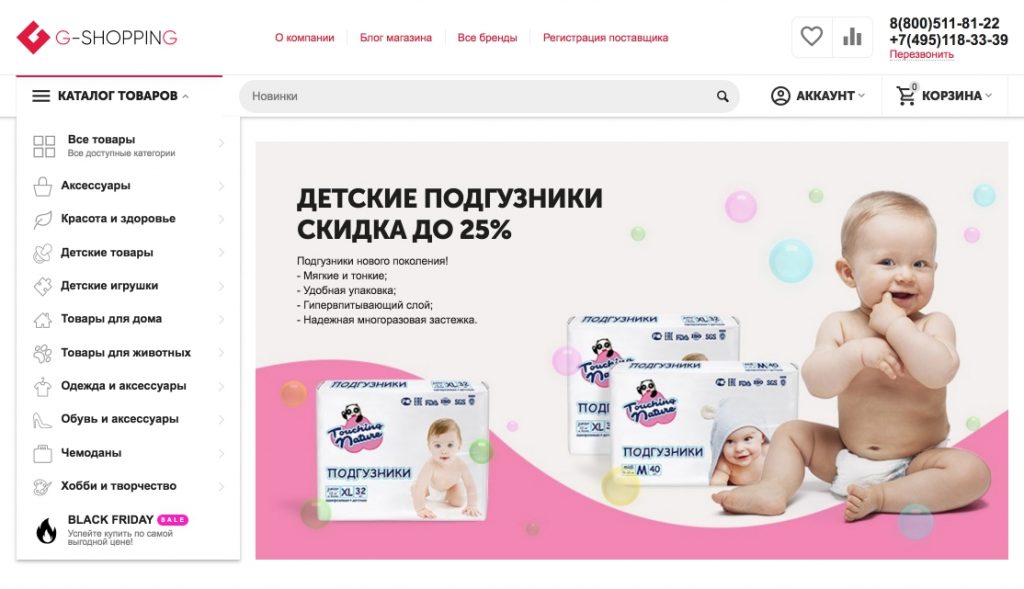 Distributor and manufacturer
G-shopping.ru sells products imported directly from manufacturers in China. The company also produces its own product lines. Therefore, the main requirement for software development was to set up smooth automated processes of uploading a large catalog of products segmented by categories and provide tools for inventory management.
Industry
Household and personal care goods
Services
Location Russia
Wholesale and retail features
Set up inventory synchronization
Organic visibility on Google
Multi-Vendor Russian edition was chosen as the base platform to unfold the project. This solution has all the necessary features (retail and wholesale) and integrated services required for business localization in the area such as:
1C: Enterprise;
Yandex: market, maps, metrics, payments;
Shipping calculation with PEK, SDEK, Russian Post;
Social logins with OK, VK social networks.
G-shopping.ru was a long-term and complex project that involved an ongoing flow of technical tasks and constant follow-on revision. Dedicated developer service was chosen as the most optimal way to implement the project-related tasks.
Dedicated developer service is the most flexible hiring model and highly recommended for time-sensitive project tasks. It allows the client to skip the long multi-stage development process and have a developer assigned to work on the project at hours suitable for the client. That accelerates the realization of modifications considerably.
After having a detailed discussion with the client about the expected results, we got to perform the modification tasks.
We started with the realization of the priority task – setting up processes to ensure the project complies with the latest legislation of the Russian Federation, the new Federal Law 54 for E-commerce. We set up:
Data exchange between the online store and the Atol Online service for generating digital receipts;
An automated process of order and inventory synchronization with the 1C: Enterprise accounting system in the CommerceML format.
Then, we focused on getting the website in order and making it searchable by Google. We worked with G-shopping's internal team on SEO optimization:
Optimized site internal link structure;
Built the sitemap and submitted it to Google;
Registered the company with schema.org service;
Increased Google crawl rate of the website.
As a result, we built a fully functional website for the G-shopping marketplace adapted to operation in Russia.
The company's customer and vendor base are growing daily thanks to the optimized organic visibility and user-friendly characteristics of the website. The platform and inventory management functionality are able to grow with and support business needs.
Defaulf functionality is not sufficient?​ Let's discuss your idea!