Starting an eCommerce venture can be intimidating. The online retailer should consider lots of things to compete with rivals in digital space. You need to tackle lots of tasks. Choosing a hosting provider or optimizing a landing page for search engines, or configuring DNS are just some of them. Many entrepreneurs leave customization of their websites to experienced web developers to release more time and creativity for managing their online businesses. Well, this practice proved its effectiveness. In this article, we will tell you about some worthy success cases of customized CS-Cart stores for your inspiration. In these stories, customers requested our expertise, got it, and succeed.
1. Northskull


Northskull is an online store selling man-friendly stone bracelets. It resides in London. The brand popularity came with its covetable accessories mostly shown at London Men Collections. Recently, they've launched a ladies' jewelry product line.
Story behind brand
Davron Christian founded the company in 2009. His inspiration was homegrown men's jewelry and wrist accessories. The store owner seized the growing trend right from the very beginning. Men across the globe look for accessories on their wrists. To stand apart from other men's jewelry companies, the Northskull company invented its unique selling proposition to customers. A new brand image and philosophy needed to grow its loyal customer base using an online shopping platform. The store owner focused on details first. That's why the website used quality zoomable pictures, refined and simple checkout. All the UX & UI features inspire a feeling of trust and pride in its adepts. They are proud to be a Northskull brand fan.
Reasons for success
The case of Northskull proves that no design, proposal, or a custom feature won't save a brand without a quality and unique product. The Northskull collections use a vast array of luxurious materials: from semi-precious stones to python leather. The brand's unique trademark – silver skulls – finish that all. The store owner gained designers over his brand to create truly unique and innovative accessories, and came up trumps!
"They have a really playful approach to their design and every season their clothing is an innovative take on menswear classics. This reflects our approach to jewelry design", – says Davron about his team players.
Quality and luxury materials work better for a brand if designed with skilled craftsmanship.
In one of the interviews, Davron shared the reason why he decided to start his online store.
Before Northskull was launched, men's jewelry was limited to signet rings and cufflinks, but there was nothing on the market with a fashionable edge. There has been a changing trend in men's fashion over the years where men are seeking to accessorize their looks with bracelets and necklaces. We sensed a gap in the market, and there was an opportunity to design unique and innovative pieces for the modern man who appreciates a contemporary approach to traditional design.

Davron Christian

The Northskull online store trodded its own path to success. That path included resolving website security and speed optimization issues, promoting its platform with lucrative design and ad campaigns. Read the full story of how they succeeded.
2. Area Safe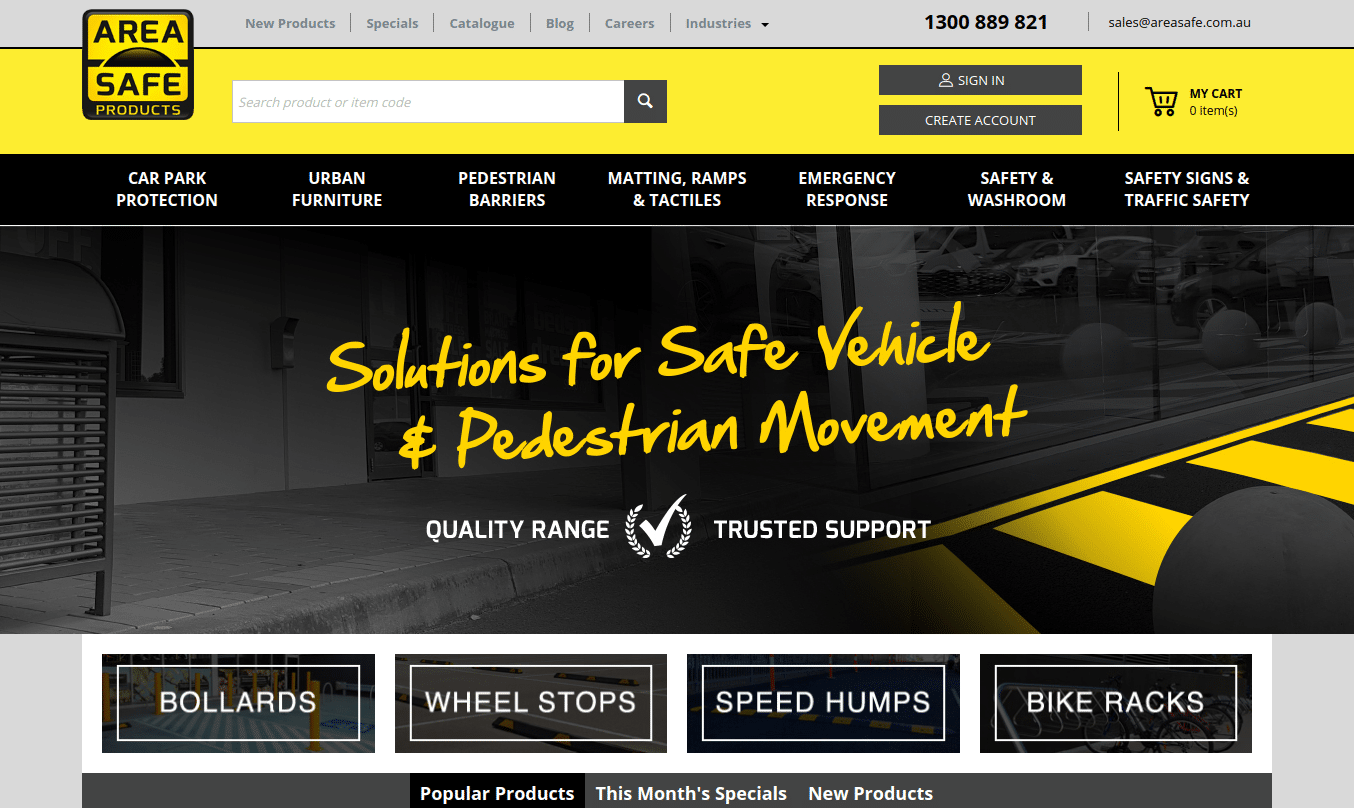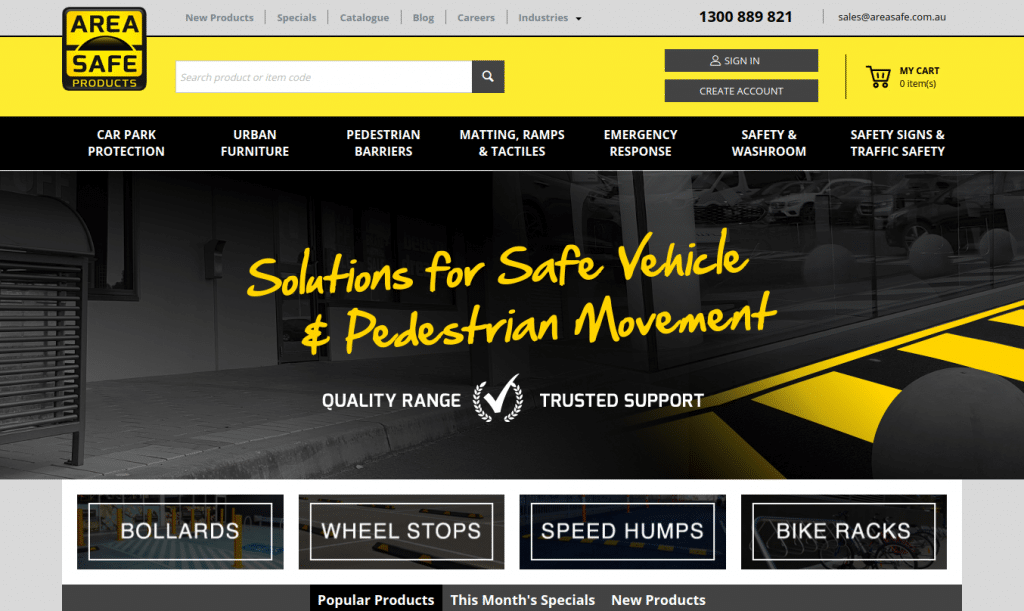 Spyre Digital, a digital marketing agency, founded by Matt Marchetta 16 years ago. The owner's experience spent in designing, developing, and deploying digital marketing solutions for Australian businesses culminated in these years.
Background
He and his team began as a crew of teenagers back in the late 90s. The team explored the promising new world of the Internet that was only emerging at that time.
Years passed and Spyre Digital evolved into a broad media production agency. Now, the agency responds to a growing demand for multi-channel, conversion-optimized digital content creation, and marketing.
The founder of Spyre Digital helps others to grow their businesses online. He has launched 2 successful eCommerce platforms for his clients:
Asurban.com.au
The Sites n Stores platform was the original platform of the store. It had limited functionality in terms of customization. Matt asked Simtech Development to re-platform it to CS-Cart. We ensured the technical part of the migration to a new platform.
Areasafe.com.au
WordPress was the original platform of the website. We migrated and upgraded it upon Matt's request.
Area Safe Products is an Australian company offering urban furniture, safety signs, ramps, tactile, and other city-specific items. The main characteristic of such businesses is demanding customers. Quality is the first priority for them. The website managers committed Matt to make their online store handy and attractive. Their story of success passed a long way.
You can learn from the Area Safe case.
3. Peace Foundation

The idea behind creating the Peace Foundation was to connect individuals within one platform to create a nonviolent movement. A sustainable decentralized economy that complies with the Mahatma Gandhian principles is the main focus of the institution. 
From idea to development
Back in 2015, a student group from Germany got concerned about Food Waste and its impact on Global Peace. As time passed, a deeper understanding of peace and various threats to peace evolved within the group. That was the inception of the foundation for the Peace Movement. After more people joined their movement, a group turned into a wide global community. The platform now unites people from different social, cultural, academic, and professional backgrounds in different parts of the world.
The Peace Foundation formal foundation is 2017.
This project was one of the first non-profit organizations that in 2020 received a free license from CS-Cart as part of the COVID-19 support program.
Success with the eCommerce platform
In an interview, David Shaw, the online platform rep, intimated the reasons why they needed a platform to embody their ideas:
In the post-corona world our initiative aims at creating capabilities at local level and connecting small-scale businesses directly to customers. To realize this 'customer-connect' part of the program, we needed an online multi-vendor eCommerce platform.
The platform aims to gather donations, provide internships, and promote helping others who suffer from adverse conditions.
Now the Peace Foundation connects volunteers from all over the world and social initiatives, provides fundraising, training, and events coordination to share their vision and philosophy and promote a healthier mindset.

Closing
These CS-Cart stores vary in their successes. All of them share a common bond: they embody wealth in eCommerce. Some of them make thousands of dollars in sales every month. Others use technology to help other entrepreneurs to join the new post-Corona economy. One more thing that unites these businesses is paying attention to details and quality. They achieved that with customization. Maybe in our next roundup, we could feature your store? Drop us a line and our expert turn your CS-Cart default store into a piece of art!