Affiliate marketing is a strategy when external websites or individuals lead traffic to your website and get a commission from sales of their referrals. You can motivate them by paying sales commissions or giving bonus points for the next purchases. According to Business Insider, affiliate marketing accounts for 15% of all digital media revenue and for over 16% of all eCommerce orders in the USA and Canada.
Advantages of affiliate marketing
Affiliate marketing is the best method for merchants to create affiliate relationships with the necessary media resources to promote products and services. In this case, you are able to use various affiliate-marketing activities based on online marketing: banner views, click-throughs, registration of new users who come from affiliate websites, shares, and other actions. And you pay only for them.
Affiliate marketing fits those online stores that would like to receive hundreds of new customers in a short period of time. Moreover, affiliate marketing allows you to attract targeted traffic for the lowest cost, compared with other Internet advertising channels or offline promoting.
There are two different types of affiliate-management methods used by merchants: "stand-alone software" and "hosted services", which are typically called affiliate networks.
Affiliate-tracking software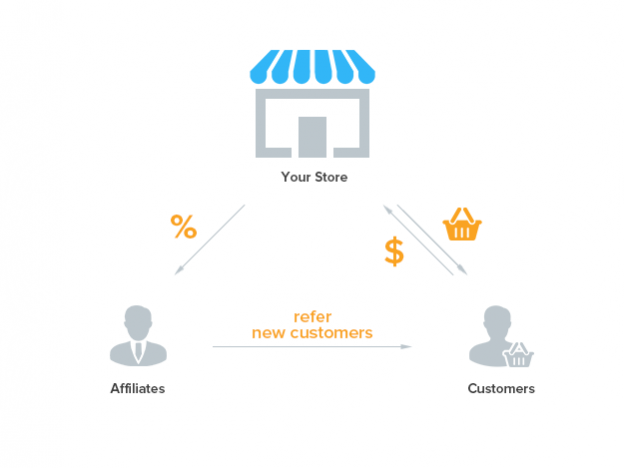 The Affiliate add-on by Simtech Development is an example of affiliate-tracking software that enables CS-Cart owners to create and manage an affiliate program and track conversions on their affiliates' sites. When you place an advertising banner on an affiliate website, the add-on tracks and keeps a full count of affiliate-marketing activities and calculates the activity cost if you have set a monetary value for each activity. Affiliates can also view their event statistics in the customer area of your store. They, therefore, will know their income from the affiliate program.
Unlike affiliate networks, affiliate-tracking software is an easy way to start your own affiliate programs with trouble-proof affiliates and keep abreast of each activity. Uncontrolled usage of affiliate networks that aid rogue affiliates, which use spamming, trademark infringement, false advertising, cookie stuffing, typosquatting, and other unethical methods, have given affiliate marketing a negative reputation.
Key features of Affiliate and Referral add-on for CS-Cart
Flexible affiliate plans system with an unlimited number of plans.
Multi-level marketing with an unlimited number of referrals.
Ability to create text, graphics and product banners for your affiliate websites.
Widget mode for embedding your store in other websites.
Ability to create multiple promotions.
Sharing product links to social networks.
Full control of commissions and payments.
Free video guide and technical support.
Ability to set the affiliate inviter (i.e. the affiliate who invited this new affiliate).
How does it work
The Affiliate add-on helps CS-Cart owners manage work with their affiliates.
You create advertising banners for affiliate websites. Your affiliates place these banners on their resources, which helps attract new visitors to your store.
The add-on tracks and keeps a full count of events, such as banner views, click-throughs, and registration of new users who come from affiliate websites. A monetary value can be set for each event. The store administrator has a powerful tool for tracking events involving affiliates and calculating accurate payouts to them.
Anyway affiliates can also view their event statistics in the customer area of your store. They will know their income from the affiliate program. Such transparency in the business relationship will facilitate effective work and create profit for both parties.
There are three levels of affiliation
Level 1: Affiliate Lite
Your customer shares a link to your store with their friends, family, co-workers, etc. When someone follows that link, the Affiliate gets reward points which they can spend in your store.
Level 2: Affiliate Pro
The customer may want to have more than bonuses. Why not let them make real money? The idea is the same—the affiliate shares a link or places a banner which leads to your store and gets a commission. You can create various affiliate plans with rewards for showing a banner, customer clicks, sales, etc. All the commissions will be available in the Admin Panel of your CS-Cart store.
Level 3: Multi-tier Affiliate
Your affiliates may bring you more and more new affiliates. For example, your first affiliate can bring you five more and each of them will invite some more affiliates. Thus your affiliation pyramid will get more participants interested in the promotion of your merchandise. But there is nothing to worry about, you can always confirm or decline a new one. All the affiliate tiers are shown on the Affiliate tiers tree page and you can always see how many affiliates bring your partners.
---
Use the best practices to grow your business fast! Adapt referral marketing techniques to skyrocket your sales!