Once upon a time, New York Times Magazine journalist Rob Walker set out to determine if storytelling was really the most powerful tool of all. He went on his computer and bought two hundred objects on e-bay. The average price of the object was $1. Then he asked two hundred authors if they would each write a story about one of the objects. He then auctioned the items on eBay with the stories added to the descriptions. One of the items was a small plastic horse's head. Rob had paid just $0.99 for it. What did it sell for now that it had a great story attached to it? $62.95. Was this a one-off? Not really. In total, he spent $129 on the items and he ended up selling them for almost $8000.

How could someone part with $62 for a secondhand plastic horse's head that had been bought for less than a dollar?
Rob's experiment is a shining example of the enormous power of storytelling tool that is at our disposal. This post though by no means intended to encourage you to make up fiction stories about your products but rather to cover the strategies you can use to tell a story of how your product will impact customers' lives highlighting its benefits and craft descriptions that truly speak to customers.
1. Focus on product features
Many entrepreneurs are susceptible to a very common mistake: writing product descriptions that simply describe their products. They do this by copy-pasting the manufacture's technical characteristics of the product.
The best product descriptions address your target audience personally. You ask and answer questions as if you're having a conversation with them. You want to translate product features and characteristics into the benefits your customers will have. This will help you write more persuasively.
So, the formula is simple: product feature + benefit. Take a look at Zappos's boat shoes description: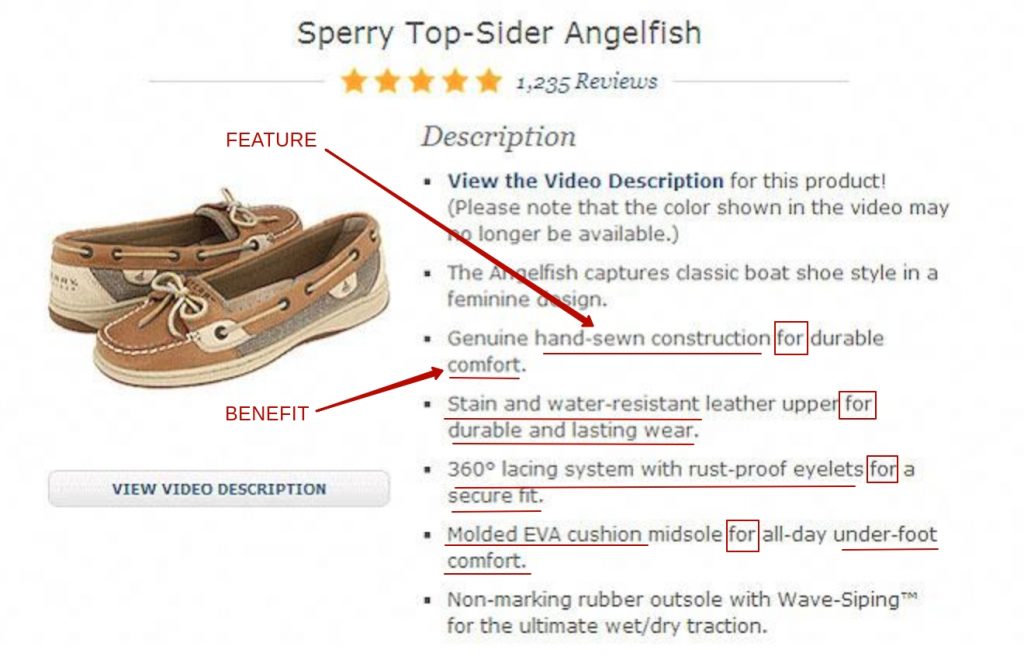 2. Focus on product experience
There are certain types of products that can be hard to fit into the formula mentioned above. They might be ordinary domestic items with no unique characteristics, like… candles. However, let's find out what The Yankee Candle Company came up with for their products: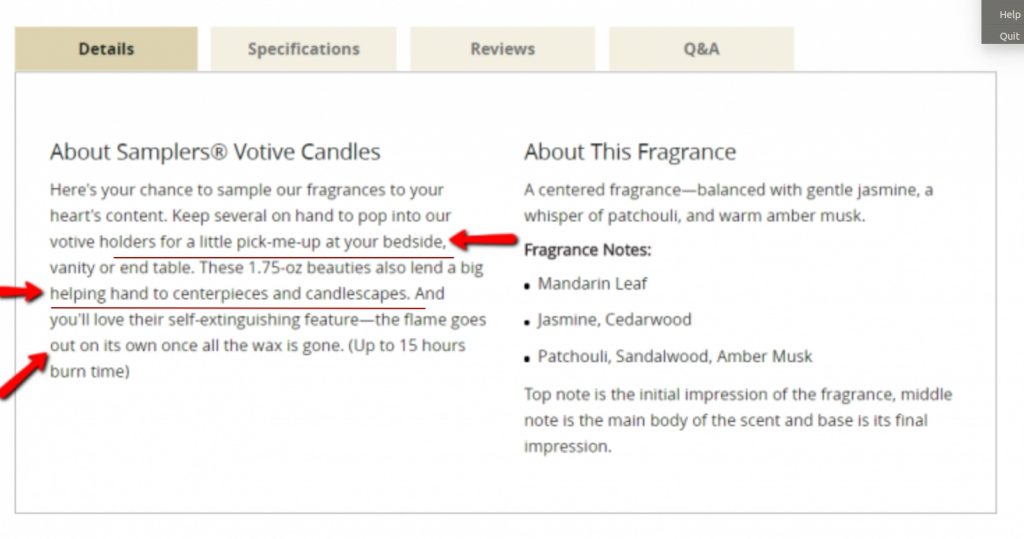 Most of the description centers around:
the convenience of having this candle on the night-stand – "pick-me-up at your bedside"
and benefits of having this particular sample size candle – "for small moments throughout the day."
3. Use the power of sensory words
It is proven that if people hold a product in their hands, their desire to own it increases. You're selling online, so your web visitors can't hold your products, needless to say, try or taste it. You need to create an impression of owning the product by using sensory words. Try to engage as many of the five senses (sight, hearing, taste, smell, and touch) as possible. When reading non-sensory words, your brain processes text. But when you read sensory words different areas of your brain light up. Your brain processes sensory words as if you taste a sweet cake, as if you see a dazzling display of colors, as if you feel a rough texture. Here's an example of chocolate maker Green and Black: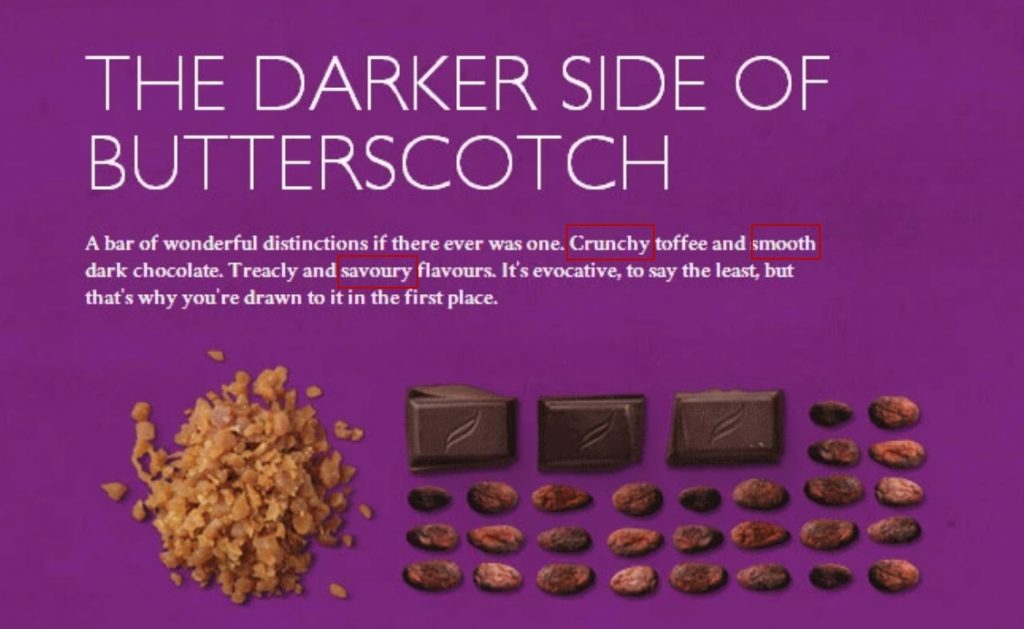 Green and Black's sensory adjectives don't just refer to taste, but also to sound and touch: crunchy and smooth.
4. Be creative
If you sell fun products like ugly Christmas sweaters or food shaped jewelry you could inject humor into it. Keep it playful and light as customers buying those types of products would likely appreciate an entertaining product description. However, humor doesn't work for all products. For example, you wouldn't want to inject humor into a product description about life jackets.
Think Geek often uses humor in their product descriptions: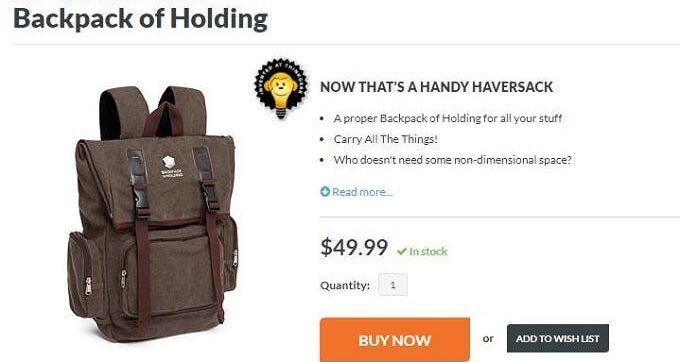 5. Demonstrate use cases
What can be more persuasive than actually showing potential buyers how they can use the product? And this time, tell a story in a different manner – instead of thousands of words, use one image.
Chubbies is a great example of this: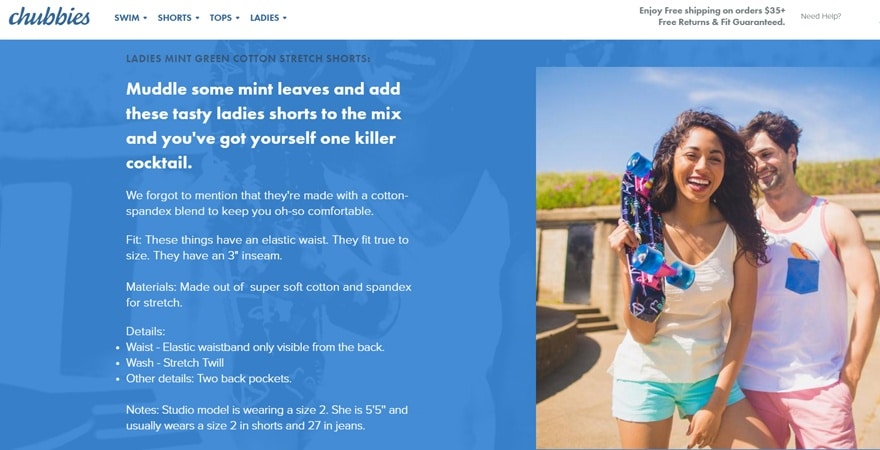 The shorts shown in the picture above are called 'The Mojitos' likely due to its minty green color. The picture itself is very compelling and conveys the illusion of having great summertime with your friends if you buy these shorts.
Closing
Creating product descriptions that tell a story is a skill worth developing! Choosing the right set of words to include in product descriptions can move customers emotionally and make them susceptible to making a purchase.
However, before you get to writing your product descriptions you need to define your target audience and understand which product features will be most valuable to your customers. Very often targeting a specific type of audience or having products with specific characteristics requires product page customization. Feel free to ask our experts for help!