In 2020, the automotive market was estimated as 12.5 billion U.S. dollars worldwide and since that time it is expected to reach 13.9 billion U.S. dollars by 2025. The market is evolving towards eCommerce. So, brick and mortar stores selling auto parts won't sustain competence without an eCommerce site in place. We examined what challenges the market has, what are the best automotive market websites, and how you can sell auto parts in your digital marketplace.
Automotive marketplace challenges
First, let's examine problems that car part physical store owners will face while trying to go online.
Database keeping and standard compliance. Database should allow searching it for the year, the make and the model of a car and the related automobile fitment. Besides, such standards as ACES, PIES should be considered while creating an online site. ACES and PIES are the industry data formats. ACES (Aftermarket Catalog Exchange Standard) helps to manage the fitment data, while PIES (Product Information Exchange Standard) is devoted to exchanging part number data. Both standards do not have an online representation tool or a master database of parts and fitment data. This problem is resolved by the TecDoc catalog that handles +75,000 vehicle types, +6.5 million of product data from 700 brands. An alternative to TecDoc is the Autocat database by MAM Software. It is also an online catalog of vehicle parts with direct access to the latest updates from a large number of automotive parts suppliers.
Parts fitment. It is challenging to organize vehicle-to-parts matching in the database. If it is done properly, customers easily find the required auto parts depending on the car make which make them more loyal to your marketplace.
User experience. UX is not only about the appearance of the website but also in organizing all the elements to lead the customer along the journey towards purchase. Try to add visual aids to guide the visitor, or include some video tutorials to release your customer care specialist from additional burden.
Best automotive industry and car part marketplaces
You'd be surprised to know that the top of auto part marketplaces includes such giants as Amazon and eBay. But it's true. Amazon is not a niche-specific place to buy auto parts. However, visitors can also find them there.
The largest retailers that focus on selling car parts such as Parts Geek and Car-Part.com are better for customers as they can address customer needs more precisely. Usually such industry-specific marketplaces split their audience into two groups:
DIFM (Do It For Me)
DIY (Do It Yourself)
To make your marketplace more competitive, focus on the first option to deliver the best service and earn customer loyalty. The quality service on your site may involve quick delivery or a loyalty program helping customers to save their budgets.
Let's mention some worthy examples of the car part marketplaces:
NAPA Auto Parts
It offers DIY guides for customers so that they can perform some simple repairs themselves.
The website is prominent for its convenient search by keywords.
Customers can find the nearest vendor entering his or her zip code.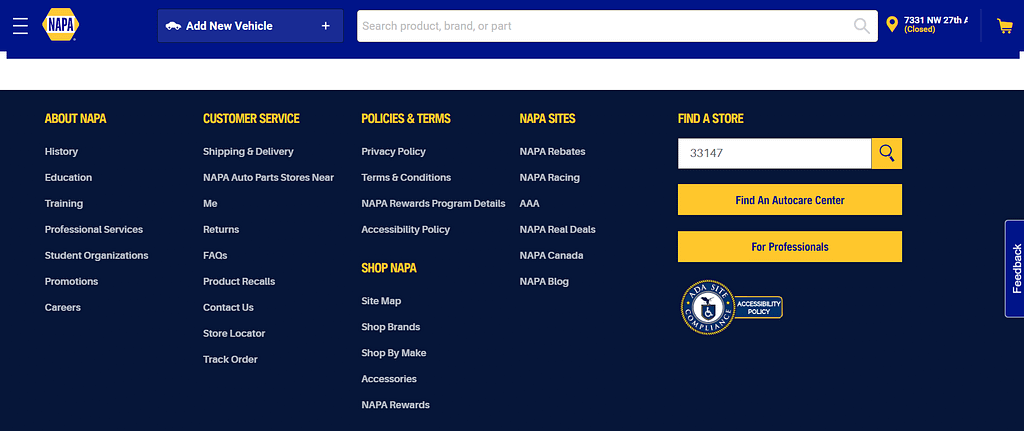 Carparts.com
This online store has also a handy search allowing price comparison. It stands out from other sites of the segment by in-stock availability of car parts. The store has several warehouses helping them to keep parts always available for customers. Like the NAPA store, the Carparts provides consumers with the ability to track orders.
Parts Geek
They mainly concentrated on discounts to encourage the customer activity. The store guarantees prices 80% lower than the average on the market. The website is known for its quick delivery and large assortment. As compared to other websites, orders can not be canceled.
Rock Auto Parts
This online destination is famous for its wide product range (including vintage parts), variety of payment methods, and search by part number, specific data or category.
Amazon
Its most prominent features are ability to search by keywords, study reviews, and a unique service 'Your Garage'. With this service, users can save the vehicle name, make, and model and search for the respective car parts. The vehicle marketplace automatically offers maintenance parts and accessories and arranges services for your car.

Best features your chosen car part marketplace platform should have by default
Convenient search and filters
Inventory management with order tracking
Store locator to find the nearest provider / dealer
Variety of payment and shipping methods
Based on our experience, such functionality as explaining videos on the product page is very useful and engaging for customers. Visual content can skyrocket the shopping experience as it helps users better examine the parts they want to buy.
Custom development for your auto parts store
Search by year/make/model with ability to see similar items if nothing was found.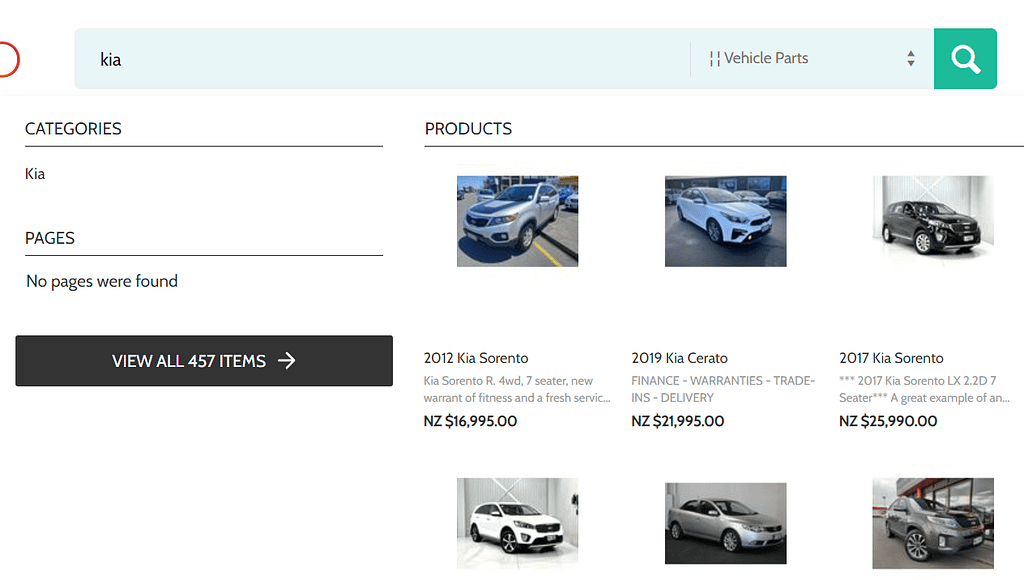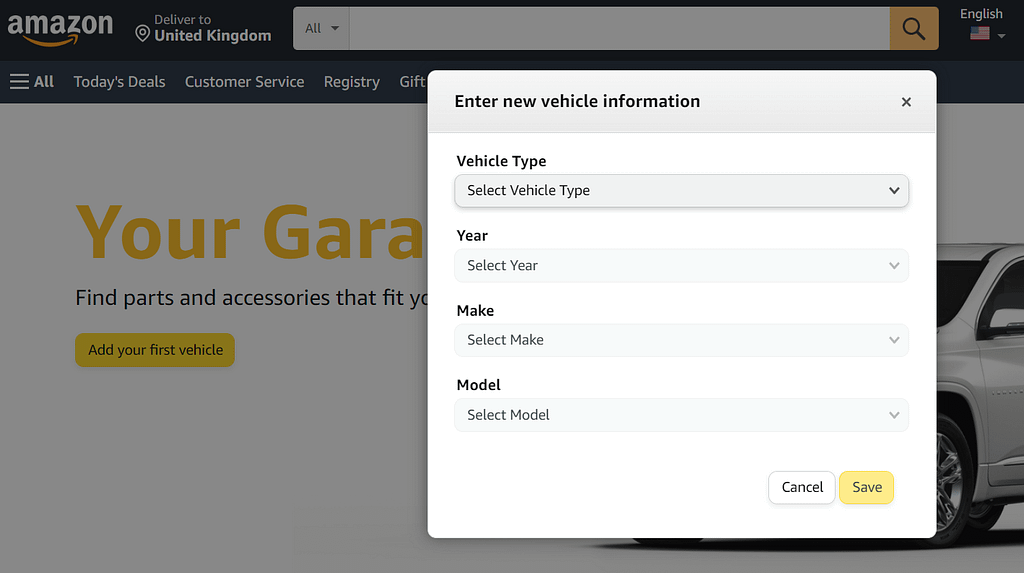 Fitment verification feature: a customer enters the part number in the search bar and gets a "Check if this part fits your vehicle" link to verify fitment by VIN or Model. You can find your inspiration in this example.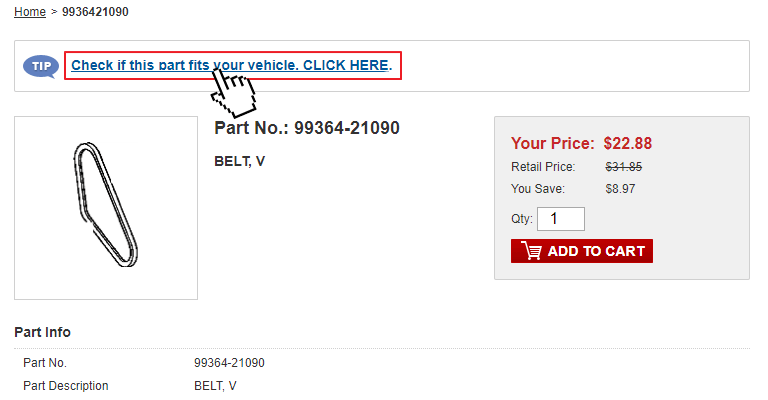 Sure, custom features are endless and depend on your business needs and imagination. Our case studies confirm the efficiency of our modifications. We conducted a winning project for Unixmo – a vendor of car parts and other general items.

We customized the Multi-Vendor ULTIMATE platform to create a full-fledged automotive marketplace with easy vendor onboarding, variety of payment options, and ability to sustain increased traffic spikes.