The product catalog is a type of content that helps your customers to easily navigate through all the items in your store. It should have a clear structure to really assist in making a purchase decision, and not clutter your potential customer's mind. A product catalog can reflect your inventory using product categories. The more simple and logical the category hierarchy is, the quicker is the path to the checkout page. The catalog plays an SEO role. It directs online surfers right to your page through the searched keywords.
Let's suppose that you have 1,000 items in your online store /marketplace?
How to structure your catalog to draw visitors to your online selling platform, showcase your inventory, and keep it simple and clear to reduce customer friction?
In this post, we examine the best practices and recommendations for online retailers to build the right structure for a high-performing and purchase-driving product catalog.
Product catalog roles
A product catalog is required for:
Search engine optimization: you introduce the most searched keywords in your categories and place the most relevant ones as a top-level category.
A shortcut of your product inventory: you introduce what you sell to newcomers in the easy to perceive form.
Short product description: you group your inventory items into categories and briefly describe them.
Easy navigation through your product inventory: your catalog ia a map, a logically structured itinerary that can drive more transactions.
Tips to organize the catalog structure
You understand the reasons behind structuring your catalog. Now you better realize the tasks that stand in front of it. Build your product catalog structure on the basis of your online business tasks: to drive, to showcase, to navigate and sell.
Structure your catalog based on:

trends (use such tools as Google Trends, Semrush, Sistrix),
most relevant keywords (try KeywordKeg, Keyword Planner, or Buzzsumo),
popular categories on giant marketplaces (on Amazon or eBay).

Add one more source to showcase your catalog to build an omnichannel platform with your web page at the center (connect your inventory with Facebook, Instagram, or Vkontakte).
Product catalog benefits
SEO
You rank higher with search engines if you use more data in the categories titles. Try to include extra keywords, your brand name, price, and detailed product description into it. Your customers will find you faster the more keywords you applied for your catalog. A good example is Amazon: they use lots of words to describe their products. They offer detailed descriptions, technical specifications, reviews, etc. to help customers find products in search engines.
more about product descriptions…
Omnichannel approach
The omnichannel approach boosts the way you show your inventory with additional channels. Connect your online platform with extra channels. It makes your inventory visible to a wide audience. Your potential buyers will see your products on your social page or additional eCommerce platform. 
How does it work with social media? After getting a business account on a social platform, you download your catalog to it, showcase it on an additional web source, and benefit from the increased traffic made of your followers.
Facebook gives an opportunity to advertise your specific products with their Facebook pixel. Use vKontakte to target the Russian audience. Sync your CS-Cart or Multi-Vendor with your Amazon account. You get more customers from other shopping platforms and channels.
Better navigation with clear descriptions
A robust catalog is the center of all product-related data. It makes it easy for shoppers to find what they are searching for in one place. If the product catalog is not in place, your product information lacks the depth. A hierarchical and logically-built catalog helps to granulate the content drill down. It accompanies potential buyers to lend them to the checkout page.
Easy to manage
A product catalog is a template. Refer to it to expand your product range. Keep your inventory map before your eyes to widen the product inventory. A catalog will add more consistency to your inventory management. 
Find new suppliers
A well-thought product catalog may attract more suppliers to your eCommerce website. Suppliers usually don't maintain a customer-tailored database. They have to rely on retailers to get their products to market. With an appealing and informative product catalog, suppliers would be interested in hiring you as their official distributor or reseller.
How to build a product catalog
You will need to collect all your product data and organize it in a logical and keyword-focused order. You must understand the product you sell to structure the catalog with accuracy. The elaborated structure should allow you to scale it up as your product range will grow.
Collecting product information
Make a list of items and indicate its size, weight, brand, material. Include all the relevant data about your products to give the most accurate information and help yourself to manage the inventory better. To standardize your product catalog use XLS templates. They can be easily converted to a CSV file you can download in your CS-Cart/Multi-Vendor.


Take Amazon. Look at different products in your category and make a note of all the data they show to their customers.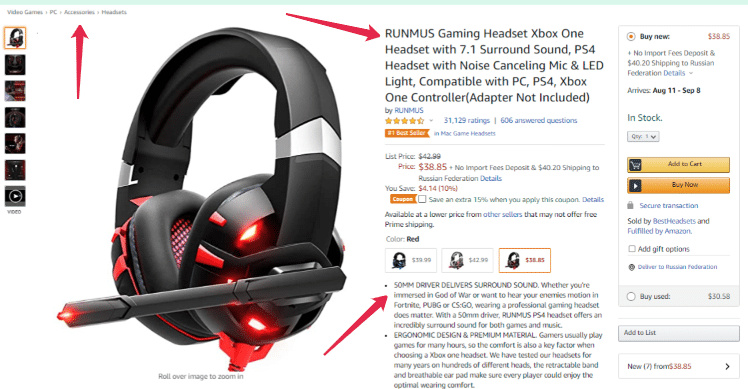 Amazon's listings show a well-designed nested hierarchy of categories and different data fields to include brand name and specs into the title
Down below, you see another data set. It specifies the product's dimensions, weight, store ID, etc. This is the general data present for every product listed on Amazon.
Apply the Amazon or other large retailers' experience to collect and showcase data for each product and category. The minimal data set to specify includes:
Product name and description
Price
Product description
SKU and/or product ID
Dimensions and weight
Product keywords
Categories and subcategories
Product images (including specifications for primary image and alternate views)
User-generated data (reviews and ratings)
Place yourself in the shoes of your store customer. Ask yourself what kind of data this customer needs to make a purchase.
Planning semantic core
Plan the semantic core of your product catalog. Should you place headphones under musical instruments or it is better to include it in the "electronics" section or both? Where should shoes go: under athletic shoes or sportswear?
Some products may fit multiple categories. Specify this when creating your product catalog!
There are a big deal of ways to collect key product data automatically.
One way is to refer to public product data sources. Consider using Product-Open-Data.com. It uses the GTIN classification system to identify products and their key data attributes.
---
Pro Tip:
Recently, Google added a new global identifier field in its Structured Data Testing Tool test. You can read about it in schema.org and Google documentation:
To include this functionality into our JSON-LD for SEO add-on, we expanded the add-on setting with the Global identifier name and Global identifier value. If you run a CS-Cart or a Multi-Vendor store, you can create a new feature for some global identifier and fill it for your products. After creating a feature, you need to choose this feature in the Global identifier value setting and specify in the Global identifier name field the name of the chosen global identifier.
---
Рublic data repositories
A drawback with public repositories lies within their potential inaccuracy and obsolescence. In such a case, use product data APIs. You can get them via Datafiniti, for example.
Import the offered data into your eCommerce platform to create a product catalog.
Suppliers' catalogs
Use data that your suppliers provide. Load it to your CS-Cart or Multi-Vendor using the default XML import functionality to create a complete inventory and start selling.
Structure your catalog for SEO
We already highlighted the necessity to build your product catalog around a semantic core. This core is all the relevant keywords. You have already found them with the research tools, competitor or industry leaders analysis, or simply using Google search results and trends. Build the catalog around semantically relevant keywords. Your product categories should be logical, relevant, and match your customers' search preferences.
If you're selling electronics, you can adopt the catalog to match different audiences to reflect the way your target customer searches. An athlete searching for headphones might not ask Google for in-ear headphones. He tries to find sports headphones.
Putting the focus on different customer persona, you organize your catalog differently to consider these keyword preferences. It is all about hierarchy. Take a look at your customer-relevant keywords and organize them from broad to narrow.
Turning to your competitors, look at how successful retailers have organized their products. What keywords are they targeting? How do the keywords relate to each other?
This approach differs from the logical representation of inventory. Here, you build your product catalog in an SEO-friendly manner to target your top keywords.
more about product catalog hierarchy….
Create a product catalog
There are various options to create a product catalog. Mention some of them:
Excel. Use these templates to create a product catalog. Import it into your eCommerce software using an XML file.
Product Information Management (PIM). It is a special-purpose system helping to create product catalogs. Note that some PIMs don't allow their integration with other systems. Akneo system is the proven choice to connect with CS-Cart and Multi-Vendors. Our developers can assist you in integrating this PIM to your platform.
Shopping cart platform. Why refer to third parties' solutions, the CS-Cart, and Multi-Vendors themselves allow creating catalogs right in their platforms.
Some retailers may find building product catalogs in their eCommerce stores not handy. This option is technically easier. It is rational to use this approach if you have a small inventory. Excel format is better for mid-size catalogs. For large inventories consisting of +1,000 items, use an inventory software connector.
If you're using CS-Cart as your eCommerce software, you can manage your catalog and make all the settings to structure it for better navigation and SEO. The software allows inserting custom images, putting specific product descriptions, and even specifying availability and inventory strength.
Consider this example of product catalog organization with one of our clients. This case can inspire you about what additional fields you can add to your eCommerce website to make managing your catalog an easy task.
Closing
You can customize and take your product catalog and inventory management to the next level. Add more fields, specify additional values to turn your store and dashboard into a handy tool. This tool will be tailored to your needs, reflect the data you require, and help to sell more products with a clear vision and easy management of your inventory.