This post is dedicated to PWAjet, the Simtech Development first Progressive Web (PWA) & Single Page App (SPA) for eCommerce designed to build strong connections with the mobile audience of your CS-Cart/Multi-Vendor based store to sell more, improve mobile traffic conversion, and mobile user/customer experience. 
PWAs background
Progressive web app technology has recently appeared and is gaining traction now. PWAs have found their usage in eCommerce helping digital entrepreneurs to get an actionable mobile app.
What has changed with the advent of PWAs in online shopping? The trend rests the same: mobiles still play an increasing role in eCommerce. Statistics claim that more and more people around the Globe buy or surf online stores from mobile before purchasing a product. In the third quarter of 2019, there were 52% of mobile purchases globally. This is an average figure that varies depending on a country (57 percent of the South Korean online users had purchased something via a mobile device during the same period). The overall trend is towards increased usage of mobile phones by customers to engage with an online store.
However, one drawback remains with mobile apps that spoil that all: they do not perform well enough. Potential buyers don't complete their purchases made via native mobile apps due to a high load put on mobiles, slow operation, or an incorrect web page display on different types of mobile devices. All these bottlenecks bring to nothing the efforts of online retailers to push up sales made from mobiles.
The good news is that teсhonlogies forge ahead. Nowadays, a cutting edge progressive web app (PWA) technology has already trodden its path in the eCommerce industry. PWAs cover all the issues with mobile native apps and add more value to the interaction between mobile phone users and your online store.
What is PWAjet?
PWAjet is a web application designed by Simtech Development specifically for CS-Cart and Multi-Vendor platforms with the primary focus on boosting conversion rates of online stores from mobile devices thanks to the app's high speed, Add-to-Homescreen function, and other killer features.
Putting it bluntly, PWAjet is nothing but a mobile theme combining all the advantages of progressive web (PWA) and single page applications (SPA) for eCommerce brand owners.
How is PWAjet built?
PWAjet combines two technologies inside it:
PWA (Progressive Web Application) technology adds reliability, speed, and engaging look-n-feel to your online store. Driven by PWA, your web page app is:
Reliable due to its instant load even under a bad or weak network connection.
Fast as there is no latency in data exchange and the user interface is seamless and responsive.
Engaging for users thanks to its well-designed UX and UI elements considering the best practices of mobile user shopping behavior and navigation. Your store visitors buy more as they find surfing your online store hassle-free and comfortable.
Twitter, Uber, and Starbucks PWAs inspired us while developing our PWAjet!
SPA (Single-Page Application) technology allows a web app to run as a single page.
SPA makes PWAjet load all the codebase of your online store as one fully-functional web page. This significantly increases the web page operation speed and display quality independently on the device type (desktop, tablet, or mobile).
SPA improves the user experience. It is much easier to build a rich and actionable user interface with a single page. With SPA, storing sessions, and managing view states becomes as simple as ABC.
GMail SPA example inspired us while making PWAjet for you!
The SimtechDev designers created the PWAjet as a light-weight and handy solution to catch the attention of users by its simplicity, operation speed, and awesome in-built features.
PWAjet advantages over native mobile apps
No need in listing your app! Your customers will be able to install your store app and you don't need to list it in AppStore, PlayMarket, or Microsoft Store.
Automatic Add-to-Homescreen notification of customers! Once your online store PWA is first visited from a mobile, the browser will offer the user to add the page to the main screen. Your customer will be able to access your store web page from a mobile device in one click! The shorter the path is, the quicker is the purchase.
No need to self-update the app! You are free of further maintenance and upgrade of your mobile app, nor even keeping accounts of your devs in the app stores.
More secure! PWAjet adds security to your store as the technology doesn't have the same level of access to mobile functions and data as compared to native mobile apps for eCommerce. PWA is safe for customers as it employs https ('s' stands for 'secure) only!
No need to upload the app updates on a smartphone! With PWAjet, the browser will always load the latest version of your store. No loading updates on a smartphone!
Easy product link sharing directly from the app! Your store visitor will be able to share the link to your app page.
Offline operation! PWAjet allows running in the offline mode. It uploads the latest data from the cache on your client's mobile device in advance. In case there is no Internet connection or the Wi-Fi signal is weak, your customers still will be able to add a product to cart and save their purchase history to buy later. Once the connection is restored, customers get back to shopping and complete checkout.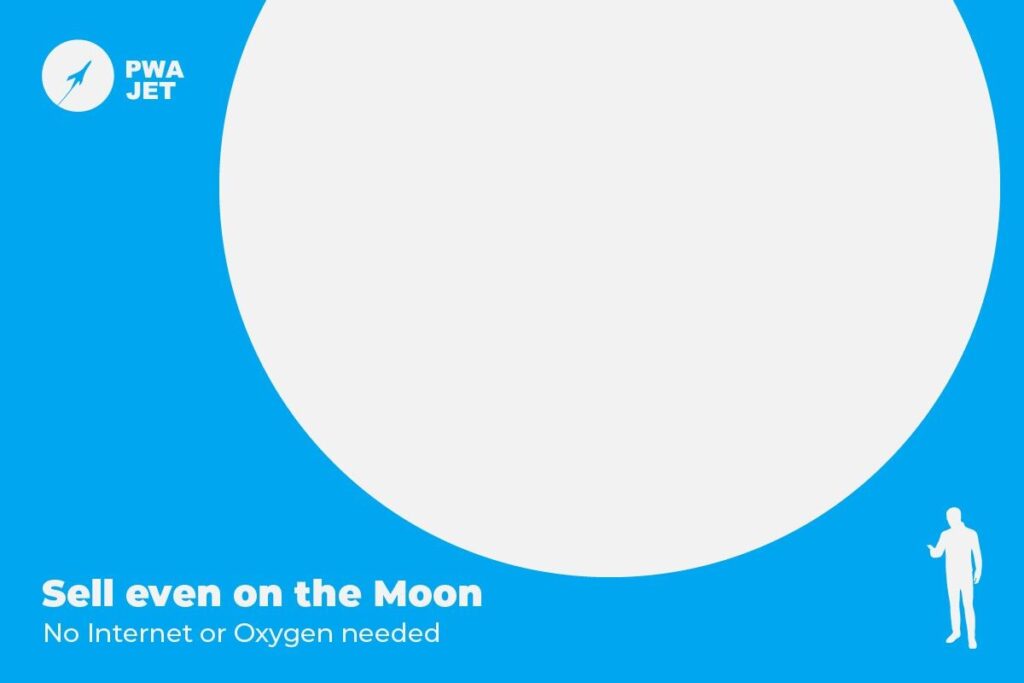 No native mobile app (including the CS-Cart mobile app) will allow you to have the same range of capabilities as the PWAjet only can provide your with!
Key takeaways about PWAjet for online retailers:
PWAjet allows selling more covering the mobile shopping segment.
Mobile users will get a fast and mobile-friendly interface and Add-to-Homescreen feature to access your store web page in one click. It will definitely increase the conversion rate of your store!
With PWA and SPA technologies of the PWAjet, you as an online retailer get your own web app! PWAjet is free of all the inconveniences linked with the native app usage (like expensive app listing and maintenance).
---
Your store mobile page is safe and secure, lightweight, and fits any screen keeping the same level of performance as if surfed from a desktop device!
---
More about PWAjet:
What Is PWA? Introduction And Advantages For Online Store Owners
Meet PWAjet, The First Simtech Development Progressive Web App!