eCommerce is the only type of trading that has made a huge spike in development since its inception. From selling a series of books in the 90s to today's global retail and wholesale. How did it happen in just 30 years? All thanks to technology and IT specialists who are responsible for nearly half of eCommerce success.
If you are planning to launch an online business or expand the existing one, you probably asked yourself a question: how to build a strong development team? Oleg Bidzan, our Technical Director in Simtech Development elaborates on the topic.
In 2021, retail eCommerce sales amounted to approximately 5.2 trillion U.S. dollars worldwide. This figure is forecast to grow by 56 percent over the next few years, reaching about 8.1 trillion dollars by 2026.

Statista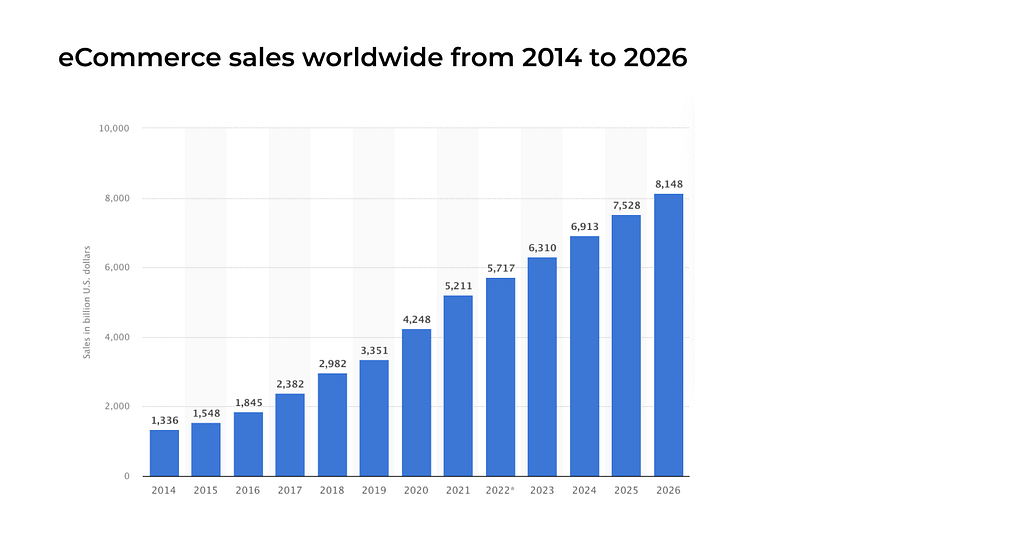 Digitalization has fundamentally changed customer behavior. When customers look for a product, they go online first, look through official websites, forums, review platforms, and social media, and finally end up at the marketplace if they are looking for consumable products, for example. On top of that, recent social upheavals enabled the growth of eCommerce – restrictions make consumers look for alternatives to fulfill their needs.
I've been working with online stores and marketplaces for over 15 years and more than a decade in Simtech Development. During these years, we created a portfolio of 5000+ projects for clients from 170 countries. I even opened my web store in 2014 to be able to understand customers' needs and pains. It helped a lot. If today I had a task to select the development team for an online project, as a technical specialist and a business owner, I would do this based on the following criteria.
How to Choose IT Specialists
Here are some points to consider:
1. Long-term experience
There are thousands of IT companies, digital agencies, and web studios which look alike, but do they all have the same experience? Let's say a relatively young organization offers experienced team leads and specialists, still, several years should pass to build streamlined teamwork: evaluate the competency of each employee, test each other and business processes in practice, and improve the culture. And don't get me wrong, it's ok to learn and develop, but when I choose a provider I want to see that experience, industry focus, and reputation are brought to the table right then and there. Сompanies with a wide profile are a common story, and it's not always clear if the provider is focused on eCommerce.
I often think of my team as an ambulance crew. Once in three months, we have a client with a common request: Mayday! We are on fire! And this is due to the wrong choice of contractors, who provide universal services, but are not professionals in online store development. 
The results are sad. The realization of the project takes longer, bills grow (for example, to save the project you need to hire expensive business and technical analysts), and stakeholders are anxious. We had a similar case with one the clients at the end of 2022. Luckily, in Simtech Development, we know how to rescue development and by the end of spring, the team will finish the project.
2. International experience
Seems like it doesn't matter if the company works in the local or global market. However, an international portfolio for me is proof of experience, professionalism, flexibility, and ability to communicate and solve problems for clients with very different viewpoints. In eCommerce, this also means dealing with new technologies 2-3 years ahead of Russian competitors.
3. Cooperation with famous brands
The company's clients are the reflection of its professional level. The former projects and brands the team has cooperated with are usually displayed on the corporate website. Even if some projects are under NDA, managers usually provide potential clients with more cases, references, and project details upon request.
4. Global footprint
Offices in different countries prove the financial stability of the company. It also means that all specialists can work efficiently from different locations. No matter what part of the world the client is from, they will get prompt and quality support, meetings during your business day, and efficient problem-solving.
5. Positive feedback from employees
When choosing a company for my eCommerce project, I will more likely select the one that takes care of staff. Many IT specialists travel around the world, and change places of living (Simtech employees live in 8 different countries). If the employer is able to provide competitive work conditions, the corporate environment is healthy. Therefore, employees are more impactful.
6. Turnkey projects
Choosing an IT company, select the one that can offer you all the necessary services to get a turnkey project. This should include audit, design, software, development, hosting, technical support, and even promotion of the store. It will save you a lot of time and effort.
7. Social responsibility
For every respectful IT company, social responsibility is a part of the corporate culture. For example, in Simtech Development, we support waste sorting. Every quarter we hold charity events helping children and abandoned animals. We sponsor international IT Olympiads where students solve coding puzzles. We have been supporting one of these for over 10 years. In 2022, it brought together almost 3.5 thousand junior developers from 15 countries!
To conclude
If you want to launch an online store or marketplace, learn as much as you can about the potential contractor: browse through websites and social media and read cases and reviews from both clients and employees. Make a couple of calls, and sign up for an online consultation. Interview managers on the following questions: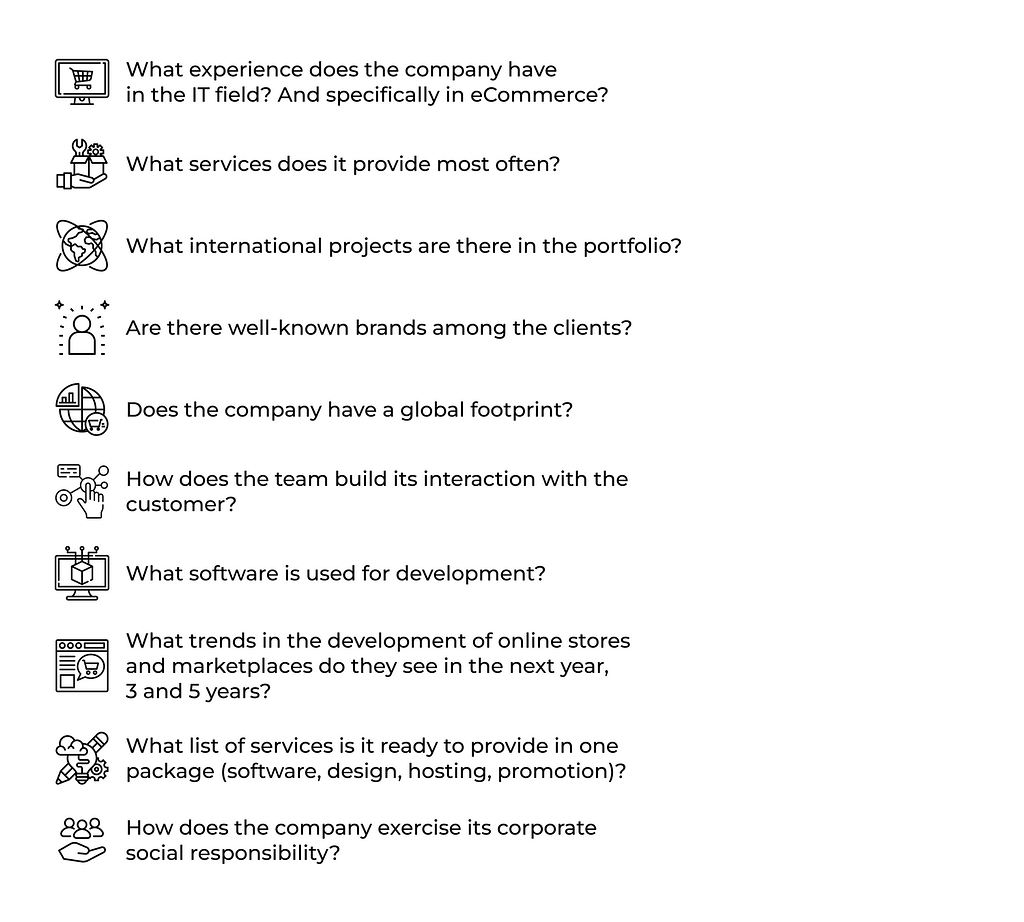 If after the meeting you have a positive impression, congratulations, you are lucky to find a reliable eCommerce services provider. Now it is time to move to the next step – drawing up functional and business requirements for an eCommerce site.