A large-scale transition to the online is not as green as it seems to be. Almost every action we take today has a carbon footprint — even adding an item to the cart on a marketplace.
Our gadgets (that use the web) and systems supporting them are responsible for approximately 3.7% of global greenhouse gas emissions. Scientists predict that this figure will double by 2025. This is more than the harm from aviation, which is considered almost the most harmful industry for the environment (its share is 1.9% of global emissions).
If you're worried about melting glaciers and want to reduce your carbon footprint, there are some non-obvious ways to do so.
How the internet pollutes the environment
The internet has a real environmental impact. We used to perceive the web as something not material and thus not capable of polluting the environment. It's half true. The thing is that the internet is immaterial, but the electricity nourishing it, isn't. Data centers powering the web consume electrical power. With more sites and heavier web pages, this consumption will only grow as it creates load on servers.
HTTPArchive.org states that the average web page today is 38% higher than in 2017.
Being a website owner is a responsibility. Let's see how you can reduce your carbon footprints with a well-organized site.
Three principles of reducing carbon footprint for eCommerce website owners
We cannot refuse to use the internet, but we can reduce its 'side effects'. Following these three principles will help in that mission:
Measure to manage: to take control of carbon emission produced by your site, you need to measure it.
Reduce data transfer: the less data is exchanged, the less is the load on servers, the less electricity is consumed.
Use renewable sources: sustainability is all about reusage.
Measure to manage
You cannot make things better without having a clear picture of the actual state. To have it, you need to analyze how your website acts based on the metrics collected. But how to measure the website emissions? You'll be surprised, but there are some dedicated tools to do it. One of such instruments is WebsiteCarbon.com capable of showing data on the CO2 emissions for your site: per page, for a specific amount of pages per year, and the annual electricity consumption. The tool will indicate if your website is hosted 'green' on a data center that applies renewable energy or not.
With this data you can clearly understand what is your carbon footprint and is it really needed to improve something or not.
If we take our website simtechdev.com and measure it with the tool it is found out that it produces only 0.26 grams of CO2 and is 71% 'cleaner' than the web average.
You can do the same for your site and check if something needs to be corrected.
Reduce data transfer
With the precise metrics in your hands, you can decide on what actions to take to correct the situation. Start with optimizing the data transfer. You can achieve significant drop in the volume of data exchanged with:
Image optimization (for those CS-Cart owners that are hosted with us, it is done as part of the hosting service). Check this post for self-guidance.
Caching the page: when data is loaded once from the server, and is not generated again if the user visits the same page again (caching solution is available with our hosting provider)
Writing code cleaner (the problem can be solved with an off-the-shelf solution where you don't need to write the code from scratch, but take advantage of an existing software with checked functionality)
For multiple sites belonging to the same owner, using a multi-storefront solution (instead of repeating the same site structure for similar pages, you have one dashboard with standalone storefronts tailored for a specific location, product or audience).
Use renewable sources of energy
As a website owner, you cannot directly influence the energy your website uses, but you still can choose a 'green-minded' hosting provider. A majority of data centers apply regular grid electricity and don't know where their energy originates. Happily, there are hosting providers that actively employ data centers using renewable energy. This significantly reduces carbon emissions.
Ask your hoster what data centers they use. Or if in doubt, refer to the Green Web Foundation. The website has a large database enumerating hosting providers and data centers claiming to use renewable sources of energy.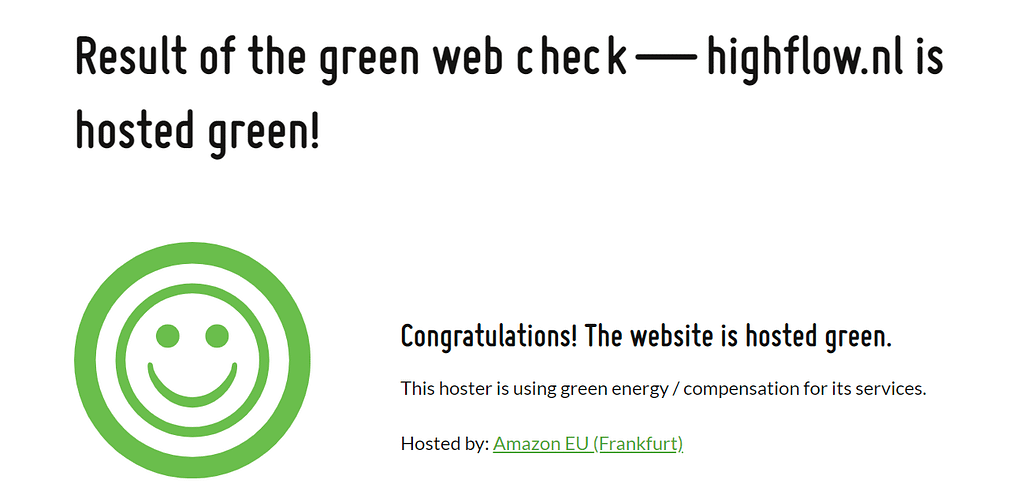 As compared to reducing page weight, this attempt towards sustainability seems less effort-taking.
Final words
With all the above measures applied, eCommerce website owners can turn the industry into a cleaner environment with less carbon emissions. What is better, these tips can make your site lighter, cleaner, and more SEO-friendly. Finally, a reduced carbon footprint is a win-win solution both for eCommerce site owners and their audience. A well-optimized and correctly-architectured site attracts visitors and keeps them longer on the page converting users into loyal customers. Our professional team that includes web developers, analytics, testers, designers and others, can guide you through this process in an ecological way.