MENA or the Middle East and North Africa region includes 22 countries. It becomes more and more lucrative for digital retailing during the last decade having the United Arab Emirates, Saudi Arabia and Egypt as leaders in online retail. PayFort indicates that this market would grow to USD 69 billion by 2020, and Statista underlines that the overall growth across the region would be at a CAGR of 11% in the next four years (2018-2022).

The market has potential to localize there by spreading online retail business on this region. But stepping into the Middle East and North Africa, one should know what challenges or growth points to expect. In this article we will review the eCommerce insights from UAE, Saudi Arabia and Qatar.

Factors to consider before localizing
Target locale specifics
Website Look and Feel
You might think that an Arabic version of an online store is just a mirror of its English analog. However, it can involve a lot of effort to make a page with mirrored content appear properly on a screen. Let's figure out what to pay attention to in Arabic design:
Typography
Align text to the right side;
Resize font to preserve text readability: font sizes should be increased in the Arabic version;
Factor in the words' length: most Arabic words are shorter than in English;
Don't abbreviate days of the week, months and so on as in English: it is not appropriate in Arabic;
Don't change the direction of words and digits (such as phone numbers).
Numericals
Use traditional Western Arabic numerals, as they are adopted in most of the MENA countries: only Iran and Afghanistan use Eastern Arabic numerals, meanwhile, Egypt and Sudan apply both.
Icons
Don't flip symmetrical icons (such as user profile, download or trash): leave them as they are.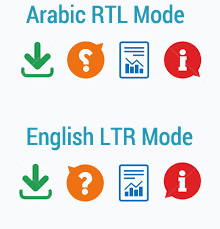 Mirror icons with an explicit direction or icons that depict motion: take the example of the back button or text alignment.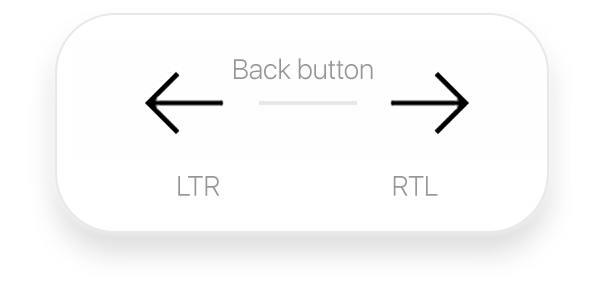 Check the proper understanding of icons with a native speaker: take caution of the icons' semantics like in the case of the pig. In Arabic culture it does not symbolize thriftiness but viewed as an unclean animal.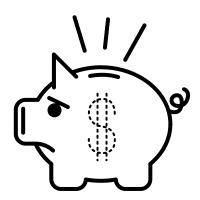 Images
Use individual banners, not a mirror of the English version banner: a simple reflection of a horizontal image may result in distortion.
Don't mirror nav keys and logos: instead, put them in the right upper corner.
Align to the right side and mirror breadcrumbs .
Don't mirror video and audio players .
Mirror tables and calendars: Monday is displayed on the right side and Sunday on the left one.
Use Internet Explorer and Opera as browser interface: they display scrollbars on the left side on Arabic websites.
Social Life
According to Deloitte's Going Digital report, in MENA there are more than 60% of the population using the internet. The United Arab Emirates is among the leaders having an 80% rate of penetration. Cell phone penetration is also high. In Saudi Arabia, 9 out of 10 people use a smartphone, and most of them use it to go online.
As for the social platforms, WhatsApp is commonly used across all nationalities, while Instagram, Twitter and Snapchat are popular among Kuwaitis, and Facebook is popular among expats.
Kuwaitis and Arab expats use social networks similarly. For launching, promoting or advertising a product or a service, Instagram and Snapchat are the best platforms to reach the Kuwaiti population. This is because target audiences can easily be reached.
Currency and payment
Currency
UAE – Dirham
Saudi Arabia – Saudi riyal
List of all the Asian currencies can be found here.

Payment
Digital payment is an area where the region stay behind as compared to the developed markets. Except for the UAE, other countries in the Middle East are yet to completely adopt online and mobile payments.
Top 3 Payment Methods for Digital Purchases in Kuwait:
Prepaid cards;
E-wallets;
Credit cards.
Cash on delivery is still the primary mode of payment in the region, which brings up the cost of operations for eCommerce players. It can make up around 70% of all eCommerce transactions in Saudi Arabia, according to the consultancy Hally & Partners.
Delivery
One of the primary challenges when it comes to eCommerce in the Gulf Cooperation Council (aka GCC) and the Middle East is the lack of area codes, which can hamper last-mile delivery. The big problem to solve for many eCommerce and logistics companies is to bring down the time and cost to buying online.

Legal requirements
Legal Norms
High connectivity, social media, and internet penetration is only one side of the potential of eCommerce in the Middle East. Another side is favorable regulations for online commerce, especially in the countries Gulf Cooperation Council, including Bahrain, Kuwait, Oman, Qatar, Saudi Arabia, and the United Arab Emirates.
Let's take the case of the UAE, where the government actively participates in making it easier for tech businesses to operate out of the region. For example, new eCommerce regulations from the Dubai Free Zones Council were made to promote foreign direct investment and help make them more attractive. The city also boasts of neighborhoods such as CommerCity, which is a $735 million project that's dedicated to eCommerce, and located right next to the Dubai airport. This is apart from Dubai Internet City, which is going to be expanded soon. Such initiatives are also under development in other countries in the GCC.
However, there still remain some challenges. One of them is the strict internet censorship. Saudi Arabia is perhaps the most proficient in this task. The kingdom uses a filtering system to sort and censor material in two categories: immoral and dangerous. Saudi citizens actively report immoral websites. A security committee blocks websites that reflect jihadi or radical ideas. As long as your website does not offend common social values (e.g. discussions of alcohol, women's driving, gambling) and avoids mention of weighty country topics (Islamic State, terrorism, etc.) and criticism of the royal family, it will be welcomed in Saudi Arabia.
Cybercrime is one more drawback for the region. But things are getting better. In Saudi Arabia, for example, the Ministry of Interior and the Communications and Information Technology Commission severely punish cyberattacks. Penalties are imposed for identity theft, defamation, electronic piracy, email theft, and other illegal activities.
Key players on the market
The MENA region is just taking the first steps in eCommerce. There are a few prominent eCommerce marketplaces there. The biggest is Souq.com acquired by Amazon in 2017. Other markets include Noon.com, Ali Express, and eBay. When it comes to food delivery, some of the popular players are Talabat, Deliveroo, MakeMyMeal, Otlob, etc.

According to PwC's Total Retail 2017, the major categories are:
Books, music, movies, and video games categories: 54% of surveyed categories;
Health care and beauty, 48%;
Consumer, electronics, and computer, 44%;
Jewelry and watches, clothing and footwear, 42% and 41% respectively;
Furniture and homeware, household appliances, 35% and 31% respectively.
Surprisingly, online groceries were a category that wasn't as popular yet in the region, with only 27% of people admitting to buying them online.
The Top 10 Imports:
Technology (machines, pumps, etc.)
Vehicles
Electronic equipment
Iron and steel
Precious metals (primarily gold and imitation jewelry)
Pharmaceuticals
Cereals
Medical equipment
Plastics
Logistics
Examples of Top Online Market Websites:
In Saudi Arabia:
Haraj.com.sa
Souq.com
Cobone.com
Aliexpress.com
Jarir.com
Extrastores.com
Alibaba.com
Opensooq.com
Markavip.com
In Kuwait:
Souq.com;
WantITbuyIT.com;
Jadopado.com;
X-cite.com.
Closing
Language and localization are very important aspects of commerce in the Middle East, as even the Arabic dialect can vary widely across markets. Retailers today must focus on getting online, and making consumer experience seamless and connected across all channels to unlock their next phase of growth.

Marketplace enablement solutions that help you to list, sell, and process orders across multiple marketplaces, from a single dashboard, can make it very easy to do so.
The world key players like Amazon and eBay set up the rules and best practices for a multisellers' store. And CS-Cart Multi-Vendor Plus platform continues adopting the rules of the game.

While planning to enter this region, get consultancy with locals, especially concerning the culture, language, and laws. And the technical component of your eCommerce website is better to entrust to eCommerce developers experienced in customizing online shops for the needs and environment of a particular market.