As a small or medium business owner, knowing which type of media or advertising to use can be a challenge. It is a greater challenge with limited budgets and not enough information. Large TV/radio campaigns can be great, but it doesn't do the pocket justice. They may not make sense if your business services a small area. Magazines go too far and wide. This type of media is not cost-efficient. Instead of focusing on your target audience, your ad will get to people who are not affected by your business. 
3 questions a media plan should answer
It's important to have a media plan for whatever advertising campaign you formulate to ensure that you utilize each penny. There are numerous great sites to use to ensure that you're budgeting right for the media plan. Once your finances are in order, you're ready to start a media plan. A media plan answers three main questions:
What is a marketing problem?

Do you know how to transform marketing requirements and turn them into realistic media objectives?

Can you formulate a media strategy to define a media solution?
Here is an infographic by Dragon Search. The figure below highlights the key points to get the business established in the online world.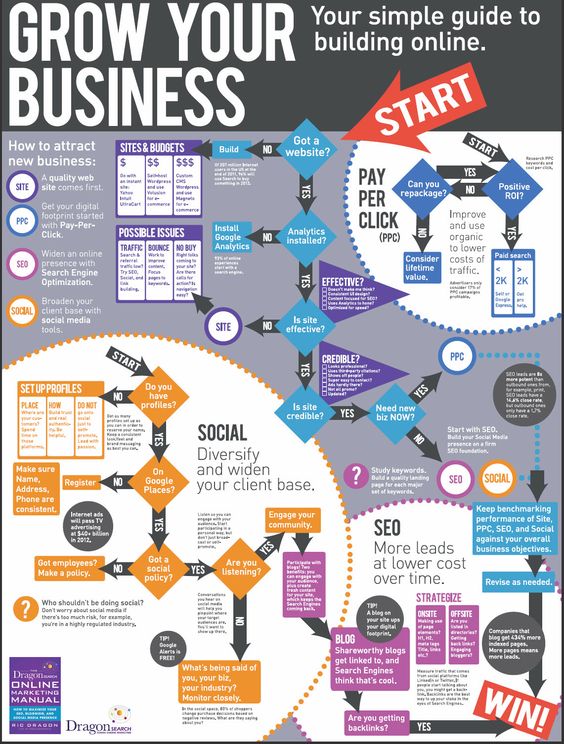 What is a marketing problem?
You know your business inside and out. You remember where you came from so now it's time to find out where there is potential for increased business. Do your homework and find out which markets could offer you the greatest opportunity. Many times, we advertise to everyone and hope someone catches the message. You, however, need to take one step back. Ask if you require to reach everyone or you want to focus on a select group of consumers.
In Rand Fishkin's Whiteboard Friday on Paid Search, he stated that even "a 1% click-through rate on the ads can pull in about 20,000 to 30,000 impressions. It is usually enough data right around the 30,000 impression mark to make sort of an informed decision on which ad is actually starting to edge out the other ad".
The deep analysis of the advertisements can make you aware of some customer-related insights. You will learn whether the customer uses the product you're selling and if there is product loyalty among your clients. Once you tick off the items on the list, you will get a clear understanding of what the problem is. That is the first step in solving it.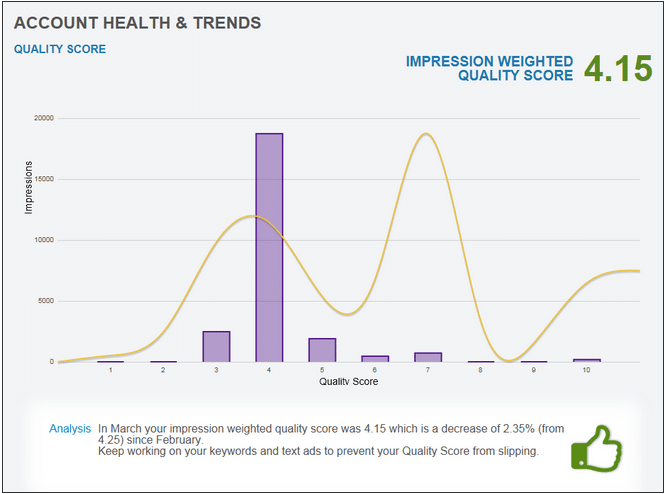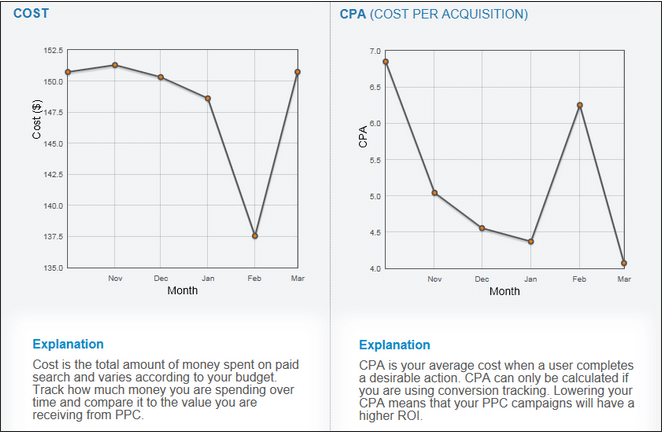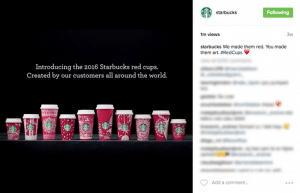 How to turn marketing requirements into objectives?
Do you know how to transform marketing requirements and turn them into realistic media objectives?
If you want to reach a lot of people in a large area and still make the most of every dollar you've spent, try mass media. Options for newspapers, magazines, and TV would be a good bet for you. In case, your target is a small group, other options like location-based digital advertising or direct mail will work best for you. There are many media outlets, but you don't need to use all of them; the budget you have cannot even allow it. Researching and planning will do your business more good in the long run to avoid the chance of you wasting your money. 
You can make use of several social media platforms to promote the business. Many of the big names in the industry are using the platform to drive traffic from them and reach out to more number of audiences.
Brands like Starbucks have done it in a very smart and attractive way.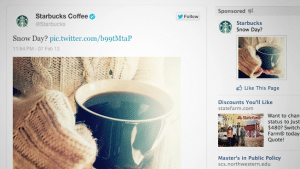 Can you formulate a media strategy to define a media solution?
Finally, you need to know that different schedules work better with various media. For example, one of the rules of advertising when it comes to print is that an ad must run three times before its notices. Television and radio ads improve their effectiveness when running at specific times in a day or when they revolve around certain shows.
Various advertising media and their cost
Media is extensive. It goes all the way from TV, Radio and Print to digital, public service buses to even the Yellow Pages. When comparing advertising media and their cost effectiveness, you should consider these factors:
Reach and frequency

Impact

Cost per thousand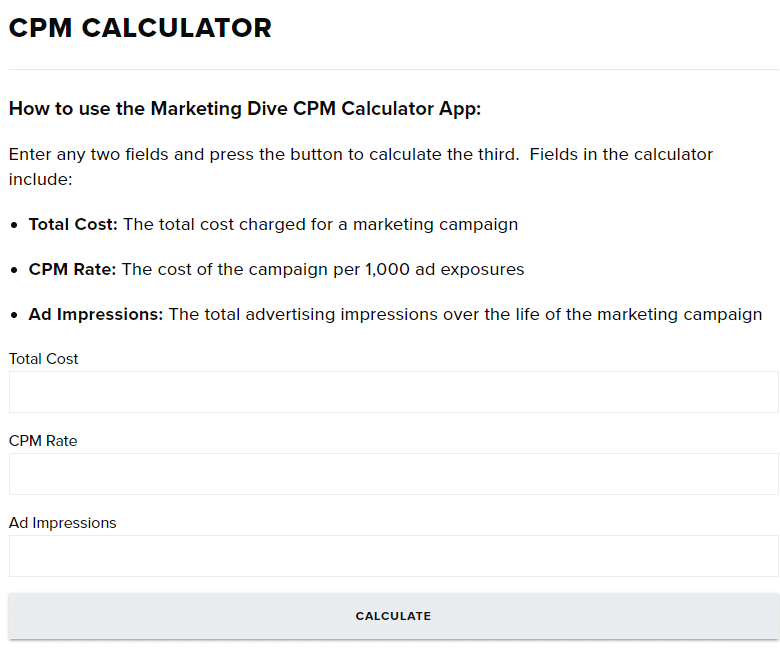 Reach refers to the number of individuals or homes that you wish to make aware of your product through a certain mode of media over a given period. Frequency, however, is the number of times you want these people exposed to your advertising message, and after how long will the consumers take action.

An impact is an action that the medium offers the user. Does this particular medium have full effect on the user's senses such as hearing and sight in its production and design quality?

Finally, we have Cost per thousand, which tackles the question, how much will it cost you to reach 1000 potential customers?
Cost per thousand (CPM)
CPM is a type of advertising measurement. It stands for Cost Per Mile. The word Mile represents a thousand. This is the amount that you will pay for every 1000 clicks/ views/ impressions in an advertisement. Traditional advertising, Television, print, and radio, out-of-home and digital advertising, can be bought going by revealing the ad to 1000 listeners or viewers. In advertising, CPM is used as a guideline metric to plan on the relative cost of a campaign or an advertising message through a particular medium. 
Advertisers hire marketing agencies to calculate CPM, among other tasks. This involves manually dividing an advertising placement's cost by the impression number expressed in thousands, that it generates. CPM is crucial to compare the efficiency that comes with various advertising media or opportunities. It's also helpful in the evaluation of a campaign's overall cost.
What is a CPM calculator?
Basically, a CPM calculator is a tool that will do the media planning for you. It helps you determine your campaign CPM, budget, and even the amount of bonus that you can receive. It's much more affordable than an entire agency and because you as the business owner are in control, you will be able to make an unbiased judgment on what works and what doesn't in a campaign.
There are several tools that can help you calculate the cost

:
So where do you come in?
As a business owner, you most probably already know the importance of CPM calculation and media planning. However, calculating anything manually is subject to error. Hiring an agency would be great only that it's costly. As a small or medium business owner, the option of hiring an agency doesn't make financial sense for you. You have the choice of doing it yourself.
The only downside of doing the calculations manually is that it takes time and is vulnerable to error. The option of a CPM calculator comes in handy at such a point. There are so many calculators in the market that finding the right one may seem a bit of a drag. There are numerous great calculators that can readily be found online. The good thing about a calculator is that it does the job of making your ads profitable and eliminates the option of error in calculation.
We are pleased to host this guest post by Helen Cartwright, a blogger who specializes in the Digital Marketing, Fundraising, and Finance niche.
Hope you found it useful.