We've just released a brand-new add-on – Order Status Restriction. In this post, we'll take you on a tour to show the most bright features of the add-on. You will get to know why the default order status logic is insecure, how you can save your money with order restriction, and leverage your store management efficiency.
Why Order Status Restriction is what you need?
There are 26 order statuses available by default in CS-Cart:
Processed (received payment)
Complete (completed work with the order)
Open (order is created, but not processed)
Failed (transaction failed)
Declined (canceled by the store administrator)
Backordered (not processed due to out-of-stock items in it)
Canceled (canceled by the customer)
Awaiting call (the customer sent a call request)
And others
However, you cannot restrict persons from changing them. It may cause certain security issues or even damage your reputation. Suppose, one of your vendors edits the "Return Requests" page to disallow customers to request a return. In this case, you won't know the reason why customers cannot request a return for a product when they actually have the right to claim a return. It may hamper your company image and disappoint your clients. Order Status Restriction will make your order chain transparent for you. You enhance security granting a partial access to your resellers (or anyone of your team) to edit statuses, saving your customer loyalty, business image, and budget.
Besides, with this add-on, even the workflow of statuses can be altered. The Order Status Restriction allows you to modify the flow of statuses to tailor it to your business needs and specifics.You build the most effective business processes when organizing the order status sequence that fit your business.
Features you will love
Order Status Restriction can change the overall workflow of order statuses. Just, mark the status you want to edit in a crossword-like table to alter the status:
Manage the access rights to view, manage and edit statuses, allowing only the admitted users to work with the order statuses: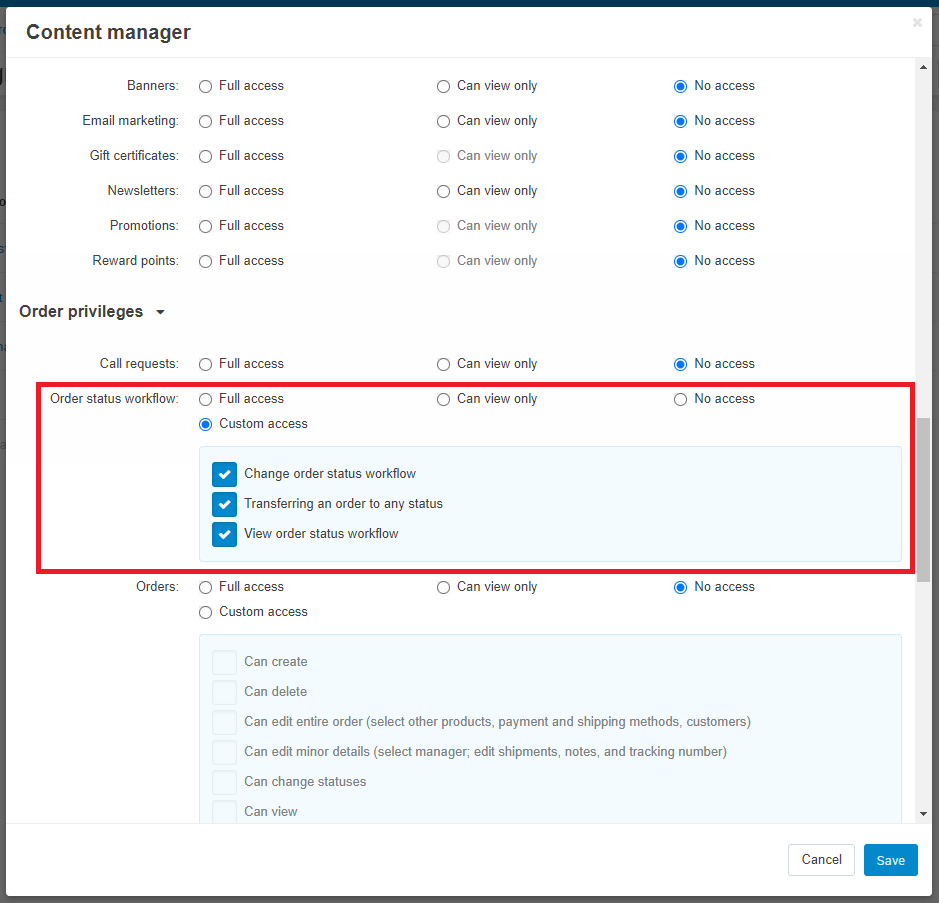 What do you get with Order Status Restriction
Enhanced security as only permitted users will be able to manage the full flow of order statuses – order status changes are under your supervision
Better control over your platform, personnel activity and budget – less mistakes made by your staff
Ability to apply any logic you want to the changing of order statuses – the more organized the order flow is, the better your business efficiency is
The add-on has an intuitive interface making managing statuses handy.
Why is this add-on the best choice?
Other add-ons for CS-Cart cannot provide you with the overall workflow changing functionality. They can either allow assigning default order status to a certain event, or restrict access rights. The Order Status Restriction has a complete functionality. It offers re-arranging the whole chain of statuses to fit your business. Besides, you assign privileges to users taking full control over the workflow of an order reducing human mistakes, enhancing security, and thus, having a more predictable income in your store.