Online trade has been developing extremely fast-shifting more towards the marketplace model. In this article, we will review the most popular Multi-Vendor solutions to build a marketplace.
An online marketplace is a type of eCommerce site where product or service information is provided by multiple third parties. Transactions are processed by the marketplace operator.
Multi-Vendor or multi-seller store. Names differ, and the meaning rests the same. It is a place where multiple sellers sell their products. The marketplace administrator is responsible for the management. The administrator can the business owner or a marketplace manager. The marketplace owner's profit is a sum of commissions from transactions or monthly paid fees paid by vendors.
Why explore different marketplace solutions?
There is a wealth of successful projects implemented based on the marketplace model. Everybody knows about eBay, Alibaba, or Etsy. They've become pioneers promoting that type of running an eCommerce project. Any project needs a platform to be built on. Developing your own marketplace can be expensive and is often required only to highlight your brand exclusiveness and wealth. Today's trend is to create your marketplace project based on an existing eCommerce platform. Don' reinvent the wheel. The only question here is how to choose?
Selecting an eCommerce platform for a multi-vendor marketplace, multiple aspects should be taken into account. Here is just a few of them:
Product: Digital or Physical?

Self-Hosted or Hosted?

Built-in Multi-Vendor features vs Extensions?
Some services on the Internet even provide an online selector based on your answers. Anyway, there are some trusted solutions recommended by experienced business owners.
Research background
We analyzed the most reviewed eCommerce systems to give you a quick view of the most popular platforms. You will see top 4 solutions tailored to implement the multi-vendor model. In the most common case, these platforms offer third-party extensions allowing you to build a marketplace. Here we present a solution that combines a platform and a ready-made software in one. Read to the end, to find out.
Platforms to build an online marketplace
Below is the top of marketplaces listed by platforms.
Shopify
It is a monthly-paid eCommerce platform coming with free hosting and easy-to-adjust settings. It is convenient for beginners. The user interface, hosting, and promotion options come out with the starter plan.
Webkul Multi-Vendor Marketplace Software on Shopify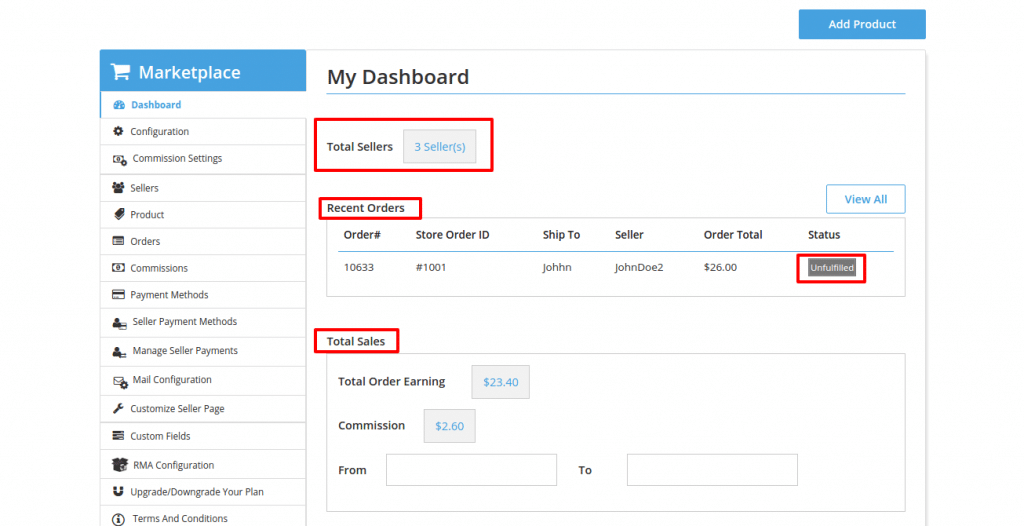 To add the multivendor functionality to your Shopify-based eCommerce project, there is a module available on Shopify in the form of a plugin. It facilitates the process of adding sellers and monitoring their sales.
App features
Global commission for all the sellers or a separate commission for an individual seller;
Product import and bulk edit in CSV;
Physical and Digital Products available;
Reminder feature to remind a seller by email about order fulfillment;
Vendors individual profile pages;

Multi-lingual and multi-location.
The addon is distributed through 3 tariff plans with the monthly payment and includes a 15-day trial period. The Basic plan allows you to create only 3 sellers. For an unlimited amount of sellers, you will have to purchase the Pro plan. There is a limitation on storage: 3GB, 5GB, and 15 GB for the Basic, Executive, and Pro plans, respectively. A digital product option is available in any plan. Support is 24/7.
Reviews
People like the app for extensive customization ability and simple installation. E-store owners are sometimes frustrated with the platform. The unavailability of the domain-based URL for sellers' signing-up and the limited documentation are those drawbacks. According to the reviews, customer support is poor.
Anyway, for those who are looking for an intuitive, hosted solution provided by the platform itself, this solution would be among the most appealing ones. The only thing there to bear in mind is the platform paid usage basis plus expenses on purchasing the marketplace plugin itself.
---
WordPress
WordPress is a free and open-source content management system based on PHP and MySQL. It is built as a plugin architecture and a template system and supports blogging and other types of web content including online stores. For an eCommerce project, the WooCommerce plugin is available there. It is free and downloadable.
WebDevs Dokak Plugin on WordPress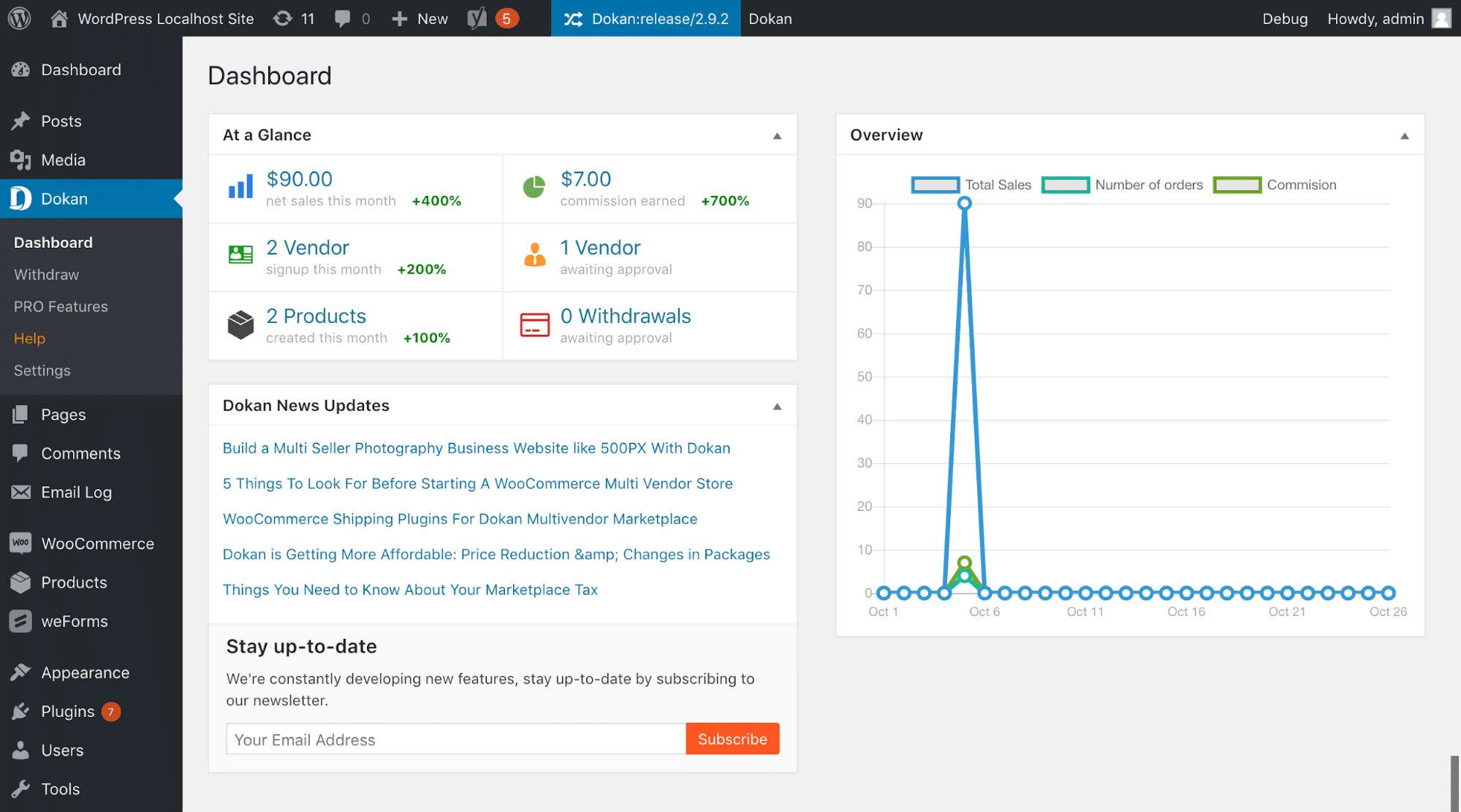 The plugin is distributed through 5 tariff plans with a yearly subscription.
The simplest plan, Always Free, includes:
Most basic features of a multi-vendor store;
Frontend Vendor Dashboard;
Store Widgets;

WordPress.org Technical Support.
Reviews
A low cost of the plugin and the free distribution of the platform are the undeniable advantages. People may dislike the support service and the quality of the code. Reviewers are fascinated by the UI and the cost mentioning that the simple free plan is not enough to build a functioning marketplace and a more advanced paid plan needs to be purchased.
---
Magento
Magento is an eCommerce open-source platform offering a full bunch of features to empower marketing, search engine optimization, and content management. It is a self-hosted platform and better fits the tech-savvy business owners as the interface is not always intuitive and a number of available settings require some technical skills to manage.
Webkul Multi-Vendor Module on Magento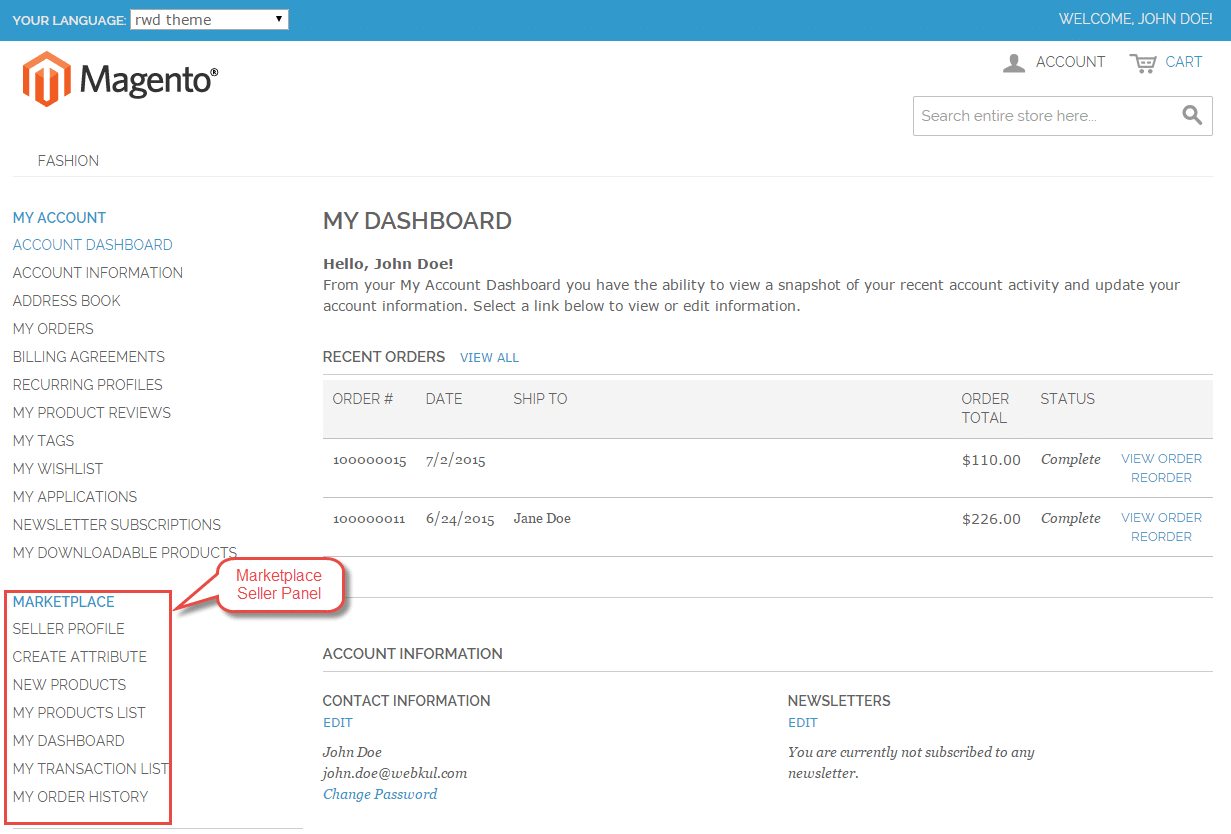 Magento Marketplace Multi-Vendor Module is a Webkul Marketplace Extension.

App features
Support of all languages (including LTR and RTL );
Featured with separate seller product collection, order management, feedback support ratings, and commissions.

Supported by many shipping and payment add-ons.
The plugin is available on the Magento market and paid through a one-time fee (not a subscription) with a three-month support service.
Reviews
People like the code quality but are not happy with the cost of customization and support. Magento is a well-built system but far from an all-in-one package. It massively relies on add-ons and plug-ins.
---
Multi-Vendor Software for online marketplaces
We described the most reviewed plugins to build an online marketplace on the basis of an eCommerce platform. All solutions are great to turn your project into a multi-seller store. They may vary by the level of easiness of use or the scope of default features. The total price of the solution itself can be different. By identifying what you want and what you can do by yourself, you can make an ideal choice fitting your needs and actual state.
Not taking anything away from the above solutions, there is one major inconvenience in all of them – all the above pieces of software are available as plug-ins.
Plugins disadvantages:
The more plug-ins you use, the lower is the speed of your website;
Compliance problems can emerge in communication among several plug-ins even provided by a single developer;

A pluggable architecture is less secure t

han a

cohesive solution.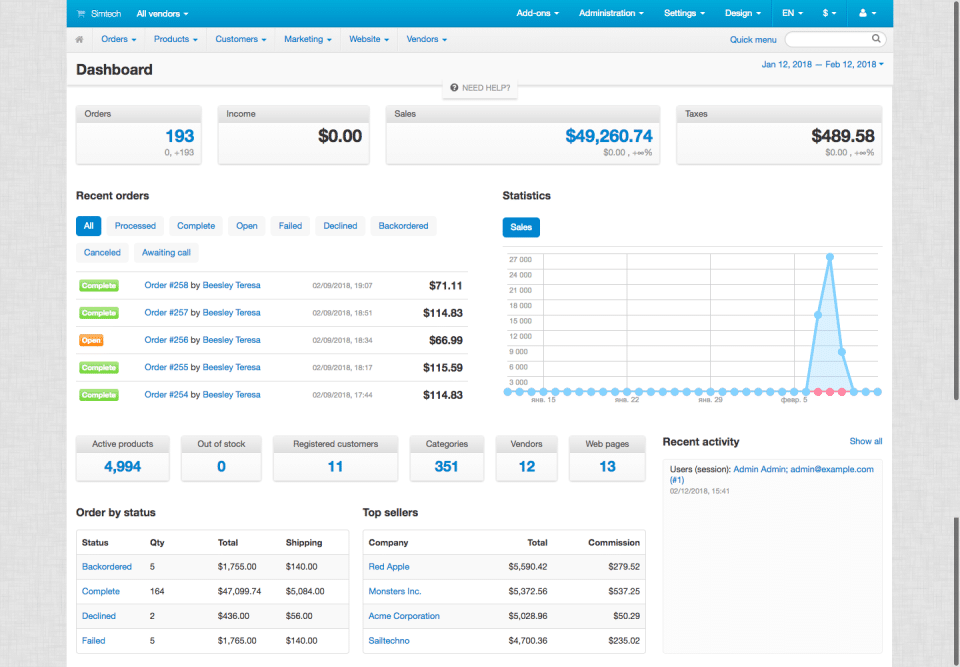 It is rational to use platform-consistent software. Takes Multi-Vendor software.

This marketplace platform has the multi-vendor functionality out of the box.
As it is a downloadable eCommerce software, you pay a one-time fee to get access to the software. It is better than Shopify. You don't have monthly payment plans. Note that a one-time fee doesn't include expenses. Those are hosting and additional customizations. These expenses make it more similar to WordPress and Magento. At this, the latter ones are pluggable. These plugins significantly differ by cost.
Features of Multi-Vendor
Separate mini store for every vendor;
26 built-in translations;
Over 70 integrated payment methods;
Real-time and manual shipping calculations;
Vendor account balance, sales reports, and statistics;

Digital items available (aka downloadable).
---
Multi-Vendor Plus
In 2018, Multi-Vendor Plus was released expanding the simple Multi-Vendor functionality.
Features of Multi-Vendor Plus
Common product availability to avoid product duplication for several vendors;
Separate commissions for different product categories;
Advanced vendor restrictions to form various vendor groups enabled with features, menus, and settings that they really need;
Separate checkout to allow payments go straight to vendors' account;
Vendor self-generated promos;

Design editor for vendors to allow them to modify the look-and-feel of their micro-stores.
---
Why eCommerce businesses choose the Multi-Vendor solution?
People like both solutions: they are easy to customize and rich in options. Vendors can edit their storefronts to meet their specific needs. The detailed documentation, video tutorials, and a great forum are always at the hand.
Closing
Tastes differ. Requirements for marketplace solutions are not the same in different business areas. In this article, we highlighted the most salient features of the platforms and their solutions on the spot. Goals to start a marketplace vary. You can examine each platform feature as an advantage or a disadvantage. One thing remains unambiguous: in comparison to other solutions, the Multi-Vendor is the only one all-in-one out of the box marketplace/platform provided as a full-fledged Multi-Vendor software and not any third-party extension. You can trust the quality guaranteed by the platform original developers and ensure your Multi-Vendor e-store flaw-less operation to stay competitive, trendy, and always in the top.
The Simtech Development Company is the certified partner of the CS-Cart company authorized to distribute Multi-Vendor software. We offer other services connected to building your unique marketplace: AWS Cloud hosting, customization, and extra features to improve UX/UI of your newborn/existing e-store.