3 must-have Enhanced eCommerce reports for online stores.

In this article, we will give you a brief overview of three key metrics that will help you better understand the behaviour of the customers in your store. All of them are available and ready to use in the Google Analytics Enhanced eCommerce add-on by Simtech Development.

Shopping Behaviour Report
This report allows you to visualize where your potential customers leave you.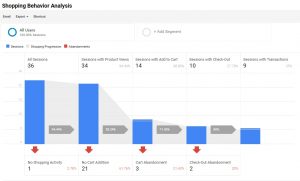 It shows you the funnel of the user activity on the website from page view to the purchase.
You can configure the segments of the funnel to see some additional steps.

Product Performance Report

Do you know which of your products gives you the most profit?  
With Enhanced eCommerce, you can get a clear vision of your product sales:
By products

By product SKU

By category

By brand



There is no need to go to Orders > Sales Reports in your admin panel any more to view awkward default CS⁠-⁠Cart pie charts.

Product Lists Performance Report

How often do you ask yourself: "Is this product list sold well or should I replace it with a different one"? The Product Lists Performance report will answer it.
You will see how often people view the product list, click its products and add them to cart.




If you would like us to guide you through the add-on configuration, please leave a comment down below and we will publish a video in our YouTube channel.