Our clients success stories are so different and it's interesting to know about how did they come up with idea of starting their business. We have interviewed the owner of RedLeafTea.com with whom we have been cooperating for a long time. The story of his online store is inspiring.
Robert, tell us please about yourself. What is your job? What position do you hold at Red Leaf Tea?
My name is Robert Rydzewski and I'm an owner of RedLeafTea.com
What's your experience in eCommerce? How long have you been running your online business?
I have been running an online store for the past 6 years. I started with different shopping cart software, but it was hard to use and it lacked highly needed features. After doing some research, CS-Cart seems to have them all at very reasonable price.
How did you come up with idea of selling teas?
My former employer sent me to convention center to pass out some brochures. This was the first time I came across "blooming tea". I was very impressed to say the least. I was sure that other people would love to try it as well and an idea was born to offer blooming tea on line as well as other exotic tea not commonly found in grocery stores. For while my product line has expended a lot, but later I noticed a trend and decided to focus on the healthiest tea of all time: Matcha green tea.
Why did you decide to open an online store? Do you have an offline store? How many people in staff do you have?
I wanted to have my own business but I'm a shy person and person-to-person interaction or sales scares me. Besides, regular salesman reminds me of telemarketers that try to push/sell you products you may not want. With online store, people that are interested in our product find you, so I think this is the best match for me. Perhaps when my business grows, I'll be able to hire some salesman to expend the business to local store, but at this moment, I'm comfortable with where I am.
I work with a group of freelancers that help me run this business.
What I like about this job is that I can do this from home. I have a 5 year old daughter so I really appreciated the freedom this job gives me to spend more time with her as well as the time flexibility. Not to mention that street traffic is no longer concern of mine.
Why did you choose CS-Cart for your online store? What additional features have you integrated? Why did you these need add-ons?
I loved the features offered in standard version of CS-Cart. It had plenty of them that other software developers charged for. My budget was very small, so this software gave me the biggest bang for the buck. Of course after a while, when my experience with online sales expended, I did not want to be like other stores online that offer same thing.
My intention was to be the best and offer the best. That is why I was so glad to hear that you also offer custom add-ons. I wanted to offer features that no one else could match and CS-Cart programmers helped me with that.
At this moment each of my flavored matcha teas can be ordered in over 250 different variation beginning from offering different product quality to amount of flavor used. When we offer to make product exactly to your liking, we really mean it. No other tea store comes even close to offering this many options, and it's all possible to great programmers that you have.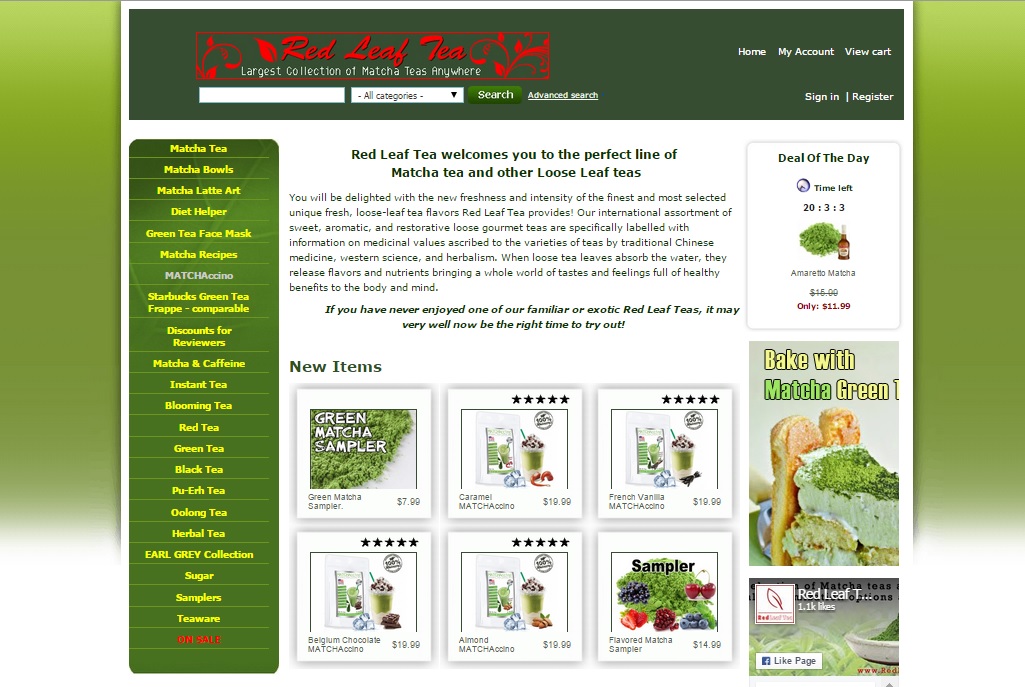 Which channels are now generating the most traffic and sales for you?  How do you advertise your business?
Online sales are the only sales channel we have right now, so we are very dependent on the Internet. I have tried to use Google and Facebook PPC, but the only people that made money were people at Google and Facebook.
I have found that natural, organic traffic brings the best results. After taking a break from marketing last year due to some bad experience, this year I'm working directly with some talented SEO advisors to increase our traffic and take this business to the next level.
Do you have regular customers? What's the percentage of repeat sales?
I'm proud to say that over 70% of our orders come from existing customers. It seems that high quality product as well as excellent customer service pays off.
What are your plans for future? Are you going to enlarge your business or to renovate your web site?
Online sales are constantly changing. Google frequent updates as well as new technological devices are keeping us all on our toes and requires constant updates to our knowledge and technical skills.
With use of mobile devices increased share of online sales, it's no brainer that this is the way to stay in business. What is optional now, very soon may be necessary to exist as online seller. I'm looking towards updating our site to accommodate our customers increasing usage of mobile devices to make shopping an easy and convenient experience.