From seed to shelf, your t-shirt has traveled thousands of miles, passing through hands of cotton farmers, spinners, weavers, dyers, and then to warehouses, airports, and freight trucks. In fact, it's quite possible your t-shirt has been to more countries than you.
The process of producing a simple shirt often requires a mind-boggling amount of transport and logistics; no wonder the amounts of carbon dioxide emitted in relation to it make the fast fashion industry the second Earth polluter in the world.
With the dark side of fast fashion coming to light, more shoppers are now experiencing their eco-awakening and reconsidering their own shopping habits in favor of more sustainable brands.
Today, we are having a conversation with the founder of a well-established fashion marketplace, Urbankissed, Sophie Brunner.
Build a Marketplace, Build a Movement
Back in 2017, Sophie decided to quit her job as a marketing coordinator and an assistant of a UHNWI relationship manager at a Swiss bank and pursue her dream to become an entrepreneur in the fashion industry.
Now this ambitious Millenial is single-handedly curating her own fashion marketplace online and doing her 3rd year of studies in the fashion business in London.
Urbankissed marketplace now stocks over 50 sustainable and innovative labels from around the world. Each brand goes to great lengths to make sure their entire supply chain, from the growing and harvesting of the organic cotton to the final sewing and all the processes in between, are as clean and responsible as possible.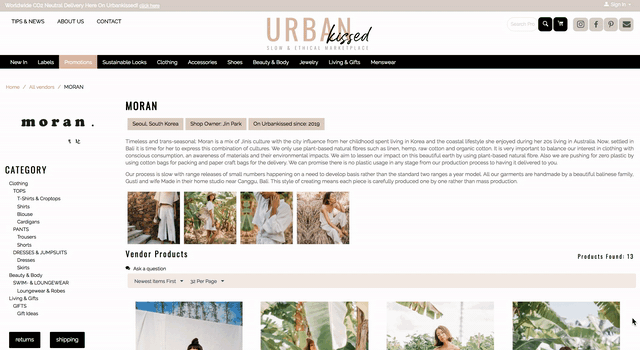 An idea for the marketplace was borne
Sophie, tell us about how you came up with the idea for the business.
Sophie: I always wanted to have my own business where I can put my commercial and creative ideas into action. And though I was overflowing with ideas, at the same time, I did not have much money, and I had complete zero knowledge in eCommerce.
So I started as an Etsy-like marketplace with a focus on handmade products. But last year I noticed a switch in the trend. Apparently, with the media bringing more light on the fast fashion having a damaging impact on the environment, people have become more conscious. I got more and more sustainable labels applying to sell on my marketplace. This is when I did research and found there is no marketplace out there that would sell really beautiful sustainable products that I'd like. But even if they did, they did it at crazy prices and not in an engaging and pleasing way. And I think that's when I realized it was the perfect time for me to jump into sustainable fashion and redesign the concept of my marketplace.
Choosing CS-Cart for the project
Why was Multi-Vendor the platform of your choice?
Sophie: I had been working on WordPress with WooCommerce, and unfortunately, I faced so many issues with the platform itself, as well as the support was not good. When I needed help with setting up my site, I would often feel lost and did not know what to do. So I started looking and comparing, and came across CS-Cart.
CS-Cart convinced me. The platform had everything I needed for my new eCommerce project. I needed a one-time fee for the license that I would own, easy-to-handle interface, multivendor accounts, 0% commission on sales performed through my site (unlike, for example, Shopify that charges you a commission per each sale made), and a set of professional tools for customization.
Also, after having faced many issues on WordPress and WooCommerce due to third party add-ons, it was important for me to use only the add-ons provided by an official CS-Cart platform developer.
This is how I found Simtech Development. Most of the SimtechDev add-ons we are using are very effective, and really help us improve the store appearance and performance. With them, the website looks more professional and customer experience becomes more engaging.
First results
You've been around for a while and have already seen some positive results. Tell us how you measure success?
Sophie: Urbankissed has been live for 11 months, and I want to talk about brand awareness. I measure success by the increase in traffic, a growing number of vendor applications, and followers on social media. But most importantly, Urbankissed has received earned media from fashion industry insiders such as Virgin, Women's Health, and Chloé Kian. That is inspiring!
What attracts your buyers?
Sophie: For my buyers, it is finding elegant sustainable outfits for a fair price. Urbankissed showcases clothes from 50 innovative sustainable labels that take a different, eco, and human-friendly, approach to clothing production.
Also, my shoppers appreciate that the marketplace offerings are highly curated. That means we onboard only vendors with a well trusted Slow & Ethical Index.

What I love most about this marketplace is that it supports different brands with unconventional sustainable aspects, like fabrics made out of banana or milk fibres, zero waste production and tree planting for every sale made, just to name a few, so each purchase will in some way make a positive impact.

Isabel Chai, Montenegro
Interestingly enough, but many customers care that the business is female-led. I feel like the fact that I am a female entrepreneur helps me build trust with my audience especially when we talk about ethical aspects of the fashion industry. They demonstrate their interest and loyalty, ask questions, leave feedback, and keep coming back for more purchases.
What has been the most effective marketing initiatives or programs you have used to promote your business?
Sophie: We are trying to leverage the power of word of mouth to the full extend. That is why we are establishing a strong presence on social media (@urbankissed). Also, we are actively implementing an affiliate marketing strategy via the Affiliate add-on by SimtechDev, which takes us a long way to promote our brand.
Our latest initiative, collecting subscriptions via the "Plant A tree For Free" campaign, has already proved effective for lead generation.
Your personal observations regarding the shopping behavior of your customers?
People like to get informed on new and innovative sustainable aspects and to understand how exactly the positive initiatives of a brand impact the environment. Shipping fees should be immediately visible.
Challenges
Tell us about the biggest challenges you have faced or facing now.
Sophie: Currently, I am putting a great effort into creating a perfect, consistent branding, and making editorial content. I do it all by myself and it is extremely time-consuming.
[Author's note] And as we can see from customer review, the time spent is well worth it:
Literally one of the cutest ethical fashion marketplaces I've ever seen. Thanks for putting this together and the great customer service!

Meghan M.
Also, communication with IT specialists still represents a challenge sometimes. But it's getting better since I am actively acquiring CSS and HTML knowledge and already able to customize things on my own.
But going back to when I just started, attracting vendors was a tough task. And even when I did, because there was not much traffic and sales going through my platform, my vendors, unfortunately, forgot to update their stock and sometimes sold products out of stock. Luckily, I don't have such problems anymore. My vendors also got very independent when it comes down to managing their accounts.
What's Next for Urbankissed?
What's the most exciting thing on the horizon for your company?
Sophie: Our plans are big. We are committed to becoming more sustainable and make the world a better place. That's what we stand for.
We just launched several "Plant A Tree For Free" campaigns within which we plant trees for free for every subscription/purchase or tag. This enables us to be CO2 neutral more quickly and to be CO2 negative in the long-term which is great. Also, I love the idea and fact of having a very rapidly growing company's forest in Madagascar!
Onboarding even more amazing sustainable vendors is another priority. We are aiming to create the most unique and beautiful but still large ethical brand directory with a well trusted Slow & Ethical Index.
Next, we want to focus on developing our blog and posting more editorial content on sustainable living.
As for the products, we are planning to offer more seasonal products to our buyers and focus on building strong, collaborative relationships with vendors.
Ultimately, it is an ambition of ours to create the most unique, pleasing retail environment in the ethical fashion segment.
What Moves the Movers and Shakers?
Sophie, what mindset is needed to be a successful entrepreneur?
Sophie: Unstoppable. Willing to work EXTREMELY hard. Just start, it does not need to be perfect from the very beginning.
Willing to learn new things. This is a trip where you are constantly acquiring new knowledge to be able to implement your creative and commercial ideas.
And wrapping up our amazing interview, what words of advice would you like to share with anyone who's facing a struggle with their eCommerce store?
I'm sure you know the song "You can get it if you really really want but you must try, try and try…" by Jimmy Cliff, and this really is the best advice I can give to every entrepreneur out there. I'm facing struggles and trying to solve problems literally every day and yes, this may sound overwhelming but in the end, if everything was easy to solve, competitors would have outpaced you very quickly.
Get inspired if it doesn't work as you want!
Invest! Don't always look at the cheapest solution.
I even have a story to share. In the beginning, I wanted to have everything as cheap as possible. That is why I decided to get my own AWS account and manage everything on my own. However, I soon realized that that was a very bad idea. Because I knew nothing about hosting and server, I never had any clue when AWS sent me a notification.
One day my server got hacked, and I could not even tell! But since the moment I moved from my own AWS hosting account to Simtech's Cloud Hosting, a lot has been made easier for me. I feel 100% safe, and I don't have to worry about anything, which is awesome.
---
Thank you, Sophie, for this fantastic interview and for demonstrating to us the power of the business mind!
It is great to see a new sustainable brand on the scene, a brand that allows shoppers to make ethical choices based on their personal values.
If you are inspired to make the world a better place and do business that is aligned with your innate values, our eCommerce experts will help you with turning your ideas into a reality!