A vape marketplace that connects e-cigarette manufacturers, sellers, wholesalers, and customers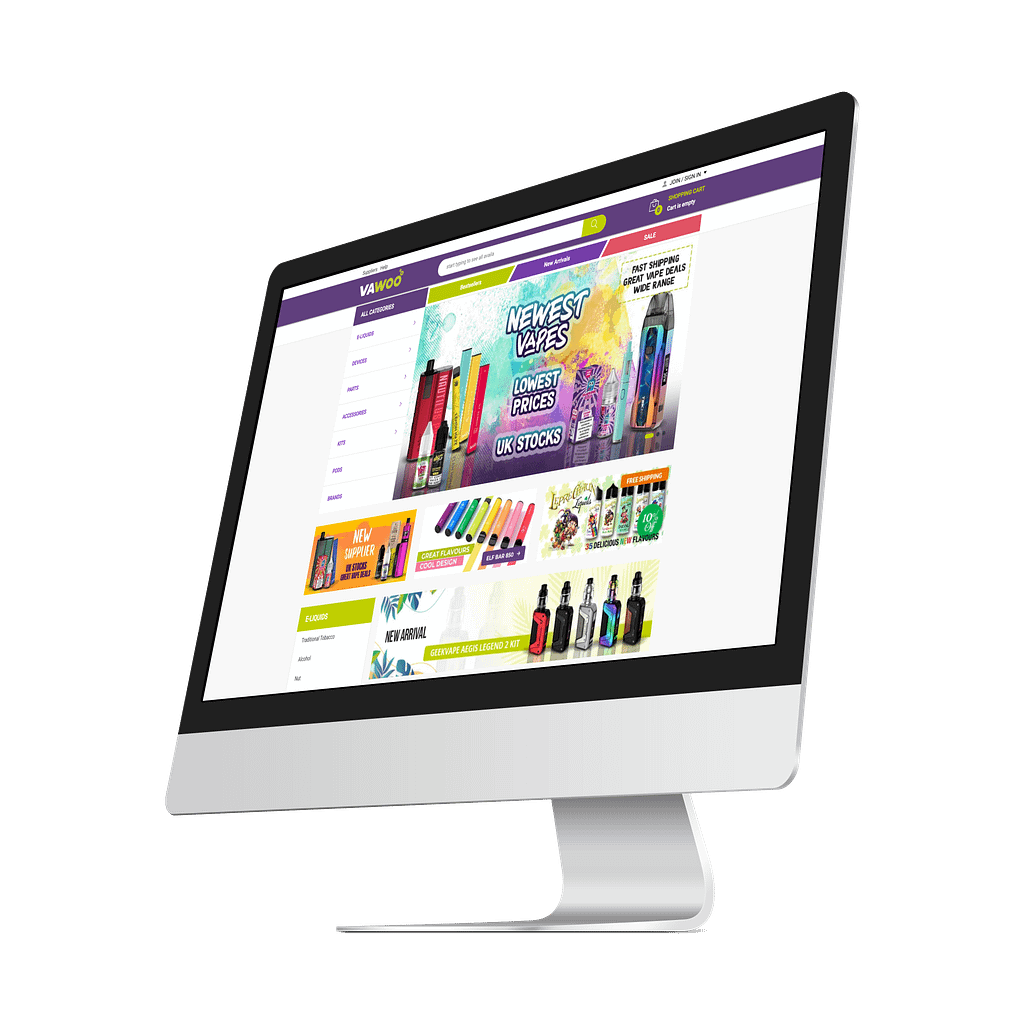 The Vawoo.co.uk is a vape marketplace that connects e-cigarette manufacturers, sellers, wholesalers, and customers in one place. They launched their project in October 2018. First, the Vawoo team gained favor with 10 vaping vendors who opted to sell their goods on their platform. That was a moment of success that changed everything. Nowadays, the company develops in the B2B direction. They've already entered into a contract with +12 large vape companies and still grow. The marketplace has large daily traffic and hundreds of orders per week.
The idea to create a unique vape platform came in 2016 to ex-smokers Alexandra and Gareth, who after years of smoking, discovered e-cigarettes and gave up their bad habit. These young ambitious people (and now our friends) came up with the idea of creating something super useful for the instantly growing vape community, so as to help thousands of smokers quit cigarettes and switch to a healthier alternative.
Vawoo marketplace tested multiple add-ons on the administration panel by means of CS-Cart to get the most out of the platform.
Here are the words of the Brand Manager after getting the first results of using our add-ons:
The add-on made us and our business partners free from the dull manual upload of thousands of products to our marketplace. A single XML or CSV table provided by our suppliers and imported to Vawoo saved a ton of time and force. This feature is still our marketing strength when negotiating with new sellers – "We will save your precious time"!
The add-on allows our business partners to synchronize smoothly their products, prices, inventory, and orders in their Amazon sellers account with their new CS-Cart store on Vawoo. This feature is our great accomplishment in eCommerce, as it made both the store building process much easier. Moreover, people selling on Amazon are no stranger to trading on marketplaces: they have no fear of opening one more store, compared to other businesses. Thus, they are more favorably disposed to collaborate with us.
The add-on is an effective psychological tool for us that encourages purchases by demonstrating the high value of vape products on the marketplace and thus motivating customers to buy.
The add-on helped us to organize and structure data on our store as well as to increase the searchability of our marketplace, products, or blog across the web.
The add-on optimized the most important metadata for our products, categories, pages, blog posts, and product images.
The add-on is a powerful tool for us, which enables us to create effective marketing campaigns for the customers. They love collections of products that are sold as a single unit at a bargain price. This is a great way to motivate our customers to purchase several items instead of only one.
The add-on helps us to look easily through the shopping statistics – how many orders are made, paid, and reviewed.
The Accelerated Mobile Pages add-on allows us to create mobile-optimized content for the product details pages, as based on our statistics around 80% of purchases on Vawoo are made with a mobile device. Thanks to the add-on, it takes just a couple of clicks to make our website go mobile and improve mobile performance.
The add-on helps our customers to easily request a gift by sending a link to their shopping cart to friends and family and show what they really want.
The add-on helps us to get our brand name mentioned. Day by day, we get new affiliate partners who reward cash for our website promotion and refer new customers.
The add-on helps us get loyal customers, who desire to receive up-to-date information about discounts, new arrivals and to get back to Vawoo for another buy.
A unique marketplace with +100 products listed and +12 large vendors selling on the platform.
Perhaps only the website building process was smooth sailing since we chose CS-Cart and were receiving a number of features as well as timely technical support from the developers. In other directions, we had to face a series of disappointments and failures.