What is TLS?
Transport Layer Security (TLS) is a protocol that secures your data as it is transferred over the Internet. Whenever clients visit your online store or project, use any of the apps like a mobile application or a browser, or make requests using an API, TLS helps keep data secure. Early versions of the TLS protocol are now becoming obsolete as newer and more secure versions are released. That is the reason why we are making this change.
Reason for deprecating TLS 1.1
The protocol has a long and eventful history starting from the early 1990s when it was incepted as the Secure Sockets Layer (SSL) protocol and until the recent release of a faster and safer TLS 1.3. The need for a new version of the protocol came from a desire to enhance efficiency and to obviate the inherent flaws and weaknesses of earlier versions, particularly, of TLS 1.0 and TLS 1.1. The Internet Engineering Task Force (IETF) is also planning to officially deprecate both protocols. In addition, the vast majority of encrypted Internet traffic is now over TLS 1.2, which was introduced over a decade ago.
Hosting and servers
Soon, or maybe even now, you will receive a lot of messages from various services about the need to upgrade the TLS version to 1.2 and 1.3. Customers who are hosted with us don't have to worry; they do not need to do anything! We have already implemented these versions a long time ago and are continually improving the configuration according to all the innovations and trends of our time.
If you have another hosting provider, you should ask them to check and improve the server configuration. Or you can check it yourself here.
Migrate to always up-to-date hosting!
Browsers and services
Many online services and browsers have already canceled support of TLS 1.0/1.1; many will do so soon.
"As an administrator of your StoreFeeder account, we are contacting you to advise of an important security configuration change in relation to your integrations to StoreFeeder, namely supporting API connections using TLS v1.0 and v1.1. … "

StoreFeeder: Notification email
Expect Firefox 74 to offer TLS 1.2 as its minimum version for secure connections when it ships on 10 March 2020.

Firefox: Read more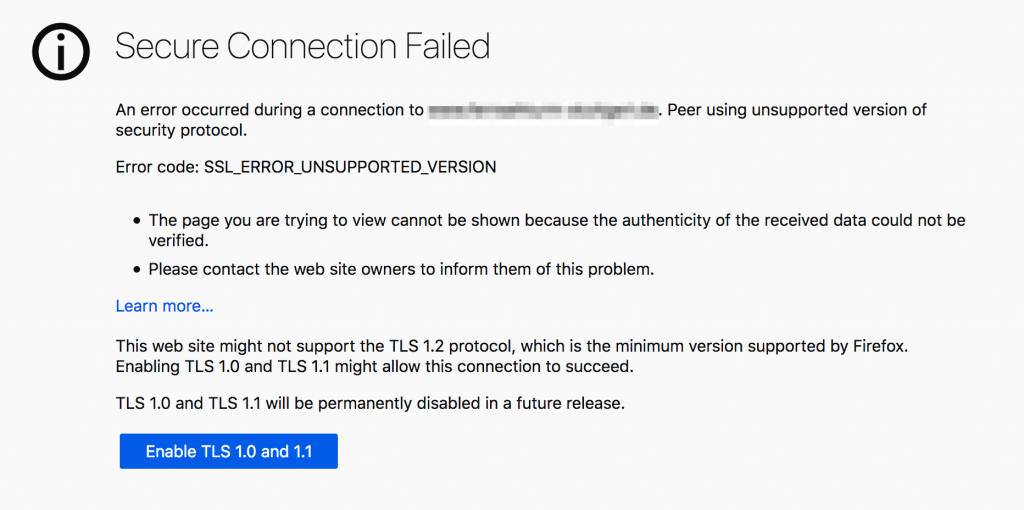 The industry is working towards deprecating support of TLS 1.0 and 1.1 in this timeframe. Google, Microsoft, Apple, and Mozilla have all announced that their browsers will no longer support TLS 1.0 and 1.1 as of March 2020.
What happens? And does it affect me?
From the side of our Cloud Hosting solution for business, we disable support for TLS 1.1 (1.0 has long been disabled). And we pay attention to the fact that versions TLS 1.3 and TLS 1.2 are enabled and supported by all up-to-date browsers and operating systems.
Your customers may encounter problems if they are using old and not updated software. We checked who is using the older versions of TLS – those are some specific crawlers, robots, and some Windows XP users. In case you have any questions, feel free to contact us via MyCloud. Our high-qualified specialists will answer your issues.
Helpful link