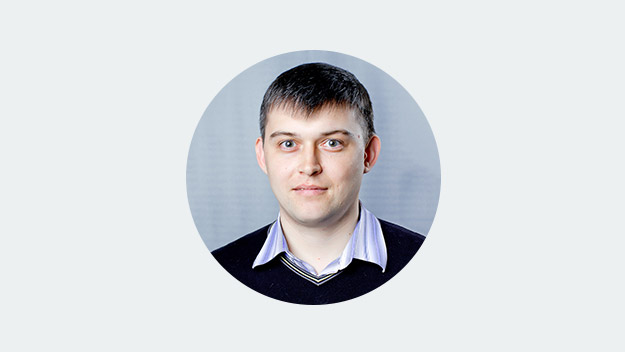 My name is Oleg Gorshkov. I am Head of the Custom Development Department at Simtech Development. Today, I would like to present our analysis of web store development, give you some useful advice, and explain why using a successful business as a model is the best way to improve your own business. Simtech Development has a great deal of experience in eCommerce custom development, and every day we encounter a variety of unique requests from web-store vendors. We divided such orders into three types: Integration of additional functions, Copying, and Invention.
The proportion of the types of orders that we receive is illustrated in the following diagram: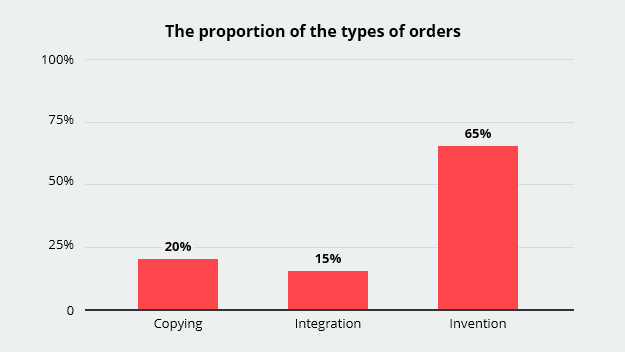 The diagram shows that Invention is the most popular type of order received; Integration and Copying are less common. According to our experience, clients usually puzzle over their design, losing the opportunity get the online store onto the web as quickly as possible. Yes, Invention is necessary, but often, precious time is wasted. This is why I would like to focus your attention on Copying. Copying is the part of development where the client asks us to use an existing store as a model and change specific parts, such as the color, the placement of the product list, or adding a slider to the main page.
Here are four small steps that will make your business effective and profitable right from the start:
1. First, do not waste time on design and trivial details. It is better to spend your money on advertising to increase website traffic.
2. The second step is effective website content development. This includes understanding how website content differs from other types of communication. Fill your online store with interesting information about your store to attract customers and differentiate your business from other similar ones. Remember to fill product cards with useful descriptions and catchy text.
3. To achieve good results, use elementary statistical tools, such as Google Analytics, to review online campaigns by tracking landing page quality and conversions (in our case, sales conversions).
4. The next step is about your clients. Loyalty makes your customers believe in your business. It is important to pay attention to the small details. (We mistakenly believe that a store manager's two-day response time to a complaint is normal. The shipping calculator does not work—but who needs it? There are only two products in stock—let the customer find what they need from a competitor.) Remember to reward your clients not only for their purchases, but also for other valuable actions, such as sharing and referrals. This will connect people to your store and result in more profit .
In summary, for those taking the first steps in the world of eCommerce, I offer this advice: Do not invent! There are a number of approaches currently available on the market. The main requirements for the CMS are a user-friendly admin panel, a properly functioning shipping calculator, and of course, the option for bank card payment. Apply any statistics tools. To attract the clients' attention and to establish a long-term relationship, describe your products, and be loyal and attentive to your customers' needs. Include illustrations and video reviews. Research what other successful stores have done. Educate your managers to work and serve your customers. It is only after these steps have been taken that you will be able to start working on custom development.