eCommerce has been constantly growing worldwide during the last decades. However, while some markets have become saturated with the supply, new online outlets have emerged with great potential to fill in this gap. Statistics show that economies where online trade has a long history, now develop at a slow pace providing fewer customers for e-tailers. So, if you're looking for your business growth points, look at emerging online markets. In this article, we are going to reveal the latest geographical trends of the future eCommerce 'gold mines' and tell more about their digital business environments.

Worldwide eCommerce Ranking
As judged from the studies available through the Web, eCommerce is growing faster in developing countries. The available sources apply different methodologies for measuring countries' growth speed. We'll quote the two most popular ones here to show the overall trend.
In 2019, eMarketer selected a top of 10 fast-growing economies based on the online trade sales' amount. Surprisingly, another popular research performed in 2018 has a lot in common with the Emarketer one. The PPRO report was based on data obtained from sales using the ePayment service. Although, methodologies and the periods are different, you can see how similar the outcome is:

| | | | | |
| --- | --- | --- | --- | --- |
| (Rank) | | (eMarketer Study, 2019) | | (PPRO Report, 2018) |
| 1 | | Mexico (35% growth) | | Indonesia (78% growth) |
| 2 | | India (31.9) | | Mexico (59%) |
| 3 | | Philippines (31%) | | Philippines (51%) |
| 4 | | China (27.3%) | | Colombia (45%) |
| 5 | | Malaysia (22.4%) | | United Arab Emirates (33%) |
| 6 | | Canada (21.1%) | | Vietnam/ Saudi Arabia (32%) |
| 7 | | Indonesia (20.6%) | | Israel (31%) |
| 8 | | Argentina (18.8%) | | China / India (27%) |
| 9 | | Russia (18.7%) | | Singapore / Malaysia (26%) |
| 10 | | South Korea (18.1%) | | Argentina (25%) |
Let's examine some residents of eCommerce growth from the list to show their market potential.

Mexico
According to Statista, Mexico's revenue from online retail is going to amount to US$10,135m in 2020. At this the growth rate is 5.9%, resulting in a market volume of US$12,753m by 2024. The market's largest segment is Fashion with a market volume of US$2,762m in 2020. Other popular categories are Electronics & MediaToys, Hobby & DIY Furniture & Appliances, Food & Personal Care. Transportation services lead the categories of reported online purchases, followed by digital downloads, event tickets, travel, and apparel.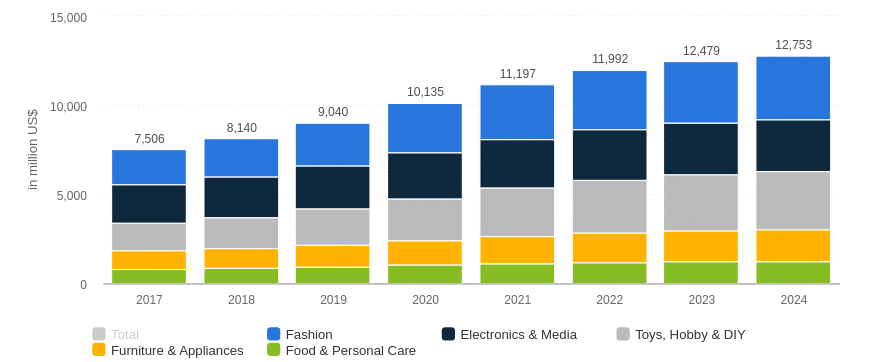 Mexico eCommerce considerations to take into account
Payment: Debit and credit cards are the preferred methods of payment. The top incentives for online buyers include free shipping, secure payment options, and guaranteed return policy. There is an increasing trend of purchasing using mobile devices. This may be explained by the mandatory requirement for financial institutions to provide commission-free payments for those online shoppers who used quick response (QR) code on their mobile applications. This condition relates to the banks with over 3,000 clients and is in force starting from September 30, 2019.
Legal environment: Although, cross-border eCommerce stands to benefit from the ratification of the USMCA, U.S. – Mexico – Canada Agreement that encourages more domestic production of cars and trucks, Mexico keeps on providing USD 50 tax-free de minimis and duty-free shipments for values up to USD 117. The International Chamber of Commerce Customs Guideline #11 defines de minimis thresholds for goods below which no duty or tax is charged, and for which clearance procedures are minimal.
The Mexican market is expected to continue growing because of improvements in connectivity, enhanced financial inclusion, more streamlined logistics, and increased digital literacy. A nice place to consider, if you seek for localizing your eCommerce business.
The Philippines
Statista reports that the Philippo revenue in the eCommerce market will achieve US$1,091m in 2020. Despite a pretty small size of the Filipino eCommerce market, the revenue is expected to show an annual growth rate of 7.9%, resulting in a market volume of US$1,478m by 2024.
The most popular shopping category there is Electronics & Media with a market volume of US$275m in 2020.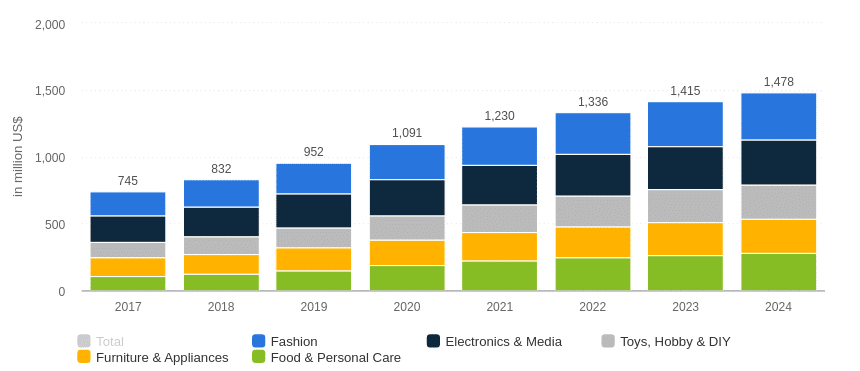 The Philippines' eCommerce considerations to take into account
Payment: More than 60% of the Philippines' online shoppers prefer to pay in cash at the time of delivery (COD method) instead of making payments through credit cards or e-wallets. At the same time, some companies employed e-wallets for unbanked populations. The key payment service providers include PayMaya (PLDT), GCash (Globe), PESONet (BSP). The latter one is a new electronic transfer service that enables customers to transfer funds in Philippine Peso currency to another customer of other participating banks, e-money issuers or mobile money operators in the Philippines.
Legal environment: Corruption remains a constraint to business and outside investment here. It is a prevalent and deep-rooted challenge in the Philippines. The country's ranking in Transparency International's Corruption Perceptions Index has fluctuated from 85 out of 180 economies in 2014 to a 99 score in 2017.
The Philippines has limited foreign ownership in particular industries, including utilities and the media.
The value-added tax amounts to 12 percent and is levied on the sale of all goods and services, including the imported goods.
The Philippines has passed adequate legislation to promote eCommerce during the last years: the eCommerce Law, Cybercrime, and Data Privacy Laws have been adopted. The National Privacy Commission (NPC) is tasked with implementing the Data Privacy Law. Actions are taken for greater compliance with international privacy agreements such as the European General Data Protection Regulation (GDPR) and APEC Cross Border Privacy Rules (CBPR).
Despite the challenges, there is a good reason to be optimistic about eCommerce growth in the Philippines. The emerging middle class, the increased consumer spendings, and a young tech-savvy population are driving eCommerce forward.
Indonesia
Based on Statista data, the Indonesian annual revenue from the eCommerce market is going to reach US$26,922m in 2020. At this, the growth rate will be 16.9% and will amount to US$50,361m of the market volume by 2024. The market's largest segment is Fashion with a market volume of US$6,771m in 2020.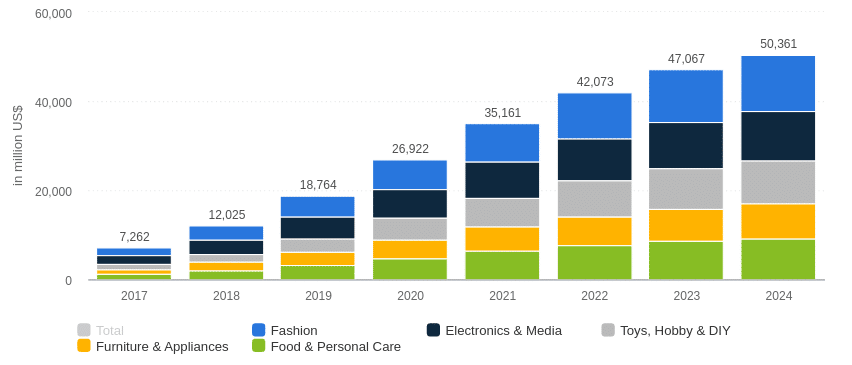 Indonesian eCommerce considerations to take into account
Payment: 80% of eCommerce payments are completed with bank transfers and 2.5% with credit cards. Bank Indonesia has recently begun the implementation of its National Payments Gateway initiative aimed at increase of financial inclusion and greater use of electronic payments for in-person and online transactions. Cross border transactions are currently conducted through conventional banks or credit cards.
Legal environment: eCommerce is regulated by a set of laws and regulations. Law No. 11/2008 on electronic information and transactions (ITE Law) promotes open and fair electronic commerce. Bank Indonesia Regulation No. 20/6/PBI/2018 addresses E-money issues. Minister of Communications and Information Technology Circular Letter No. 5 of 2016 on the Limitations and Responsibilities of Platform Providers and Merchants in eCommerce Using User-Generated Content Platforms promotes rules for user-generated content and product offerings. Minister of Communications and Information Regulation No. 23 of 2013 addresses Domain Name Management.
Indonesia is on the way to take its share from the global eCommerce pie. With 50% of the population under 30 and the growing middle class, this economy promises to drive online trade in the upcoming years.
Closing
The above examples of emerging eCommerce economies show their potential. Although their markets' environment is complex, it is rapidly changing for the better. Remember, growth points lie in complex environments. If you are looking for a point of growth and markets to expand to, don't underestimate this list. It may serve a direction where to localize your online shop or marketplace.