We have reviewed the latest available statistics for shopping categories to bring you insights on what market expansion opportunities are waiting for you in the borderless eCommerce industry to claim. We have started wide with U.S., Europe, Australia, India, and Latin America. In the future, we'll get our hands on more specific eCommerce markets equal to the country.
U.S. eCommerce market overview
Retail eCommerce sales in the United States are projected to grow at a fast pace in the coming years, going from 505 billion U.S. dollars in 2018 to over 735 billion U.S. dollars in 2023. Amazon is by far the most popular e-retailer in the United States. Other successful online retailers include eBay, Wal-Mart, Apple Sites, and Target.
78 percent of internet users in the United States have purchased products online in 2017. At this, 32 percent of internet users purchased items once a month. 29 percent shopped online once or twice per week.
U.S. online shopping categories overview
This statistic presents popular online product categories in the United States, sorted by gender. 71 percent of females have purchased clothing online in the past 3 months. Fashion and apparel sales were the most popular.
In the second quarter of 2019, eCommerce amounted to 146.2 billion USD there. The choice of online shoppers' items shows that Clothing, Shoes, and Consumer Electronics remain the leading segments.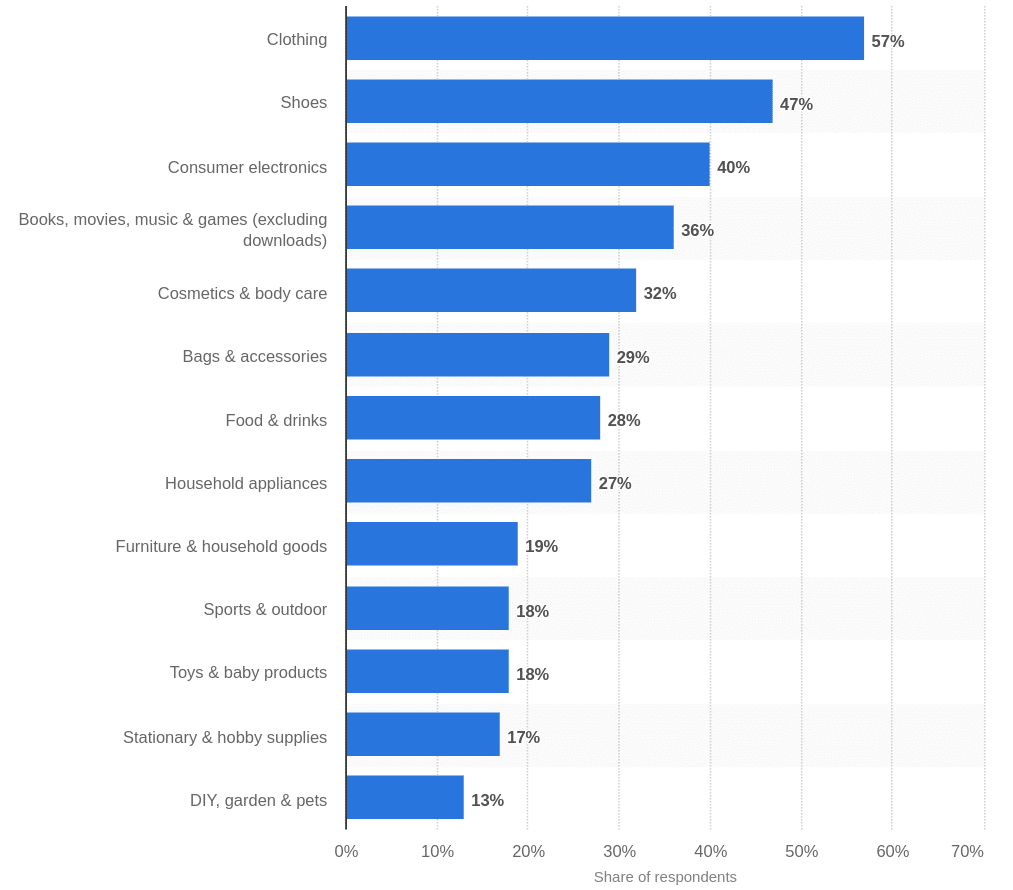 ---
Europe eCommerce market overview
The total eCommerce turnover in Europe increased by 11 percent. In 2019 it was 534 billion euros. Amazon and eBay are dominant in Europe. Alibaba Group is slowly moving in from the Eastern countries. Italy, Spain, and France show positive trends. Germany seems to keep up with the fast-paced growth of the United Kingdom.
Europe online shopping categories overview
Clothing and footwear are amongst the most popular product categories, just like Home Electronics and Books. In total, 38 percent of all online shoppers in Europe ordered abroad in 2017, with half of them ordering goods or services over the internet from sellers from other EU countries.
The latest PostNord research demonstrates the most popular product categories bought online by European online shoppers in 2018. The study gives their breakdown by country. The top product category stays Home Electronics which is mostly purchased online in the UK, Belgium, and the Netherlands. The rest of the categories include Books, Cosmetics, and Home Furnishings. The product share from country to country is almost similar with some small spikes for the UK.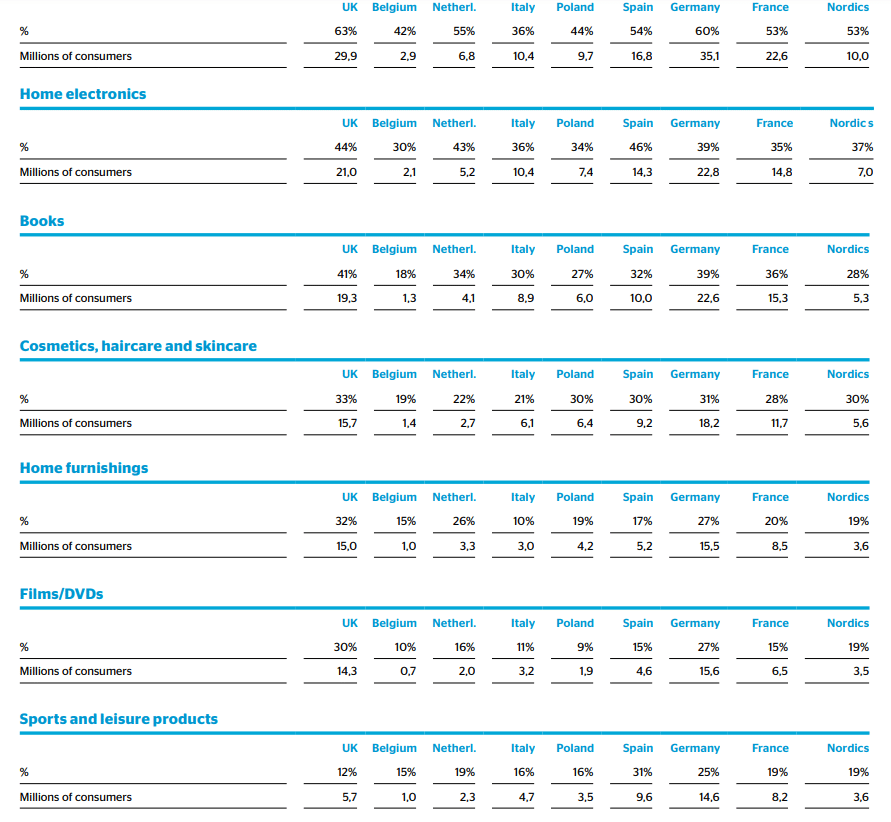 ---
Australia eCommerce market overview
Revenue in the eCommerce market in Australia amounts to 21 billion U.S. dollars in 2019. This number is expected to grow to 27 billion U.S. dollars in 2023.
eBay has a firm grip on the title of Australia's most popular online shopping. The retailer attracted 3.78 million more visitors over a four-week period. It is more than Gumtree owned by eBay.
Australian online shopping categories overview
The market's largest segment is Fashion with a market volume of 7.6 billion U.S. dollars in 2019. The next one is Electronics and Media. Those big niches are steadily growing. Another niche – Food and Personal Care – is demonstrating increased growth. It is expected to even accelerate by 2023.
---
Latin America eCommerce market overview
In 2019, 155.5 million people in Latin America are expected to buy goods and services online, a dramatic increase from 126.8 million in 2016. Recent figures show that the Latin American eCommerce market is still small. Retail eCommerce sales in Latin America are projected to grow to 79.7 billion U.S. dollars in 2019. On a regional level, Brazil is the market leader, followed by Mexico and Argentina.
The most popular online retailer in Latin America in terms of visitors is MercadoLibre.com (Brazil), a C2C eCommerce platform similar to eBay.com.
Latin America online shopping categories overview
Fashion is currently the leading product category accounting for over 10 billion U.S. dollars market share. Electronics is the second leading product category accounting for almost 9 billion U.S. dollars. Toys, Hobby & DIY is the third leading product category accounting for just over 6 billion U.S. dollars.
---
India eCommerce market overview
Internet users in India reached 475 million in July 2018. It is about 40% of the population. This market promises to be very lucrative for eCommerce. The online retail is quickly growing there with a surplus of 6 million newcomers joining the eCommerce industry every month. In 2017, the biggest eCommerce players were Flipkart, Amazon, Myntra, Paytm, and Snapdeal.

India online shopping categories overview
Online shopping in India seems to be narrow-focused. Statistics for the online best selling products demonstrates that the Mobile & Accessories category was the top in 2018. This category's market share amounted to 64 percent. The other popular shopping categories in India included Men's Fashion, Electronics & Appliances, and non-durable household goods or FMCG (Fast-Moving Consumer Goods) like packaged foods, beverages, toiletries or over-the-counter drugs.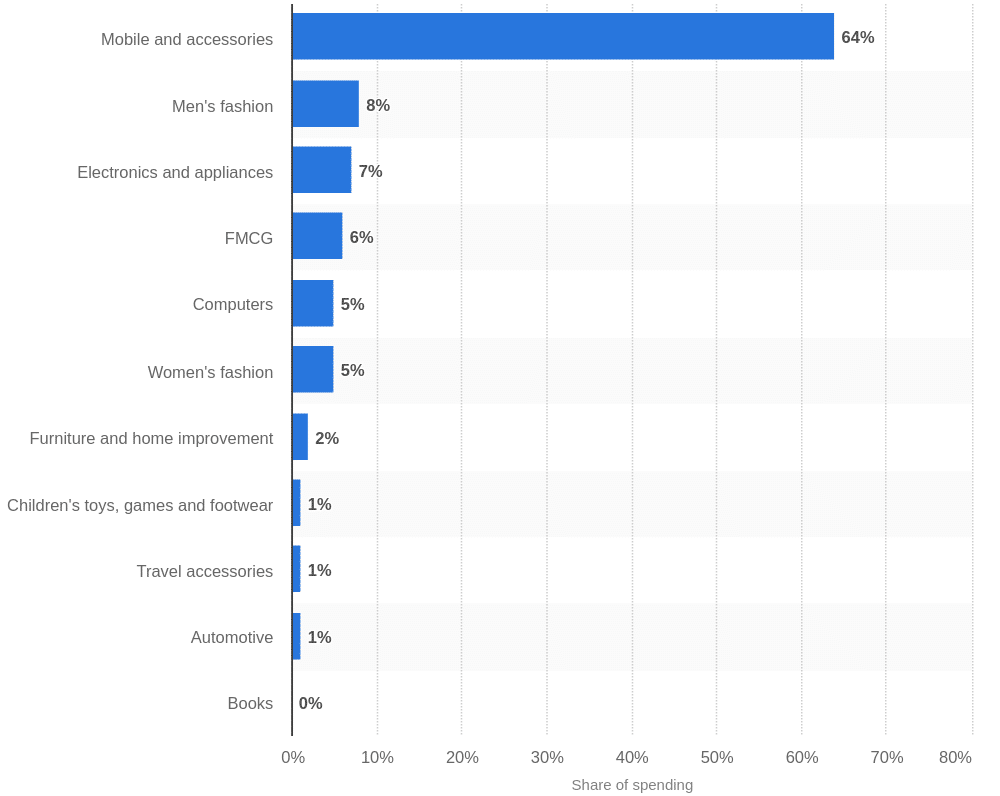 Closing
We'll be scanning the market statistics to bring you more insights on international expansion opportunities. If you're itching to test cross-border sales and launch a local storefront anywhere in the world, feel free to use our expertise and assistance.