If your business has any intention of remaining competitive in the next twelve months, you can't afford yourself to ignore the evolving changes in digital marketing happening today.
Start the new year with gaining knowledge about the latest marketing trends, tools, insights and best practices.
We understand that the best way to learn is from the experience of world-class experts but it is not always easy to get to talk to Larry Kim or Gary Vaynerchuck. That is why, in this post, we decided to walk you through presentations and key takeaways from the brightest minds in the industry, featured on Global Marketing Day, the event that marked the end of the past year (more on the event in Part 1 of the article). We guarantee after reading the post, you will be inspired and see massive opportunities to reach new customers for your business.
How to Build a Conversational Strategy
by KAT WARBOYS, HubSpot
"

88% of consumers would like to use messaging to communicate with businesses.
Yet only 48% are equipped to connect with customers through messaging.
Kat was talking about the global trend of interaction. She covered the role of the offsite messaging channels like Facebook and Slack and onsite channels – live chat and chatbots and how to implement those for your business.
At HubSpot, they see a conversational strategy as a huge solve for many issues businesses are facing today.
For the survey, they spoke to 2,000 consumers and got an insight that consumer expectations have never been higher as they are today. Things have become more immediate and now-obsessed:
customers expect delivery the same day,
90% of consumers expect an immediate response from a customer service representative,
they want you always on, always know who they are and always ready to help.
But unfortunately, most businesses are falling behind with those. Only 48% of businesses are equipped with messaging tools to provide such a service.
"

35-50% sales go to a vendor who responds first.
So how to take a messaging which is designed for one-to-one communication and scale that? The key tenets of communication when people interact with your business, they want it to be helpful, personal, authentic, like in the example:
TIPS FOR IMPLEMENTING THE CONVERSATIONAL STRATEGY:
#1 Define your goal. There is no need to put live chat functionality through every single page. Define what part of the business you see this tool to help you with and set goals around that.



We'll look at how to meet some of the goals.
SHARE INFORMATION OR CONTENT
As an experiment, HubSpot gave subscribers an option to decide which channel they prefer to receive updates: email or messenger. The results showed that the open rate and click rate via Messenger is significantly higher: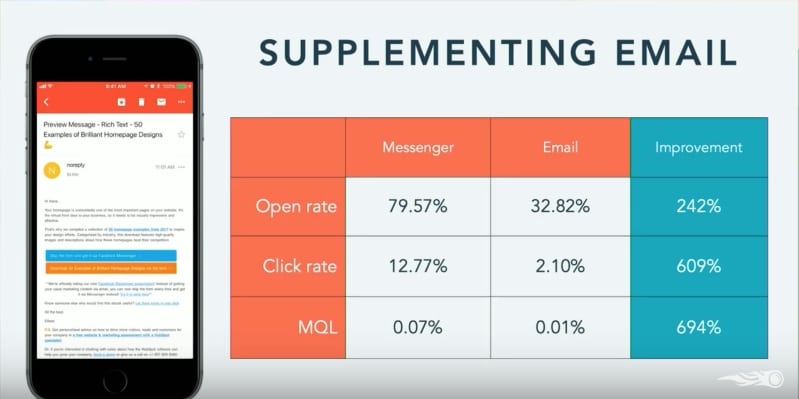 Apart from that sharing content via messenger removes a friction a long-form content (email) creates on the mobile devices and leads to better conversion rates.
GATHER MORE CONTEXT
Learn about your leads so you can follow up with them with more relevant products and services. Sefora is a great example of this strategy. They start a chat conversation with a visitor with broad questions narrowing them down to what the visitor is looking for. Later they follow up with related products.
REMOVE FRICTION
The most advanced. Here eCommerce can get inspiration from London Transport. They use messenger on the daily commute, send Facebook alerts in the regular commute is disrupted and offer an alternative route. Great way to enhance the daily life of their consumers, though it requires to really know their audience.
#2 Choose the channel/tool. Once you set your goal, look for what channel is best to achieve it. And here are some things to consider:
Is it a channel your audience uses?
Can it integrate with your CRM?
Will you need dev support to build it?
Is it easy for teams to adopt across your business?
#3 Build chat into your existing 'tech stack'. For most of the businesses, it is CRM. Only when chat is integrated into CRM, can we create personalized, helpful, authentic conversations at scale.
Key Takeaways:
80% of customers would like to use messaging to communicate with you
Start small. Define your goal. What friction point can you remove with the new channel?
Pick the best tool for the job and integrate it with your current systems.
Optimizing For Voice Search & Virtual Assistants
by OLGA ANDRIENKO, SEMrush
"

20% of our queries – are voice queries

and that share is growing.
Olga's team has conducted an in-deep study to understand what ranking factors matter in optimizing your website for voice search and virtual assistants.

They analyzed 20,000 voice queries using 3 voice search devices: Google Home, Google Home Mini, and an Android phone. Before starting, Olga's team selected 8 ranking factors that may influence the search results:
Position in Google SERPs (Search Engine Results Pages), 
Ranking in SERP features: featured Snippet & PAA, 
Content length, 
Text Complexity, 
Backlinks.
Structured data on the website: Schema,
Site security: HTTPS,
Page performance (how fast the sites were),
The study revealed the following:
SERPs.
80% of the answers are in the top three organic results (for Android phones 72%).
Interestingly, most answers to voice queries came from SERP features: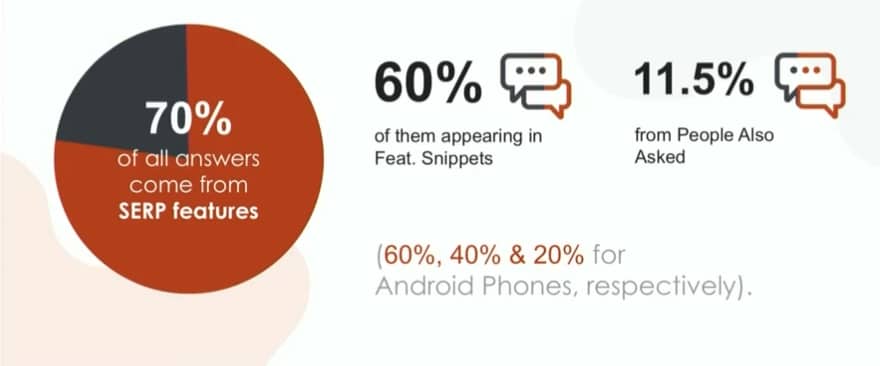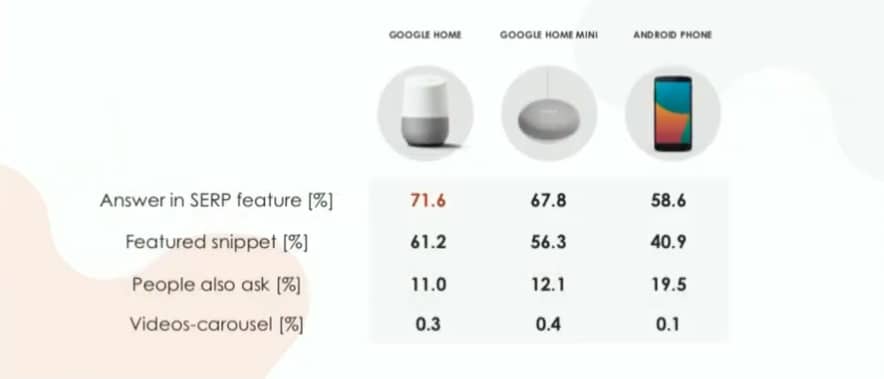 Just a few query results came from video carousel, but it is worth mentioning here anyway. The fascinating part is that the answer came not from the beginning of the video but from a specific point. That shows how advanced Google bots are: they read the transcription, identify the spot and then read the specific snippet.
CONTENT LENGTH.
Also, the SEMrush team discovered that the text length every device gave out was nearly the same: 42 words. That means structuring your content in paragraphs of 40-42 words would be a great way to optimize for voice search.
TEXT COMPLEXITY.
Text complexity (readability, difficult words, length of words/sentences) ranks around 8 on the Flesch Kincaid Grade which translates into the ordinary language of an average 15-year-old. Digital assistants without a screen (Google Home, Google Home Mini) use more complex words than Android phone.
BACKLINKS.
Most of the answers that contained a link were in digital assistants:

Backlink anchors and title keywords are slightly more present in the answer URLs for Google Home and Google Home Mini devices. For the mobile device, the difference is not statistically relevant. Backlink factor can be a ranking factor for the voice search when it comes to Google Home and Google Home Mini, but for Android there is no difference.
SCHEMA AND HTTPS.
The study found no evidence that Schema structured data matters for voice search optimization.
HTTPS was also not a ranking factor since most results within the Google top's 10, and beyond, had already added that extra layer of security. Websites without HTTPS, though, have absolutely no chance of getting in Google top and, therefore, voice search.
LOAD SPEED.
Speed indicators seem to be important for all devices. For a majority of questions, the answer chosen by Google loads faster than the average page in the SERP. In other words, when looking for the answer to a voice query, Google crawls websites that load super fast.
Look at the study finds which show that sometimes query answers loaded 15 times faster than non-answer: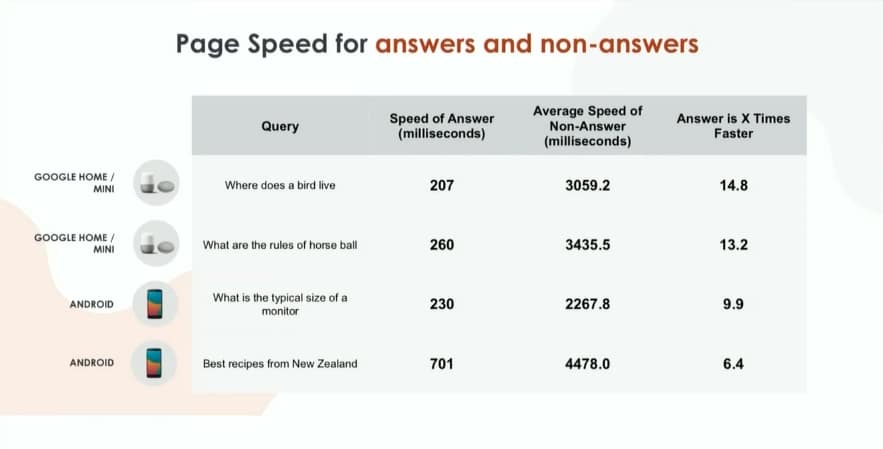 In summary, to optimize for voice search, you should:
Ensure the high speed of the website;
Structure your content in paragraphs of 40-42 words;
Include backlinks;
Optimize for Featured Snippets & People Also Ask;
The minor factors that you may omit while optimizing for voice search are Schema and other SERP Features. They don't influence voice search;
HTTPS is not a factor already: most results within HTTPS usage in the top 10 organic results already added that extra layer of security;
Key Takeaways:
20% of our queries – are voice queries and that share is growing.
Olga recommends focusing on Featured Snippets and People Also Ask.
To optimize for paragraph featured snippets, one should craft succinct paragraphs in the 40 to 60-word range or roughly 350 characters. 89 % of questions should be optimized for paragraph featured snippets.
"

Voice search is about PARAGRAPHS.
7 Smart Strategies to Take Your Social Media to the Next Level
by LISA MARCYES, Oracle
"

Without strategy,
social media Is just noise,
and the world has enough noise.
Lisa shared her expertise on social media strategy, gave some actionable takeaways on how to avoid common mistakes. Being a big proponent of education first and sales second, she stands for building a community around a brand and provide value to the audience.
She suggests incorporating the next strategies:
1.Video and live streaming. Live streaming creates a sense of community. The latest streaming Oracle organized on Linked-in with Larry Ellison as a host showed phenomenal results: 160,00 views, 1500 comments per stream!
The top formats for live streaming that perform well are:
Influencer interviews,
Executive highlights,
Product deep dives,
Behind the scenes,
Q&A with the audience,
Industry trends,
Whiteboarding,
Tips and tricks
2. Listening. This is something many social managers often do wrong. The main point about social listening is to be out there and let know people are being heard when they have a paint point about your product. Give your listening strategy a little touch of customer service – alleviate that pain point. Do not allow it to escalate and turn it into crisis management.
The best practices for adapting the listening strategy:
Be social (reply, like, comment),
Answer product questions quickly to develop potential leads,
Engage with influencers and advocates,
Address complaints,
Competitive benchmarking.
3. Influencer marketing.
"

On average, B2B influencer marketing content delivers 11x higher ROI than traditional forms of digital marketing.
Rather than constantly megaphoning about who you are, bring in the third-party content and get them to talk about your brand.
Adopting this strategy will help your content to better show up on Google searches.
4. Employee advocacy. Your employees are your best advocates. When you have a message share by your employees, they are going to get a 24x return on engagement. People are sick of the brands, they want to hear from their peers which makes employee advocacy strategy another great way to build networks.
5. Personalization. After the first interaction with a customer, make your retargeting campaign more personalized.
"

80% of consumers are more likely to do business with . company if it offers a personalized experience.
Best practices:
Tailing messages,
Targeted ads based on social profiles and likes,
Recommend products based on past history,
Use CRM to make note of interesting data about customers.
6. AI (Artificial intelligence). Analyzing the content you gathered about your audience is a tremendous task. Use AI to assist you to curate the content. Machine learning can now go and take a look at all of the content people are interacting with and then it serves up and says what kind of post you should do leaving you just a copy creation.
Among other implementation of AI in eCommerce are:
Chatbots,
Improved audience targeting,
Automation of bidding,
7. Martech integration. Invest in tools to help you manage multiple channels and measure impact.
Consider:
Calendaring,
Listening,
Share of voice and sentiment analysis,
Competitive analysis,
Lead attribution.
Key Takeaways:
Be out there listening and interacting rather than just shouting out about your brand,
Integrate AI to help you curate your content,
Your employees are your best advocates.
Closing
Those were insights from world experts into user expectations and ideas on implementing a more interactive and conversational strategy to market your brand. Users and brands are soon expected to be engaged in a one-to-one relationship. Things are becoming more immediate, personalized, but luckily for us, with the emerging AI, also more automated.
We hope you enjoyed our favorite takeaways from the Global Marketing Day event we hand-picked for you and they will ignite in you new ideas about strategies you can adapt for your eCommerce in the year 2020.