The year is coming to an end and our favorite winter holidays are just around the corner.  The Christmas and New Year shopping fever will become widespread within a short time and the entrepreneurs are already thinking of creative ways that they can make money during this festival season. This is the time when people enjoy the tradition of shopping for the perfect gifts for their loved ones, but some are searching for gifts to fit their unique style. Let's sort things out.
Christmas Season – Statistics & Facts

Christmas is typically the largest economic stimulus for many nations around the world as sales increase dramatically in almost all retail areas. The Christmas shopping season can start as early as September and some consumers begin even earlier.

Christmas sales in the United States
The trend of the sales made by the retailers during the holidays in the United States keeps growing year after year and is expected to exceed 719.17 billion U.S. dollars.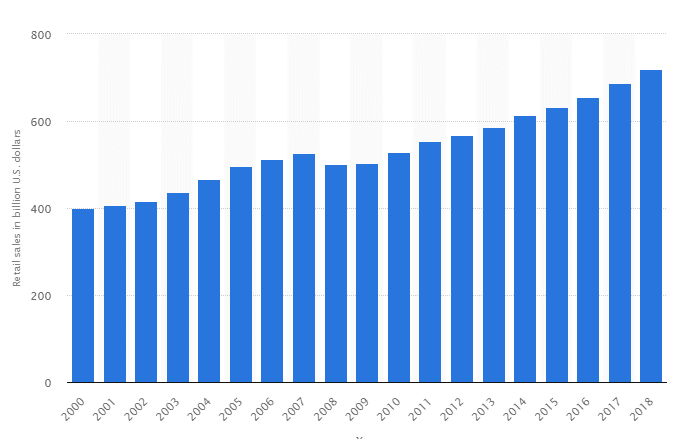 Holiday retail sales in the United States from 2000 to 2018 (in billion U.S. dollars)
Source: Statista

The consumers' need for holiday-related products (gifts, decorations, beverages, food, snacks, etc.) is steadily growing regardless of economic, political stresses and other depressing factors.

Christmas budget in the United States
Though Black Friday, Cyber Monday and Thanksgiving sales precede the Christmas sales, there's still high average spending level expected in 2018 of up to 794 U.S. dollars.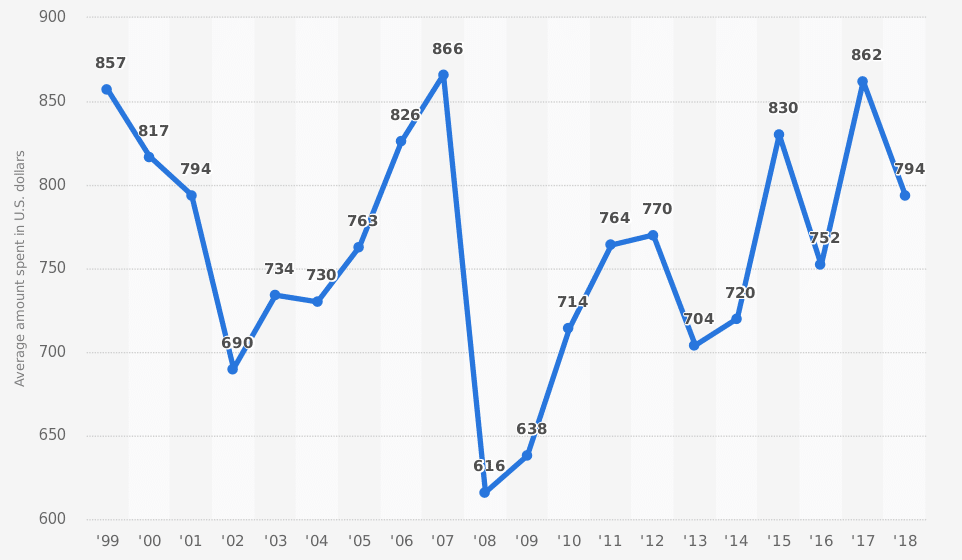 Average spending on Christmas gifts in the U.S. 1999-2018
Source: Statista

It has not always been like that. Compared to the previous year, the average budget has decreased by approximately 68 U.S. dollars. But the trend is growing since 2008 after the last dramatic crash.
GALLUP predicts a higher level of spending reflected in their poll conducted October 1-10.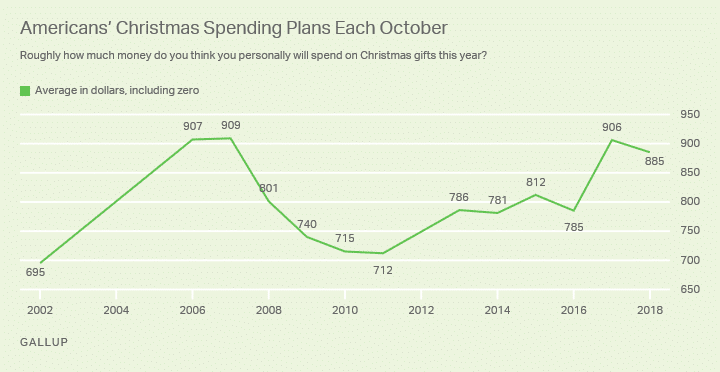 Americans' Christmas Spendings Plans
Source: GALLUP

The graph reflects the following findings:
33% expect to spend at least $1000 on gifts.

22% expect to spend between $500 and $999.

29% expect gift spending to be between $100 and $499.

3% plan to spend less than $100.
Christmas sales in the United Kingdom
Being the most active online UK indicates the most important European shopping trends. Moreover, UK is the highest spending market in Europe.
According to Deloitte Christmas Survey 2018 across 10 European countries, UK consumers intend to spend an average £567 each this Christmas, one percent more than 2017. The majority of spending will be dedicated to gifts (£299), followed by food and drink (£151), socializing (£66) and travel (£51).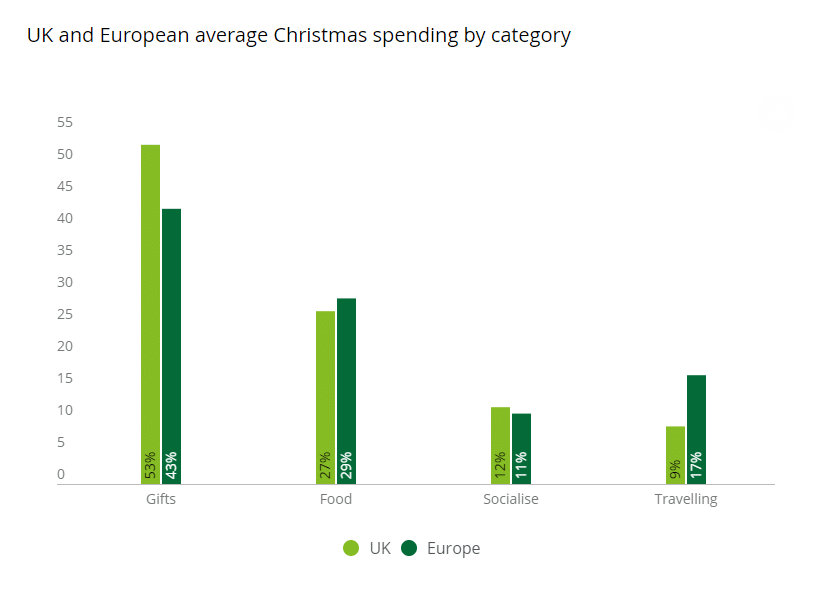 Deloitte Christmas Survey 2018
Source: Deloitte
What to sell on Christmas 2018 or Gift ideas

In 2017, as stated by Investopedia, holiday sales were highest in electronic shopping and mail-order houses, and food and beverage stores, totaling $122.1 billion and $128.1 billion, respectively. The areas where sales were the lowest included hobby, toy, and game stores with only $5.6 billion in sales and jewelry stores at $9.1 billion in sales.
Though gifts may defer depending on the personal consumer preferences, we tried to make up a list of chosen 15 Christmas business opportunities that sell best. Those purchases are expected and will definitely be welcome and loved.

Clothing and accessories
Clothing seems to be at the top of wished present among all categories of adults, be it an expensive jacket or a small barrette. Summer clothing goes off well in winter due to a lower price. Another trick that online merchants use – bundles. But with a twist. As customers are searching for a gift usually for their relatives and friends, they are not usually emotionally involved. Some merchants started offer bundles that match not only the chosen product but also the person looking at it. For example, a wife looking for a new tie for her husband on the product page will see a bundle containing the tie and a dress or bag matching that tie. Now she's personally interested. Genius!

Jewelry
You can find a thousand beautiful ideas of the Christmas offerings, but they will never be able to compete with jewelry. This may not be shocking as jewelry is a perfect item for a present when it comes to shopping for a woman. Even if your store does not sell diamonds or gold, simple bijouterie may be added to the inventory pretty quickly. It will best fit as a present for a big order.

Handmade Holiday Decor and Ornaments
Everything homemade is a great option for a gift. It is also true for handcrafted Christmas tree ornaments. The decorations can be made from almost any type of raw material, such as leather, fabric, beads, crocheted or knitted, decorated with jacquard patterns, in any popular Christmas theme. Celebrating cards will also do well. Selling handmade Christmas cards provides the opportunity to earn a few extra dollars or to make a significant income by triggering a word of mouth effect.

Homemade Chocolate
Homemade is the main idea here. A bag of homemade chocolates tied up with a pretty ribbon can be a unique personalized gift. It's easy to find someone doing it for money and cooperate with them for cross-promotion. Probably it can become your side business and another source of income as premium handcrafted chocolate has always been and will always be one of the most consumed and loved product by billions of buyers.

Pet Presents
Do you love pets? Yes? You won't believe it, but you're not alone! Around 60% of U.S. pet owners are going to buy a small present for their favorites this Christmas. You might be one of them. Can your online store offer something to cover that need? Toys will be the most preferable gift, but pet care items and clothing are also on the list. Useless, even stupid, but funny things usually missed out will also have a chance to get a new owner who just wants to make their friends laugh with another ridiculous pet video on YouTube.

Christmas Star Flowers
Poinsettias (known as the Christmas star in much of the world) are the popular flowers used during the festive season of Christmas. Christmas star is highly valued by housewives for its remarkable beauty, besides it can be a great compliment to any gift, especially if it is a handmade treat. Most poinsettias will last for 4 to 6 weeks before the flowers begin to fall off which is much longer than traditional roses. Buying flowers at wholesale prices and selling them out before Christmas time can be another extra income idea.

Physical books
In the world full of gadgets, electronics, subscriptions, and cloud solutions, you might think that books are not the best option to offer to your customers. Well, you were wrong. Even though the majority of readers prefer buying ebooks for themselves, they would love to get physical one as a present. Real books due to the price and our habits have become a beautiful gift rather than a source of knowledge.

Christmas Trees
Why not? Every December, millions of people around the world make the traditional pilgrimage to find the perfect Christmas tree for their home. And for a business-minded person, that means an opportunity. Some families prefer real Christmas trees, some – artificial but clearly, buying and selling trees during the holiday season can generate a ton of revenue for spirited entrepreneurs. Along with actual trees, you can offer a wide range of tree decorations like ornaments, sparkly tinsel, and string lights.

Closing

Whatever product you choose to add to your inventory on Christmas eve, it should create an atmosphere of joy and happiness, cheer up or make customers laugh. These days are best for creating an emotional connection with your customers as you both celebrate the same holiday. And if you need to quickly rearrange your store to reach that goal, we'll be happy to help, just ring the bell.

Happy Christmas sales!