There are three weeks until Black Friday 2020. This November it seems to be a little bit different due to the health crisis. However, for eCommerce brands, all the Black Friday marketing tricks will remain almost the same. We gathered the best examples of Black Friday campaigns so that you could have enough time to follow the best practices while crafting your own campaign.
Before we begin…
As today social media marketing is the loco of any promotion activity, a special attention is paid to hashtags, the signs from which you may be discovered by your potential followers. Here are some of them.
Popular hashtags related to #blackfriday:
#blackfridaydeals
#blackfridayshopping
#blackfridaysale
#blackfridayweek
#blackfridayweekend
#blackfridayspecials
#blackfridaygiveaway
#blackfridaymadness
#blackfridayoffers
#blackfridaydiscount
#blackfriday2020
Other popular but not directly related to Black Friday hashtags:
#free #newdeals #blackfridaymusical #starkid #cybermonday #fashion #promo #tgwdlm #iphone #bhfyp #firebringer #christmas #love #airjordan #twisted #starship #avpm #teamstarkid #theguywhodidntlikemusicals #starkidmemes #shopping #brasil #thanksgiving #avps #laurenlopez #like #trailtooregon #bhfyp #holymusicalbatman #robertmanion #instagood #blackfridaybrasil #style #empreendedorismo #joeyrichter #estilo #starkidmusical #tto #jeffblim #sucesso #follow #lookdodia #averypottermusical #luxo #relogiosfemininos #relogiosmasculinos #promocao #beauty #black #relogiodeluxo #clientesatisfeito #relogiobulgari #relogiomasculino #relogioesportivo #homemmoderno
Best Black Friday campaigns
#1. Steve Madden: early-access email campaign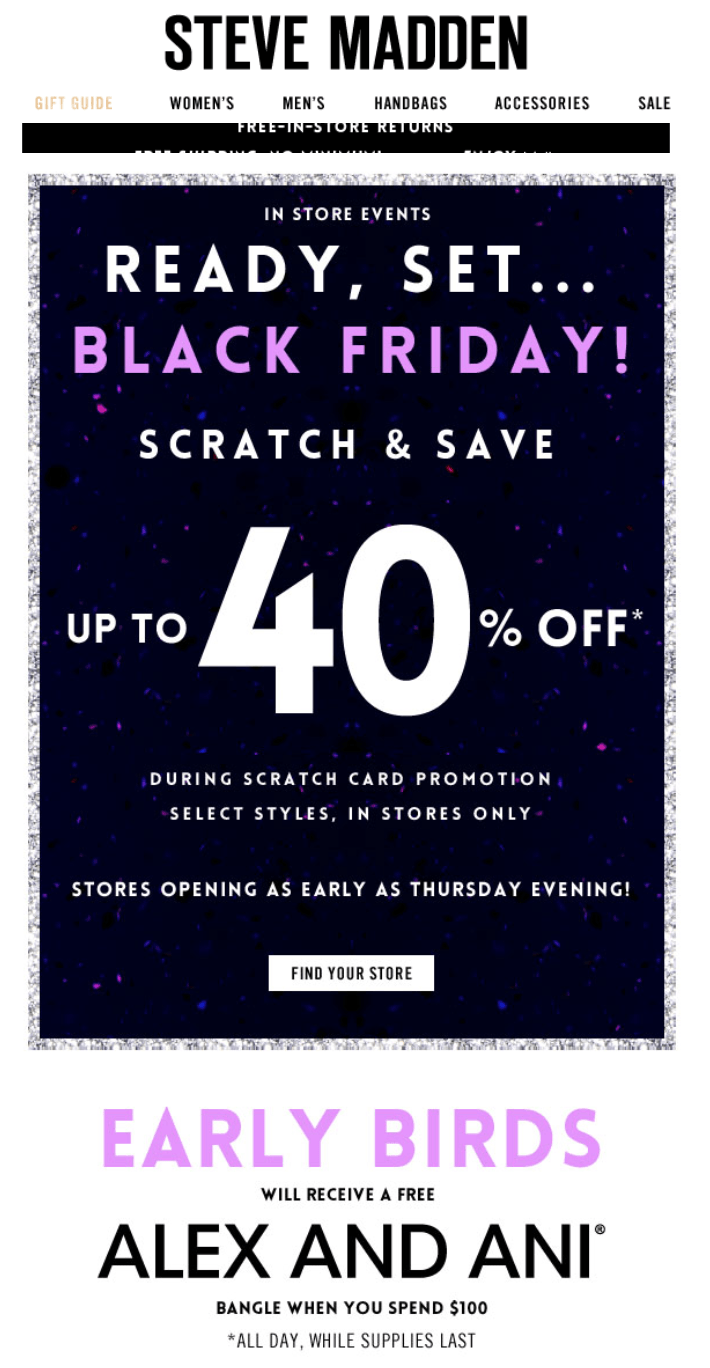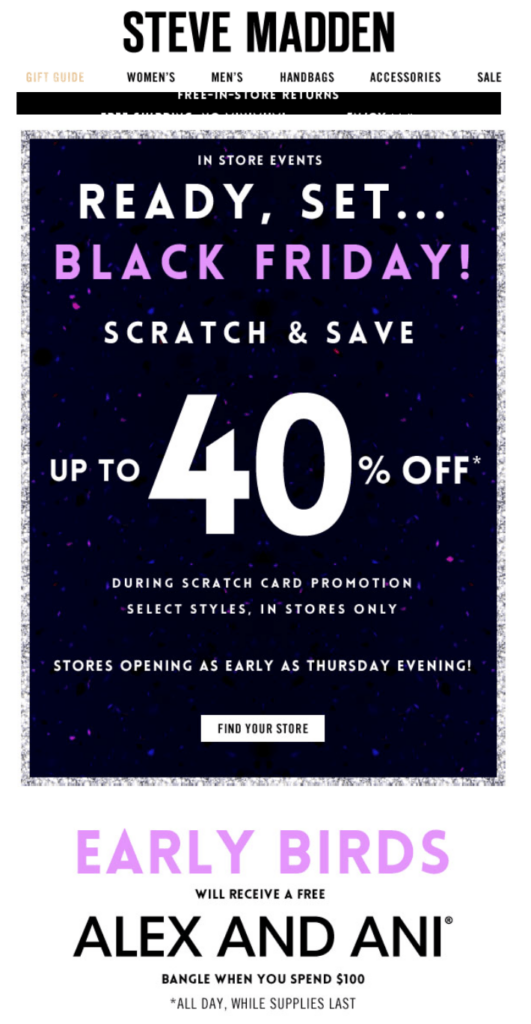 Distribution Channel: emails
Steve Madden succeeded with their Black Friday email campaign. They gathered email addresses of potential buyers with the early news about upcoming deals. A wise-written email with early offers is the golden standard of today's promos as these messages make recipients feel their exclusiveness. Besides such letters add a fear of missing out as they always contain a date when the special offer goes public. Emails have a 4.29 percent conversion rate. It is the biggest channel to promote your Black Friday deals.
#2. Apple: teasing emails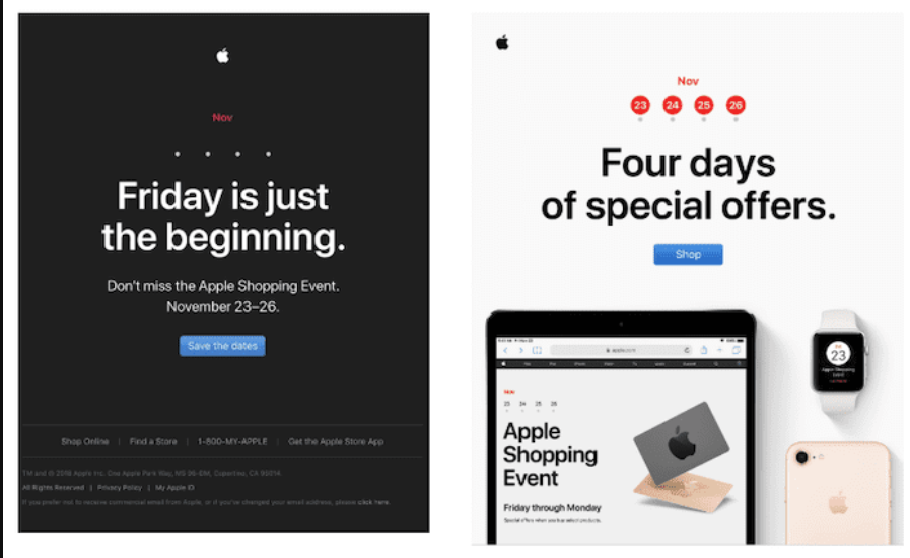 Distribution Channel: emails
Apple launched their email teaser two weeks before the holiday season. The second email was sent a week before the Black Friday and explained exactly what the offer was. You can also borrow this catch to attract attention to your Black Friday specialty.
#3. REI: hashtag-driven campaign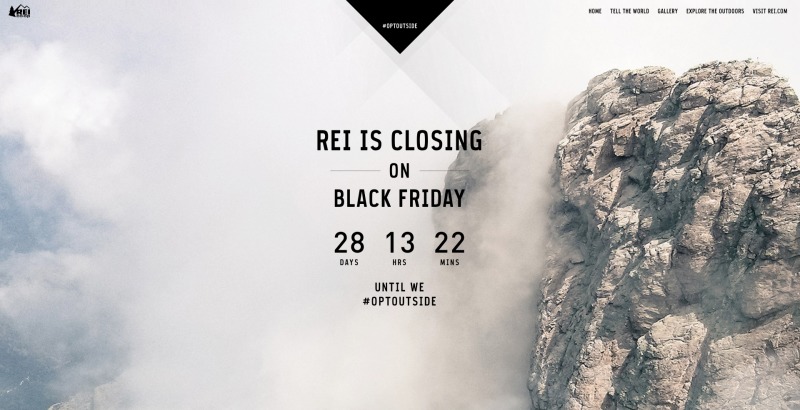 Distribution Channel: YouTube
REI launched their #OptOutside initiative right before Black Friday back in 2015. The campaign was meant for encouraging people to go outdoors instead of shopping. Still then, it is a huge movement. Now, it is a very popular and a sales-driven day of shopping.
#4. Kopari: lists composed by influencers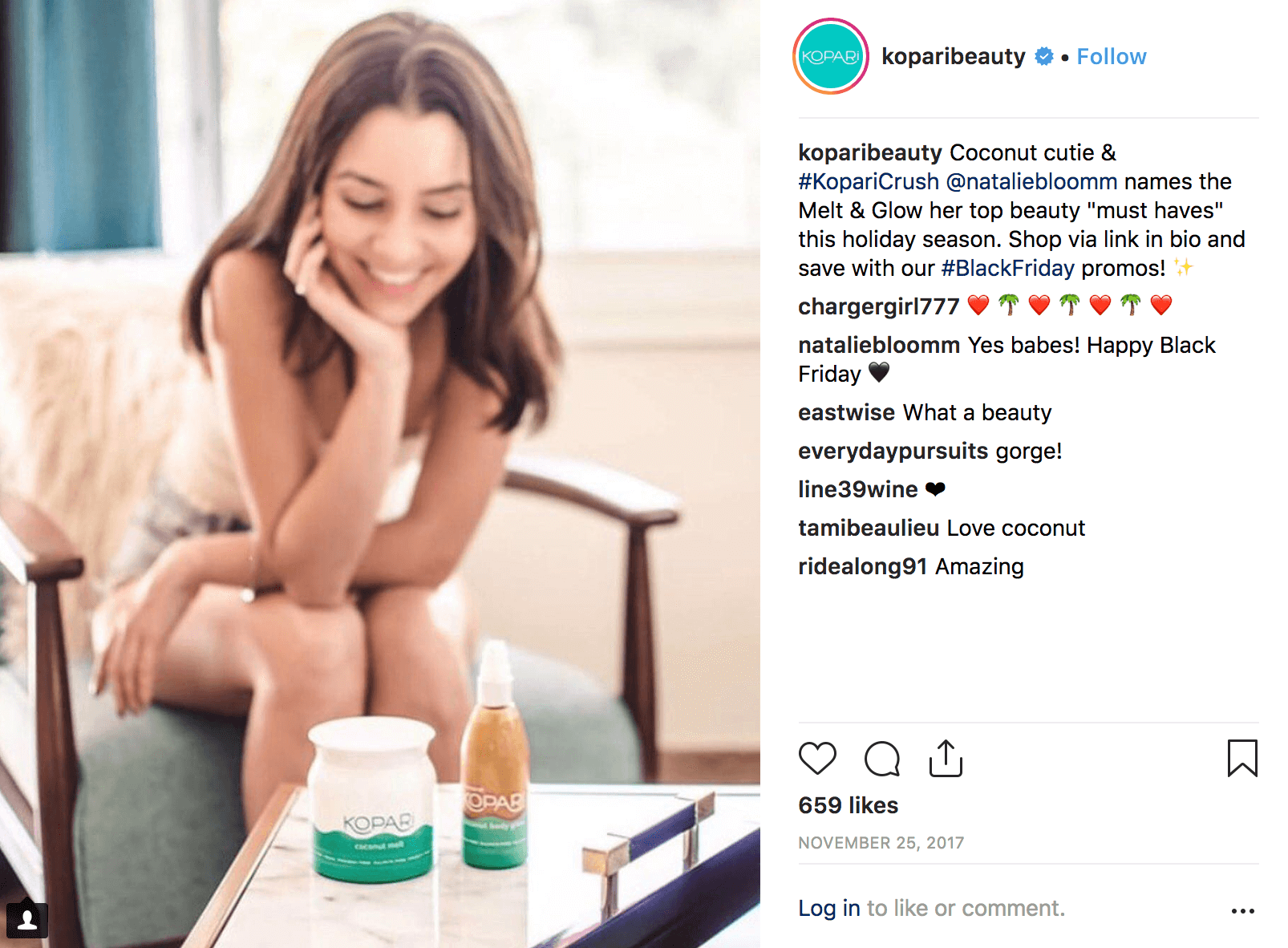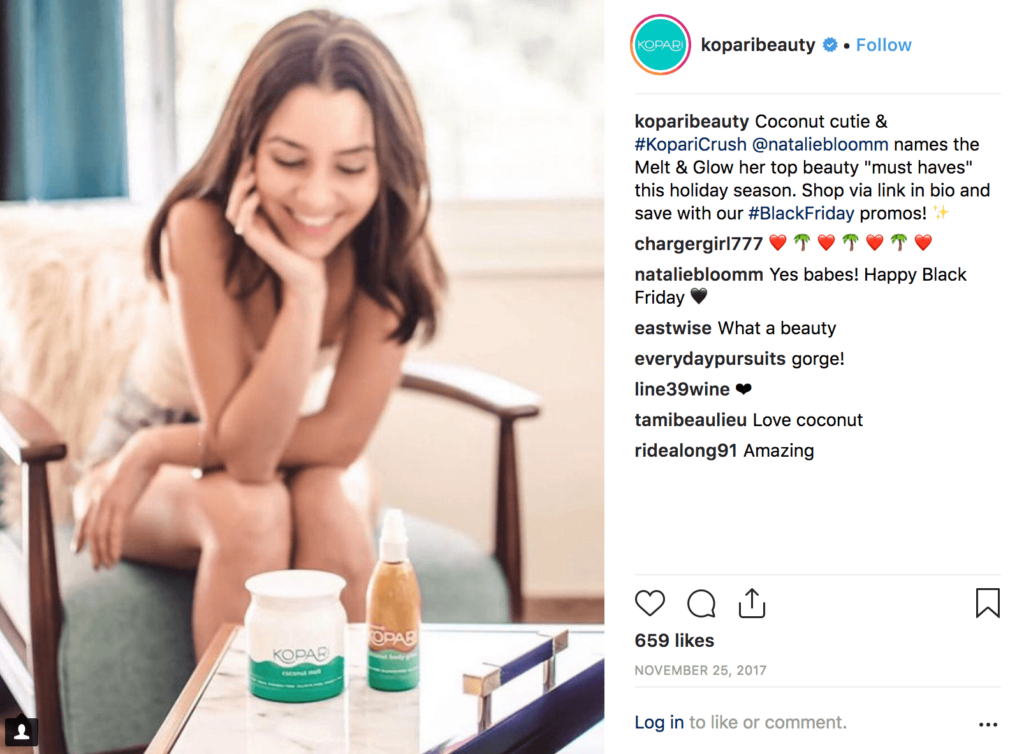 Distribution Channel: Instagram
It's a good idea to cooperate with influencers on TikTok or Instagram to share their pieces of advice with your products in the spotlight. That was exactly what Kopari brand made. They shared their influencer-composed gift list mentioning Kopari's products. Must-have items bring both values to your customers and promote your brand.
#5. MeUndies: online event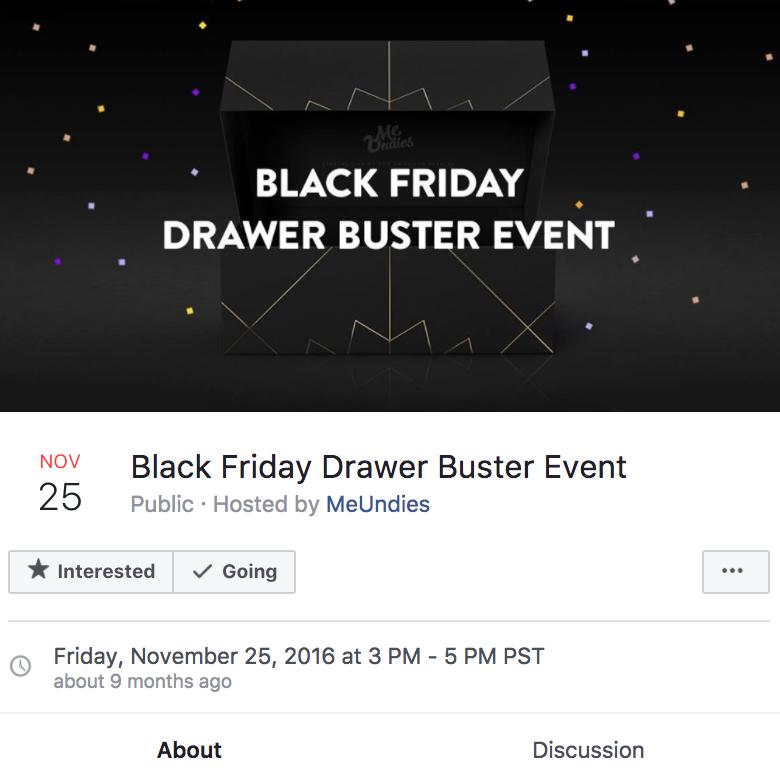 Distribution Channel: Facebook
A peculiarity of MeUndies's campaign was an exclusive online party on Facebook. The Black Friday live party gathered +13,000 views with a conversion rate of 25%. Additionally, the event attendees spread the word-of-mouth and led extra +300,000 followers to the platform. The audience started with 300,000 people who were invited on Facebook. But the show quickly went viral as people were sharing the event in their feeds. Finally, the campaign got 660,000 followers. Live events or concerts have the potential to become especially attractive due to COVID-19 lockdowns.
#6. Foot Locker: partnership with influencers

Distribution Channel: Instagram
The company has wisely selected the hottest shopping week of the year for their Week of Greatness in 2019. All week long a new limited collection was announced through their social accounts. Its success can be explained by quality video content, qualitative social posts on Instagram, and collaborations with stars and influencers.
#7. Ivory Ella: charity-driven campaign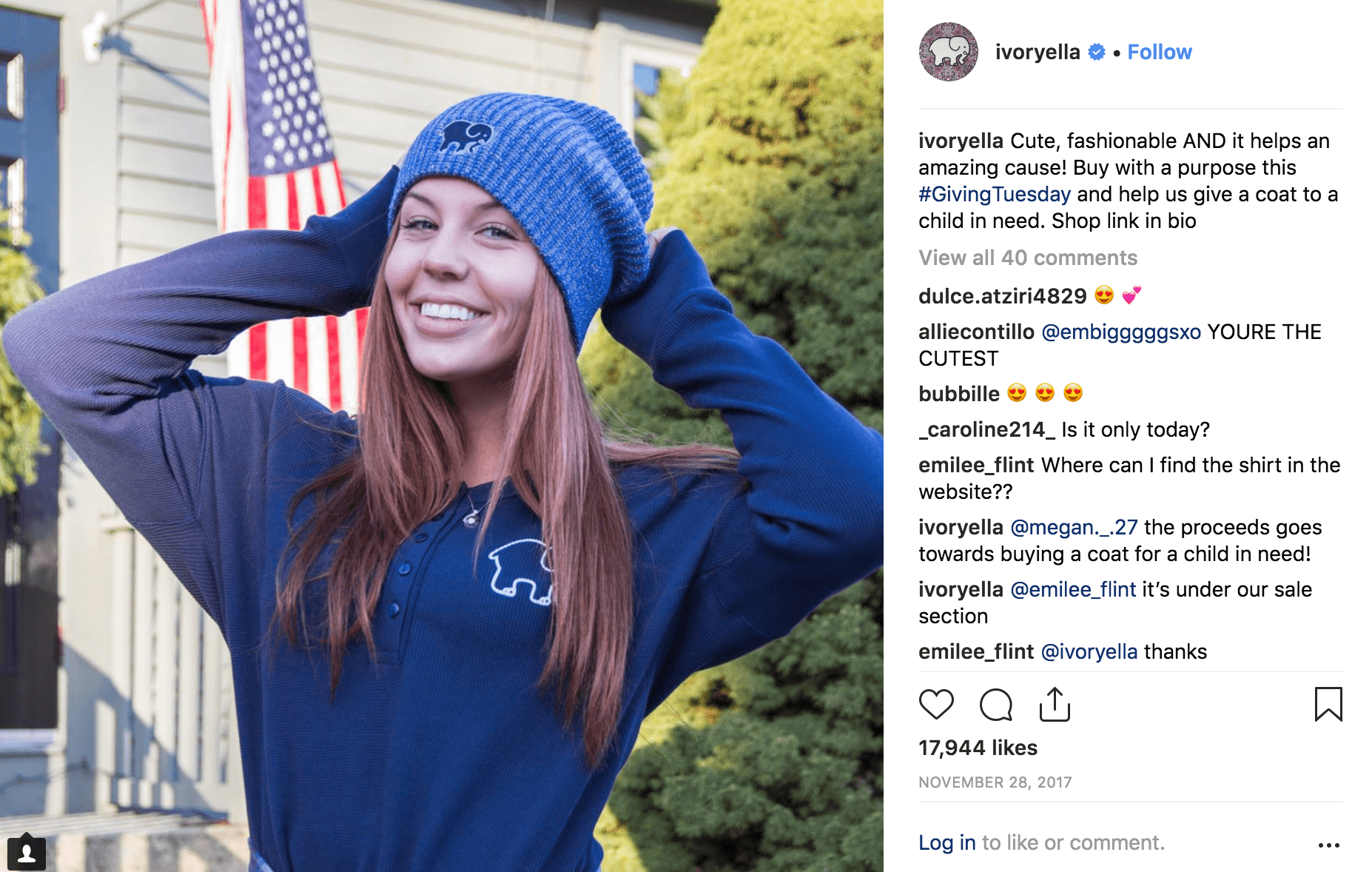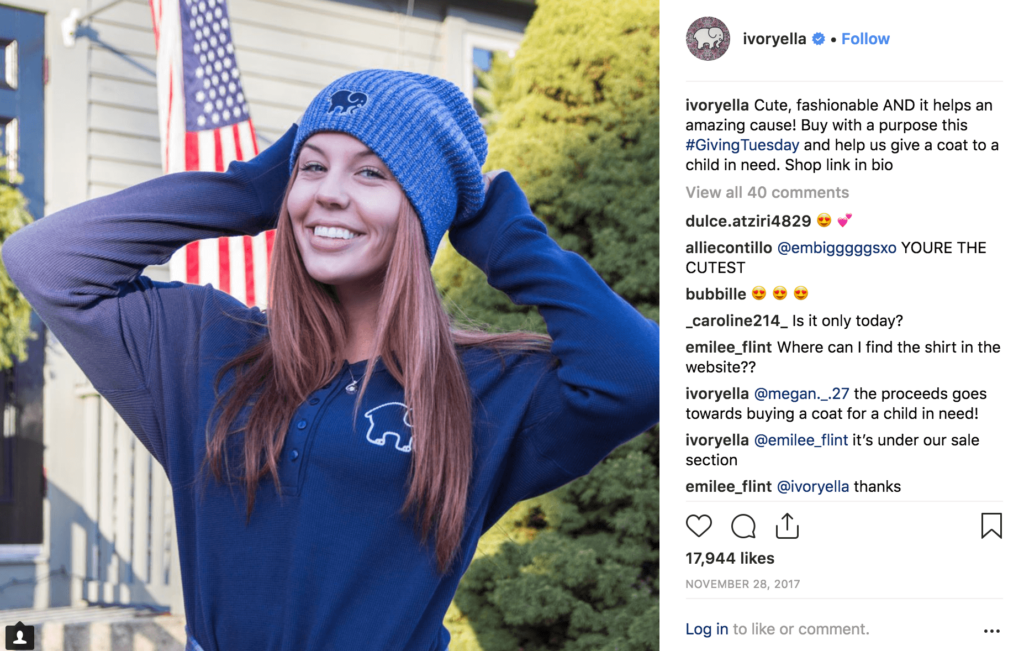 Distribution Channel: Instagram
Ivory Ella gambled on Giving Tuesday to raise the interest to their other campaigns for Black Friday and Cyber Monday. The brand promised their customers who bought a hat on Giving Tuesday to donate 100% of the proceeds towards purchasing coats for children in need. As a result, happy buyers shared their photos on social networks to show their contribution in a charity campaign and helped the Ivory Ella to reach a wider audience. The user-generated content with a social event-driven hashtag can promote your brand organically.
#8. Pieminister: donation-driven campaign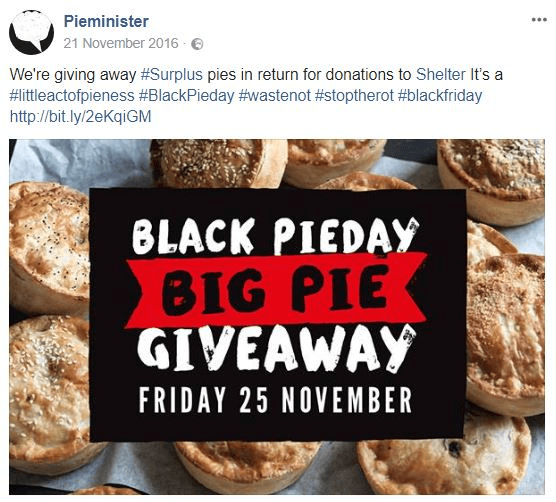 Distribution Channel: Twitter
Pieminister cooperated with a homeless charity 'Shelter' to donate pies to shelters on Black Friday and attract an audience to its brand with a hashtag #BlackPieday. This is an upcoming trend to promote charity with an anti-Black-Friday campaign. If your brand is prosocial, you can make use of the Black Friday counterbalance.
#9. Just Eat: social responsibility as a driver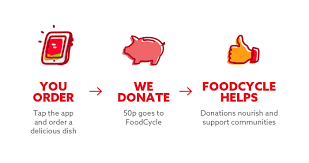 Distribution Channel: social media
The company partnered with TopCashback to provide a free £15 refund for new members to the site. They also collaborated with the charity FoodCycle, a company preventing waste and serving meals from unwanted food. The company donated 50p to the charity for each Just Eat order made on Black Friday and raised over £250,000 last year.
#10. Patagonia: anti-consumerism to promote brand values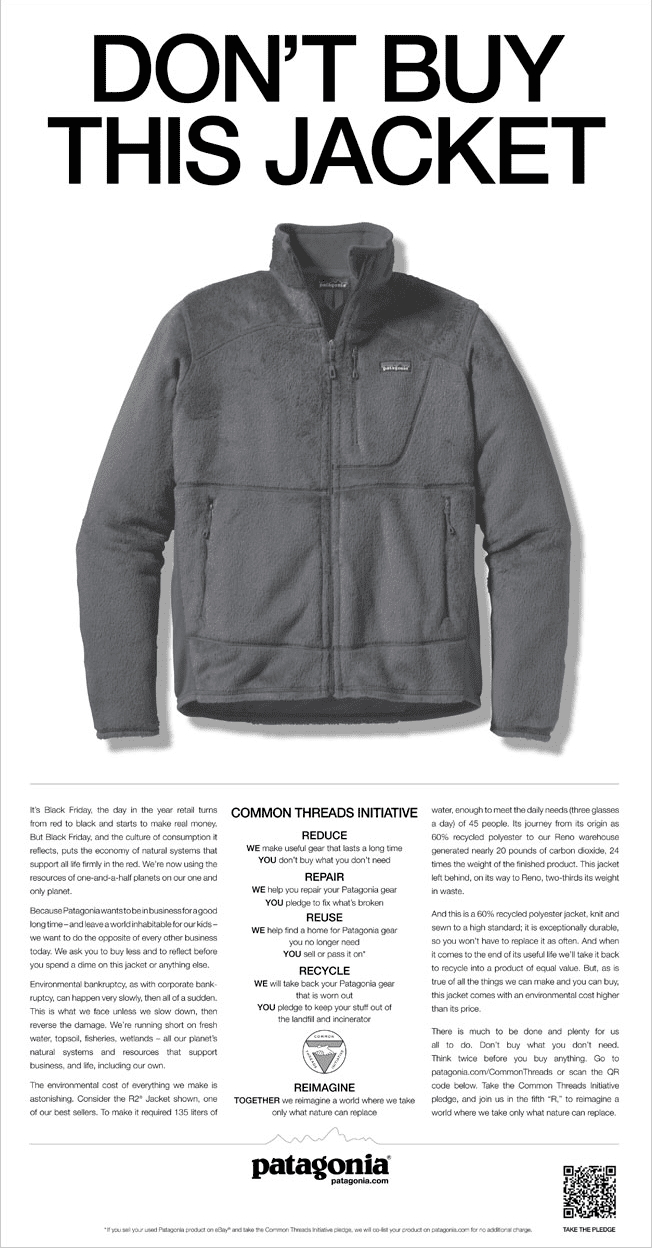 Distribution Channel: New York Times
The brand known for its ethical consumption values declared a war against consumerism on Black Friday. In 2011 they were among the first who launched an anti-Black-Friday campaign under the aegis "Don't Buy This Jacket". In fact, either pro- or anti- Black Friday, both methods work well to promote your brand and gain traction.
#11. Deciem: adherence to the Gen Z values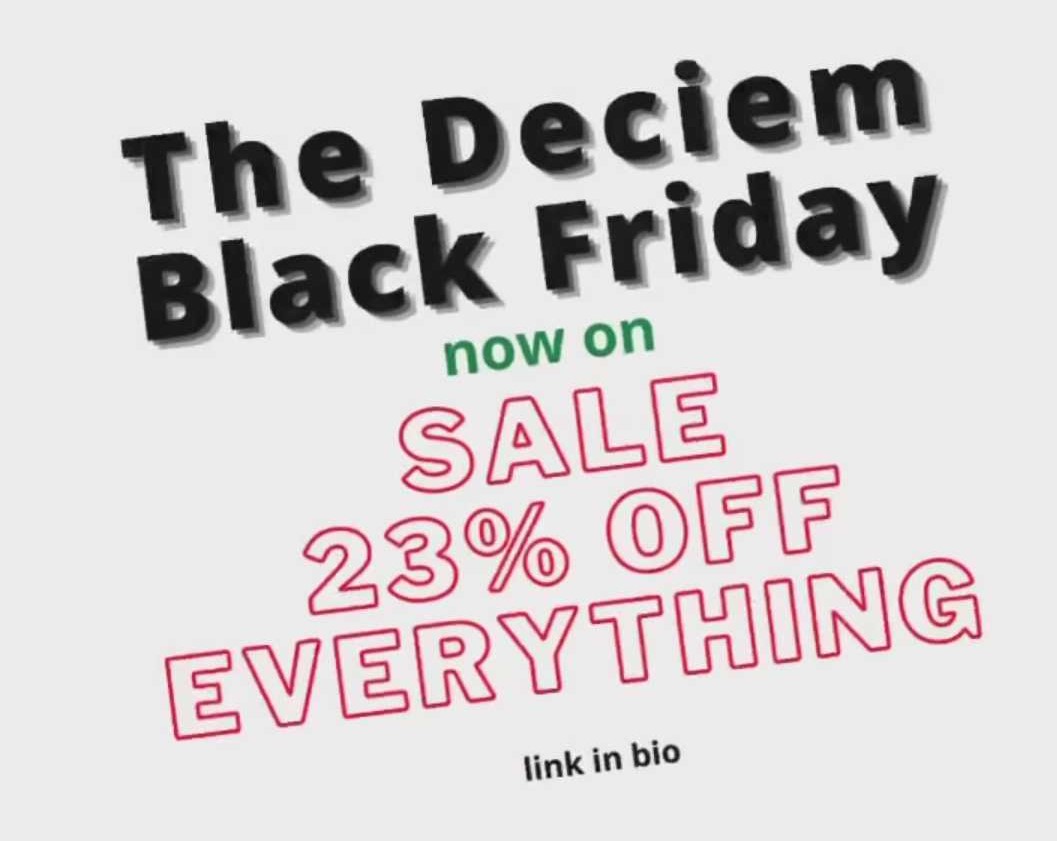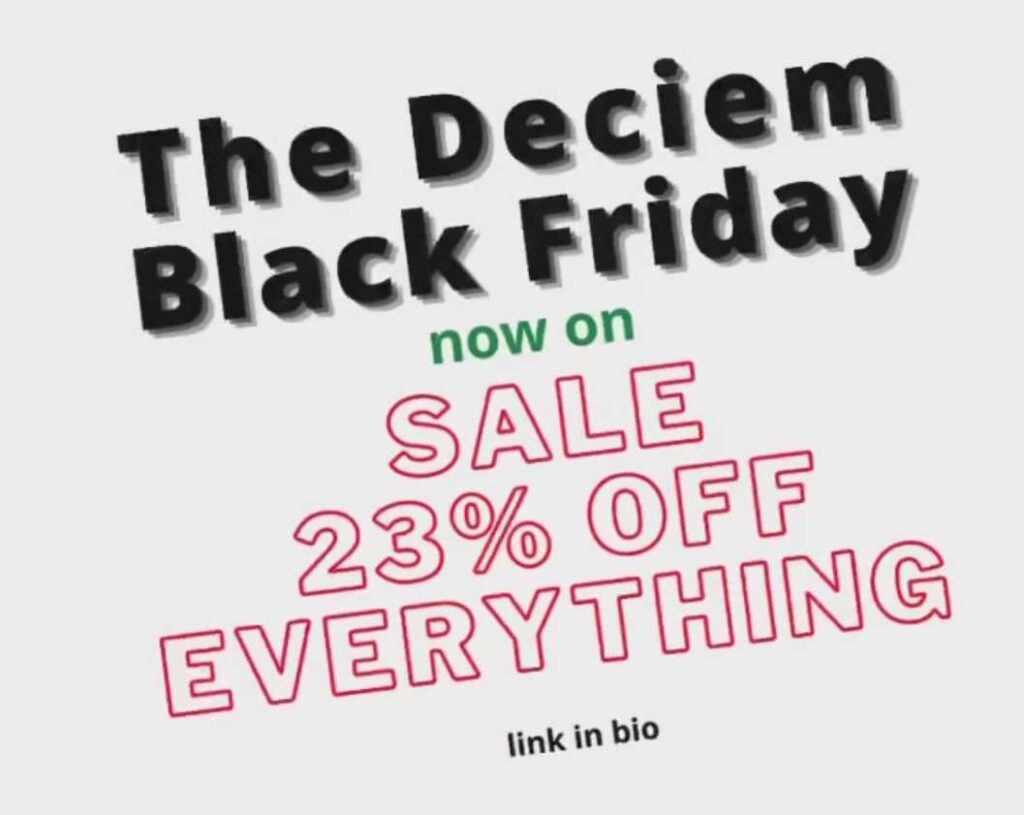 Distribution Channel: website
Deciem is a brand that rebels against Black Friday and consumerism. Instead, they are focused on ethical shopping and sustainability, all the values of their Generation Z audience. In 2019, this fashion brand closed its physical shops and the website for Black Friday. It was a wise trick as the rest of November they offered a 23% discount for all the assortment. They called it "slow shopping" as the buyers had enough time to make informed decisions and not grab everything on sale.
#12. Hubbub: brand mission fidelity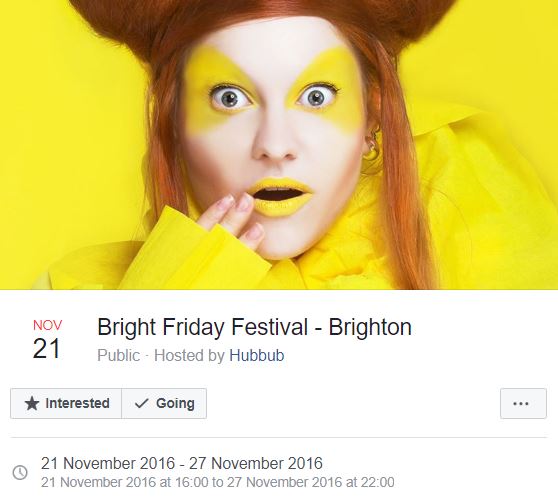 Distribution Channel: local event
Hubbub is one more brand protesting against Black Friday. It is not a surprise actually for a charity company creating environmental campaigns. They did their own study revealing that: "two thirds of people don't enjoy taking part in Black Friday and half feel uncomfortable with the concept. The pressure to take part is highest for the under-35s with four in ten feeling pressured to join in and half saying Black Friday encourages them to buy things they don't need". Hubbub organized a number of events in Brighton to show people an alternative Black Friday campaign. The event attendees were offered to recycle their old outfits and create new ones, borrow and swap instead of buying a new cloth. If not a sale day, its Black Friday became an engaging local event.
#13. Kohl's: engaging content
Distribution Channel: YouTube
Kohl's focuses on social engagement when promoting their Black Friday deals. In one of their campaigns, they made polls to communicate with followers and get traffic. The other year, they shot a video with a head-sticking Rebecca's song to advertise their offer. Both ways are simultaneously fun and engaging.
#14. AussieBum: fun promos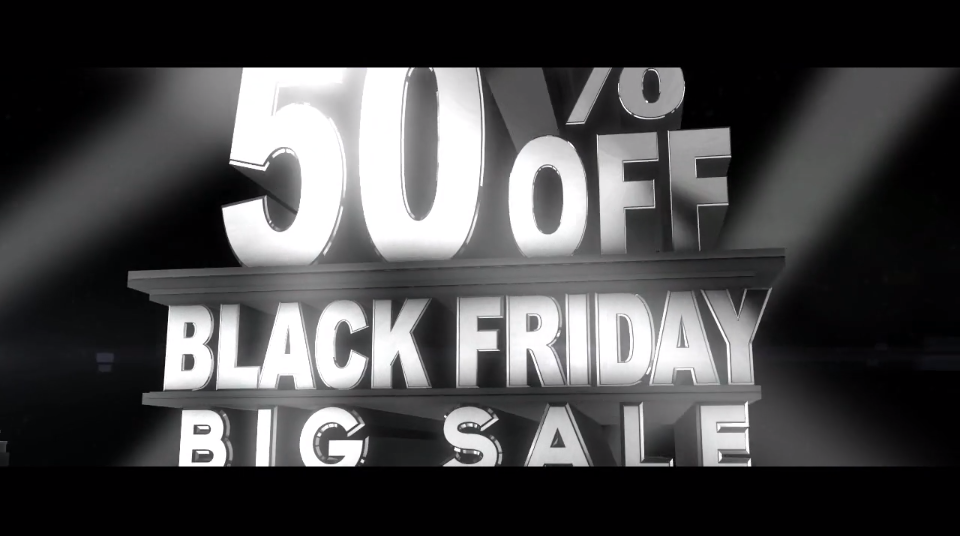 Distribution Channel: YouTube
Attention grabbing fun ads are a frequent strategy to advertising Black Fridays. AussiBum created a promo with a mix of the 20th Century Fox, Warner Brothers and Marvel logos.
#15. Cards Against Humanity: prank campaigns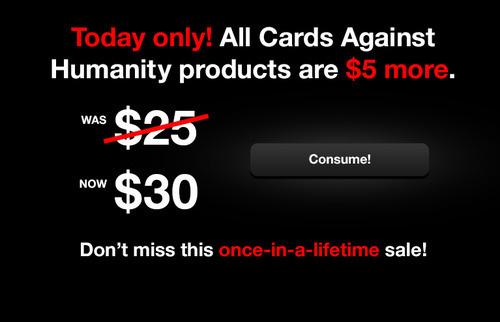 Distribution Channel: website
The company launched a series of pranks to draw attention and demonstrate their hate to consumerism. Their campaigns included:
a 99% off sale on its inventory;
Taking down the whole product range from its online store to offer a literal poop instead;
Increasing prices by $5 instead of discounting;
Raising donations ($100,000) for a 'Holiday Hole' project to dig a hole in the ground for no reason.
#16. EA Sports FIFA: limited editions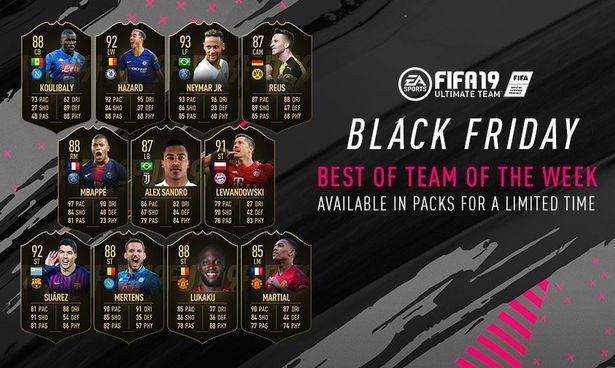 Distribution Channel: Twitter
EA Sports Fifa released a limited edition of cards and announced it on Twitter. The pack gathered the most demanded Fifa Ultimate team players. Packs were available in a limited number and were quickly sold out.
#17. Urban Outfitters: BOGO campaigns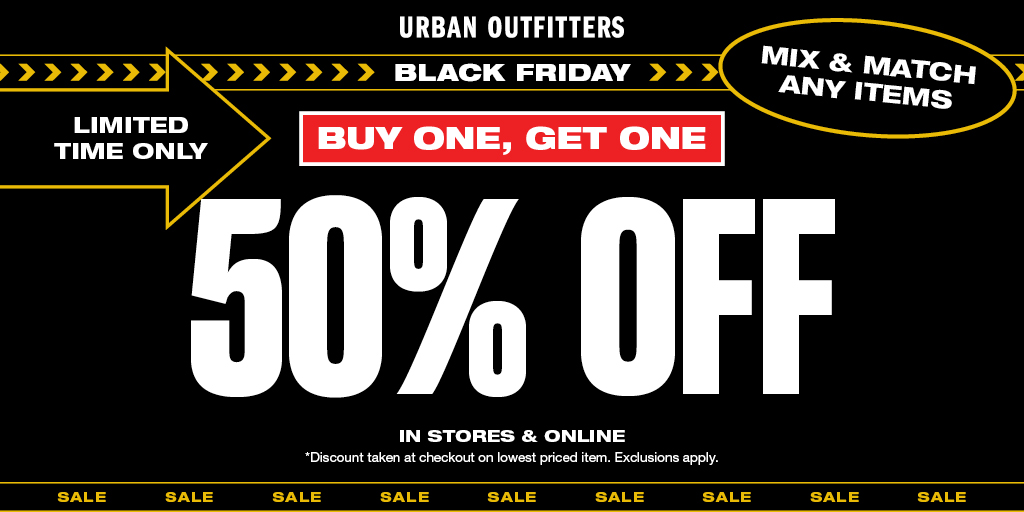 Distribution Channel: Facebook, Instagram
Urban Outfitters made use of 'Buy One Get One 50% Off'. They launched their Facebook and Instagram BOGO campaigns and offered free shipping on orders over £50. Although two techniques are as old as the hills, these are very efficient methods to promote a sale.
#18. Amazon: bundles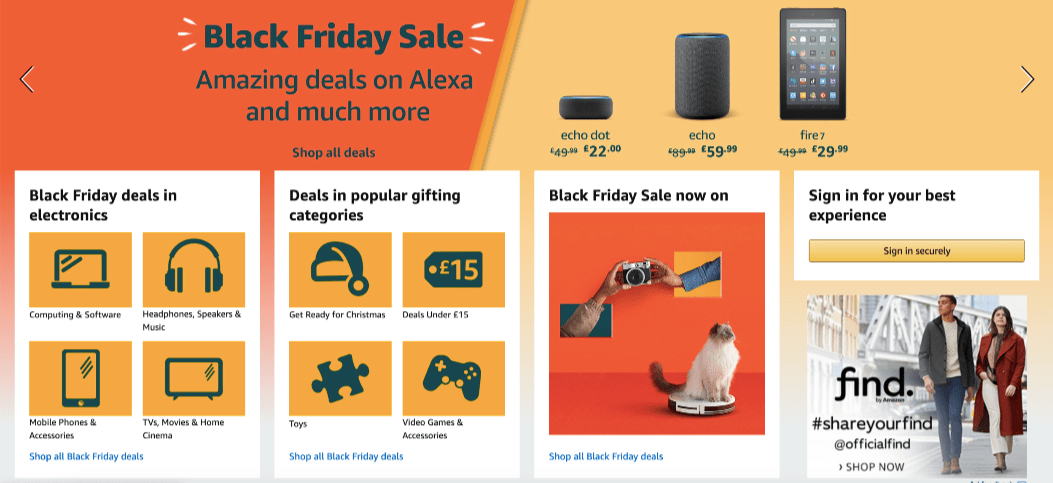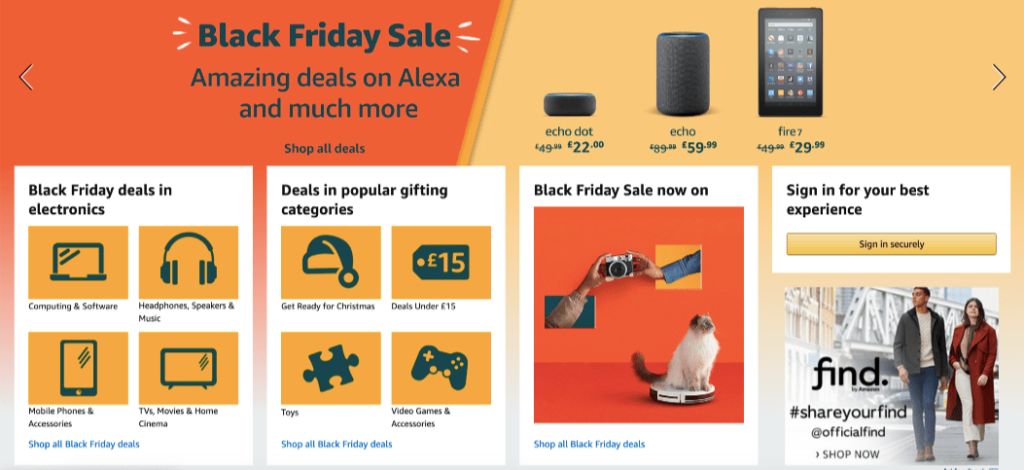 Distribution Channel: website
Its Black Friday sales last eight days with the dropped prices across all departments. They use bundles to cross-sell. Last year, Amazon's Echo 3rd Gen was bundled with Smart Plug and Amazon Music Unlimited free for four months.
Amazon's Black Friday and Cyber Mondays are always marked as record shopping days. For a holiday season, they redesign the website putting the emphasis on Groupon-style and "lightning deals." They also back up their own products – Echo, Kindle, and Fire – with bargain prices.
#19. Argos: Black Friday landing page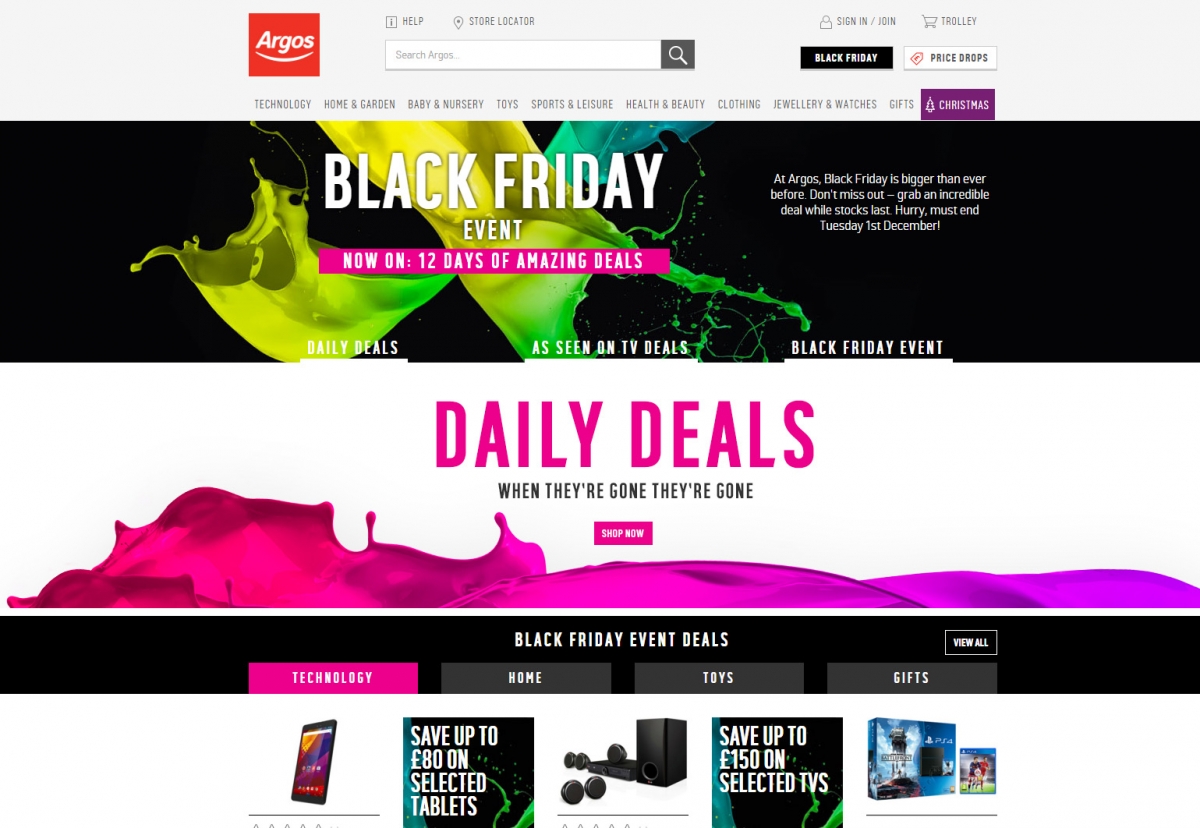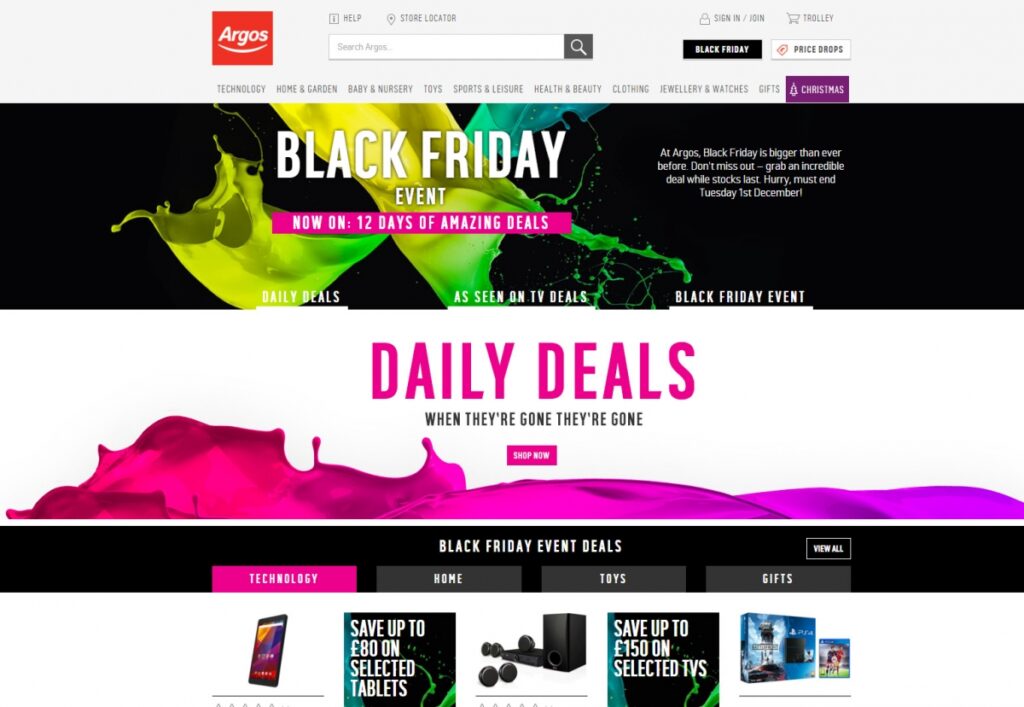 Distribution Channel: website
Argos's campaigns also include discounts across all departments. They additionally build a Black Friday specific page that hosts all their current promotions and the Crazy Code offers.
#20. HP: gift lists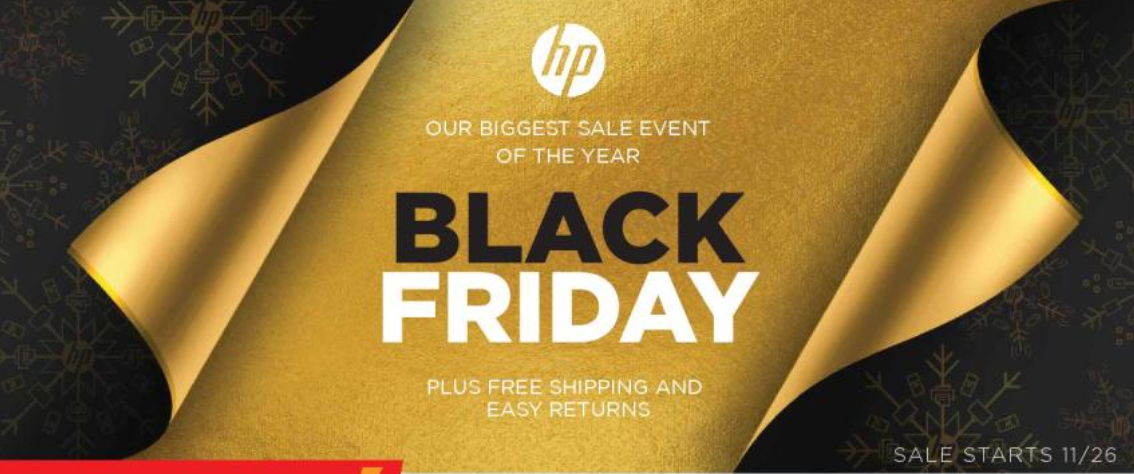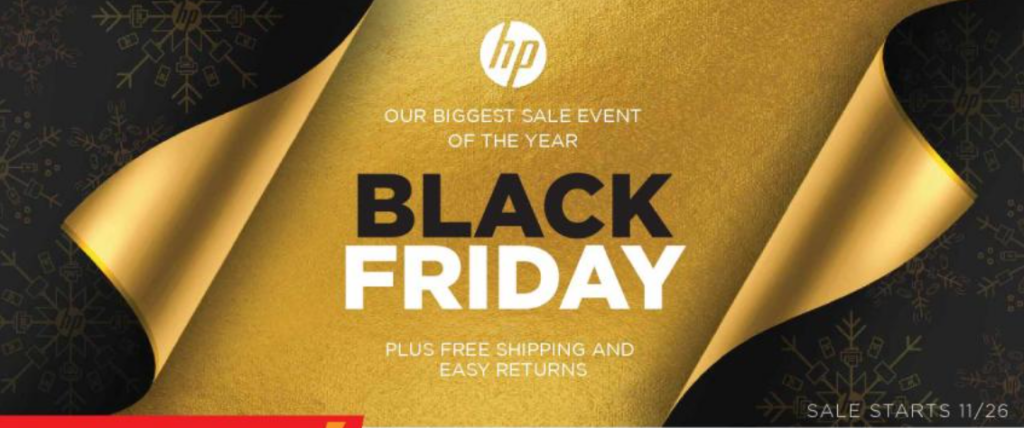 Distribution Channel: website
HP reduced prices for a range of their products, offered free shipping, but not only. In 2020 the company composed its gift lists for Black Friday placed as a separate page on their official website. The page gathered the products buyers can purchase for Christmas to their relatives. It's an easy and very strong offer that most companies are familiar with. If you're launching a pre-Black Friday campaign, you can also craft a special page with gift lists for Thanksgiving Day that will also work well to whet the appetite of your customers before the Black Friday November.
Highlights:
Always follow your brand identity. If you are a prosocial brand, team up with a charity to make your customers feel like heroes and build strong connections with them that will last longer than the festive season. 
If your company positions itself as a rule-breaker, don't stop! Make your holiday season campaigns as crazy as your brand is. Your goal is to surprise and get attention.
A good practice is teaming up with influencers, asking them to make gift-idea lists. You can also try making a standalone page collecting your Black Friday gift lists.
Emails, social media marketing is still leading the game in the Black Friday rush. Launch an early access campaign, make high-quality content, and add wise call-to-actions there.
Don't underestimate online events. In the lockdown, they will be the only way to engage your customers.
---
Read more Black Friday posts:
Getting Your Online Store Ready for Black Friday
How Can You Prepare For Black Friday and Cyber Monday From the Server Side