While shopping for clothes online is convenient, the inability to pick up, hold, feel, try on, and inspect a product along with the inability to get help from a real person in the store do create points of friction for your customers. Those friction points are the top reasons why your prospects are hesitating from moving through your funnel.
Retailers of the apparel industry have made it their mission to bridge the gap between online and offline experiences by adding certain features to their online stores in order to address the physical and psychological distance between a customer and the product.
In today's post, we are going through the top necessary features eCommerce clothing store should have to reduce friction points and improve customer experience.
Easy Navigation
Apparel shoppers are growing impatient, and they're not going to hang around a site very long if they can't find their way around. They expect your website navigation to be:
consistent
specific
minimalistic
Tap and a huge catalog expands, tap and the menu collapses. "What category am I in? How to switch to another?", "How many products they have in this category? How much longer am I gonna scroll down?", "This block is on the way, how to close it?", that's what is going on in your visitor's mind as they browse your shop.
While developing our latest storefront theme, the Generation Z theme, we completely redesigned the hierarchy of product categories making more categories visible and accessible as customers browse.
The improved navigation of the theme includes:
The catalog with product categories expands on button click and is now available next to the search bar,
Interactive keyboard navigation on site
The first-level category page now shows the number of products in the category, its sub-categories as well as sibling categories.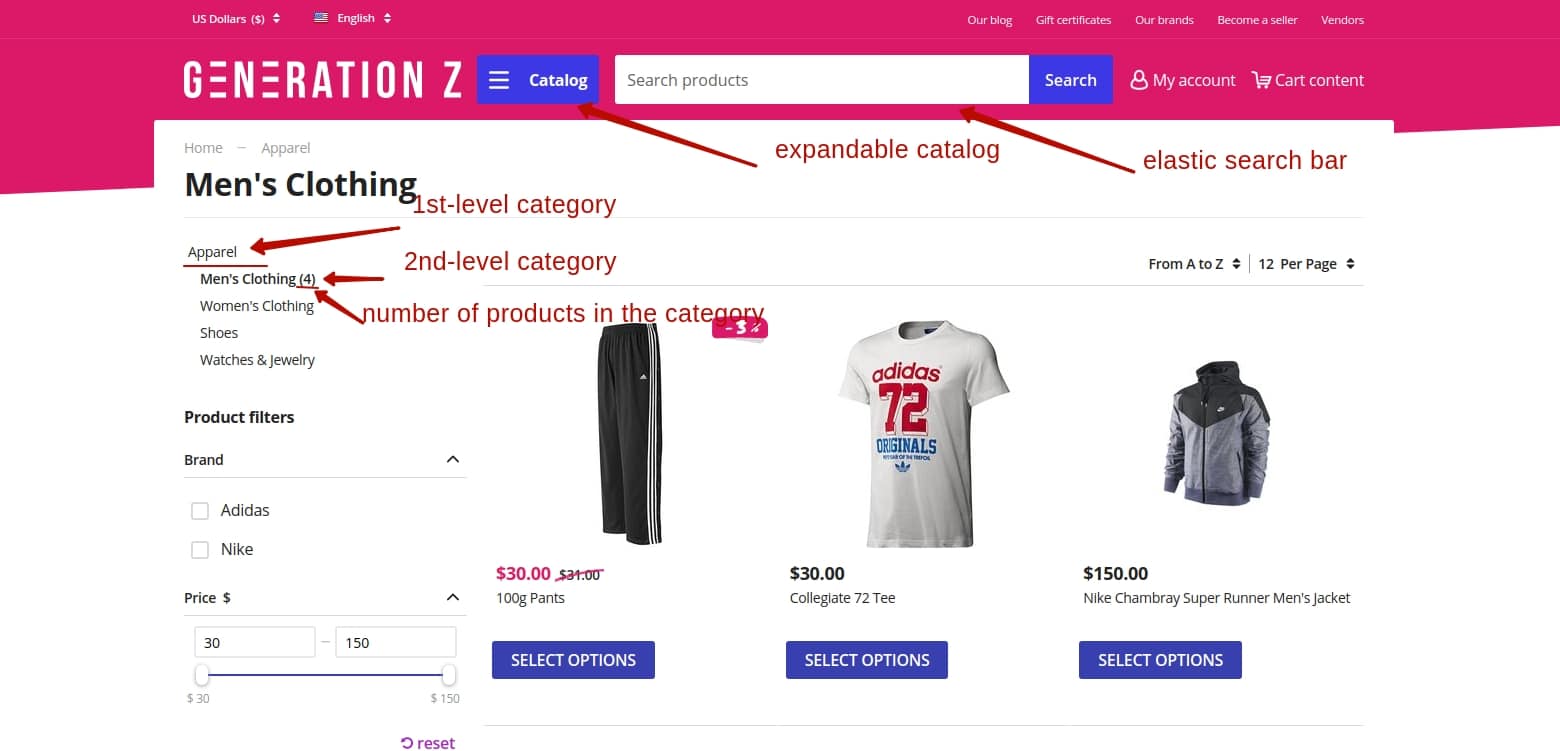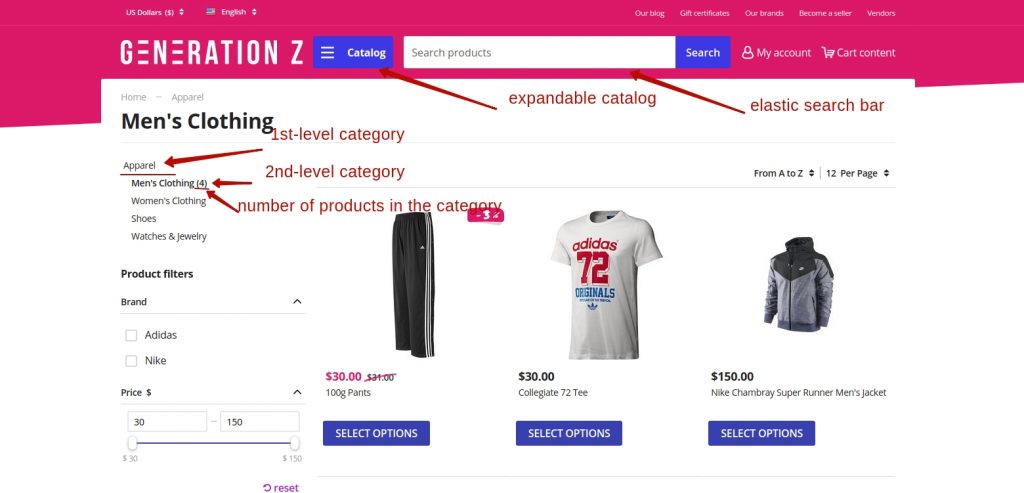 "We had to keep in mind that this generation [generation Z] has grown up with immediate access to everything," says our front-end developer Alexander Loginov. His team took a fundamentally new approach to the theme development which was based on their observations in customer design expectations. As a result, they created the Generation Z theme for the eCommerce entrepreneurs who aim the younger audience, known as digital natives. Something simplified yet more effective.
Real-Time Assistance
Another thing that has been in focus of eCommerce strategizing among apparel retailers is making the shopping experience more personalized and curated.
More than half of online shoppers who expect personalization (54%)
say it's because the capability helps them find products they may not otherwise have purchased.
Personalization makes experiences faster for online shoppers (51%) and helps them narrow down final purchasing decisions from many options (44%).
Real-time messenger
The feeling of uncertainty when hitting that "Add to cart" button is familiar to every one of us. And many times it has to do with the lack of information about the product.
As a store owner, it is imperative to reduce any uncertainty customers may feel about buying your product because customer uncertainty contributes to indecision on purchasing your product.
Setting up direct real-time communication between buyers and vendors will be a game-changer that can boost your conversion rates by 200%.
The Real-Time Messenger add-on allows your customers to securely exchange messages with vendors in real-time and find out more information about products and services.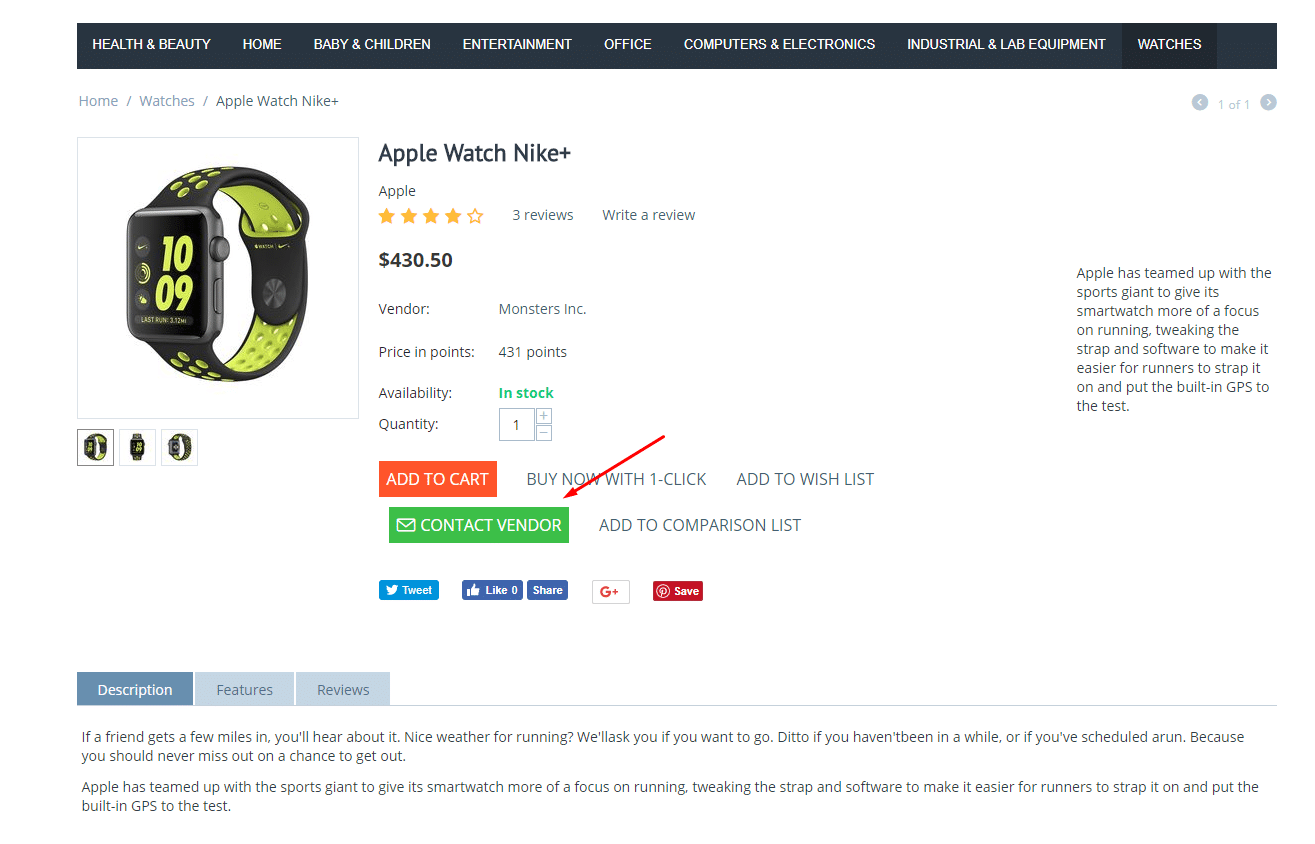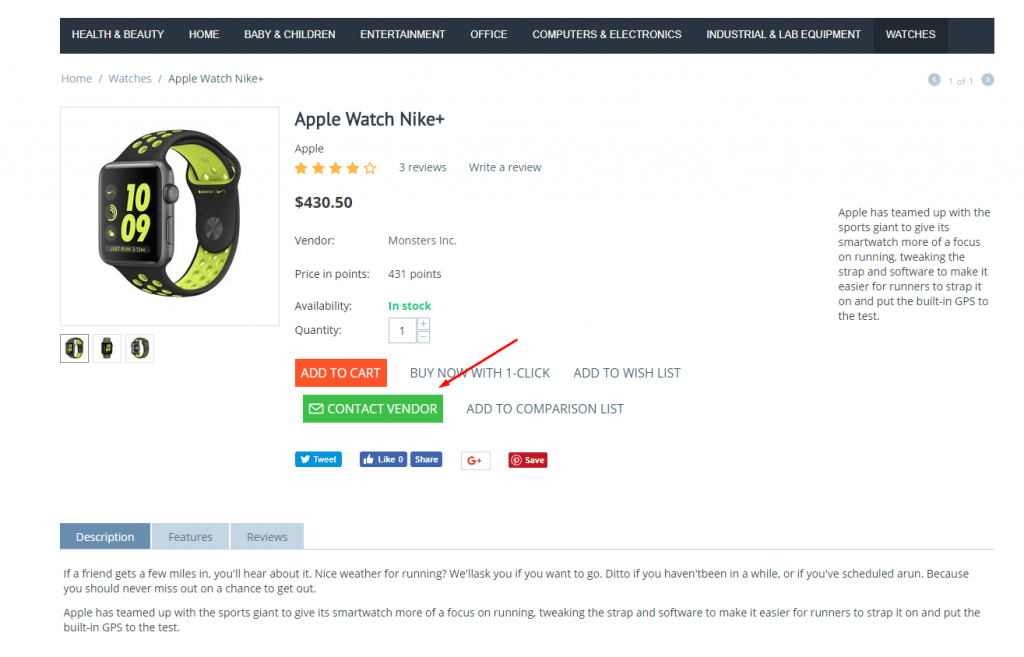 Customers can contact vendors right from the product details page by clicking the "Contact vendor" button. Apart from clarifying product details your customers can ask questions about promotions, shipping or payment or anything else.
Reduce uncertainty and get your prospects to make faster buying decisions with the Real-Time Messanger!
Self-help
Keeping a healthy balance of curated shopping experience for your customers and the freedom to explore and choose the products themselves is a big demand on your store but also a big payoff.
Here is the list of add-ons that were designed to help your customers not to get lost in your catalog and get satisfaction from finding exactly what they are looking for:
Social Proof
It is natural for people to seek social approval before making a decision. Online shoppers are looking for ways to ease their fears to pave a path with the footsteps of those who have been there before.
88% of consumers trust an online review just as much as a recommendation from a friend.
Customer reviews and other social proof evidence also add credibility to your assertion that what you're selling is legit.
The Sales & Social Proof add-on will help you in creating a sense of urgency and getting your shopper to take action immediately with the help of notifications:
Number of people watching this product,
Number of times this product was bought,
Products left,
and other customizable notifications.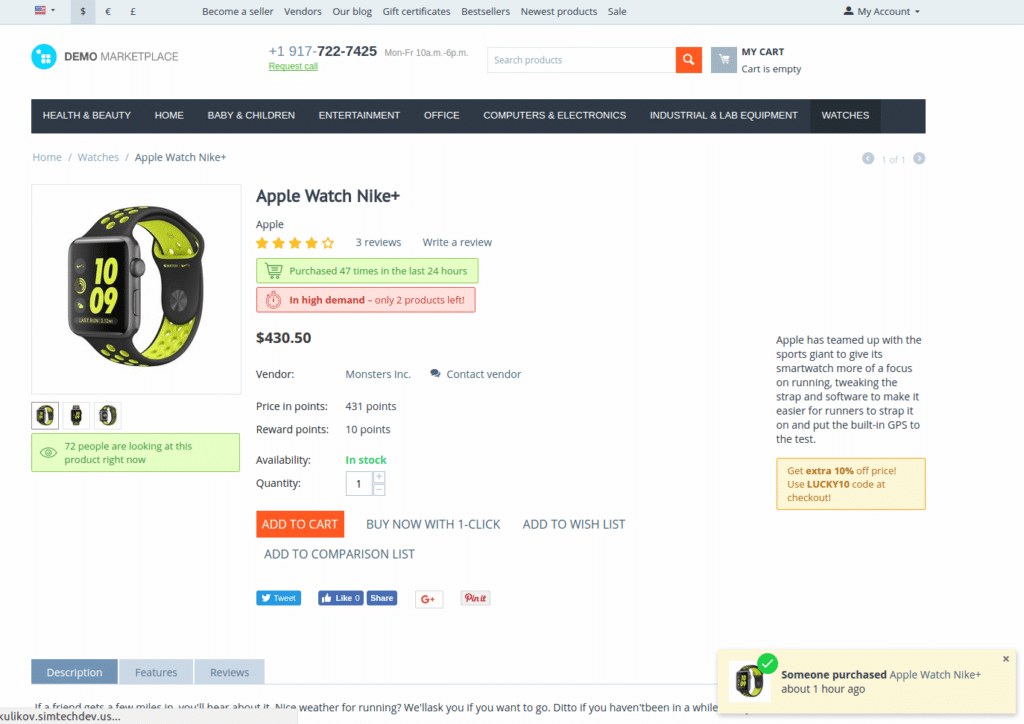 The Product likes add-on will add value to your social proof strategy by displaying the number of product likes under the product image.
Additionally, you can create blocks for the most liked products and filters for them.
Our customers have learned what it is like to have friction-free, no-hassle, convenient experience. They love doing business with companies that make it easy.
And although there is a lot of competition in the fashion apparel sector, you now have some strategies in your arsenal that not everybody else does. Use your advantage wisely and get selling!
If you want to get more actionable advice on your clothing eCommerce business, feel free to contact our experts.