Selling online liquid, loose food, or powder goods is a bit harder than one-piece items. They are harder to pack, harder to ship, and should be properly handled by the chosen eCommerce platform. Does that mean that eCommerce websites are not designed to sell products by weight? On the contrary, with the onset of the digital era and amid all-natural and human force major factors, any brick and mortar shop should have a Plan B to keep the head above water. The said Plan B can be an eCommerce website.
In this article, we examine the top of the liquid and fractional items to sell in 2020, ways to showcase them in an online store or marketplace and other channels, and how to finetune your shopping cart software to create a handy and efficient selling tool.
Top liquid and fractional products to sell online in 2020
Statistics claim that in 2020 some of the liquid and fractional goods (like dry food, groceries, or grains) retain the top of bestselling items. Here is a list of the most lucrative products of high demand with customers around the world. 
Attention: We do NOT promote any of the below product categories. For the sake of this article, we selected the most trendy liquid and fractional goods for 2020 as stated by the respective market research studies.
Wine and alcoholic beverages
The wine market is evergreen and would never dry up. The latest Nielsen data shows alcohol eCommerce has doubled compared to the past year. Wine sales online have made up nearly 70% of total online retail sales.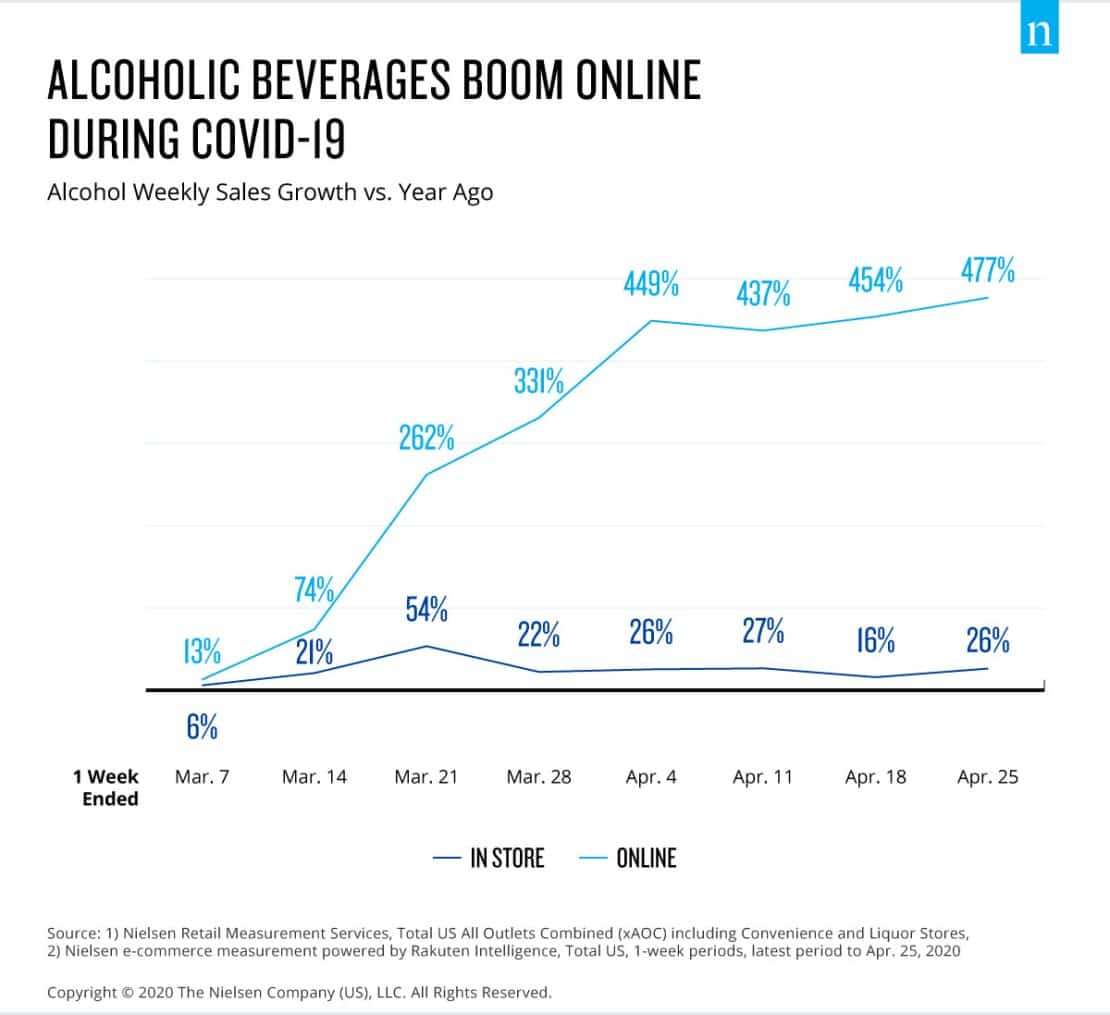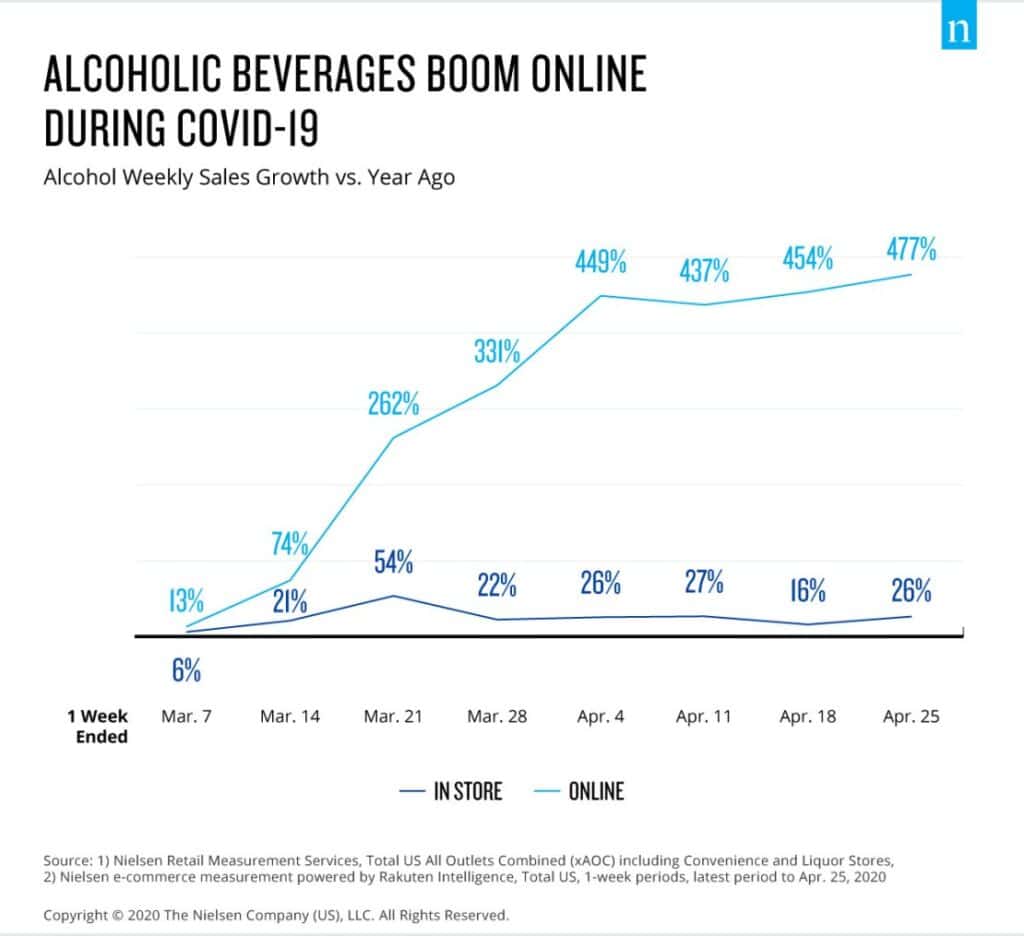 Today, people choose to buy their wine and alcoholic beverages on the web as online selection is always bigger than the selection at a local store. Certain local brews might not be available. That is the reason why selling wine online is a great business opportunity. At least, as long as you understand all the inner drawbacks of this industry.
Fortunately, the CS-Cart platform provides all the tools you'll need to make every sale handled properly and legally. With age verification and shipping tools available by default, you can ensure that only legal customers will access your website. With the platform, you can automatically refuse visitors from a locale where alcohol shipping is prohibited by law. You can also specify the maximum order quantities to meet the local jurisdiction rules. CS-Cart makes this all much easier.
Groceries
Consumers buy more online, so why not groceries? Coresight Research finds that nearly half of shoppers are buying more groceries online due to COVID-19.
Take a look at the current and projected growth of online grocery sales in the United States alone. U.S. online grocery sales grew 22% in 2019 and saw high demand after nationwide COVID-19 lockdowns. This year, online grocery transactions will surge about 40%, according to the Coresight Research U.S. Online Grocery Survey 2020.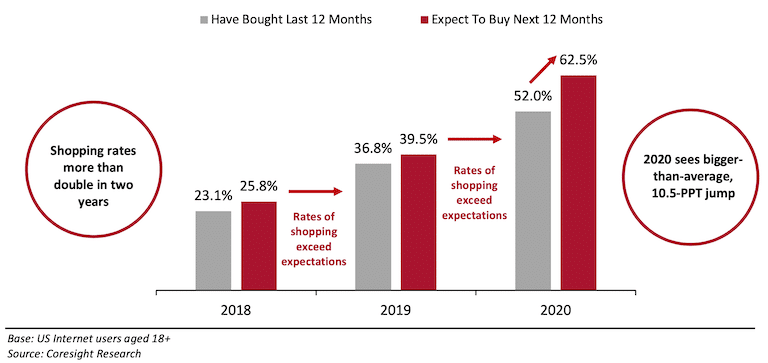 Vapor products
E-cigarettes and electronic vaporizers are growing in popularity. The vapor products consist of several components: a vape device, a flavored liquid (with or without nicotine), and vape accessories. Selling vapor products online, you should know that not all the parts of this hot product category are equally legal to sell. Speaking about e-liquid flavors, they are prohibited for listing on Amazon. Before embarking on selling online vapor products on a marketplace, e-tailer should make sure to comply with all of the legal regulations related to selling vapes and accessories through an eCommerce store.
Vapor products keep a huge market share and are worth selling. By 2023, the global vapor market is expected to reach USD 48 billion according to P&S Market Research. That's a 15% annual growth for five years. Definitely, the vapor market is the actual trend in online sales to pay attention to in the upcoming years.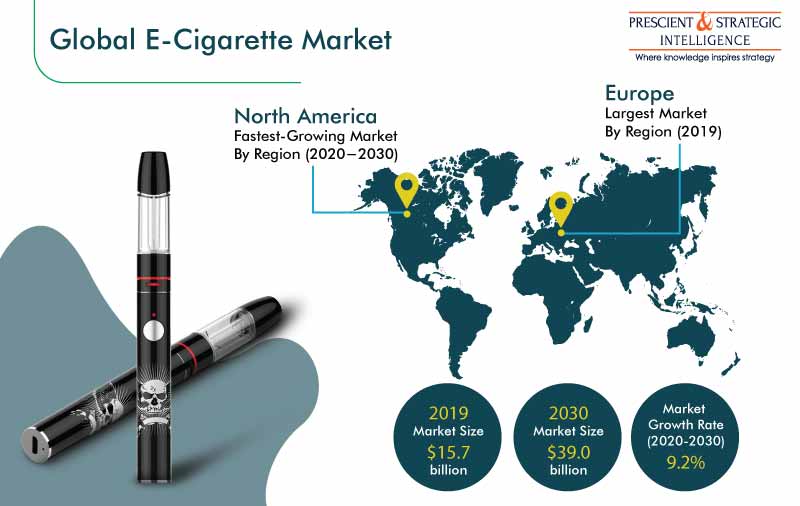 Where can you sell liquid and fractional products online?
The smartest retailers use multiple channels to sell. These channels include not only physical and digital stores but also all social media options. At this, the eCommerce websites serve as the central "hub" for all outlets. This hub is meant to fully show off the brand and the company information in a webspace. The outer channels are the individual touchpoints with customers on which e-tailers engage with their potential buyers, increase brand awareness, and distribute their missions and values.
Every channel works differently. Some platforms allow you to list product feeds even without a website in place. Some channels will require you to have a website before getting started. There can be also some restrictions on the type of a showcased item. For example, Amazon does not permit selling most vaping equipment, such as mods, tanks, or e-liquids, but allow distributing certain vape accessories. In any case, building your own digital salespoint adds authority to your business, allow customers to easier find you, and let you benefit from the selling tools offered by the chosen eCommerce platform.
Running your business on CS-Cart gives you an extra benefit of integrations with some channels. You can turn the Amazon restriction into your advantage with CS-Cart. List items and manage orders that you got from Amazon through your control panel in CS-Cart. You can synchronize your Amazon product feed with the CS-Cart platform to lead customers to your site and then sell the restricted items on it. 
By doing so you keep most of your items off Amazon, but you still sell vaping accessories on it. Customers who find your Amazon-listed items and trust your brand are likely to visit your website while searching for other products. You can use this strategy in any marketplace that bans certain products while allowing related accessory products. Just check the marketplace's Terms of Service or other guidelines to know exactly what's restricted.
Sales using fractional units of a product
The above examples of top shopping categories can be easily packed and distributed. But, there are other examples of liquids and fractional goods where customers should be able to select different weights varying from order to order.
When selecting a shopping cart software to sell powder, dry-food, or liquid products of different weights, pay attention to the weight modifier availability. If you use different prices for the same product, but only the weight changes, you can simply enable a product option with the specified weight modifier value. At this, when shipping a certain amount of a fractional good, the price should be calculated automatically. Weight modifiers are available in the CS-Cart software. They've got extensive documentation on this matter. However, you may require more options to finetune your web shopping cart exactly to what you sell and include more use cases. Let's examine some of them.
Use Cases
#1
Problem: Selling liquids or powder products by weight, you may want to use different prices for the same product with different weights.
Solution: The CS-Cart platform allows you to do so. You can use product options with weight/ price modifiers Weight modifier/Type – a positive or negative value that will be added to or subtracted from the original product weight. The modifier can be either an absolute value or a percentage.
#2
Problem: Suppose, you sell both liquid and flammable items. If the product is a bulk chemical or a preparation with hazardous properties, information about its chemical composition should be given. Now your task is to allow your customer to select both properties from your eCommerce website. In default CS-Cart if an item is both hazardous and liquid, there is no way for the user to specify this, as dropdown menu allows selection of only one type.
Solution:  You can add a multi-selection checkbox in this case to specify the product properties. Several values will be saved and displayed. Special handling instructions on the product editing page will include a multi-selection box so that you could tick several different properties at once. For example:
+Liquid;
+Fragile;
-Hazardous.
#3
Problem: In default CS-Cart functionality, you cannot add the shipping weight while adding a product.
Solution: This can only be done after the product has been added. However, this feature is handy for administrators as they can add more values in the editing mode. Opening the Shipping Properties tab while creating a product is possible through customization. And, here you will need an agency that knows the platform inside out to make the process as easy and seamless as possible and not break your existing processes.
---
If you need more dev solutions or seek for CS-Cart customization, we can help. Simtech Development is a top certified developer of CS-Cart software with +15 years of customization experience. Feel free to contact us!