As an eCommerce website owner, CEO, or administrator you know how important it is to get your site visible in the first ten strings of the Google search. You can sell the best-in-class and super-useful items or provide high-quality services, without a strategy in optimizing your website for SEO, all the efforts to reach the top are in vain. In this article, we gathered the top factors to rank higher in Google search results and some SEO tips and tricks that will definitely help you to improve your search visibility.
Factors that influence search in Google
Here are the most important Google ranking factors in 2020:
Referring domains and authority of your domain
Mobile user-friendliness
Dwell time
Backlinks from social pages
Content quality
On-page SEO
Off-page SEO
Domain-Related SEO
Use keywords in the top-level domain and as the first word.
A domain that begins with a target keyword surpasses other websites in search that either don't have a keyword in the name or have it as a second, or a third word of their domain.
Subdomain should also have a target keyword
Here is a snapshot of Moz's expert opinion about the ranking influence of a keyword in the subdomain.

Use a country-specific TLD extension to have a local search boost
With a Country Code Top Level Domain, e.g. .cn, .hu, .ca, you rank higher for this particular country but limit your ability to get the top of global search. The choice is after you.
Webpage SEO
Use your target keyword in title, meta description, and H1 tags
Moz states that the title tag with a keyword performs better than title tags with the keyword towards the end of the tag. Moreover, your description tag can affect click-through-rate, which is a strong ranking factor. Speaking about H1 tags, Google uses them as a secondary relevancy sign. Here is what Backlinko tells about the correlation between H1 styled and unstyled tags: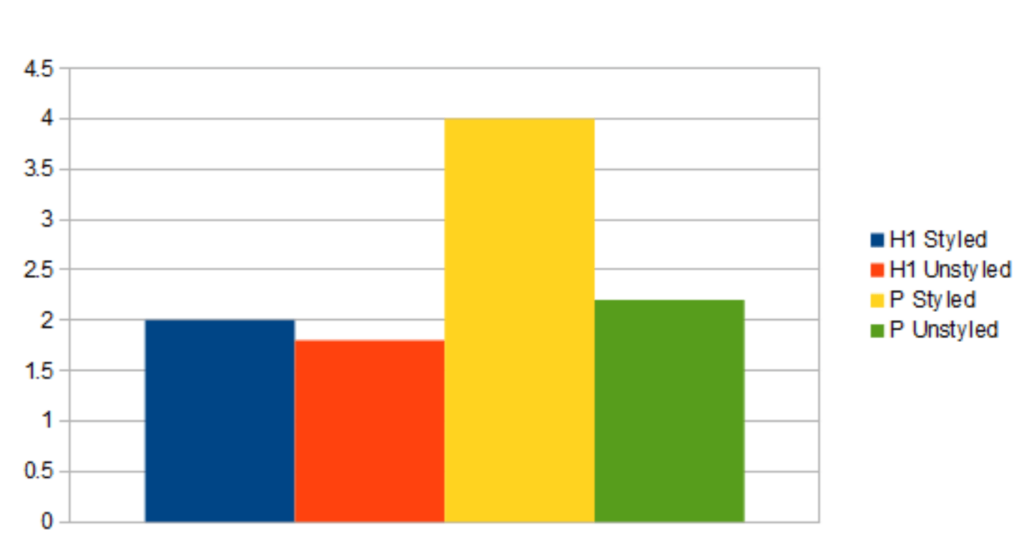 Write long content to cover more keywords
The content length influences the SERP position. Long reads are preferable as compared to short content as Google considers them as more useful. Having a keyword among the first 100 words is correlated to first page Google rankings.
Use AMP
Accelerated web pages is not a direct ranking factor, but it can be a mandatory requirement to rank with Google News Carousel mobile version.
Optimize your images
Search engines crawl images for file names, alt tags, titles, descriptions and captions to understand the page relevancy. Optimized images are the signs of quality for search engine bots.
Update your content pages regularly
The more fresh your content is, the higher is the relevancy of your page. It is a sign of an active web page.
Embed an additional helpful tool in your eCommerce website
You can consider inserting a currency converter, a loan interest calculator or an interactive recipe. According to Google policy, content should help users. Try to create your win-win solution.
Customization Idea! You can ask us for a custom interactive recipe builder for your CS-Cart website. A custom kit code will allow your customer to create a recipe and/or store it in the wish-list for a future purchase. See an example below:
Check your site for broken links
The Google Rater Guidelines Document considers websites with broken links as a bad quality page.
Make your URL shorter
Too long URLs hurt the visibility of your page. There were a series of industry researches proving that URLs with short names have a slight edge in Google's search results.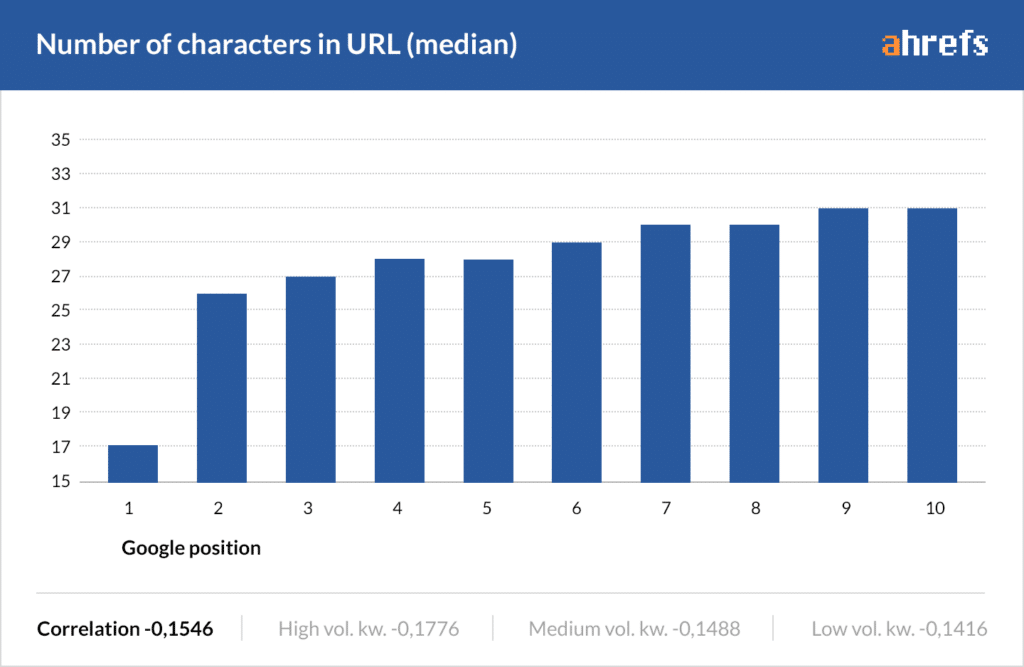 Apply bullets and numbered lists
They improve your content readability, a factor that Google uses to estimate whether your page is user-friendly or not.
Get your Sitemap done right
The priority a page is given through the sitemap.xml file can significantly increase your ranking.
Website SEO
Apply a well-defined site architecture and a site map
Googlebot scans and indexes your website pages to understand its structure. Don't make its job too difficult with a heavy structure. Learn how to make up your robots.txt file.
A sitemap makes it easier for search engines to crawl your pages and augment its visibility.
Use a breadcrumb navigation
This is a method of user-friendly site-architecture. It helps users and search engines to locate themselves on your site: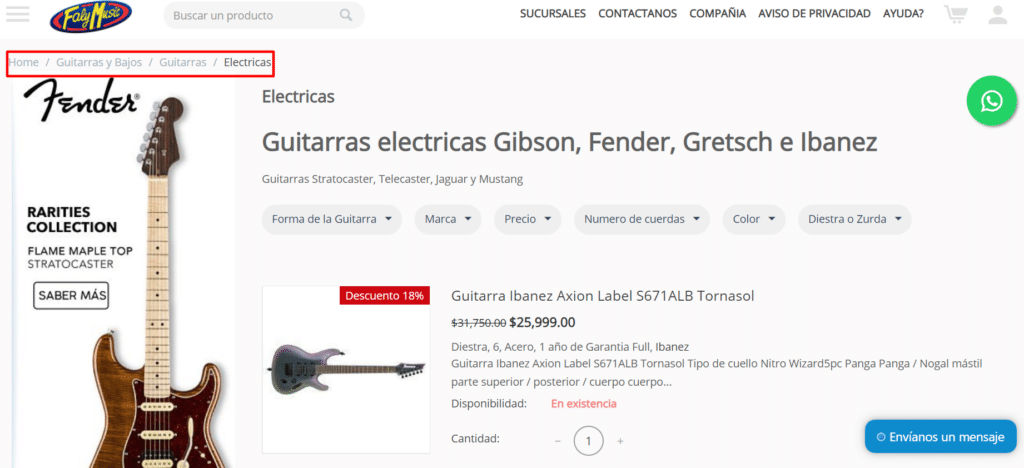 Google states that: "Google Search uses breadcrumb markup in the body of a web page to categorize the information from the page in search results."
Increase your website uptime
The bigger is the downtime, the less is the opportunity to get a higher ranking, the closer is your page deindexing from the search results. Make sure that your maintenance and server issues are in the skilful hands.
Make sure you use the latest SSL/TLS certificate
Google uses HTTPS as a ranking signal.
Learn more about why SSL is important…
Include Contact Us, Terms of Service and Privacy Pages
These pages tell Google that a site is easy to access, authoritative, and trustworthy.
Remove duplicate meta information on your site
Duplicate meta information ruins all of your page's visibility.
Optimize your eCommerce website for mobile
More than 50 percent of all searches are done from mobile devices. Google encourages the webmasters to optimize websites for mobile usage.
Use this free tool to learn how mobile-optimized is your sit!
User engagement
Run a YouTube page
Google owns YouTube. With the videos about your company placed on this platform, you increase awareness about your brand and get preferential treatment in the SERPs.
Use Youtube Gallery to increase traffic to your site!
Run and maintain Facebook, Twitter, and Linkedin accounts
A sign of a trustworthy page is an active account with lots of likes and followers. The more interactive is your social account, the higher is the search bot estimate of your page brand authority.
Embed social buttons to link with your social accounts!
Show reviews and comments
Reviews and comments help users to make a purchase decision, but not only. Search engines also need to know what customers think about your brand to estimate your site reputation. Pages with a sea of comments and reviews may be a signal of a high user interaction and quality.
Try this Google review badge plugin!
Increase your dwell time with a engaging content
Dwell time is the time spent by users on your web source. The algorithm gauges how long visitors interacted with your page to assign a ranking to your page.
Optimize for local searches
It is quite often when Google places local results above organic SERPs.
On-Site Webspam Factors
Use less "Distracting Ads"
The Google Rater Guidelines Document stipulates that distracting ads is a sign of a low-quality website.
Don't use interstitial pop ups
Google penalizes sites with full-page "interstitial" pop-ups displayed to mobile users.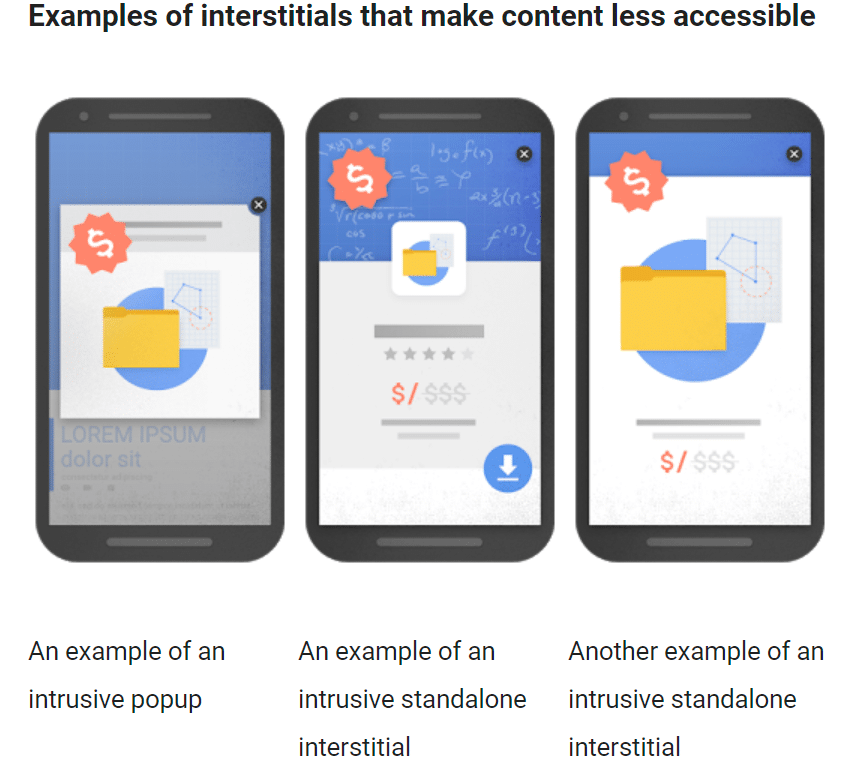 SEO tips for eCommerce website owners
Tip 1 – Meta Titles
The first thing your potential customers will see when searching for a product is a meta title. Keep your product meta title no longer than 65 characters. Google truncates titles exceeding this limit. Meta titles should fit the industry specifics.
Selling branded t-shirts, your meta title format may be:
(Brand) (Size) (Color) (Product) with (Additional Attributes)
Lacoste Medium White T-shirt Graphic Croc
Selling tools, use a different format:
(Company/Brand) (Model Number) (Series) (Sizing/Color) (Product) with (Additional Attributes)
Makita A-97106 Impactx 1/4″ x 1-3/4″ Magnetic Nut Driver, 10 Pack, Bulk
Tip 2 – Meta Descriptions
A meta description is a text displayed under your page title in search when someone comes across your product. Ensure you included such data as your company name, model number or size, shipping and other distinctive features and options. Make sure your meta description does not exceed 160 characters. See an example below:
Lacoste size medium white t-shirt with graphic patterns. Collaboration with Cédric Honet. Made from 98% cotton/2% spandex. Free shipping available.
Characters:147
Or
Makita A-97106 ImpactX 1/4″ x 1-3/4″ Magnetic Nut Driver, 10/pk, Bulk. Convenient retention of hex fasteners; lobular design reduces rounding of hex fasteners.
Characters: 159
Tip 3 – Image alt tags
Alt tags inform Google about your image purpose. If you fill them out, bots could see your images and include them in their ranking algorithm. Make sure your image alt tags are informative and relevant to the displayed content. Include important attributes about your products like color, size, and model number.
Closing
The CS-Cart software enhanced by the Simtech Development add-ons can multiply your eCommerce website SEO power. Moreover, hosting your website with us removes other troubles such as image size optimization or hackers attacks (once hacked, your website won't see a higher rank on Google). Choosing a partner for your eCommerce business, rely on experts!