The service market is blooming and service marketplaces have a good potential to become the next trend in the industry. It's never been easier to create eCommerce software. Although, there is another approach to the service market. In this post, we cover the key steps in creating a marketplace for professional services.
Key takeaways
1. Service eCommerce is rising. Now is a good time to enter the market and develop your own business.
2. Services are not the same as products. You need to build trust and credibility. Customers are still suspicious of buying services online. 
3. Service commerce requires more control. The inseparability of service consumption and execution is the key challenge.
4. It is better to opt for an open-source solution when developing a service marketplace. A ready-to-use platform will help with the quick start leaving the freedom for customization of the product.
What is a service marketplace?
What is a service marketplace and how does it differ from a product one?
An online marketplace for professional services is a website connecting consumers with service providers. It is an eCommerce platform that provides a safe space for individual professionals and buyers to exchange services and handle transactions.
The first examples coming to mind are Uber and Upwork. Uber offers taxi services and Upwork allows individuals and businesses to hire specialists from different fields.
The biggest value of service marketplaces is that it connects people from all types of industries: you can purchase services from a content creator or architecture designer, video maker, or legal advisor.
Why build a service marketplace?
Marketplaces for services can help digitize the service market. The pandemic and collapse of 2020 proved how much we need our daily activities to be performed in a digital way. Seeing business potential in the field, experts and investors actively initiated the development of service marketplace software.
Service marketplace websites can make the service buying process a lot faster, easier, and more comfortable.
Types of service marketplaces
There are many types of service marketplaces, but let's see a few examples.
Rentals. Marketplaces for rental services allow individuals to rent different types of goods from one another. Airbnb is a great example – one of the largest platforms for property rental.
Freelance platforms. Here specialists from various fields offer online services. Popular areas today are social media, content marketing, video creation, and translations. Examples are Fiverr, and Upwork.
E-learning marketplaces. Such platforms introduce customers to education services. Udemy is a well-known platform offering online courses. You can even learn there how to build a professional marketplace website.
Home services marketplaces. These websites offer home-related services like cleaning, laundry, etc. Most often such websites are presented as local marketplaces with a focus on the geolocation of customers.
Delivery platforms. Platforms that provide delivery services of any goods.
In reality, almost every service can be converted to a digital product and sold online: insurance, medical, legal, and many more.
Advantages of creating an online services marketplace

Big demand
After lockdowns in the last few years, customers are more likely to spend on services online.
No inventory or shipping
You do not need a warehouse to keep your products or make contracts with shipping providers.
Better customer experience
No need to explain how convenient it is to book a service online on the platform where you can choose time slots and compare customer reviews rather than calling different places asking for free time slots.
No geographical limits
You do not need to go to a different country just because you want a drawing made by a certain artist. Contact them online, place an order, and get it delivered to you – all can be made through the means of the online platform.
Selling services online: requirements and distinctions
The development and running of an online service marketplace have their own bottlenecks, requirements, and nuances.
There is a whole list of things that are harder to handle. Unlike with goods, it is almost impossible to control the delivery part. Services are not physical items stored on the shelf waiting to be purchased. Too many factors depend on the people providing the work.
The major challenge is that you cannot separate the purchase and execution in this process. The marketplace owner or administrator can't know for sure when the service starts, and when and how it is delivered. The service market is built on trust and the quality of jobs performed.
For these reasons, it is important to enable a monitoring system. You should indicate the response time after the request is made, the time between confirmation and start of execution, execution time, and delivery. All factors influence the reputation of the provider. This way, it is easier to control the overall performance and engagement on the website.
Products vs Services
Marketplaces and online stores reinvented the way we shop for goods. And if we easily pick items online and have them delivered to our doors, still there is a bit of hesitation when it comes to services.
There is no established and empirical definition for service in the economy nor in law. Service cannot be exchanged, the criteria for assessing its quality is always subjective. There are fewer guarantees, and no specialized organization sets standards for services like GS1 in terms of products.
Working with service-based marketplaces requires you to differentiate goods and services. The latter can be described by the 5 I's: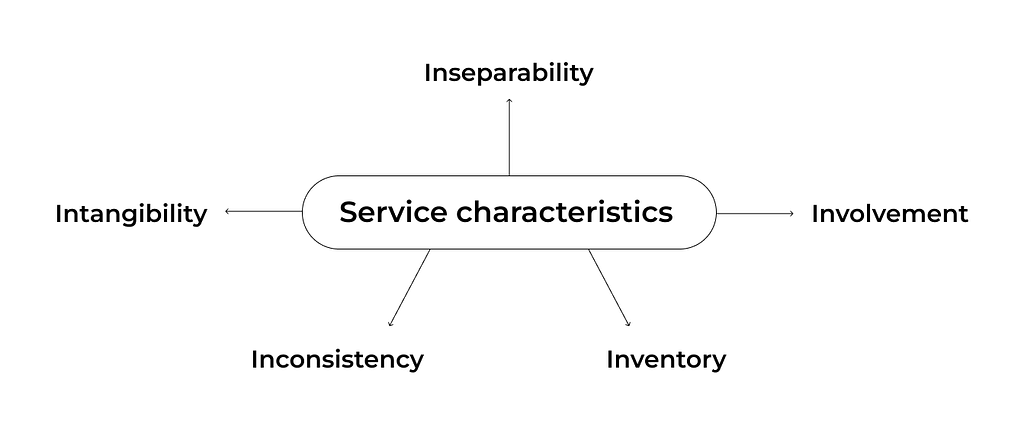 Intangibility. You can't touch services. Although it may later result in a physical item.
Inseparability. Consumption and production parts are inseparable. Services have to be consumed as they are produced.
Involvement. Both the consumer and service provider are involved in the process. Customers can impact the delivery process by getting services modified according to their requirements.
Inventory or perishability. Service can't be produced and stored for future consumption nor can be shipped.
Inconsistency. Service can't be produced identically. What is more, different consumers have different demands that make each service unique.
What business models are used in service marketplaces?
How can one monetize the service marketplace? There are many business models that suit service-based marketplaces. Among them:
Commissions. The marketplace owner gets commissions from every transaction that happens on the platform. The revenue model has minimum requirements for users to enter.
Membership or subscription fees. Customers pay a certain fee (monthly/annually) to be able to use the platform. The challenge is to constantly grow the user base.
Listing fees. Payments are made for every listing placed on the marketplace.
Lead fees. In this model, fees are charged for every lead generated. Customers make requests and providers bid for them, but payment occurs only when you win the customer.
Freemium. This model provides free access to the platform with the ability to unlock advanced features for an extra charge.
Featured listings. Featured listing charges payments by allowing providers to promote their ads.
Ads. This model enables advertisers to place paid ads on the platform for online service.
The most popular monetization model is commission. Service market leaders Fiverr and Upwork follow it and cut the percentage of each transaction made on the website.
How to start your own service marketplace?
Building a new service marketplace website is similar to building any other eCommerce software. You need to go through several standard stages: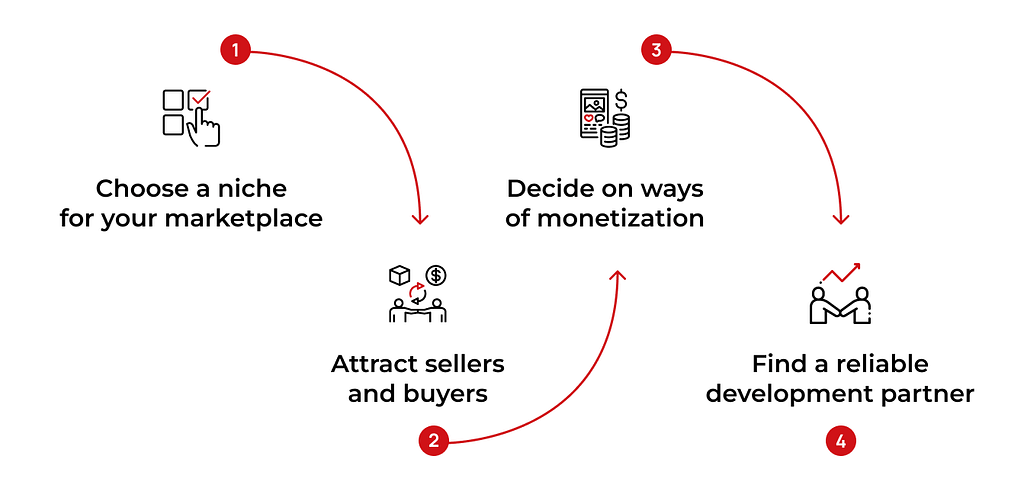 Choose a niche for your marketplace. A well-chosen niche increases the chances for success. To do it right, analyze the market and competitors and identify where is a gap you can fill.
Attract sellers and buyers. Start promotions beforehand, even if the platform is not finalized yet. Thus, you can attract customers and buyers' attention. Explain the value your product can bring, use incentives.
Decide on ways of monetization. Define what revenue model works for you best. We recommend starting with commissions and adding other models as the project grows.
Find a reliable development partner. The development stage is the longest and most expensive. The goal is to find a reliable supplier with relevant experience who can understand your requirements and offer a suitable solution. Let's cover this in more detail.
Technical solutions for online service marketplaces
There are two ways you can follow when developing a marketplace:
Hire a team of developers and create a website from scratch. This approach is hard, more expensive, and has a blurred timeline. You need to find professionals who you can trust, define the tech stack, and hire the management crew to control the processes.
Acquire a ready-to-use open-source platform. It provides you with full control over your online solution and the ability for customization.
Examples of ready-made solutions for service marketplaces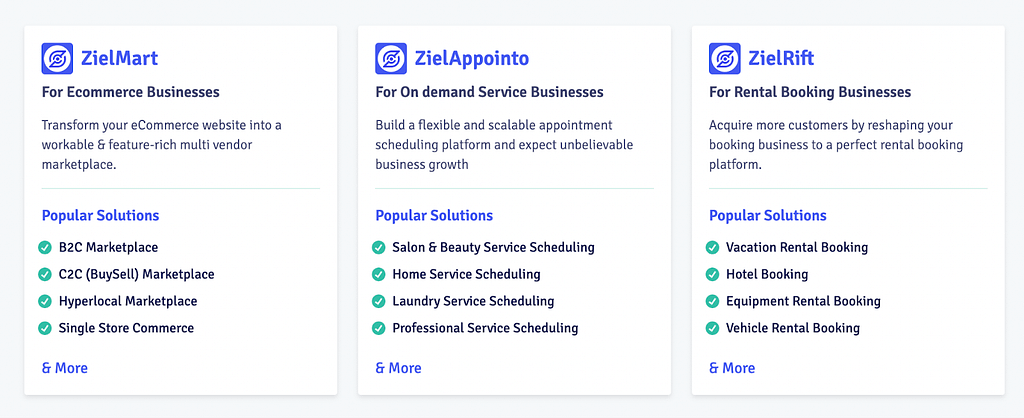 A great platform for building B2B and B2C eCommerce projects. ZielCommerce on-demand service platform has 100+ marketplace features to build and deliver professional services.
Among the features are multiple payment options, advanced search and filtering, an exclusive dashboard for service providers, and unlimited listings.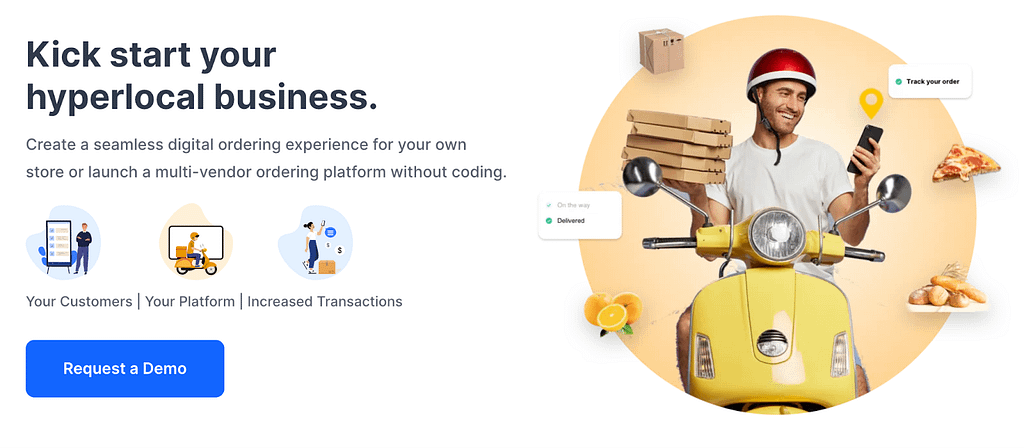 Yelo from Jungleworks is the perfect software for ordering platforms that can be created without coding.
Yelo is compatible with any device, has integrations with 50+ payment gateways, includes social media login, and supports multiple revenue models.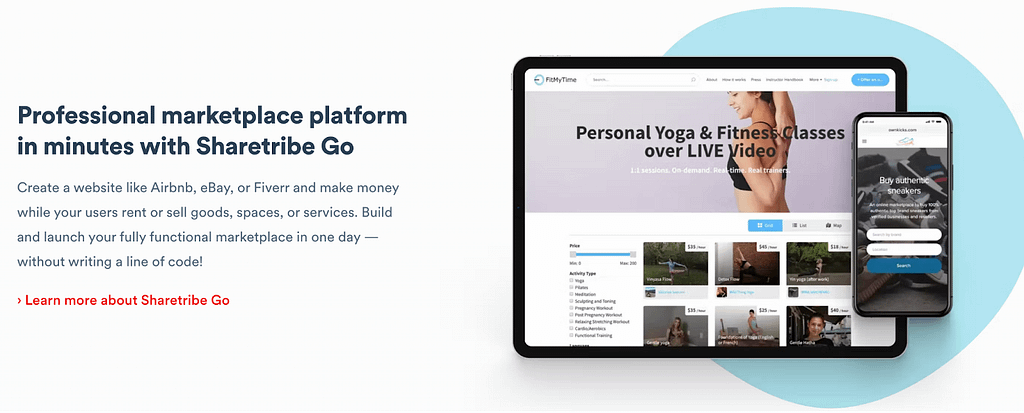 A well-known, reliable, and technological software allowing to build any kind of multivendor platform with its own marketplace academy. Not only do you get the professional platform but the support of true experts.
Includes all essential marketplace features, secure online payments, and has a 360º view of what is happening on the website (user management, transaction monitoring, content moderation, etc.).

CS-Cart Multi-Vendor is one of the most popular open-source platforms. It has proved to be a great solution for building a service marketplace. You can use such a ready-made platform to create a minimum viable product for a proof of concept. It's also highly customizable to meet your business needs.
Examples of Service Marketplaces
Let's take a look at some examples of service marketplaces.
The platform allows getting an extra pair of hands. It is a local marketplace based in UK for busy small business owners to hire students. UK Students usually get booked for small one-hour tasks and paid when the work is done.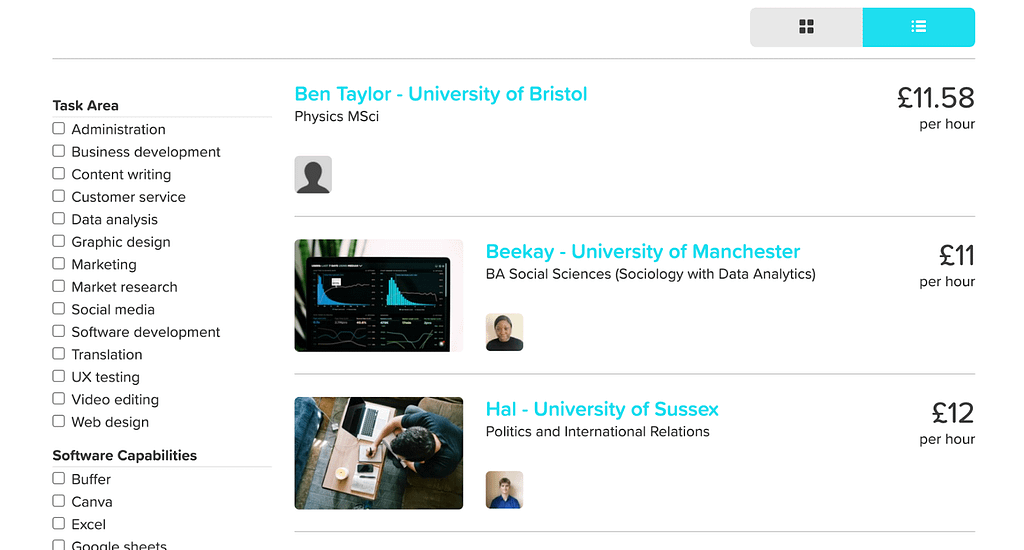 The resource is presented globally. It is a huge platform for freelancers in all industries. Individuals and service providers have their profiles on the website and can connect upon the service requests. Upwork is integrated with several payment gateways available worldwide.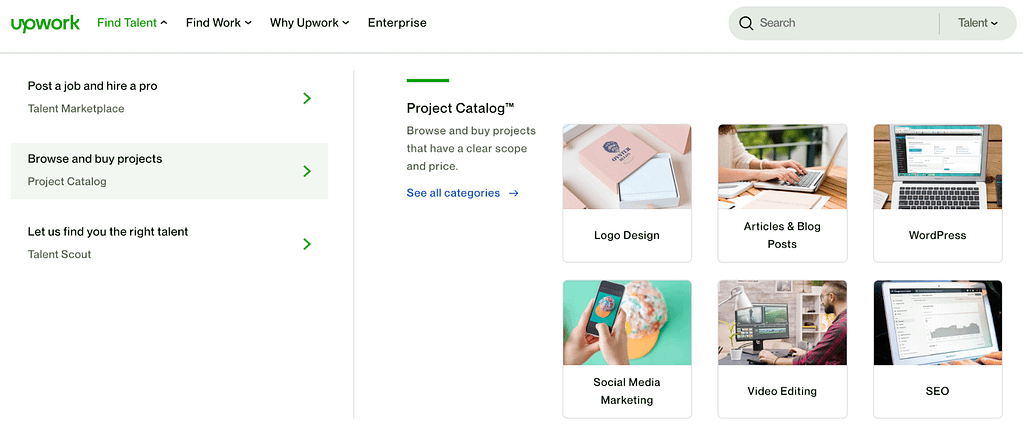 The worldwide platform for apartment and house rentals. Airbnb follows the commission revenue model. One of the biggest advantages is the mobile app which is very convenient.
On Airbnb, you can find a huge repository of properties available for booking, or you can display your own house and make money from it.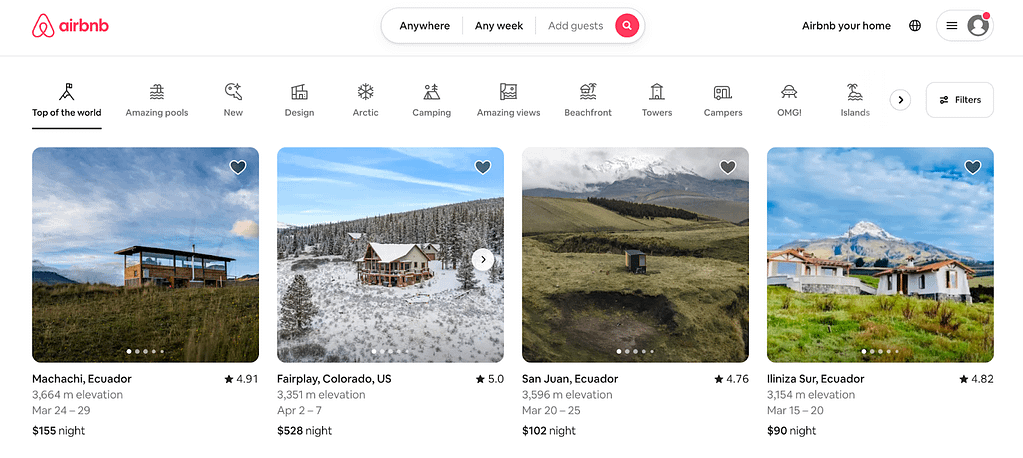 UpCounsel marketplace allows companies to build a legal team. Here you can post a job and find a one-hour service, hire an entire legal department, or part-time staff. Convenient online booking and signing in make the process much quicker and easier.
Caterspot is a catering service marketplace based between Hong Kong and Singapore. Allows customers to easily find and book caterers and other services. You can browse through the digital catalog with smart filtering options, find the best options, get invoices, and contact sellers.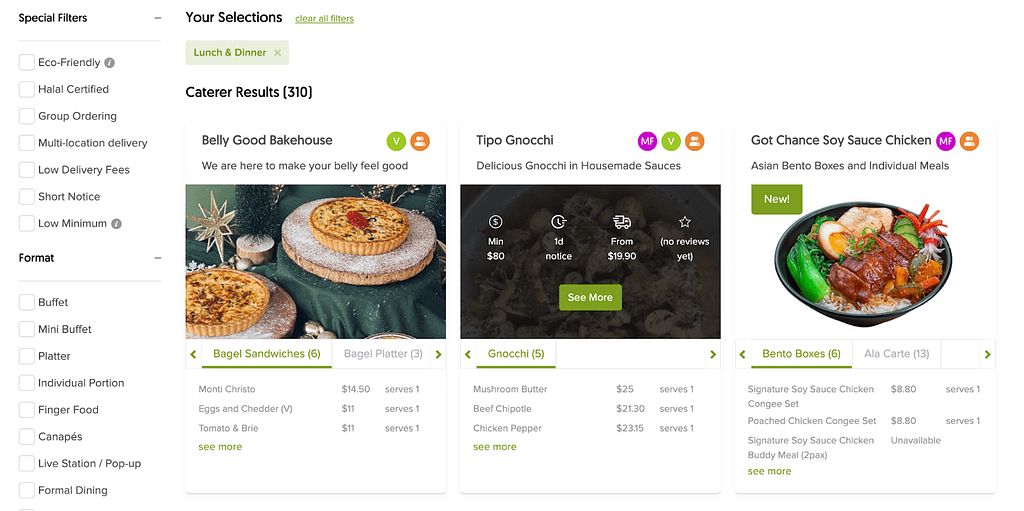 From these interesting examples, it is obvious no limits are applicable. If you want to build a service marketplace website you can fill any niche as there is a demand from customers.
Key takeaways
1. Service eCommerce is rising. Now is a good time to enter the market and develop your own business.
2. Services are not the same as products. You need to build trust and credibility. Customers are still suspicious of buying services online. 
3. Service commerce requires more control. The inseparability of service consumption and execution is the key challenge.
4. It is better to opt for an open-source solution when developing a service marketplace. A ready-to-use platform will help with the quick start leaving the freedom for customization of the product.
At Simtech Development, we have successfully launched service marketplaces for different niches. For example, we built a marketplace for our client from the USA that not only offers to buy jewelry but also allows renting it for an important event. With the help of the CS-Cart Multi-Vendor, the Simtech Development team successfully modified a delivery-focused marketplace that is a hub connecting suppliers and retailers who do not directly interact with each other. Orders are received, aggregated, and redirected to the delivery service.
Contact our team to learn more about Service Marketplace Development to start your business on a growing market!