We suspect that most of you do not use standard cellphones nowadays. Modern smartphones have captured the world. By keeping your device software up-to-date, you get a smartphone that performs well and can run the latest apps. The same happens to your online store. Upgrading to the latest version helps you to build a powerful online store.
When your online store functions slowly and you start to notice bugs, it is probably high time to upgrade. However, many eCommerce entrepreneurs do not upgrade until something goes fundamentally wrong with their stores. Of course, it takes money and time, but it is not worth the problems.
Upgrading to the latest version of CS-Cart is a necessity, and it's even more important to do so if you're more than one version behind.
Here we describe 7 reasons that upgrading your CS-Cart is crucial for your business.
1. Hosting
The earliest versions don't work on modern hosting. Modern hosting uses the latest versions of PHP. For example, the latest version of CS-Cart 4.3.6 uses PHP 7.0. If you don't upgrade, you will end up with a website that you cannot host, or if you do find a host who is willing to take it, it will end up repeatedly getting hacked and cause a lot of problems.
2. Responsive design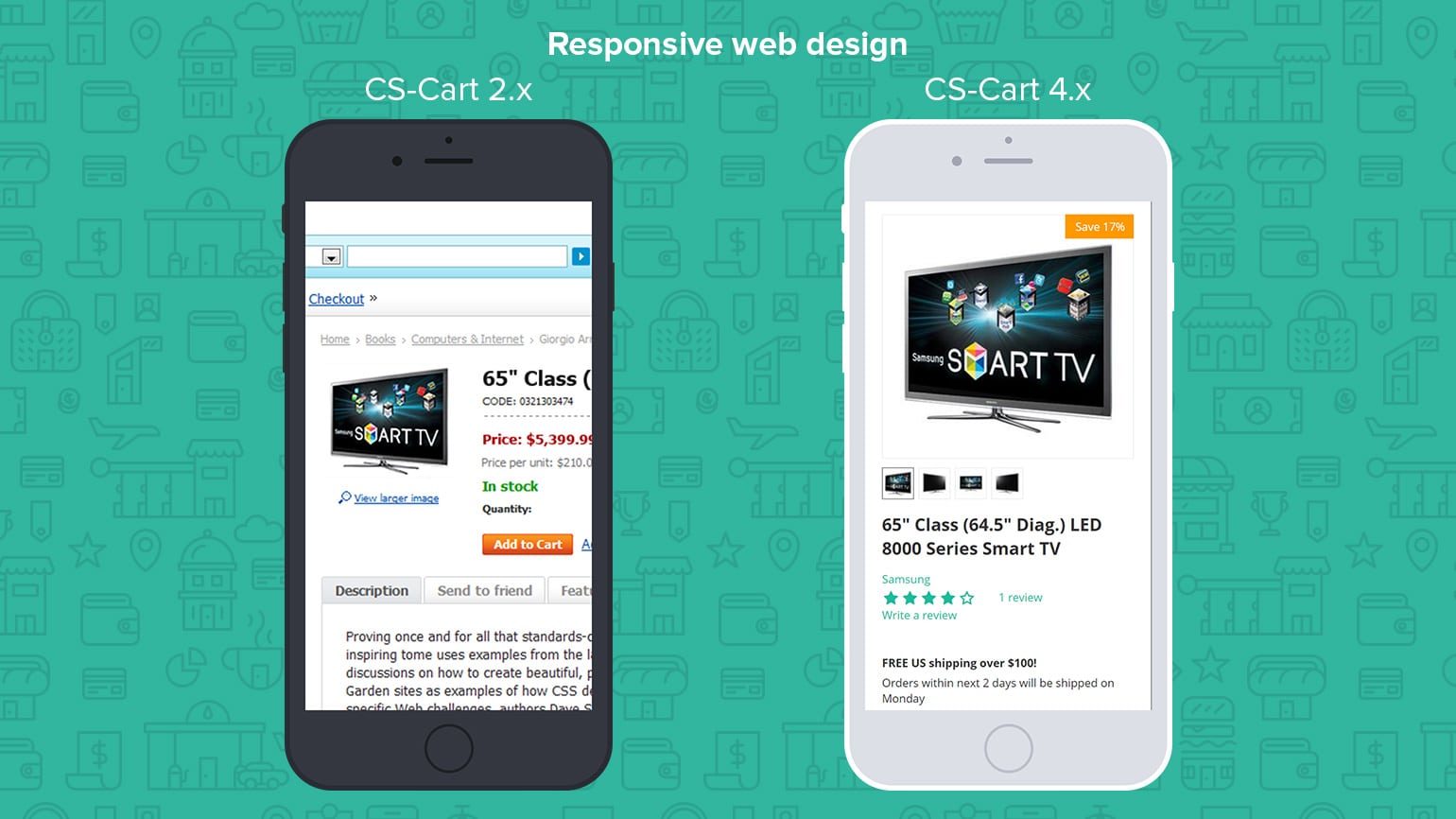 CS-Cart versions 4.3 and later use responsive design. Online customers are moving to mobile devices, so the tablet or smartphone online purchase process should be as convenient as it is on the computer. It also increases sales because you will get more customers who buy from mobile devices. Upgrading to version 4.x. and later gives you a fully responsive web design, making the site a perfect fit for mobile devices.
3. Improved SEO
The latest versions have improved SEO. Using a clear and understandable URL and automatic generation of a site map will take your online store to the top of any search engine. For more information, read our article about how to reach the top with SEO-friendly CS-Cart.
4. Awesome features
Improved features and functionalities will help to improve sales. The new features will allow you to optimize sales, improve conversion rates, and enhance profit levels. For example version 4.3.5 has PayPal in-context checkout so customers can complete purchases with PayPal in two clicks without leaving your store. Another feature of this version is updated integration with DHL. In earlier versions of CS-Cart, the DHL module only worked for companies within the USA, but now it works for any country.
Each version adds fixes and upgrades that will take your CS-Cart experience to the next level and speed up many processes that may be creating a lot of extra work and taking excess time to complete.
5. More add-ons and themes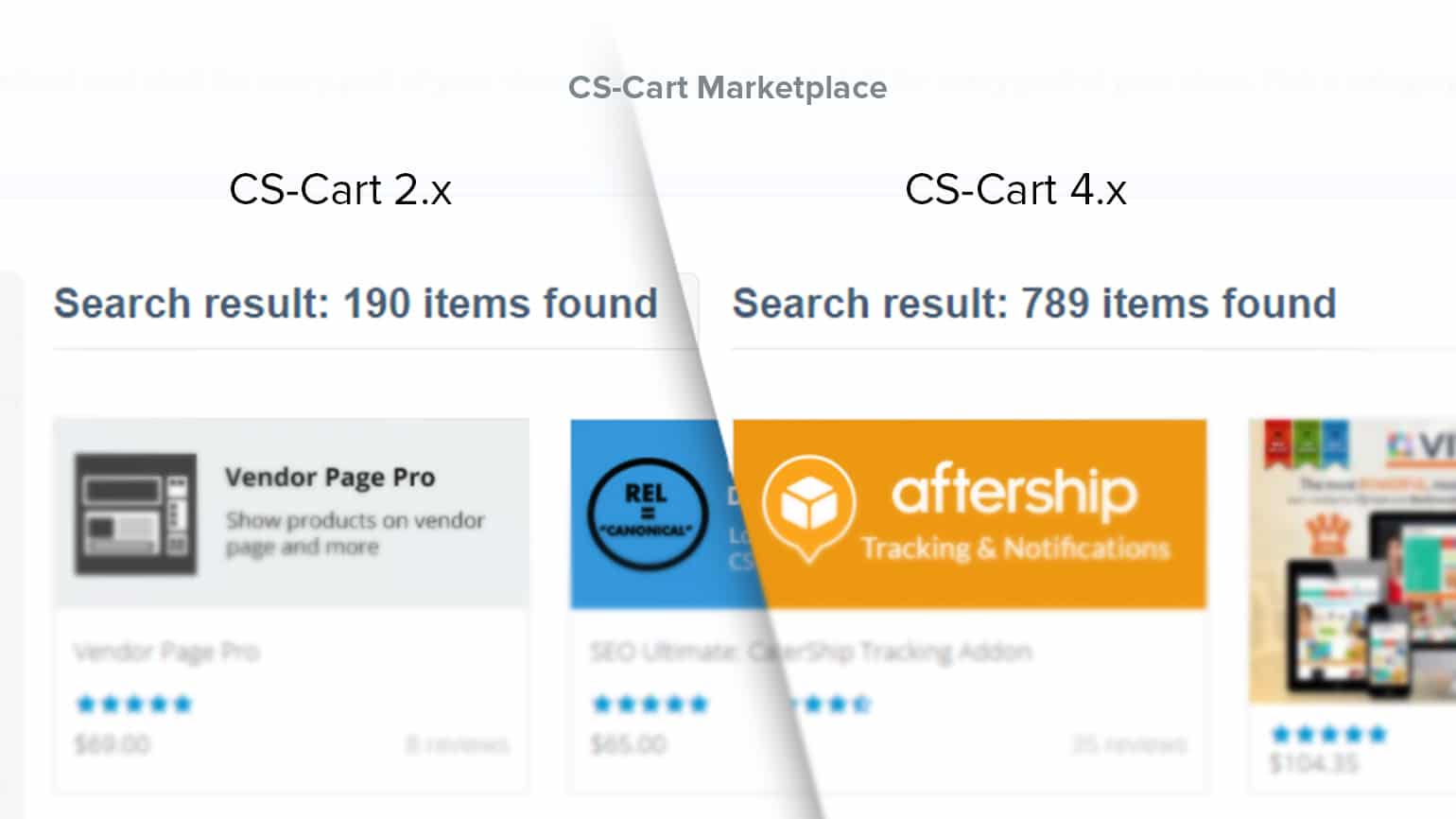 Most of the CS-Cart themes on the Marketplace are compatible with the latest versions (at least from version 4.2.x.). However, add-ons need to be upgraded; otherwise, you will face compatibility issues with different CS-Cart versions. Note that upgrading CS-Cart from earlier versions like 2.2.x to 4.3.x is a bit of a complex process because problems may occur with design themes and add-ons. Therefore, you should always hire an expert to upgrade your online store.
6. Great performance
As the latest version of CS-Cart, version 4.3.6, uses PHP 7, the fastest version of PHP, your store's pages will load within seconds, and your customers won't be nervous about slow speed. For more information, see the slides "Speeding up the web with PHP 7".
7. User-friendly upgrading process
The process of upgrading has become more user-friendly in the latest versions, which have improved backup and restore processes. If something goes wrong during the upgrade, you'll be able to roll back safely.
Our recommendations
If you're currently running CS-Cart version 1.x., you should definitely upgrade as soon as possible, as there are security issues, and you're missing out on a wealth of usability options. The fixes and upgrades that each version adds will take your CS-Cart experience to the next level and streamline many processes that may currently take you a lot of extra work and time to complete.
We highly recommend hiring a Certified CS-Cart Developer to do the upgrade, especially if you're upgrading from a significantly older version of CS-Cart.
Keep your CS-Cart eCommerce Store updated with new features and functionalities.
CS-Cart 4.3.6 has just been released and has lots of performance and security improvements. For more details please refer to this link.