A multi-discipline & eCommerce company from Bangladesh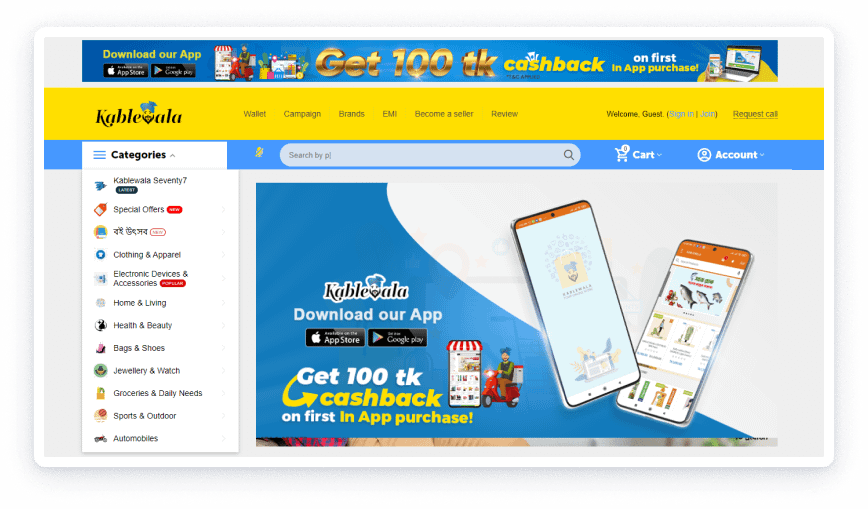 KABLEWALA is a multi-discipline & eCommerce company from Bangladesh launched back in 2018. Their range of products includes almost everything an Asian buyer may need: from clothing to mobile phones and jewelry. From the very start, they selected the CS⁠-⁠Cart software and customized it with us. The founders compare their marketplace to Amazon, as sellers are independent in using the marketplace as a host to sell to consumers and other businesses. Their online store is selling gadgets, electronics, furniture, home appliances, fashion, grocery, and every category product. Now, the marketplace is serving +1,000 customers each day focusing on user experience. To please the audience, the KABLEWALA team is now working on improving the website design to attract more and more users to the site.
We continued our journey during the global pandemic of COVID-19. It really took a lot of hard work and courage to serve our nation during this time. We were getting so much traffic and valuable customers that we had to upgrade our server space within a day and the process was easy for us thanks to Simtech and My Cloud team for their dedicated efforts.
Rob, Managing Director at KABLEWALA
We isolated bottlenecks causing nonoptimal CS-Cart settings and solved the speed and performance issues for the marketplace. Our team gave the marketplace owner the required changes that hamper the site's correct running under load. The implemented recommendations gave the site an ability to run faster and sustain high loads.
This success is all due to the use of the Multi-Vendor platform. Due to its easy and sophisticated nature, global brands as well as many local ones are feeling very comfortable using this platform. They are enjoying the system very much and we also are building a strong relationship with them. As there is nothing hidden to the brands also. They can also enjoy their business and do it in style!
Rob, Managing Director at KABLEWALA
How to allow a storefront to have an overall delivery fee? We developed such functionality as unified shipping for the KABLEWALA marketplace. The marketplace administrator can now set a shipping method and apply it to all vendors. All the shipping charges go to the marketplace. At the checkout, customers see only one shipping cost and the common order for all the vendors.
If your vendors sell the suppliers' products, they would probably want to upload their feeds to your marketplace via a CSV file and tackle the delivery issues on their own. That is what we've done for KABLEWALA. The marketplace vendor administrators now can allow for some limited access to their accounts for suppliers. By default, suppliers cannot do that.
Vendors can give access to their accounts to suppliers so that the last could upload the product catalogues by CSV files. With this modification, the marketplace gave your vendors an option to offer the products from the suppliers' catalogues on your marketplace. Once an item is bought, it will be shipped as drop shipment by the supplier and not by your vendor.
When it comes to design, reliability, and professionalism Simtech is our first choice. Their work is clinical and fine-tuned with the current version of CS⁠-⁠Cart. They provide timely support and also produce error-free decisions which are the most notable part.
Rob, Managing Director at KABLEWALA
We applied changes in the KABLEWALA site design. The modifications touched banners and categories.
Our team added a new menu with drop-down categories to the home page. We made it possible to place a banner before the header and company logo.

Besides, we introduced new icons to the root level items and images to the submenu.
Another functionality that was implemented is the Flash Deal. It is a slider of products.

We also integrated Pinned Links. Now, it is possible to edit links.
The marketplace administrator can add icons in the menu items settings. These links are fixed.
Blocks are subdivided by newest products, on sale, bestseller, and recently viewed. To activate them, tabs were introduced for a necessary block.
We added a block with banners "App store" and "Play store" slider to the "newest products" and "on sale".

For Brands, we changed the slider type to a multicolumn list.
For the Collections block, we added a column with vendor logos.
A feature-rich marketplace with lucrative design optimized to sustain loads.